­­Dermatology Biologics Market Outlook (2022-2032)
The global dermatology biologics market generated approximately US$ 5.1 Bn in revenue in 2021 and is predicted to expand at a CAGR of 6.6% to reach a market size of US$ 10.2 Bn by the end of 2032.
Revenue from dermatology biologics accounted for 29.2% share of the global dermatology market in 2021. Demand for dermatologic biologics is increasing with the rise in the number of biologics launched in recent years.
| Attribute | Key Insights |
| --- | --- |
| Dermatology Biologics Market Size (2022) | US$ 5.1 Bn |
| Projected Market Value (2032) | US$ 10.2 Bn |
| Global Market Growth Rate (2022-2032) | 6.6% CAGR |
| Market Share of Top 5 Countries | 55.3% |
Demand Analysis of Dermatology Biologics (2017 to 2021) Vs. Market Outlook (2022 to 2032)
In the past four years, from 2017 to 2021, the global market for dermatology biologics experienced a CAGR of 5.3%.
Due to an increase in the prevalence of undiagnosed skin illnesses around the world in recent years, there is rising demand for dermatology biologics. Because of low sanitation and hygiene standards as well as limited access to treatment, the frequency is higher in developing nations.
Affordable biologic treatments can increase patient's access to care in underdeveloped nations. Pharma businesses need to maximize this potential and launch biologics at lower prices.
According to McKinsey and Company's projection for the biosimilar market, around 20% to 25% year-on-year growth will be experienced in China until 2025.
Key players in the market are actively collaborating to improve their presence across regions.
For instance, in January 2020, WuXi Biologics and Almirall, S.A. announced an agreement for multiple bispecific antibodies targeting dermatology diseases. Almirall developed highly creative biologic treatments with its agreement for dermatological conditions, including atopic dermatitis.
The development of biologics is further propelling market demand. Similar to Cimzia, which is a tumour necrosis factor (TNF) blocker used to treat moderate-to-severe plaque psoriasis in adults, there have been many more novel biologics introduced to the market in recent years for the treatment of psoriasis.
The global dermatology biologics market is predicted to experience high growth at a CAGR of 5.6% through 2032.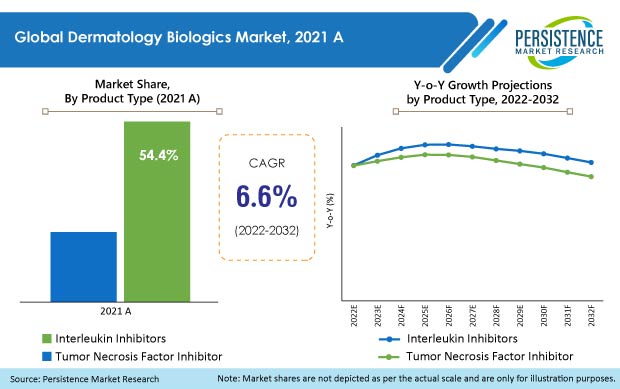 What's Augmenting Demand for Dermatology Biologics Products?
"Target-specific Mechanism Driving Adoption of Dermatology Biologics"
The target-specific mechanism of dermatology biologics makes them substantially more advantageous than traditional systemic treatments.
Biologics for dermatology focus on particular points along the disease's immune-pathogenesis route. Inflammatory bowel disease, severe psoriasis, psoriatic arthritis, and other dermatological indications are also commonly treated with dermatology biologics. The treatment of numerous dermatologic illnesses has been transformed by biologics.
Demand for dermatology biologics is also rising because they can be recommended for the treatment of psoriasis in children. For a youngster who has moderate or severe psoriasis, this can be quite useful. For kids with moderate to severe psoriasis, the FDA has approved some biologics.
Can Demand for Dermatology Biologics Be Affected in Any Way?
"Pressure to Provide Cost-effective Products"
The price of biologic psoriasis therapies has been rising. Given the scarcity of healthcare resources, cost issues in the management of psoriasis are anticipated to rise.
Another major issue with dermatology biologics is the lack of awareness about skin diseases and the use of biological products in low-middle-income countries. Improper use can result in side effects and allergic reactions.
Lack of education and awareness leads to lower adoption of dermatology biologics in emerging nations. This is expected to hinder the growth of the market during the forecast period from 2022 to 2032.
Country-wise Insights
Why is the U.S. Dermatology Biologics Market Booming?
"Increasing U.S.FDA Approvals for Biologics"
The U.S. accounted for around 73.9% market share of the North American dermatology biologics market in 2021.
An increasing number of U.S. FDA approvals for the use of biologics are enhancing market growth in the country.
The following biologics are approved by the FDA to treat adults with psoriasis or psoriatic arthritis - Etanercept is approved for people 4 years of age and older, Ustekinumab is approved for people 12 years of age and older, and Secukinumab is approved for people 6 years of age and older.
Moreover, increasing efforts by pharmaceutical manufacturers to promote biological treatments for diseases such as acne, eczema, psoriasis, etc., which have a high prevalence rate in the country, have driven the bioproduction industry, and will generate hefty revenue for the U.S. dermatology biologics market over the coming years.
What Opportunities is the U.K. Offering Dermatology Biologics Product Manufacturers?
"Biopharmaceutical Industry Raising Demand for Dermatology Biologics"
The U.K. held around 24.5% market share of the Europe dermatology biologics market in 2021.
The U.K. biopharmaceutical industry is contributing to the development of dermatology biologics. Demand for biologics is increasing with a rise in the life science and biopharmaceutical industry in the country.
Multinational corporations (MNCs), small-sized biotechnology companies (SMEs), and small- and medium-sized pharmaceutical companies (SMEs) are all bringing about significant advances in the country, either jointly or separately.
Pharmaceutical companies are looking at developing industrialized, traceable, secure, and compliant supply chains that include dermatology biologics for the treatment of skin diseases.
Will China Emerge as a Prominent Market for Dermatology Biologics?
"Rising Patient Preference for Biologics Treatment in China"
China held the largest market share of 40.6% of the East Asia dermatology biologics market in 2021.
Demand for dermatology biologics is increasing in the country due to patients' preference for biological treatment. Biological treatments are preferred due to their enhanced efficiency in terms of organic content removal and environment-friendly and safe nature. Its targeted therapy is also contributing to increasing its popularity among the Chinese population.
Category-wise Insights
Which Product Type is Driving Growth of the Global Dermatology Biologics Market?
"High Demand for Tumour Necrosis Factor Inhibitors to Treat Psoriasis in Adults"
The tumour necrosis factor inhibitors segment held around 54.4% share of the overall dermatology biologics market in 2021.
TNF inhibitors are used to treat moderate to severe diseases in patients who have contraindications, don't respond to standard systemic therapy, or experience negative side effects.
Thus, demand for TNF inhibitors will increase with the rising prevalence of psoriasis across the world.
Which End User Setting Drives Greater Adoption of Dermatology Biologics?
"Rising number of Skin Cancer Patients Visiting Hospitals Creates Opportunity for Hospital Pharmacies"
Hospital pharmacies held a large share of 44.2% with a market value of around US$ 2.2 Bn in 2021.
The number of cancer patients seeking treatment in hospitals increased manifold in the last few years, which contributed to creating demand for biologics for its treatment. Hospital pharmacies sold most drugs due to patient convenience and reliability of product quality.
Competitive Landscape
Leading manufacturers are obtaining FDA approvals for the introduction of their novel biologic product lines into the market to strengthen their product approach and accessibility across the world.
Consolidation operations such as mergers and acquisitions have been carried out by several significant competitors in the dermatology biologics sector. The expansion of corporate partnerships to strengthen their dermatology biologics is another key strategy observed in the market.
For instance:
In June 2022, AbbVie announced the European Medicines Agency's approval for upadacitinib with the brand name RINVOQ®.
In January 2022, Amgen and Generate Biomedicines announced a collaboration to develop protein therapeutics for around five clinical targets across various therapeutic areas and multiple modalities.
In December 2021, Samsung Biologics and AstraZeneca expanded their manufacturing partnerships to improve COVID and cancer therapy facilities.
Dermatology Biologics Industry Report Scope
Attribute

Details

Forecast Period

2022-2032

Historical Data Available for

2017-2021

Market Analysis

USD Million for Value

Key Countries Covered

U.S.
Canada
Brazil
Argentina
Mexico
Germany
France
U.K.
Italy
Spain
Russia
BENELUX
Nordic Countries
India
Thailand
Malaysia
Indonesia
China
Japan
South Korea
Australia
New Zealand
Turkey
Israel
South Africa

Key Market Segments Covered

Key Companies Profiled

Merck and Co. Inc.
Novartis AG
Pfizer Inc.
AbbVie Inc.
Amgen Inc.
AstraZeneca
Celgene Corporation
Eli Lilly and Company
Johnson and Johnson (Janssen Biotech Inc.)

Report Coverage

Market Forecast
Competition Intelligence
DROT Analysis
Market Dynamics and Challenges
Strategic Growth Initiatives

Customization & Pricing

Available upon Request
Key Segments Covered in Dermatology Biologics Industry Research
Dermatology Biologics Market by Product Type:
Interleukin Inhibitors
Tumor Necrosis Factor Inhibitors
Dermatology Biologics Market by End User:
Hospital Pharmacies
Retail Pharmacies
e-Commerce
Dermatology Biologics Market by Region:
North America Dermatology Biologics Market
Latin America Dermatology Biologics Market
Europe Dermatology Biologics Market
South Asia Dermatology Biologics Market
East Asia Dermatology Biologics Market
Oceania Dermatology Biologics Market
The Middle East & Africa Dermatology Biologics Market