Cross Laminated Timber Market Outlook (2022-2026)
The global cross laminated timber market is slated to reach US$ 708.4 Mn in the year 2022 and witness a decent CAGR of 6.3% from 2022 to 2026. The year 2026 is expected to see the market reach US$ 903.9 Mn.
| Attribute | Key Insights |
| --- | --- |
| Cross Laminated Timber Market Size (2022) | US$ 708.4 Mn |
| Projected Market Value (2026) | US$ 903.9 Mn |
| Global Market Growth Rate (2022-2026) | 6.3% CAGR |
Cross Laminated Timber Demand Analysis (2013-2021) v/s Market Outlook (2022-2026)
The global cross laminated timber market was worth US$ 664.2 Mn in the year 2021 and is expected to grow 1.2 times in the year 2022.
The current scenario is such that new-fangled timber technologies are showcasing properties similar to concrete especially the cross laminated timber (CLT).
Cross laminated timber is capable of having a wide range of dimensions – from 2.40 m to 4 m high, and till 12 meters long. As such, with cross orientation of transverse and longitudinal layers, timber's degrees of dilation and contraction at board level get remarkably reduced, that too, with improvement in shape stability and static load.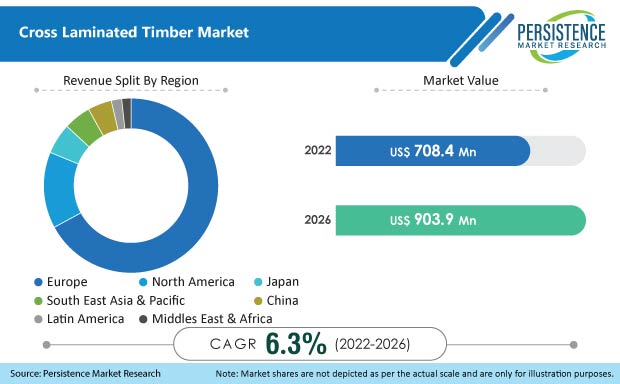 What holds the hopes high for Cross Laminated Timber Market?
"Quest for Environmentally-friendliness to ride over"
Environmental hazards are being looked after these days while venturing into anything new. Since cross laminated timber is amongst the environmentally sustainable construction material, governments all over are supporting the usage in construction vertical. This is exemplified from the fact that India's Public Works Department, in the year 2020, did lift the ban on usage of timber in habitat projects and construction of buildings for encouraging local economy. Timber has been reported to show better acoustic and thermal insulation. These factors are there to take the cross laminated timber market by storm in the near future.
What are the restraints encountered by Cross Laminated Timber Market?
"The wood-based fact to hamper"
Cross laminated timber (CLT) being a wood-based material, doesn't play that safe when it comes to protection against moisture and fire. The fact that accumulation of moisture in floors, walls, and edifices could result in bacteria and mold being formed. This could prove to be disastrous to infrastructure. These factors could act as restraining factors to cross laminated timber market.
What's with Europe regarding Cross Laminated Timber Market?
"Europe to continue being the torchbearer"
Europe holds 67.1 of the overall market share. This could be credited to "Green Building Movement" herein. Plus, the ongoing trend implies usage of wooden products in various construction applications. The countries like Germany, the UK, France, and Italy dominate the market for Europe. UK-Housing Fit For Nature says that close to 1.5 Mn new houses would be made from timber by the year 2022. Also, the government of the UK has gone on air stating that it has allocated US$ 4.87 Bn for constructing 150K new houses by the year 2022 with timber being an indispensable part. Also, over 50K affordable homes are exoected to be built by the year 2038 in the Greater Manchester area.
Adhesive Bonded Cross Laminated Timber to Rule the Roost?
"High-strength Adhesives to push the use of Adhesive Bonded CLT"
Adhesive bonded cross laminated timber (CLT) proves to be cost-effective as compared to the mechanically fasted one as minimal machinery is used. Plus, it's possible to convert adhesive-bonded CLT panels to biofuel pellets as their life cycle comes to an end. Wastage of wood could also be minimized as custom manufacturing of these panels is easily possible.
Production of mechanically fastened CLT is a bit complex as highly skilled labor is needed to operate fastening machines. Also, there are greater chances of raw material getting wasted as screws could be applied improperly. The cross laminated timber market is expected to gloat over adhesive-bonded CLT.
How has Covid-19 affected the Cross Laminated Timber Market?
"Vaccination to Encourage Players to Bounce Back"
The outbreak of Covid-19 did affect the cross laminated timber market adversely in 2020 and 2021. This could be reasoned with the fact that as cross laminated timber turns out to be a lopsided priority when the HQ (health quotient) is at stake, the market related to the same is bound to take a back seat. However, post vaccination drives being conducted across the globe, the market is putting its best possible foot forward to bounce back. The year 2022 is looked upon as the year of comeback for cross laminated timber market.
Competitive Landscape
The key players are making massive investments in research regarding development of cross laminated timber of various applications and grades. As of now, research pertaining to developing Xlam from the lumber (obtained from bamboo), followed by improvement in performance against acoustic variation and temperature fluctuations is "ON".
Stora Enso, in November 2020, obtained approval for producing as well as delivering cross laminated timber panels across the US, but not without complying with North American CLT standard for performance-rated cross laminated timber – ANSI/APA PRG 320-2019. Certain amendments were made in the year 2021, as per which construction up to 18 storeys is allowed. This has certainly opened doors for mid-rise building/construction sector.
Mayr Melnhof Holz Holding AG, in January 2021, did announce investing close to US$ 145 Mn for building a modern cross laminated timber (CLT) manufacturing plant in Austria (at Leoben) to strengthen its position in the market of Europe.
Cross Laminated Timber Industry Report Scope
Attribute
Details

Forecast Period

2022-2026

Historical Data Available for

2013-2021

Market Analysis

US$ Mn/Bn for Value

Key Regions Covered

North America
Latin America
Europe
South East Asia and Pacific
China
Japan
MEA

Key Countries Covered

U.S.
Canada
Brazil
Mexico
Germany
U.K.
France
Italy
Spain
Benelux
Russia
China
Japan
South Korea
India
Thailand
Indonesia
Malaysia
Singapore
China
Japan
South Korea
Australia
New Zealand
Turkey
Egypt
North Africa
South Africa
GCC Countries

Key Market Segments Covered

Type
End-use
Application
Region

Key Companies Profiled

Store Enso Oyo
Binderholz GmbH
Mayr-Melnhof Holz Holding AG
KLH Massivholz GmbH
HASSLACHER Holding GmbH
Structurlam Mass Timber Corporation
Eugen Decker Holzindustrie KG
Ed. Züblin AG
Schilliger Holz AG
W. u. J. Derix GmbH & Co.
Weinberger-Holz GmbH
Others.

Pricing

Available upon Request
Cross Laminated Timber Market Categorization
Cross Laminated Timber Market by Type
Mechanically Fastened
Adhesive-Bonded
Cross Laminated Timber Market by End-use
Residential
Commercial & Institutional
Industrial
Cross Laminated Timber Market by Application
Walls
Ceilings
Roof Structures
Beams
Cross Laminated Timber Market by Region
North America Cross Laminated Timber Market
Latin America Cross Laminated Timber Market
Europe Cross Laminated Timber Market
South East Asia and Pacific Cross Laminated Timber Market
China Cross Laminated Timber Market
Japan Cross Laminated Timber Market
Middle East & Africa (MEA) Cross Laminated Timber Market