Urbanization and increasing consumption key factors driving the global coil wound devices market
Increasing per capita consumption in emerging countries has led to an increasing demand for efficient coil wound devices for various industries such as automotive, food and beverages, pharmaceuticals, and agriculture, among others. This, in turn, has increased the shipment of electronic devices, and appliances which in turn has been a driving factor for the global coil wound devices market. As of 2014, the urban population accounted for 54% of the total population globally and is expected to further increase at a healthy pace. Substantial growth in the service and manufacturing sectors has led to a healthy growth in GDP worldwide. This, in turn, has had a positive impact on the global spending on smartphones, thereby eventually impacting the demand for coil wound devices.
Global GDP is projected to register a steady growth during the forecast period owing to higher rate of industrialization in emerging economies such as Asia Pacific. Moreover, increasing adoption of coil wound devices in the automotive sector is anticipated to fuel the demand in near future.
Aging power infrastructure in United States is driving the market for coil wound devices
Advancement and replacement of aging power infrastructure in the U.S. is one of the key factors driving the coil wound devices demand in North America. The aging electricity infrastructure will require new technologies to enable better failure detection. Traditional systems do not meet many emerging trends, such as growing penetration of distributed generation resources and need for greater resilience.
The new transmission technologies combine power electronic devices with capacitors and inductors to provide a range of controlling capabilities for transmission and distribution systems. The demand for coil wound devices, especially transformers, is anticipated to witness a notable growth as they are important components that are used for carrying out electric grid transition from traditional designs to the designs of future in the coming years.
Negative impact on alternative energy sources due to U.S. government policies
In 2017, the U.S. government decided to withdraw from the 2015 Paris Climate Agreement. This step is likely to cause solar and wind deployment rate to move slowly, ultimately slowing down the ongoing transition to renewable energy. The pace of renewables growth will also be affected by numerous separate policy decisions, including the Clean Power Plan, Investment Tax Credit and Production Tax Credit for renewables and by the addition or reduction of restrictions on fossil fuel production and consumption.
It is anticipated that these steps will negatively impact passive components demand, devoted to developing environment-friendly technologies for alternative energy. However, the impact is expected to remain minimal, largely offset by other driving forces.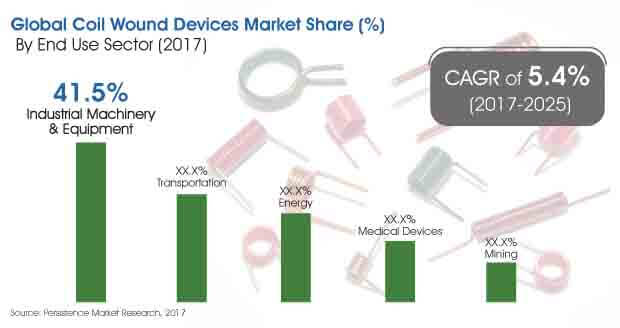 As per the data provided by Persistence Market Research, the transportation segment in the end-use sector was estimated to be valued at nearly US$ 18,200 Mn in 2017 and is anticipated to reach a valuation of nearly US$ 27,900 Mn in 2025, exhibiting a CAGR of 5.5% during the period of assessment 2017-2025. The medical devices segment in the end-use sector was estimated to be valued at nearly US$ 9,000 Mn in 2017 and is forecasted to reach a valuation of nearly US$ 14,200 Mn in 2025, displaying a CAGR of 5.8% during the period of forecast.
Market Taxonomy
Attribute
Details

By Application

Electrical Motors
Transformers

Low Voltage
Medium Voltage
High Voltage

Valves & Actuators
Switches, Contactors & Relays
Other Electrical Devices

By Device Type

Sensors
Bobbins
Electromagnetic Coils
Solenoids
Lightning Coil

By End Use Sector

Transportation

Automotive
Railways
Marine
Aerospace

Industrial Machinery & Equipment
Medical Devices
Mining
Energy

Power Generation & Distribution
Oil & Gas

By Region

North America
Latin America
Europe
Asia Pacific
Middle East & Africa
- Companies Covered in This Report -
ABB
Honeywell International Inc.
Parker Hannifin Corporation
Danaher Corporation
SIEMENS AG
Magnet-Schultz of America Inc.
Murata Manufacturing Co , Ltd.
Emerson
Schneider Electric
TDK Corporation
Asco Valve
Hubbell Industrial Controls
Standex Electronics
Amtek Switch
Baldor Electric
TE Connectivity
Regal Beloit
Taiwan Shulin Enterprise Co., Ltd.
Others