Introduction
The beverage refrigeration equipment market growth is influenced by various food and beverage retail stores that use the equipment. It comprises different product types like drinking fountain, soda fountain, beverage dispensing equipment beverage coolers etc. All these equipment are either used for dispensing liquid or for refrigeration of beverage bottles.
According to the analysis of global beverage refrigeration equipment research report, among all the equipment, soda fountain holds the highest market share with an expected market value of over US$ 2,200 Mn by the end of 2025. However, in terms of growth rate, beer dispensing equipment is expected to grow at the highest value CAGR of over 4.7% during the forecast period.
The products are expected to witness many new trends including increasing awareness regarding green technologies among consumers which may lead to rapid replacement of conventional beverage refrigeration equipment over the next few years. The demand for all equipment is expected to rise mainly due to increase in number of retail stores in the market. In turn, it will result in increased expenditure on beverage refrigeration equipment.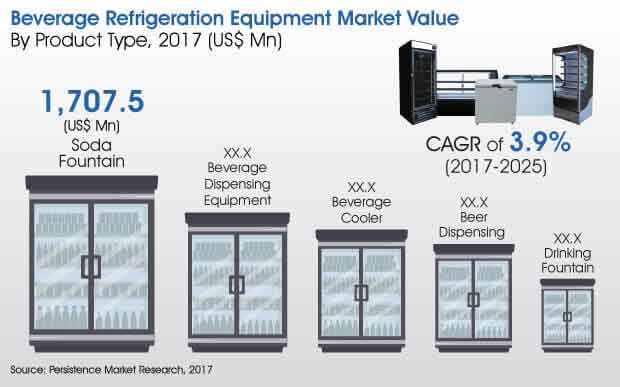 Urbanization and growing preference towards packed beverages to help boost the global beverage refrigeration equipment market growth
A positive change in the living standards along with an improving macroeconomic scenario has led to a significant upsurge of various organized retail stores across the world. The rapid growth of the organized retail sector characterized by the increasing number of hypermarkets and supermarkets is expected to boost the growth of the overall food chain, which in turn is expected to boost overall sales of refrigerated display cases.
The change in lifestyle has also impacted the preferences of people. There is a visible increase in the demand for storage of packed beverages, which has increased the adoption of refrigeration equipment on a large scale. There has been a significant increase in the consumption of refrigerated drinks.
The consumption of canned/preserved, chilled, beverages continues to grow; the reason being, more consumers are looking for cost-effective as well as convenient alternatives for drinks. People are also attracted towards quick serving restaurants. As people demand for packed beverages they intend to get the services quickly. There has been an increase in the number of quick service food restaurants outlets. Furthermore, consumer spending on eating at quick service equipment increased by 4.1% between 2005 and 2015.
As a result, domestic and international companies are making major investments in quick service restaurants. Companies are focusing on the deployment of self service for beer, soda dispensing.
Despite facing strong competition from other companies, Panasonic expected to remain at the forefront in the global beverage refrigeration equipment market
Panasonic Corporation is a multi-industry company that manufactures products and provides solutions to the electronics, automotive, energy and residential sectors. The company holds a solid brand name in the market and provides 10,000 different types of products. The company's past developments are helping it stand out in the global beverage refrigeration equipment market. In 2016, Panasonic was reported to have set up a refrigerator manufacturing facility in India. It also delivered its carbon dioxide refrigerant-based condensing unit to Jaya Grocer's Mutiara Tropicana store in Malaysia.
Jaya Grocer is the first super market chain outside of Japan to equip itself with Panasonic's environment-conscious commercial condensing units. Panasonic's focus on eco-friendly products will also drive its future market growth. Market analysis suggests that Panasonic marked a revenue share of over US$ 69.7 Bn by the end of 2016.
Market Segmentation
By Product Type

Drinking Fountain
Soda Fountain
Beverage Dispensing
Beer Dispensing
Beverage Coolers

By End Use Industry

Food Service Sector
Retail Food & Beverage Sector

By Region

North America
Latin America
Europe
Asia Pacific
Middle East & Africa (MEA)
- Companies Covered in This Report -
Panasonic Corporation
Dover Corporation
Frigoglass SAIC
AHT Cooling System GmbH
Powers Equipment Company, Inc.
Beverage Air Corporation
MF Refrigeration Limited
Perlick Corporation
Skope Industries Limited
QBD Modular Systems Inc.
Metalfrio Solutions, Inc.
Manitowoc Company, Inc.
LINDR.CZ.s.r.o.
Cornelius Beverage Technologies Limited
True manufacturing
Hoshizaki Lancer Pty Ltd
Others