Beverage Emulsion Market
Global Market Study on Emulsion for Beverages: High Demand for Innovative Texture & Taste in Beverages Driving Market Expansion
Emulsion for Beverages Market Segmented By Xanthan Gum, Pectin, Caroxymethyl Cellulose, Carrageenan, Gellan Gum, Gum Arabic, Modified Starch source in Color Emulsion, Flavor Emulsion, Cloud Emulsion, Vitamin Emulsion Form
About the Report
Demand for emulsion for beverages is growing with increased application in functional and non-alcoholic beverages. As per the report by Persistence Market Research, rapidly rising demand for non-alcoholic beverages, due to high disposable income among consumers, is expected to influence demand for emulsion for beverages from beverage manufactures. Pectin and gellan gum are predicted to be used as major sources for the production of emulsion for beverages, due to the additional benefits that they provide to end products. Ready-to-drink beverages such as tea and coffee are also gaining traction due to busy lifestyle and growing urbanization, especially in developing countries.
The report also gives detailed analysis of emulsion for beverage shipments across the world, what effect the COVID-19 pandemic has had on this sector, and what the coming years (2020 to 2030) will be like for the sales of beverage emulsifiers.
Find Out More about the Report Coverage
Companies
Döhler GmbH
Cargill Inc
Sensient Technologies Corporation
Givaudan SA
Archer-Daniels-Midland Company
International Flavors & Fragrances
Kerry Group
CHr. Hansen A/S
DuPont
Ingredion Incorporated
Tate & Lyle PLC
CP Kelco
Ashland Inc
Lonza Group AG
Corbion N.V.
Palsgaard A/S
DDW The Color House
Arthur Branwell & Co. Ltd.
Hangzhou Fuchun Food Additive Co., Ltd
Carotex Flavors
Does the Future Outlook Look Better Than Previous Years?
Globally, emulsion for beverage sales grew 3.8% from 2015 to 2019. The market is mainly driven by rising consumption of innovative beverage products across various sectors, including foodservice, retail, and others. Historically, emulsion for beverages has been moderately utilized in beverage products, which points to its steady growth rate over the last few years. Nevertheless, as consumers are seeking more innovative textures and tastes in beverages, shipments of emulsion for beverages are rapidly rising.
For instance, xanthan gum sales volume is projected to grow around 5% over the forecast period of 2020-2030. This promising sales growth will be mainly triggered by surge in demand for healthy and natural beverages. Emulsion for beverages offers additional features such as controlled release, protection, targeted delivery, and others, which are highly desired by beverage producers. As such, the emulsion for beverages market is set to reach a volume of 348,802 tons by the end of 2030.
Customize this Report
Explore Intelligence Tailored to Your Business Goals.
Is Changing Lifestyle is Impacting Emulsion for Beverage Consumption?
Urbanizations and modernization in emerging economies have bolstered the growth of the food & beverage industry. There has been a visible change in the eating and drinking habits of consumers. Changing lifestyle, especially the millennial generation, is inducing drinking habits to a greater extent. Improvements in the economic conditions of various countries have led to increased disposable income and higher standards of living, which have contributed to rising trend of premiumization and consumption of alcoholic drinks & beverages. This is expected to have a positive influence on sales in the emulsion for beverages market. Manufacturers of emulsion for beverages are thus expected to find greater opportunities in the near future.
Market Research Methodology - Perfected through Years of Diligence
A key factor for our unrivaled market research accuracy is our expert- and data-driven research methodologies. We combine an eclectic mix of experience, analytics, machine learning, and data science to develop research methodologies that result in a multi-dimensional, yet realistic analysis of a market.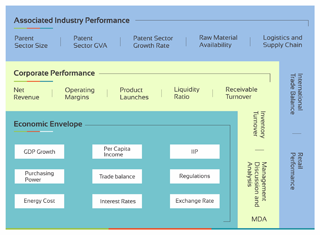 How is Rising Consumption of RTD & Functional Beverages Benefitting Sales of Emulsion for Beverages?
With a busy schedule, hectic lifestyle, and less time available to have healthy food and beverages, consumers have turned to readily-available healthy food & beverages more than ever. Manufactures are offering ready-to-drink beverages with additional nutrition, taste, color, and flavor, and this is contributing to the rising need for emulsion for beverages. Key players operating in the food & beverage industry are focusing on offering ready-to-drink healthy beverages to meet the ever-rising demand from consumers.
Technological advancements in the industry of packaging have led to an increase in the range of convenience food products. Rising inclination of consumers toward ready-to-drink beverages has played an important role in the growth of the emulsion for the beverages market. Emulsifiers are widely used in ready-to-drink as well as plant-based beverages, which is likely to increase demand over the forecast period. RTD tea/coffee is expected to see substantial growth over the coming years, and account for a high CAGR of around 6% among non-alcoholic beverages over the forecast period.
Explore Persistence Market Research's expertise in promulgation of the business !
Why Will Clean & Clear Labeling Practices Promote Shipment of Emulsion for Beverages?
Growing consumer awareness regarding natural & artificial flavoring ingredients in food products is leading to the imposition of stringent labeling regulations across the globe. Widespread knowledge about the health hazards of artificial substances is leading consumers to be critical about ingredients. Growing concerns and moral beliefs about beverage consumption and allergies caused due to added substances are triggering manufacturers to follow labelling regulations more sternly. For maintaining transparency in labeling, manufacturers are including recognizable ingredients on labels that consumers can understand. Clean & clear labeling practices are being employed by leading manufacturers to add more value to their products, differentiate themselves from other brands, and attract health-conscious consumers across the globe.
Will Popularity of Plant-based Beverages Impact Market Growth?
Increasing demand for premium plant-based beverages is encouraging manufacturers to invest in ramping up production capacity for such segments. Extensive use of emulsifiers in a variety of popular dairy and plant-based drinks is expected to drive global sales of emulsion for beverages over the coming years. In order to meet increasing consumer demand and gain a competitive edge, manufacturers are developing innovative combinations of emulsifiers. Owing to increasing popularity of plant-based beverages, leading players are focusing more on their manufacturing, along with implementation of appropriate & effective marketing strategies to attract more stakeholders.
Is New Product Development Helping Beverage Emulsifier Consumption Growth?
New product development is an integral part of the food industry, and predicting future trends and having the first product to market can give manufacturers a huge advantage against competitors. Changing components of a beverage to meet current demand is a struggle that manufacturers have to consider every day. Such demands include the removal of ingredients from current products that consumers perceive as undesirable, addition of desirable components, or replacement of expensive ingredients with inexpensive alternatives. With rise in demand for natural and organic products, especially from Europe and North America, key players are investing in innovate products.
Formulators are looking for stabilization of colors, flavors, texture, and micronutrients in beverages, as these ingredients are not soluble in water. There has been a rise in demand for multifunctional beverage emulsions that include features such as protection, controlled release, targeted delivery, and taste masking. Such beverage emulsions not only offer beverage manufacturers cost benefits, but also provide volume to the beverage with flavor or color with the use of a single emulsion only, rather than having to use two different beverage ingredients to enhance quality and taste.
Changing consumption patterns and continued demand for innovative beverages with newer colors and flavors are supporting growth in demand for emulsion for beverages across regions.
For instance, Ingredion Inc. offers Q-NATURALE® 200 V, a natural and clean label emulsifier derived from the Quillaja Saponaria Molina tree.
Another prominent manufacturer, CP Kelco, offers a wide range of non-GMO additives due to high consumer demand.
What are the Key Challenges for Emulsion for Beverage Manufacturers?
Consumers are becoming aware regarding chemical additives in food & beverages, and their adverse effects on the human body. Chemical food additives are used as thickeners, stabilizers, and emulsifiers during the processing of food products to provide taste, flavor, and good appearance to them. Use of synthetic ingredients creates a cheaper, more stable product, but is also less attractive to many consumers, who, especially in developed countries, are favoring chemical-free ingredients and moving toward organic & natural options. Therefore, consumers' negative perception toward synthetic additives is hampering market growth.
Leading beverage manufacturers are introducing stabilizer-free beverages to gain growing consumer interest in natural products that are free from additives. For instance, from Sep, 2018, Nestle SA eliminated emulsion stabilizers from two of its major milk brands in Brazil - Ninho and Molico - which represent milk for children and skimmed milk, respectively. The company invested around US$ 34.4 Mn for new technology that will enable the storing of milk for prolonged periods of time at room temperature, without any usage of stabilizer.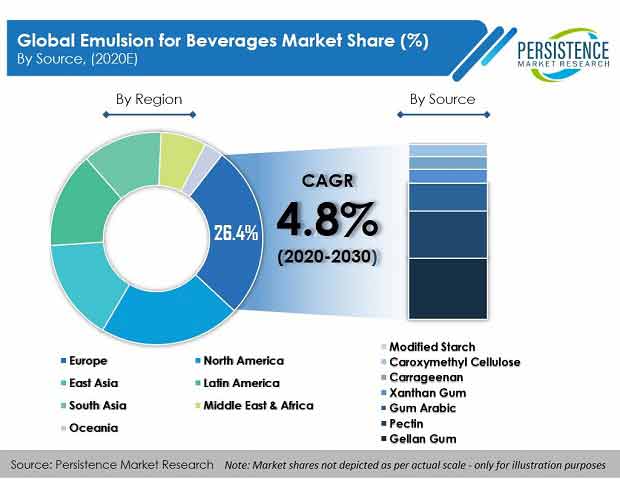 Country-wise Analysis
U.S. Emulsion for Beverages Sales to Steadily Grow
Until 2019, emulsion for beverages sales across the United States experienced a Y-o-Y growth of over 2.1%, to reach US$ 212.7 Bn. The market is set to acquire a sales volume of 45,645 tons in 2030. The main considerable factor is the presence of key players and increased acceptance of non-alcoholic beverages among the masses. According to the National Health and Nutrition Examination Survey, consumption of diet beverages and fruit beverages is increasingly growing among U.S. adults.
Will the U.K. Experience Increased Sales of Emulsion for Beverages?
U.K. emulsion for beverages sales are witnessing moderate growth, and sales volume is anticipated to reach 8,479 tons in 2030. The presence of a large number of health-conscious consumers in the country is contributing rising demand for healthy beverages such as fruit juices and functional beverages, which is boding well for market growth.
Will the Health-conscious Trend across Germany Boost Emulsion for Beverage Sales?
Germany's emulsion for beverage consumption is anticipated to grow at 3.6% over the forecast period of 2020-2030, and to reach US$ 48.8 Mn in valuation by 2030. There has been an increase in the number of health-conscious consumers across the country. People are becoming more aware about the health hazards caused by the food & beverage products they consume. Availability of low-fat beverages produced with the help of emulsions are encouraging demand for beverage emulsions across Germany.
Will High Sales of Beverages in China Benefit Emulsion for Beverage Demand?
As China has shown a promising economic outcome, per capita food expenditure is rising across the country. Emulsion for beverage sales growth is pegged at 7.4% in the country, and till 2019, revenue of approximate US$ 126.9 Mn from these sales was achieved. China has a very strong consumer base for beverages products, which is a beneficial factor for significant growth of emulsion for beverage consumption across the country.
Category-wise Insights
What's Causing Rise in Popularity of Pectin Emulsifiers?
As a source, pectin is gaining popularity among beverage manufacturers, due to which, sales of pectin are anticipated to grow at 7.3%, which is highest among all beverage emulsifiers. Pectin contains numerous health benefits such as lowering cholesterol, reducing the number and duration of reflux episodes, preventing diarrhea, and many others. Pectin has also been highly utilized in functional beverages products. As such, demand for pectin emulsifiers for beverages is rising the fastest across regions.
Why are Non-alcoholic Beverages Becoming a Consumer Favorite?
Majority of demand for emulsion for beverages come from the non-alcoholic beverages segment, especially carbonated beverages and dairy beverages. These non-alcoholic beverage accounted for more than 60% of the market value share in the year 2019, as far as emulsion for beverage consumption outlook in concerned.
The non-alcoholic beverage industry has been utilizing emulsifiers for multiple applications. There is increasing demand for emulsifiers in dairy-based beverages as well as various RTD beverages. Demand for emulsifiers is expected to increase with rising popularity of functional beverages due to the ongoing healthy trend across the world.
Will Flavor Emulsions Dominate the Market in the Foreseeable Future?
By emulsion type, flavor emulsions account for 52.5% market value share in 2020. Flavored alcoholic and non-alcoholic beverages are increasingly becoming consumer favorites, as they offer different taste profiles, unique flavors, and textures. Emulsions are some of the key ingredients that are used for making a wide variety of flavored alcoholic and non-alcoholic beverages.
Increasing production of flavored alcoholic beverages is one of the driving factors for the expansion of the emulsion for beverages market size. Thus, players offering emulsion for beverages are increasing production of their flavored emulsion products, and are targeting alcoholic beverage manufacturers on a large Scale.
Competition Landscape
Persistence Market Research has profiled the following prominent emulsion for beverage manufacturers in its report:
Döhler GmbH
Archer-Daniels-Midland Company
Cargill Inc.
Givaudan SA
Sensient Technologies Corporation
International Flavors & Fragrances
Ingredion Incorporated
Kerry Group
DuPont
CHr. Hansen A/S
Tate & Lyle PLC
Corbion N.V.
Global players in the emulsion for beverages market are focusing on offering clean-label and non-GMO emulsions. Manufacturers are providing customized value-added products targeting the requirements of end-use industries. Major focus of key manufacturers is to increase their market presence by following the merger & acquisition strategy.
In October 2018, Döhler acquired a majority stake in an Italian firm, Nutrafood, which produces a wide range plant-based food & beverages and hypoallergenic products. This acquisition will enhance Döhler's portfolio of plant-based beverages.
In December 2016, Cargill opened an innovation center in Shanghai, China. The objective of this expansion was to focus on taste and flavor, food ingredients, and others. As demand for flavored beverages is rising across Asia Pacific, Cargill is keen to grab this opportunity.
In February 2019, Givaudan opened a new state-of-the-art flavors manufacturing facility in Pune, India. The company has invested US$ 60 Mn for this new facility, the largest investment of the company in India. This new facility will complement the existing plant of the company in Daman, strengthening its capabilities in emulsions, spray drying, and powder blending.
Report Scope
Attribute

Details

Forecast Period

2020-2030

Historical Data Available for

2015-2019

Market Analysis

US$ Mn for Value & Tons Units for Volume

Key Regions Covered

North America, Europe, South Asia, East Asia, Oceania, and the Middle East & Africa

Key Countries Covered

U.S., Canada, Germany, Italy, France, U.K., Spain, GCC, and South Africa

Key Segments Covered

Source, Emulsion Type, and Application

Key Companies Profiled

Döhler GmbH
Archer-Daniels-Midland Company
Cargill Inc.
Givaudan SA
Sensient Technologies Corporation
International Flavors & Fragrances
Ingredion Incorporated
Kerry Group
DuPont
CHr. Hansen A/S
Tate & Lyle PLC
Corbion N.V.

Customization & Pricing

Available upon Request
Key Questions Answered in Report
How will emulsion for beverages market expand until 2030?
Persistence Market Research projects the global emulsion for beverages market to register a CAGR close to 5% across the 2020-2030 assessment period. High prevalence of innovative beverage products is anticipated to drive growth in a positive direction.
Which is the largest market for emulsion for beverage sales?
As per Persistence Market Research's projections, Europe is expected to pivot expansion, attributed to surging demand for emulsion for beverages in functional beverage products.
Who are the leading players in the emulsion for beverages market?
Prominent players operating in the global emulsion for beverages landscape include Döhler GmbH, Archer-Daniels-Midland Company, Cargill Inc., Givaudan SA, Sensient Technologies Corporation, International Flavors & Fragrances, Ingredion Incorporated, Kerry Group, DuPont, CHr. Hansen A/S, Tate & Lyle PLC, Corbion N.V., and others.
Enquiry before Buying
Is the emulsion for beverages market research conducted by Persistence Market Research?
Yes, the emulsion for beverages report has been compiled by expert analysts of Persistence Market Research, through a combination of primary and secondary research. To know more about how the research was conducted, you can speak to a research analyst
What research methodology is followed by Persistence Market Research?
Persistence Market Research follows a methodology that encompasses the demand-side assessment of the market, and triangulates the same through a supply-side analysis. This methodology is based on the use of standard market structure, methods, and definitions.
Who are the respondents for primary research?
Persistence Market Research speaks to stakeholders across the spectrum, including C-level executives, distributors, product manufacturers, and industry experts. For a full list of primary respondents, please reach out to us.
What are the sources of secondary research?
Persistence Market Research conducts extensive secondary research through proprietary databases, paid databases, and information available in the public domain. We refer to industry associations, company press releases, annual reports, investor presentations, and research papers. More information about desk research is available upon request.
Is a sample of this report available for evaluation?
Yes, you can request a sample, and it will be sent to you through an email.
How can I buy this report?
Persistence Market Research provides a secure online payment system to buy reports seamlessly. You can buy the report securely and safely.
Key Segments of Emulsion for Beverages Market
Source
Xanthan Gum
Pectin
Caroxymethyl Cellulose
Carrageenan
Gellan Gum
Gum Arabic
Modified Starch
Form
Color Emulsion
Flavor Emulsion
Cloud Emulsion
Vitamin Emulsion
Application
Non-alcoholic Beverages

Carbonated Beverages
Dairy Beverages
Fruit Juices
RTD Tea/Coffee

Alcoholic Beverages
Region
North America
Latin America
Europe
South Asia
East Asia
Oceania
Middle East & Africa (MEA)
Our Clients