Americas Industrial Valve Market Outlook (2022-2032)
The Americas industrial valve market is valued at US$ 19.45 Bn in 2022, and is projected to expand steadily at a CAGR of 3.9% to reach a market valuation of US$ 28.65 Bn by 2032-end.
| Attribute | Key Insights |
| --- | --- |
| Americas Industrial Valve Market Size (2022E) | US$ 19.45 Bn |
| Projected Year Value (2032F) | US$ 28.65 Bn |
| Value CAGR (2022-2032) | 3.9% |
| Collective Value Share: Top 3 Players (2022E) | 15%-25% |
Valves are used in industries ranging from petroleum and chemical production to water treatment, food manufacturing, power generation, and others. They accurately control inflows or outflows, are durable & reliable, are easy to fit into a specific application, and can be tailored to specific needs. Additionally, industrial valves can be tailored to operate in multiple settings and perform tasks under various temperature and pressure conditions.
Industrial settings are increasingly turning to valves to meet the need for safe water disposal and water treatment. In particular, demand for industrial valves is expected to grow due to increasing infrastructure requirements in these areas. This includes both, traditional industrial facilities, such as factories, refineries, and power plants, as well as more specialized industrial sectors such as food production.
Widespread industrial valve usage will help ensure a safe and reliable supply of water for these businesses.
Demand Analysis of Industrial Valves in the America (2017-2021) Compared to Market Forecasts (2022-2032)
The Americas industrial valve market is expected to grow at a moderate rate with demand mainly coming from end-use industries such as power, oil, gas, chemicals, food, and beverages.
According to this research, year-on-year change in the growth of the Americas market for industrial valves for 2021 was 3.1%, as there were numerous product innovations and increased spending on research & development, especially in the manufacturing sector, besides growing awareness regarding work safety.
In the U.S., there are more than 130 projects of natural gas exploration and transportation pipelines in progress, which are expected to be completed soon. These projects are paving the way for future opportunities for the sales of industrial valves.
To sustain in the highly competitive market, the chemicals industry is striving to adopt advanced technologies in order to enhance its contribution to the overall growth of the industrial sector. Henceforth, huge investments made in the chemicals industry will create futuristic growth opportunities industrial valve manufacturers in the Americas.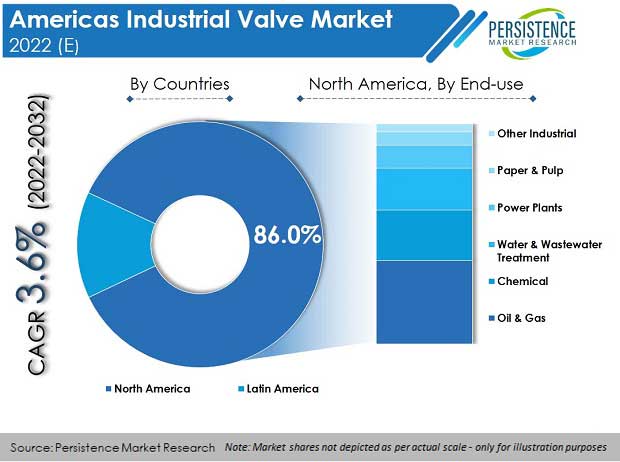 What are the Key Aspects Driving Demand Growth of Industrial Valves in the Americas?
"High Industrial Valve Consumption in Water & Wastewater Treatment"
Valves are widely used in the water industry in order to desalinate and treat wastewater. Increasing population in the Americas has led higher need for water & wastewater treatment plants, which is anticipated to positively impact the sales of industrial valves.
Almost 34 Bn gallons of wastewater is being processed each day. The water treatment industry is also growing in Latin America due to rising awareness about the importance of clean water supply.
As such, the water and wastewater treatment segment is anticipated to advance at a steady rate of approximately 4.1% CAGR from 2022 to 2032.
"Rising Need for Industrial Valves in F&B Sector"
Another key factor influencing the demand for industrial valves is the growing food & beverage industry. This industry faces challenges, such as labor costs are high and food safety regulations need to be maintained; manual labor can be replaced with automation and robotics technology.
As such, use of industrial valves play a vital role in this technology. Also, the fast-food processing industry is growing in the Americas, thereby boosting demand for industrial valves in the region.
Country-wise Insights
Why is the U.S. an Attractive Market for Industrial Valves in the Americas?
The U.S government is seeking to diversify its economy by boosting growth in the industrial sector. It is projected that the consumption of natural gas will rise higher than the consumption of oil & coal, with 1.6% Y-o-Y growth between 2015 and 2030.
There are a huge number of ongoing projects on natural gas. The U.S. is likely to drill more oil & gas wells over the coming years, which will give ample opportunities for the installation of industrial valves.
The U.S industrial valve market is projected to expand steadily at 3.8% CAGR through 2032.
What is the Potential of the Mexico Industrial Valve Market?
In Mexico, demand for industrial valves is projected to rise 2.8% in 2022, which is attributed to Mexico's overall industrial production rising 4.3% year-on-year in 2022, mainly led by the manufacturing sector.
Year-on-year-growth of industrial valve units in Mexico will remain steady throughout the forecast period, mainly due to the developing industrial sector and modern service sectors in the country.
Will Brazil Being a Top Oil & Gas Producer in Latin America Drive Market Expansion?
According to Brazilian National Oil and Gas (ANP) data, Brazil is the top oil & gas producer in Latin America.
Huge investments are accounted for in the oil & gas industry, at around 10% of the country's GDP over the years, which is projected to be the supporting aspect for the growth of the Brazil industrial valve market over the forecast period at a substantial CAGR of 4%.
Category-wise Insights
Why are Globe and Ball Industrial Valves High in Demand?
Demand for ball industrial valves is projected to increase at 3.7% CAGR over the projection period. Ball valves have major application in the oil & gas industry and also in various manufacturing sectors such as chemical storage, besides even residential use.
Globe industrial valves are mostly used in the plant piping industry and are feasible for manual as well as automatic operations. As such, the globe valves segment is estimated to be one of the prominent segments throughout the forecast period and is expected to expand at a CAGR of around 4.4% to reach a market valuation of US$ 6.15 Bn by 2032.
Which is the Most Preferred Material Used for the Production of Industrial Valves?
Across the Americas, the steel industry is expected to witness significant investments in terms of establishment of steel plants over the coming years. This will significantly benefit manufacturers to opt for the production of steel industrial valves.
The steel industrial valves segment is estimated to be valued at over US$ 7.7 Bn by 2032, after exhibiting a CAGR of 4.7% through the decade.
Brass industrial valves are mainly used in wastewater management, petroleum, petrochemicals, and other end-use industries. The brass industrial valves segment is projected to create an incremental opportunity of US$ 288.5 Mn over 2022 to 2032 to reach a value of US$ 1.3 Bn by the end of 2032.
Why Does the Oil & Gas Sector Account for Highest Demand for industrial Valves?
As per Persistence Market Research, oil and gas continues to remain the noticeable end-use industry for industrial valve consumption. Through 2032, year-on-year growth for oil & gas is forecasted at 3.8%.
There has been substantial growth in oil & gas activities in the Americas. Growth of the transportation and energy sector has given rise to new oil & gas exploration projects. This trend is also influencing demand growth of industrial valves.
With the growth in the production of pulp & paper across the Americas, demand for industrial valve systems is anticipated to grow as these valves find application in the process of suspension and transportation of pulp as well as in cleaning applications.
According to this research, the pulp and paper industry is projected to expand steadily at 3.4% CAGR during the forecast period.
Competitive Landscape
Over the historical years, increasing acquisition and expansion activities have been witnessed to improve the supply chain of industrial valves in the Americas.
Several key manufacturers of industrial valves are also focusing on developing new technology-driven equipment. Emergence of new manufacturers has also been witnessed in this space.
For Instance:
In March 2021, Flowserve Corporation announced its plans to supply valves, seals, and pumps to Pfizer for aiding in the production of its COVID-19 vaccine.
Americas Industrial Valve Industry Report Scope
Attribute
Details

Forecast Period

2022-2032

Historical Data Available for

2017-2021

Market Analysis

USD Million for Value
000' Units for Volume

Key Countries Covered

U.S
Canada
Brazil
Mexico
Peru
Argentina
Chile
Colombia
Rest of Latin America

Key Market Segments Covered

Material
Function
Valve Type
End Use
Country

Key Companies Profiled

KSB SE & Co. KGaA
Emerson Electric
TechnipFMC Plc
Weir Group Plc
Flowserve Corporation
Watts Water Technologies, Inc.
KITZ Corporation
Alfa Laval Corporate AB
Curtiss-Wright Corp.
CIRCOR International, Inc.
IMI plc
Mercer Valves Co., Inc
National Oilwell Varco, Inc.
Neway Valves
AVK International A/S
LESER GmbH & Co. KG
General Electric

Report Coverage

Market Forecast
Company Share Analysis
Competition Intelligence
DROT Analysis
Market Dynamics and Challenges
Strategic Growth Initiatives

Customization & Pricing

Available upon Request
Industrial Valve Industry Research by Category
Industrial Valve Market by Material:
Cast Steel Industrial Valves
Brass Industrial Valves
Carbon Steel Industrial Valves
Stainless Steel Industrial Valves
Bronze Industrial Valves
Other Alloys
Industrial Valve Market by Function:
Manual Industrial Valves
Automatic Industrial Valves
Industrial Valve Market by Valve Type:
Gate Industrial Valves
Globe Industrial Valves
Ball Industrial Valves

Trunnion
Floating
Threaded Series

Butterfly Industrial Valves

High Performance
Lined
Triple Offset

Plug Industrial Valves

Lined
Lubricated
Non-Lubricated

Check Industrial Valves

Dual Plate
Piston Lift
Spring Loaded Disk
Swing Check
Tilting Check
Y Pattern
T Pattern

Safety Relief Industrial Valves

Spring Loaded
Pilot Operated

Other Customized Industrial Valves
Industrial Valve Market by End Use:
Oil & Gas
Chemicals
Water & Wastewater Treatment
Power Plants
Paper & Pulp
Other Industrial
Industrial Valve Market by Country:
U.S Industrial Valve Market
Canada Industrial Valve Market
Mexico Industrial Valve Market
Brazil Industrial Valve Market
Peru Industrial Valve Market
Argentina Industrial Valve Market
Chile Industrial Valve Market
Columbia Industrial Valve Market
Rest of LA Industrial Valve Market