Introduction
Wax falls under the class of hydrocarbon fats that melts above 40°C, providing a viscosity liquid after melting. Wax is mainly used in industries, especially for coatings. Wax is also being used extensively as additives, and a base material to aid processing.
Working as a corrosion inhibitor, the wax is being largely in the production of the metal products. Increasing trend of candles is resulting in the rise in the use of wax by the companies producing a variety of candles in a different size, color and shape.
Containing special properties such as malleability, hydrophobicity, and its ability of solubility in organic nonpolar solvents is resulting in the increased use of wax in various industries such as pharmaceuticals, textile, paints, coatings, packaging, etc.
With the increasing demand for eco-friendly and renewable products. Manufacturers are focusing on developing bio-based wax, such as vegetable wax. Meanwhile, the cosmetic industry is also using wax as an active ingredient in skin care products, as it helps in decreasing dehydration and retains moisture for a long time.
Synthetic wax is also being used on a large scale as a substitute to natural wax. Synthetic wax is gaining traction as it is more durable. It is also being largely used in the automotive sector as it requires less effort to apply. It stays for a long-time on a car, eliminating the need for frequent application. It also attracts less dust while adding shine and protection.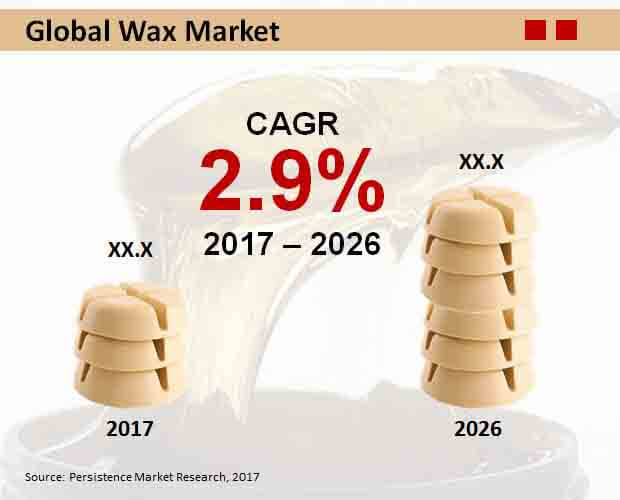 Paraffin Wax- Top-Selling Product
Paraffin wax is likely to be one of the top-selling product in the global wax market. Paraffin wax is projected to reach nearly US$ 3,800 million revenue by 2026 end. Available at a cheaper price, paraffin wax is being used on a large scale in packaging, cosmetics, and candle producing companies.
In packaging industry paraffin wax is used for coating the packaged material. In cosmetics, paraffin wax is used as an additive. Moreover, paraffin wax is also used in electrical insulation and in the lubrication industry.
Plastic & Rubber to Account for Maximum Revenue Share
Plastic & rubber is likely to be one of the largest industries in the global market for wax. Plastic & rubber industry is projected to reach close to US$ 2,500 million revenue towards 2026 end. Owing to the increasing demand for plastic material in the retail industry, automotive industry, and food and beverages industry, the demand of wax for various application is also rising.
Polyethylene wax which is produced by polymerization of ethylene, helps in improving product appearance. Manufacturers are also coming up with new processes in order to produce wax along with desired properties.
Application of Wax to be the Highest in Candles
Compared to the various applications of wax, its application in candles is likely to be the largest. By 2026 end, candles are projected to exceed US$ 4,500 million revenue.
Candles of various shapes, sizes and colors are being demanded on a large scale by individuals, especially for home décor in Europe and North America during the holiday season.
Moreover, scented candles are also being used largely in spa and aromatherapy. Hence, manufacturers are also increasingly using wax to produce candles.
APEJ to Dominate the Global Wax Market
Asia Pacific Excluding Japan (APEJ) is likely to remain dominant in the global market for wax. India and China are witnessing growth in the packaging, electronics and automotive industry. Hence the demand for different type and high quality of wax that can be used in the aforementioned industries is also growing.
Also, growth in the spa, aromatherapy and stress relieving activities across the countries including Malaysia, Thailand and India are creating a huge demand for various types of wax. These are some of the factors fueling the wax market in APEJ.
Competition Tracking
Royal Dutch Shell plc., Exxon Mobil Corporation, BP plc., The Lubrizol Corporation, Akzo Nobel NV, Honeywell International Inc., Archer Daniels Midland Company, Cargill, Inc., Evonik Industries AG, and BASF SE, are some of the key players in the global market for wax.
Trends
Global Wax Market: Market Segmentation
Region

North America
Latin America
Europe
Japan
APEJ
MEA

Product Type

Paraffin Waxes
Microcrystalline Waxes
Gas-to-liquids (GTL) Waxes
Polymer Waxes
Fischer-Tropsch Waxes
Vegetable Waxes
Animal & Insect Waxes
Other Waxes

Industry

Plastic & Rubber
Adhesives & Sealants
Paper & Paperboard
Building and Construction
Inks & Coatings
Packaging
Pharmaceuticals
Cosmetics & Toiletries Industry
Automotive
Firelogs

Applications

Candles
Rheology/Surface Applications
Polish
Cosmetics
Rubber
Soap Wax
Hot-melt adhesive
Other Applications