Introduction
Over the recent past, there has been notable increase in glass production, majorly flat glass and container glass coating, amongst others. These glasses use soda ash as an important material, which is also used as a fluxing agent as it lessens the temperature of heater or furnace mandatory to melt the silica. Adoption of soda ash has also concentrated the consumption of energy for glass manufacturing.
Glass and ceramics production is an important end use for soda ash and is responsible for ~50% of the overall consumption. In terms of consumption, China is projected to dominate the global demand with a share of ~44% in the global market. This can be attributed to steady growth across various industries for instance, glass, liquid soaps and detergents and chemicals, amongst others.
Furthermore, developing countries, such as China and regions such as Europe, are expected to witness robust growth driven by rapid economic growth, which is estimated to hold a prominent share in the soda ash market over the forecast period.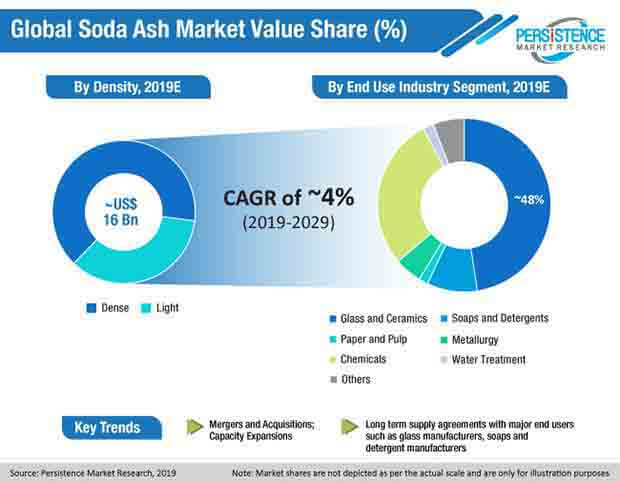 Significant Adoption of Soda Ash from Soaps & Detergents Industry to Create Heavy Upsurge in Market Growth
Soda ash has replaced conventionally used phosphates that are used in the detergent industry. Additionally, soda ash is also being used in the production of a number of other cleaning products. Moreover, light soda ash is widely employed for manufacturing soaps and detergents. It is used very often to infuse and to develop the cleansing properties of soaps and detergents.
Application of soda ash in detergents is broadly accepted, especially in developing countries of SEA & Pacific region, India, and ASEAN countries. This is expected to create a positive impact on the soda ash market.
Steady Growth of Major Industries Such as Metallurgy and Chemicals
In the metallurgical processing industry, soda ash is used for the recycling of aluminum and zinc. It is also used to remove phosphates and sulfurs from ferrous and non-ferrous ores. A number of chemicals, such as sodium silicate, sodium bicarbonate and percarbonate, and sodium chromate and dichromate, are produced using soda ash. These will create significant traction of soda ash in the near future.
M&A and Capacity Expansion Boosting Soda Ash Market Growth
Soda ash is a consolidated market and key market players account for ~70% of the market share. This is expected to directly affect the growth of the Soda Ash market. Key market players are focusing on merger & acquisitions, collaborations and divesture for effective functioning.
For instance, In September 2017, Genesis Energy, LP acquired alkali business from Tronox Limited and became world largest manufacturer, accounting for 28% of the world's natural soda ash market.
Furthermore, entry of new players in the soda ash market and main focus on the expansion of production base and capacities for soda ash is pushing the market growth.
Availability of Alternatives to Soda Ash Posing a Threat to Market Growth
Glass manufacturing, prominently container glasses & flat glasses, obtains a substantial share of ~50% in the overall adoption and use of soda ash. However, over the past few years, use of alternatives, such as plastics, recycled glass, etc. has rapidly increased.
Moreover, in the food & packaging industry, plastics and aluminium have largely replaced glass containers. This specific aspect may affect the soda ash market growth up to a certain extent.
Introduction of liquid detergents in the soaps and detergents industry is an additional factor which has led to a decline in the sales of soda. Conventional dry powders were a major end use industry for soda ash, with increased adoption of liquid detergents, sales for soda ash has decreased.
The Analyst's Viewpoint
A broader view of the soda ash market has led analysts to conclude that the market is growing at an impressive rate with China and Europe holding a large share of the global soda ash market. China's soda ash market is expected to be opportunistic in terms of sales. Increasing number of key market players, adoption of soda ash in glass & ceramics and widespread application in soaps, detergents, chemicals, and paper & pulp industry across the globe will positively impact the soda ash market.
The soda ash market is characterized by the presence of few big players from Europe and the SEA Pacific and China region.
The glass & ceramics segment in end use type in soda ash market is expected to dominate the global soda ash market throughout the forecast period. The impact of other market restraints will remain steady globally in the soda ash market and is projected to grow vividly over the forecast period. Technological innovations along with collaborations, mergers & acquisitions by key market participants will also give impetus to the soda ash market.
Key Segments of the Soda Ash market
PMR's study on the soda ash market is divided into four significant segments, such as density, end use industry, and region. This report offers comprehensive data and information about the important market dynamics and growth parameters related to these categories.
By Density
By End Use Industry

Glass & Ceramics
Soaps & Detergents
Paper & Pulp
Metallurgy
Chemicals
Water Treatment
Others

Region

North America
Latin America
Europe
SEA & Pacific
China
India
Japan
Middle East & Africa
Key Questions Answered in PMR's Soda Ash Market Report
Which region is anticipated to hold the prominent market share over the forecast period?
What will be the key driving factors prompting the demand for soda ash market during the forecast period?
How current trends will impact the soda ash market?
Which are the significant market participants in the soda ash market?
What are the crucial strategies of prominent players in the soda ash market to upscale their positions in this landscape?