Introduction
Remote patient monitoring technology includes devices such as blood pressure monitoring system, glucose meters, and other portable devices that can be used by patients at a remote location. Increasing use of smartphones is leading to the rise in the development of applications that are connected to the monitoring device being used. These mobile applications help in recording and transmitting patient health-related information or data to the healthcare providers.
The aim of the companies in the market is to provide remote patient monitoring devices is to provide better chronic care management while keeping the cost down. Also, the manufacturers are focusing on developing easy-to-use monitoring devices that can help patients manage conditions including heart diseases and diabetes better by avoiding costly medical procedures.
However, some of the obstacles facing the global remote patient monitoring devices are there is very little standardization among devices due to the number of companies in the market, some of the monitoring apps are considered same as the medical devices, hence, these devices need approval from the Food and Drug Administration (FDA) to be used in clinical setting. People are concerned about privacy and security, especially in the case of health-related data. Hence, the manufacturers are focusing on providing layered data security and device management solution.
As per the Persistence Market Research (PMR), the global remote patient monitoring devices market is anticipated to see a strong growth between 2017 and 2024. By 2024 end, the global remote patient monitoring devices market is estimated to reach US$ 1,502.9 Million revenue.
Cardiac Monitors to Emerge as Highly Preferred Product in the Global Market for Remote Patient Monitoring Devices
Cardiac monitors including heart rate monitor, fetal heart rate monitors, ECG monitor, and blood pressure monitors are expected to see a significant demand worldwide. Rise in cardiovascular diseases, accounting for around 31% of deaths globally is one of the important factors driving the demand for cardiac monitors. It is also considered to be the number one cause of death and more people die of cardiovascular diseases compared to any other diseases.
Arrhythmia is responsible for the majority of deaths globally, hence, ECG interpretation is preferred on a large scale to diagnose and measure arrhythmia. Therefore, companies are providing advanced ECG monitors, ensuring accuracy and integrating software that helps in transferring data directly to the electronmic medical records. Manufacturers are also developing portable and wireless ECG monitors that can be used anywhere and anytime.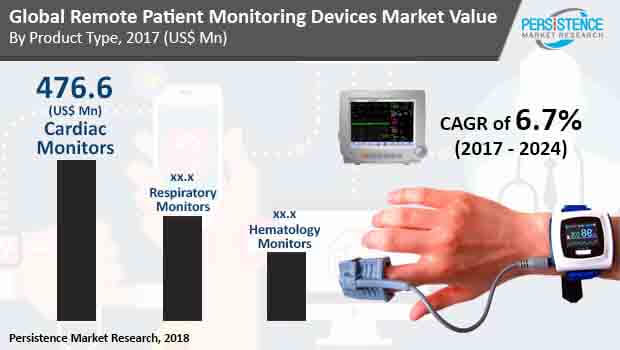 Rise in Telemedicine Approach Incorporating Remote Patient Monitoring to Fuel the Market Growth
Advancement in technology and communication system is driving the trend of telemedicine worldwide. Moreover, telemedicine approach uses remote patient monitoring system or devices to keep a check on the health status of patients. Companies are developing tool-kit to monitor various chronic diseases.
These tool-kit include portable and easy-to-use remote patient monitoring devices. These tool-kits are designed to offer real-time monitoring, with faster and actionable feedback. Moreover, the devices are also equipped with sensors that help in making the process of monitoring simple and convenient.
Along with cardiac monitors, companies are also working on developing monitoring devices for hematology including blood glucose monitor and for respiratory diseases including sleep apnea and respiratory rate monitor.
- Companies Covered in This Report -
Boston Scientific Corporation
Koninklijke Philips N.V.
Abbott Laboratories
Nihon Kohden Corporation
F. Hoffmann-La Roche Ltd.
LifeWatch AG
Medtronic
St. Jude Medical
Others