Physical Therapy Services Market Outlook (2022-2032)
The global physical therapy services market was valued at US$ 117.6 Bn at the end of 2021 and is projected to evolve at a CAGR of 4% over the next ten years, which indicates steady market growth. Detailed industry analysis reveals that demand for physical therapy services will increase to a market valuation of US$ 181.1 Bn by the end of 2032.
According to in-depth industry analysis by Persistence Market Research, orthopedic physical therapy enjoyed a market value of US$ 23.3 Bn at the end of 2021, accounting for nearly 20% of the overall market share.
As of December 2021, revenue from physical therapy services accounted for 1.7% share in the global healthcare services market.
| Attribute | Key Insights |
| --- | --- |
| Physical Therapy Services Market Size (2021) | US$ 117.6 Bn |
| Projected Market Value (2032) | US$ 181.1 Bn |
| Global Market Growth Rate (2022-2032) | 4% CAGR |
| East Asia Market Share (2021) | 18.7% |
| Share of Top 5 Countries | 65.6% |
Sales Analysis of Physical Therapy Services from 2017 to 2021 Vs Market Outlook for 2022 to 2032
The global market for physical therapy services expanded at a CAGR of 3% over the last five years (2017-2021).
During the pandemic, patients' demand for alternative treatments increased substantially. There was a reluctance to check out many health services in person during the peak of the pandemic unless it was for a serious condition.
Telehealth physical therapy is a fantastic way to receive treatment and know the users' needs from a distance. Physical therapists go digital to serve patients with varying needs and levels of comfort. Physical therapy professionals provide healthcare information and services to patients via electronic information and telecommunication technology.
For instance, physical teletherapy has proven effective in studies. A study published in The Journal of Bone & Joint Surgery in January 2020 looked at 287 patients with an average age of 65 who had complete knee replacement surgery.
The Virtual Exercise Rehabilitation Assistant (VERA) system, which employs 3D technology and a digitally-simulated teacher to deliver exercise instructions and provide immediate feedback based on a user's motions, was used by half of the participants.
Physical therapists in private practice can now bill for face-to-face technology sessions, according to the Centers for Medicare and Medicaid Services. Several insurance companies have begun to reimburse telehealth-delivered physical therapy. Therefore, many users are going for telerehabilitation and remote physical therapy services.
The scope of physiotherapy practice has changed over time. Even though the physiotherapy workforce has risen in the last five years, over 40% of Physical Therapists (PT) work in hospitals, despite the possibility of the growing demand for PTs in home and community settings.
The global physical therapy services market is predicted to move ahead at a CAGR of 4% and record sales of US$ 181.1 Bn by the end of 2032.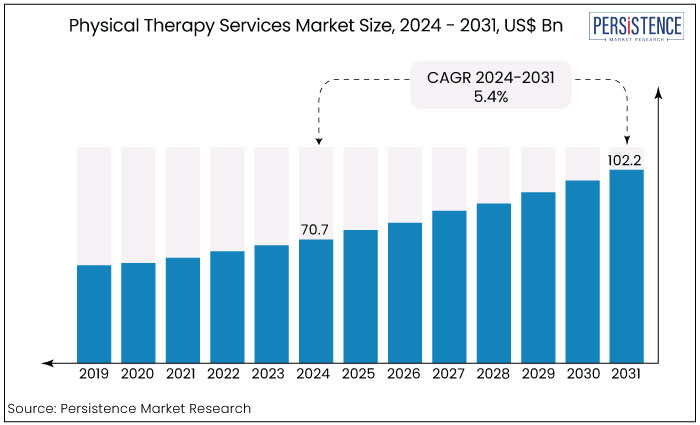 What Opportunities Can Physical Therapy Service Providers Expect Down the Road?
"Increasing Adoption of Physiotherapy Services in Emerging Economies and Rising Demand for Home Physiotherapy Services"
The U.S., U.K., Australia, New Zealand, and areas of Western Europe are the leading countries in physiotherapy. In recent years, there has been an increase in the adoption of physical therapy services in emerging countries such as India, Mexico, Russia, Pakistan, Saudi Arabia, China, and Brazil. Service providers can focus on these countries to increase their market share.
COVID-19 affected the physical therapy service market negatively. Patients avoided going out for physical therapy sessions. Therefore, some physiotherapists resorted to virtual sessions or going to each patient's home to provide their services. Due to this, the prevalence of home physical therapy services has increased in recent years, which is creating a huge opportunity for service providers.
What's Restraining Demand for Physical Therapy Services to Some Extent?
"Availability of Alternative Medicines and High Cost & Maintenance of Physiotherapy Equipment"
Majority of alternative medicines have been used successfully for centuries in Eastern countries. Alternative medicine is gaining popularity as a way to supplement or replace some standard treatment options. Alternative medical therapies are becoming more popular in current healthcare treatment plans as a result of their efficacy.
Physiotherapists have traditionally been educated in exercise and massage, movement, electrotherapy, and manipulation. In addition to standard pain medication, they are increasingly trained in and capable of providing complementary or alternative treatments.
Acupuncture, reiki, reflexology, hydrotherapy, various types of massages, and manual therapy such as shiatsu, Bowen method treatments, neuro structural integration, and craniosacral therapy are all examples of the alternative medicines currently available.
Increasing use of these alternative medicines will decrease physiotherapy market growth potential.
Additionally, to treat various sorts of disabilities, a therapist may need a variety of machines and equipment. Some of the most frequent forms of physiotherapy equipment utilized in most treatment clinics and hospitals are treadmills, exercise cycles, pedal exercisers, and elliptical trainers.
The cost of this equipment is very high and it requires good maintenance as well. Due to all these reasons, there is a possibility that the high cost of physiotherapy equipment will hinder the market growth.
Country-wise Insights
How are Physical Therapy Service Providers Targeting the U.S. Market?
"Increasing Use of Technology-based Physiotherapy in the U.S."
In terms of value share, the U.S. accounted for 94.4% of the North America physical therapy services market.
Wearable sensors measure, track, and provide feedback on customers' rehab exercises. Patients can use these technologies in a clinic as well as at home, with feedback sent immediately to their doctor.
These improvements are especially beneficial because physical therapists often send clients home with a set of exercises designed to reinforce healthy movement patterns after assessing their present musculoskeletal status through a battery of joint mobility measurements and examinations.
This is the main reason for the increasing use of physical therapy services in the U.S.
How is the U.K. Physical Therapy Services Market Shaping Up?
"High Focus on Launching AI-based Applications"
In 2021, the U.K. physical therapy services market was valued at US$ 7.2 Bn and held a market share of 21.7% in Europe.
The Veterans Affairs Department planned to hire software developer JumpStart in December 2021 to create a platform that would integrate artificial intelligence and the user's own body for better physical therapy.
The Artificial Intelligence Based Physical Therapy App (AIPTA), would be meant to detect and decrease recurring stress-related ailments, as per a request for information posted on SAM.gov. Through an adaptable user interface, the software will receive input from wearable devices that monitor various health diagnostics.
Therefore, the launch of various AI-based applications is driving the growth of the physical therapy services market in the U.K.
Will China Emerge as a Prominent Market for Physical Therapy Services?
"Increased Investments by Government in Public Health & Rehabilitation"
East Asia held a market share of 18.7% by value in the global physical therapy services market in 2021, of which, China accounted for a market share of 68.2%.
With the help of the Chinese Association of Rehabilitation Medicine, increased government investments in public health and rehabilitation, and the involvement of international education experts, entry-level physical therapy education programs have begun to emerge, and now there are nine of them that are modeled, at least in part, on the international guidelines of the World Confederation for Physical Therapy.
This is the reason why China is considered an emerging market for physical therapy services.
Category-wise Insights
Which Physical Therapy Service Will Exhibit Higher Demand Growth?
"Demand for Orthopedic Physical Therapy to Remain High"
The orthopedic physical therapy segment amongst all services accounted for the highest market share of 19.8% by revenue at the end of 2021.
Orthopaedic physiotherapy is concerned with ailments affecting the musculoskeletal system, which includes joints, bones, muscles, tendons, and ligaments. It diagnoses, treats, and cures musculoskeletal issues, as well as rehabilitates patients who have had orthopaedic surgery.
Any ailment that causes discomfort or inhibits motor function as a result of the injury to bone and soft tissue components in the body can benefit from orthopaedic physical therapy. As a result, orthopedic physical therapy is widely used for the treatment of various joint diseases.
Which Application of Physical Therapy Services is Most Popular?
"Substantial Application of Physical Therapy Services in Sports Rehabilitation"
The sports rehabilitation segment, by application, is driving high demand in this market and accounted for more than 17.5% market share at the end of 2021.
Sports rehabilitation is an area of allied healthcare that focuses on the rehabilitation and prevention of injuries to attain optimal levels of functional, occupational, and sports-specific fitness in people of all ages and abilities.
Performance analysis is used in sports rehabilitation to measure a person's physical capabilities, particularly after an accident. It is then utilized as a baseline for making decisions about which interventions to apply during the rehabilitation process.
Competitive Landscape
Technology advancements that PT practice owners are seeing in 2022 could improve the level of patient care for the better. These innovative physical therapy advances make patient care more accessible, easier to deliver, and more effective than many 'tried and tested industry norms.
Wearable technology is gaining traction as the preferred approach for millennials to improve movement and manage pain, especially when combined with other technology (and quality of life) advances such as telemedicine therapy. MIO Therapy is a pioneer in the field of wearable technology.
Some of the world's major game developers have created specific games for enhanced mobility and exercise, which integrate video games with physical therapy more than some people believe. These games are available on all platforms, including consoles, virtual reality machines, mobile apps, and wearable technology.
Physical Therapy Services Industry Report Scope
Attribute
Details

Forecast Period

2022-2032

Historical Data Available for

2017-2021

Market Analysis

US$ Billion for Value

Key Countries Covered

U.S.
Canada
Brazil
Mexico
Argentina
Germany
U.K.
France
Italy
Spain
BENELUX
Russia
Nordic Countries
China
Japan
South Korea
India
Thailand
Malaysia
Indonesia
Philippines
Vietnam
Australia
New Zealand
GCC Countries
Turkey
South Africa
Northern Africa
Israel

Key Market Segments Covered

Service
Application
End User
Region

Report Coverage

Market Forecast
DROT Analysis
Market Dynamics and Challenges
Strategic Growth Initiatives

Customization & Pricing

Available upon Request
Key Segments Covered in Physical Therapy Services Industry Survey
Physical Therapy Services Market by Service:
Orthopedic Physical Therapy
Geriatric Physical Therapy
Neurological Physical Therapy
Cardiopulmonary Physical Therapy
Pediatric Physical Therapy
Sports Physical Therapy
Vestibular Rehabilitation
Women's Health Physiotherapy
Physical Therapy Services Market by Application:
Acute and Chronic Pain
Burn and Trauma Cases
Pre- and Post-operative Care
Sports Rehabilitation
Neurological Disorder
General Orthopedic
Cardiovascular Disorder
Vestibular Therapy
Lymphedema
Others
Physical Therapy Services Market by End User:
Hospital Facilities
Ambulatory Surgical Centers
Long-term Care Facilities
Skilled Nursing Facilities
Physician-0wned Physical Therapy Clinics
Physical Therapy Services Market by Region:
North America Physical Therapy Services Market
Latin America Physical Therapy Services Market
Europe Physical Therapy Services Market
South Asia Physical Therapy Services Market
East Asia Physical Therapy Services Market
Oceania Physical Therapy Services Market
Middle East & Africa Physical Therapy Services Market