Introduction
Increasing health concerns among consumers have pushed the non-stick cookware market towards higher sales. Cooking trends are not only motivated by health & fitness but also encouraged by home-cooked food recipes.
The number of television programs devoted to food & recipes drives a large number of consumers, especially housewives, to try out new cuisines. This, in result, increases the usage of non-stick cookware products. Non-stick cookware is becoming increasingly popular as it facilitates cooking with minimum usage of oil.
The interest of consumers in gourmet cooking is getting an impetus due to television shows and celebrity endorsements. Europe's culinary practices and excellence are also garnering tremendous popularity and this is propelling the usage of non-stick cookware. Michel Roux Jr, Monica Galetti, and Gordon Ramsay are some of the popular chefs from Europe who are great food influencers. Thus, they directly or indirectly promote non-stick cookware, which as a result, is massively driving the sales of these products.
The sales of non-stick ceramic cookware are growing due to its non-harmful and non-stick properties. The shift in consumers' preferences has been observed to be changing from Teflon coated non-stick cookware to Ceramic coated non-stick cookware. Modern stores have been identified as the primary sales channel for the non-stick cookware category followed by departmental stores. An expansive product portfolio from different brands, latest product models, and greater visuals are boosting the sales of non-stick cookware.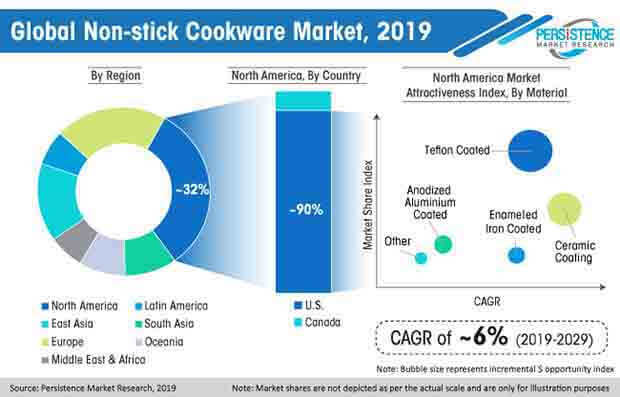 Eco-friendly Non-Stick Cookware is an Emerging Trend
Health & fitness awareness and usage of environment-friendly products are the latest trends observed in almost every industry, which has a direct or indirect impact on consumers and the environment. This trend is also observed in the cookware industry where consumers are increasingly demanding green or sustainable products, which will cause no harm to the surrounding environment. Due to the growing need of sustainable non-stick cookware, many new trends have emerged in the market.
For example, chefs around the world prefer eco-friendly pans or non-stick cookware that will not put the health of consumers at risk. Cuisinart's green gourmet non-stick cookware is an example of it. It consumes less energy and reduces harmful carbon emissions.
Its ceramic-based non-stick coating is free from petroleum, and thus, it helps to conserve natural resources and allows consumers to cook with all food ingredients without the risk of toxicity or environment depletion.
Non-Toxic Cookware is Getting Popular but Restricted to a Particular Consumer Group
Increasing health & fitness concerns are creating awareness among consumers about certain health risks. High knowledge and interest in the product's materials have forced manufacturers to come up with innovative materials that have no harmful effects.
But, only a small number of consumers prefer non-stick cookware that is free from chemicals. Thus, a growing trend has been observed for ceramic coated cookware that is free from perfluorooctanoic acid (PFOA) and polytetrafluoroethylene (PTFE).
Two types of ceramic cookware are generally found in the market:
Solid or 100% Ceramic Cookware
Ceramic-Coated Cookware
Although, both ceramic-coated cookware and Teflon coated cookware provide outstanding nonstick properties, the health concerns related to Teflon is proliferating the consumption of ceramic coated non-stick cookware.
Due to the growing concerns associated with Teflon coating which is linked to many health risks, a small number of consumers have shifted their focus from Teflon to Cast Iron which is known for non-toxic cookware. Cast Iron which has great heat retention properties, does not put health at risk. Thus, the changing interest of consumers has resulted in lower sales in the non-stick cookware category from what has been recorded previously.
Market Competition and Regional Overview
The non-stick cookware is a popular product among consumers. The primary drivers for its popularity in the market are stated below:
The global non-stick cookware market represents a fairly consolidated competition landscape, where a majority of key players maintain their strategic focus on product development, solid distribution partnerships and joint ventures, targeting a firmer global footprint.
Groupe SEB, Newell Brands Inc., Conair Corporation, Gibson Overseas, Inc., TTK Prestige are considered as major market players for non-stick cookware market.
Non-stick cookware companies are principally engaged in acquisitions and partnerships for expansion of their business across the world. Continuous product innovation pertaining to non-stick cookware is witnessing a significant growth of the company in terms of value and volume as well.
Leading manufacturers from non-stick cookware market are currently prioritizing R&D and new innovations to resonate with the booming consumption of non-stick cookware products such as non-stick saute pan, roasting pans, stockpots, frying pans & skillets etc.
Demand for non-stick cookware in both categories such as residential and HoreCA in the U.S. are expected to increase at a steady growth rate over the forecast period. Growing TV shows and Popular Chefs' influences also have a great impact on the non-stick cookware market. North America is expected to have the highest market share while East Asia is expected to show exciting growth prospects during the forecast period. Online sales play a significant role in South Asia market. In Latin America, Brazil is expected to hold a significant market share followed by Argentina. Europe is expected to hold a significant market share owing to greater adoption rate of non-stick products. The growing influence of chefs in cooking also has an indirect impact on non-stick cookware sales. Asia Pacific including South Asia and East Asia, account for a major market share in the non-stick cookware market. East Asia holds a comparatively higher market share than South Asia and its growth rate is the highest among all regions. China ranks top among East Asian countries while India accounts for a major market share in South Asian countries.
The Analyst's Viewpoint
A brief overview of the changing landscape of the non-stick cookware market has led our analysts to conclude that, the market is gaining momentum. Growing Television & online shows/videos related to cooking are trending, which as a result, is driving the non-stick cookware market.
On the other hand, developing countries are trying to cope up with globalization and industrialization by investing in infrastructure such as malls, company standalone exclusive stores etc. Experiencing the trending demand for non-stick cookware, market players are now investing in research and development and going for innovative technologies and products which as a result, will help the manufacturers to retain old and acquire new customers around the world.
Technological advancements in non-stick cookware coating and market competitiveness forces the players to come up with new features which can be incorporated into their existing product portfolio.
To attract consumers, manufacturers are offering scratch resistant, equal heat distribution and low oil consuming non-stick cookware. Few companies are now offering colored non-stick cookware which matches with the consumer's growing desire for color utensils.
Non-stick cookware Market: Segmentation
PMR's research study on the global non-stick cookware market offers a detailed market segmentation, wherein the key segments have been discussed in detail. The segmentation of the non-stick cookware has been offered on the basis of price range, material, sales channel, end user, and region. Every segment has been analyzed in detail and data pertaining to the growth of each segment has been included in the study.
Attribute
Details

Price Range

Material

Teflon Coated
Anodized Aluminium Coated
Enameled Iron Coated
Ceramic Coating
Other

Sales Channel

Modern trade
Specialty Stores
Franchise Outlet
Online Stores
Departmental Stores
Other

End User

Region

North America
Latin America
Europe
South Asia
East Asia
Oceania
MEA
The non-stick cookware market research report includes a competitive landscape that provides a dashboard view of the key competitors operating in the market. Some of the market players profiled in this section include Bernde, Bradshaw International, Conair Corporation, Groupe SEB, Calphalon (Newell Brands LLC), Cook N Home, Cuisinart, Denby Group Limited, Cook N Home, Nordic Ware, Regal Ware, Inc., The Vollrath Company, LLC and others..
Non-stick Cookware Market: Key Questions Answered in the Report
The research study on the non-stick cookware market offers inclusive insights about the growth of the market in the most comprehensible manner for the better understanding of users. The key insights offered in the non-stick cookware market answer some of the most salient questions that assist stakeholders in gauging all the emerging possibilities.
How rapidly changing business environments turn out to be the major growth engines for the non-stick cookware market?
How does urbanization and increasing number of household affects the non-stick cookware market?
What are the key trends that are constantly shaping the non-stick cookware market growth?
Which are the prominent regions offering plentiful opportunities for the non-stick cookware market?
What are the differential strategies adopted by key players to command a significant chunk of the global market share?