Methanol Market Outlook (2022-2032)
Newly released data on the methanol market reveals that global sales are expected to reach US$ 43.5 Bn by the end of 2022, registering a Y-o-Y growth of 5.7%. Demand for methanol is projected to register a CAGR of 6% through 2032.
According to Persistence Market Research, worldwide methanol consumption is expected to reach US$ 77.6 Bn by the end of 2032. East Asia is anticipated to be the largest consumer of methanol with this regional market expanding at a CAGR of 6.4% over the decade.
| Attribute | Key Insights |
| --- | --- |
| Methanol Market Size (2021A) | US$ 41.2 Bn |
| Estimated Methanol Market Value (2022E) | US$ 43.5 Bn |
| Forecasted Methanol Market Value (2032F) | US$ 77.6 Bn |
| Value CAGR (2022-2032) | 6% |
| Collective Value Share: Top 3 Countries (2022E) | 62.8% |
Consumption Analysis of Methanol (2017 to 2021) Vs. Market Outlook (2022 to 2032)
Methanol is used as a multipurpose fuel. It is considered a building block for hundreds of everyday materials, including construction materials, paints, and plastics. Methanol is produced from various feedstocks such as natural gas, coal, and biomass.
Increasing regulations over the use of methanol and blending in fuel are expected to be among the key factors driving sales. The methylic alcohol market expanded at a CAGR of 8.6% between 2017 and 2021.
Growing building & construction and automotive industries, which are major end users of methanol, are expected to bolster market growth over the coming years, with the methyl alcohol market expected to expand at a CAGR of 6% through 2032.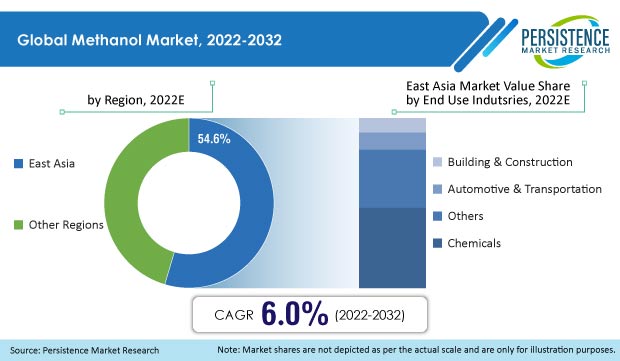 What are the Key Opportunities Awaiting Methanol Manufacturers?
"Surging Popularity of Methanol as Substitute Fuel"
Methanol is becoming more popular as a substitute fuel for the manufacturing and marine sectors. New uses of methanol as a fuel are being encouraged with rising knowledge of low-emission fuels and increasing regulatory reforms.
Methanol is becoming a more well-liked fuel for ships due to its affordability, favorable environmental effects, wide availability, and efficient & secure use.
Methanol can lower all emissions, including those of sulfur oxide (SOx), nitrogen oxide (NOx), and particulate matter (PM). Because it is a liquid fuel, methyl alcohol is inexpensive and does not need as much infrastructure.
What's Hindering Methanol Market Expansion?
"Hazardous Nature of Methanol an Issue"
One of the primary end markets for methanol is the automotive industry. Alcohol-based fuels have been used in automotive applications for a long time now. Two types of alcohol are used as fuels: ethanol and methanol.
Methanol is more hazardous for handling than ethanol and requires an entirely different fuel distribution system due to its extreme corrosiveness when it comes in contact with metals. Chemically, ethanol is less hazardous than methanol, yet, it has more energy per gallon.
"Fluctuation in Raw Material Prices"
In addition, fluctuations in the raw material prices are also one of the key factors that are expected to hamper methanol market growth. Natural gas, coal, and other feedstocks are used to make methanol. Since the entire logistics and supply system was disrupted by COVID, it led to the market's demise, in which the fluctuating raw material prices was the main limiting factor.
The methanol market is directly impacted by changes in raw material pricing. The availability of raw materials and pricing affect production costs. Any carbon-based source's synthesis of methanol is an expensive process because it depends on the cost of raw materials.
Country-wise Analysis
What is the Growth Outlook of the Methanol Industry in China?
China has the fastest-growing chemical industry and it has also been the largest in the world by revenue. The Chinese industry has been moving forward with investments and developments in recent years. There is a shift toward specialty chemicals, reflecting consumer demand trends.
Development of the chemical industry has been an important factor in China's high economic growth in recent years.
China has seen a steady increase in methanol demand. China is setting the pace for methanol fuel blending, with demand mostly driven by methanol's affordable price when contrasted to the high cost of energy on the international market.
Due to its advantages as a clean fuel, attractive economics, and simplicity of integration into existing fuelling infrastructure, methanol is regarded as a strategic fuel by the quickly developing nation.
Since it can be manufactured from a variety of easily accessible feedstocks, such as coal, natural gas, and biomass, methyl alcohol is the ideal solution for China to fulfil its growing fuel demand and strengthen its domestic energy economy.
China has become the world's largest producer and user of methanol due to the number of coal resources available as feedstock and rising energy prices in both, the global and domestic Chinese market. Along with this, growth of the automotive & construction industry in China is anticipated to drive high demand for methanol.
As such, the China methanol market is expected to expand at a CAGR of 6.6% during the forecast period.
What are the Growth Projections for the U.S. Methanol Market?
Methanol has been promoted as an alternative fuel that can be used in transportation. Methanol is blended into fuel with the ultimate aim to reduce the harmful emissions of gasses from vehicles.
The growing trend of carbon neutrality and sustainability is compelling manufacturers to promote fuel blending in the United States. The country has a mass market for vehicle production. Growing population and shifting preference toward a greener & cleaner environment are factors driving the demand for eco-friendly fuel.
Methylic alcohol is gaining traction due to its chemical and physical properties; it can be used as a fuel owing to these properties. Growth of the automotive industry in the United States is expected to bolster the demand for methyl alcohol over the coming years.
The U.S. methanol market is expected to reach US$ 8.6 Bn in valuation by the end of 2032.
Category-wise Insights
How is Rising Demand for Formaldehyde Driving the Methanol Market?
Formaldehyde is produced on an industrial scale via the catalytic oxidation of methanol. In the production of resins, plastics, chemicals, artificial goods, and other things, formaldehyde is employed in a variety of sectors.
Methanol is an important ingredient in formaldehyde production. One-third of the demand for methanol is for formaldehyde production. Additionally, it is utilized in sanitary items such as paper towels and napkins. Consumption of formaldehyde has increased as a result of rising urbanization, which will ultimately boost the demand for methanol.
Formaldehyde resins are used in the building and construction business to finish timber goods such as furniture, flooring, and other home furnishings. There are several applications of formaldehyde in end-use industries, which are anticipated to fuel demand for methanol in parallel.
The formaldehyde application segment is expected to US$ 23.2 Bn by end of 2032.
Which End Use of Methanol is Expected to Gain Traction Going Forward?
Methanol is an important precursor for a wide range of chemicals. Formaldehyde, acetic acid, MTBE, methanethiol, and various others are a few examples of such chemicals.
The automobile and construction sectors are driving high demand for methanol globally. Methanol functions as a precursor in the production of several compounds. Textiles, plastics, resins, adhesives, and other products are produced using methanol and its derivatives.
Plastics now play a significant part in the automobile sector since they help lessen vehicle weight and improve fuel efficiency. Plastics are also widely employed in the building industry for furniture, plumbing, and other applications.
Consumption of methanol in the automotive and construction sectors is expected to gain traction over the coming years. The automotive and construction end-use segments are anticipated to exhibit CAGRs of 6.8% and 6.1%, respectively, over the decade.
Competitive Landscape
In order to cater to the rising demand for methanol and take advantage of the worldwide market potential, several well-known methanol manufacturers are building new production plants or boosting the production capacity of their existing plants.
Key players are concentrating their efforts on research and development to develop and discover new applications of methanol, which is projected to open up new opportunities in the market.
In March 2021, SABIC announced investments to strengthen its production capacity through facility expansion and strengthen the company's acetyl chain segment. The company is expanding its facilities in Europe and Asia to serve the needs of customers across the world.
In March 2021, Fairway Methanol LLC, which is a joint venture between Mitsui & Co. Ltd and Celanese Corporation, announced the expansion of its facilities to increase its methanol production.
Methanol Industry Report Scope
Attribute
Details

Forecast Period

2022-2032

Historical Data Available for

2017-2021

Market Analysis

US$ Mn for Value
Kilotons for Volume

Key Regions Covered

North America
Latin America
Europe
East Asia
South Asia Pacific
The Middle East & Africa

Key Countries Covered

U.S.
Canada
Brazil
Mexico
Germany
U.K.
France
Italy
Spain
Russia
BENELUX
China
Japan
South Korea
India
Malaysia
Indonesia
Thailand
ANZ
GCC Countries
Turkey
Northern Africa
South Africa

Key Market Segments Covered

Feedstock Source
Application
End-use Industry
Region

Key Companies Profiled

Celanese Corp
BASF SE
SABIC
METHANEX Corporation
Petroliam Nasional Berhad (PETRONAS)
Zagros Petrochemical Company
Mitsui & Co. Ltd
Deepak Fertilizers and Petrochemicals Corporation Limited
MITSUBISHI GAS CHEMICAL COMPANY, INC.
Gujarat Narmada Valley Fertilisers & Chemicals
Saudi International Petrochemical Company (Sipchem)
Qatar Fuel Additives Company
Methanol Chemicals Company (Chemanol)
BioMCN
Metafrax Group
PT. Kaltim Methanol Industri (KMI)
Brunei Methanol Company Sdn. Bhd.
UCP Chemicals AG
Anhui Ruibai New Material Co., Ltd.
Ningxia Baofeng Energy Group Co., Ltd.

Pricing

Available upon Request
Key Segments Covered in Methanol Industry Research
Methanol Market by Feedstock Source:
Methanol Market by Application:
Formaldehyde
Alternative Fuels

Gasoline Blending & Combustion
Biodiesel
DME

Acetic Acid
MTBE
Methyl Methacrylate
DMT
Methane Thiol
Methylamines
Methyl Chloride
Fuel Cells
Olefins
Others
Methanol Market by End-use Industry:
Automotive & Transportation
Building & Construction
Chemicals
Semiconductor & Electronics
Pharmaceuticals
Packaging
Textiles
Others
Methanol Market by Region:
North America Methanol Market
Latin America Methanol Market
Europe Methanol Market
East Asia Methanol Market
South Asia & Pacific Methanol Market
Middle East & Africa Methanol Market