Biodiesel Market Outlook (2022-2032)
Newly released data on the biodiesel market reveals that global sales are expected to reach US$ 41.33 Bn in 2022. Worldwide demand for biodiesel is projected to register a growth rate of 3.6% over the forecast period of 2022 to 2032.
According to Persistence Market Research, global biodiesel consumption is expected to reach US$ 59 Bn by the end of 2032. Europe, East Asia, and South Asia & Pacific are expected to remain key regional markets in the biodiesel business.
| Attribute | Key Insights |
| --- | --- |
| Biodiesel Market Size (2021A) | US$ 39.94 Bn |
| Market Estimation (2022E) | US$ 41.33 Bn |
| Market Forecast (2032F) | US$ 59 Bn |
| Value CAGR (2022-2032) | 3.6 % |
| Collective Value Share: Top 3 Countries (2022E) | 50.4% |
Consumption Analysis of Biodiesel (2017 to 2021) Vs. Market Outlook (2022 to 2032)
Biodiesel is easy to use, biodegradable, and non-toxic, and is free of aromatics and sulfur compounds. It emits fewer greenhouse gases and pollutants into the atmosphere, as well as less toxic carbon-based emissions, and can be used in most diesel vehicles.
Biodiesel is becoming a more affordable option due to the unstable prices of petroleum-based products. The market witnessed a growth rate of around 1.6% between 2017 and 2021.
Biodiesel fuel is similar to diesel fuel but is much more environment-friendly. Biodiesel is a clean, non-polluting energy source. This green transition is seen as a catalyst for the biodiesel market, paving the way for biodiesel suppliers.
The main target segments are fuel and power generation applications. Today, automotive and marine industries are using a majority of the fuel produced, which is derived from crude oil. These conventional fuels release toxicants into the environment, and hence, there are growth opportunities for biodiesel as it is an eco-friendly alternative.
Also, in power generation, it can be used in generators where only a few changes or no changes are needed to be done to the structure of the machine.
Over the forecast period, demand for biodiesel is anticipated to grow owing to its beneficial properties, with the market expected to expand at a CAGR of 3.6% between 2022 and 2032.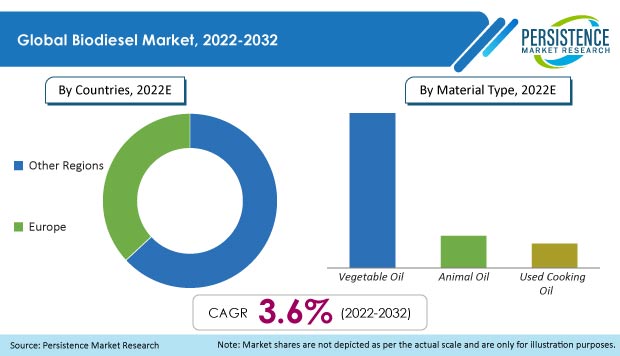 What Market Opportunities and Restraints Await Biodiesel Manufacturers?
"Environmental Concerns and Depleting Conventional Energy Sources"
The largest-ever range of biofuels, including ethanol, biodiesel, bio-methanol, and other green fuels, has been developed in response to public pressure to reduce emissions and replace fossil fuels due to environmental concerns. Biodiesel boosts the fuel's cetane number and improves its lubricity.
A majority of our energy needs are currently met by fossil fuels. These energy sources are non-renewable and are depleting at an astounding rate. However, biodiesel is a renewable source of energy (renewable fuel, and hence, can be used in place of conventional energy sources.
Rising demand for automobiles with the growing population is creating more demand for fuels, which are mostly conventional. Ample opportunities are lying ahead as governments are regulating the consumption of conventional fuel and have set limits for the emission of harmful gases.
Biodiesel is miscible with petroleum diesel in all proportions and can be used directly in diesel engines or mixed with petroleum diesel. All the eco-friendly properties of biodiesel and regulations on the emission of toxicants are key factors that are creating opportunities in the market for key biodiesel manufacturers.
"High Price of Feedstock Costs for Biodiesel Production"
Demand for biodiesel and clean-burning fuels over traditional petroleum-based fuel is also linked to the agricultural commodity market. Vegetable oil, such as soybean oil, canola oil, and palm oil, is the most common feedstock for biodiesel production.
Feedstock costs account for approximately 80% to 85% of total biodiesel production costs. High price volatility of the feedstock on which biodiesel producers rely threatens their long-term financial stability. Feedstock prices will rise in tandem with biodiesel prices, resulting in lower profit margins.
Furthermore, the global biodiesel market is influenced by factors affecting petroleum prices, such as crude oil supply and demand balance, global economic conditions, wars, and other political events. Crude oil prices are volatile, and they have recently dropped significantly, causing a drop in biodiesel consumption.
As a result, the biodiesel market is expected to be stifled by fluctuating feedstock and crude oil prices.
Country-wise Analysis
What is the Consumption Outlook of Biodiesel in the United States?
Biodiesel is an excellent alternative to conventional fuels. Growing demand for such eco-friendly fuels is expected to rise over the coming years.
In the United States, biodiesel is the second-most used and produced biofuel, as cited by EIA (U.S. Energy Information Administration).
In the past few years, the consumption and production of biodiesel have substantially increased as the government is providing different incentives and subsidiaries for the manufacturing, selling, and usage of biodiesel.
As such, the United States biodiesel market is anticipated to close in on US$ 11 Bn by end of the year 2032.
What is the Growth Outlook for Biodiesel in India?
The Indian biodiesel market is expected to expand at 5% CAGR during the forecast period. The biodiesel market in India is shortly anticipated to witness lucrative growth opportunities owing to the shifting preference of the consumer base toward green solutions.
Biodiesel demand is expected to rise as a result of the Indian government's initiative to promote cleaner fuels. Biodiesel end users in India include the transportation sector, railways, and others.
The seeds of Jatropha Curcas plants, which are grown by Indian farmers, are used to make biodiesel. However, because Jatropha seeds are in short supply, other multi-feedstock technologies are being used to produce biodiesel.
Several companies use animal fats, UCO (used cooking oils), and vegetable oils in the production of biodiesel. All these initiatives are expected to aid the growth of the biodiesel market in India.
Category-wise Insights
What is the Growth Outlook of Biodiesel as a Fuel?
Automobile sales have been picking up following the global slowdown.
According to statistics published by the Organization International des Constructeurs d'Automobiles, automobile production is increasing at a rate of around 3% per year (OICA). Furthermore, diesel-powered vehicles accounted for 19 percent of global vehicle sales, indicating that they accounted for a significant portion of the global vehicle fleet.
Diesel fuel with a high cetane number has better fuel efficiency and reliability. Diesel-fueled vehicles, on the other hand, emit SOx, NOx, CO2, and other greenhouse gases that are harmful to the environment, ecosystem, and humanity.
In addition, to meet the rising demand for diesel fuels, several countries rely on crude oil imports. This affects the economy of the country. Governments in both, developed and developing countries, have mandated that biodiesel be blended with diesel fuels to avoid economic losses from crude oil imports and reduce pollution emissions.
As a result, significant increase in vehicle parc and increasing consumption of diesel fuel will drive demand for biodiesel for blending. Consumption of biodiesel as a fuel is anticipated to increase at a CAGR of 3.6% during the forecast period.
Which Feedstock Type is Widely Used to Manufacture Biodiesel?
Based on feedstock, biodiesel can be produced using vegetable oil, animal oil, and used cooking oil. However, vegetable oil is the widely consumed feedstock for the manufacturing of biodiesel.
Biodiesel is usually manufactured through a transesterification process by using vegetable oil. Vegetable oil consists of canola oil, soybean oil, corn oil, palm oil, jatropha, and others. However, used cooking oil is expected to witness lucrative growth opportunities as many key manufacturers are focusing on collecting used cooking oil from different places and converting it into biodiesel.
More than 80% of biodiesel is produced by using vegetable oil. Soybean and canola oil are majorly used vegetable oils in the manufacturing of biodiesel, followed by palm oil and corn oil.
Production of soybean is quite high in the world as compared to other crops. Vegetable oil holds a major share in the production of biodiesel owing to the high availability of these oils. The vegetable oil segment is anticipated to reach a market valuation of US$ 43.74 Bn by the end of 2032.
Did COVID-19 Dent the Sales Prospects of Biodiesel?
The COVID-19 pandemic had a significant impact on the global economy at various stages, as well as on biodiesel demand. In 2020, major end users of biodiesel - automobiles and agriculture - experienced a downturn.
However, going forward, the market is expected to grow significantly due to increased demand from end-use industries. Factors such as government support for the consumption of biodiesel by providing subsidiaries and growing demand for eco-friendly fuels that reduce greenhouse gas emissions are anticipated to drive market growth over the forecast period.
Competitive Landscape
The biodiesel market is a moderately fragmented space, where, along with key players, other small-scale players are also contributing to market expansion. The market is expected to witness significant growth owing to the growing demand for environment-friendly fuels.
The biodiesel market has grown significantly over the last five years. This is primarily due to businesses' efforts to meet rising diesel fuel demand while also expanding their global footprints.
Companies are focusing on expanding their manufacturing facilities in domestic markets as well as in other geographies to meet the needs of different markets. To strengthen their market position, major players are collaborating and partnering with others.
For Instance:
In Dec 2020, Neste declared a partnership with Carson. Neste, the world's largest producer of renewable diesel and sustainable aviation fuel, was one of the first to sell renewable diesel in Oregon (U.S.) after the state launched the Clean Fuels Program.
Biodiesel Industry Report Scope
Attribute
Details

Forecast Period

2022-2032

Historical Data Available for

2017-2021

Market Analysis

US$ Mn for Value
KT for Volume

Key Regions Covered

North America
Latin America
Europe
East Asia
South Asia & Pacific
Middle East & Africa

Key Countries Covered

U.S.
Canada
Brazil
Argentina
Germany
Austria
Switzerland
U.K.
France
Italy
Spain
Russia
BENELUX
China
Japan
South Korea
India
ASEAN
Oceania
Singapore
Turkey

Key Market Segments Covered

Production Process
Feedstock Type
Application
Region

Key Companies Profiled

Archer Daniels Midland
Marathon Petroleum Corporation
VERBIO
Renewable Energy Group, Inc.
NOVAOL, Italy
ARGENT ENERGY
MOL Group
Neste
Shell Plc
HERO BX
Ag Processing Inc.
Cargill Inc.

Pricing

Available upon Request
Key Segments Covered in Biodiesel Industry Research
Biodiesel Market by Production Process:
Alcohol Trans-Esterification
Hydro-Heating
Biodiesel Market by Feedstock Type:
Vegetable Oil
Animal Oil
Used Cooking Oil
Biodiesel Market by Application:
Fuel
Power Generation
Agriculture
Biodiesel Market by Region:
North America Biodiesel Market
Latin America Biodiesel Market
Europe Biodiesel Market
East Asia Biodiesel Market
South Asia & Pacific Biodiesel Market
Middle East & Africa Biodiesel Market