Horticultural Ingredients Market Outlook (2022-2032)
Global horticultural ingredient sales were valued at US$ 19.16 Bn in 2022. The market is projected to register 5.3% CAGR and reach a valuation of US$ 32.16 Bn by the end of 2032. Europe and North America are regions that will account for the highest consumption of horticultural ingredients.
The global horticultural ingredients market expanded at a value CAGR of 3.8% and reached a value of US$ 18.2 Bn in 2021. Applications of ingredients derived from plants such as bananas, avocados, macadamia, turmeric, and others are creating a relatively stable condition for manufacturers in the food and beverage industry. Due to the numerous health advantages that plant-based ingredients offer, manufacturers are utilizing them more and more in various food products.
Increasing awareness about the benefits of plant-based ingredients and rising environmental concerns are shaping customers' choices. Plant-based products are helpful in blood sugar management and good heart health owing to the high presence of fibers and other components. Furthermore, plant-derived ingredients support intestinal health, which facilitates greater nutrient absorption and enhances immunity. Due to such multifunctional benefits, the demand for horticultural ingredients as suitable plant-based ingredients is anticipated to rise in the near future.
Rising trend of gluten-free products is expected to facilitate the demand growth for horticultural ingredients. Gluten consumption leads to negative effects on human health by causing indigestion, intestinal damage, and chronic diarrhea. Increasing health consciousness coupled with rising consumer awareness about gluten-free products is beneficial for the target market.?
This rising health awareness has subsequently driven the consumption of gluten-free varieties of flour, such as banana flour, sorghum flour, buckwheat flour, and pea & chickpea flour. Gluten-free flour is a fast-expanding food category, demonstrating that this market exhibits immense growth potential.
| | |
| --- | --- |
| Horticultural Ingredients Market Size (2022E) | US$ 19.16 Bn |
| Projected Sales of Horticultural Ingredients (2032F) | US$ 32.16 Bn |
| Value CAGR (2022-2032) | 5.3% |
| Value Share of Top 5 Countries (2022E) | 44% |
What are the Key Trends in the Market for Horticultural Ingredients?
"Rising Health Awareness among Consumers to Fuel Demand for Fruit Powder"
Fruit powders are extremely nutritious and wholesome, packed with macro- and micro-nutrients even after the dehydration process. Consumers are using these powders to fulfill their nutritional requirements. Nutrient-rich fruit powders have been launched in the market and have gained immense popularity. Fruit powders are a good way of losing weight as they promote the feeling of satiety and thus reduce overeating.
Fruit powders may also help slow the surge in blood sugar levels and reduce the amount of insulin needed to keep blood sugar under limits. They are also a great substitute for higher-calorie ingredients such as sugar. Fruit powders have a long shelf life and can be easily used as a part of a daily nutritious diet. With rising health concerns among consumers, the fruit powder market is expected to grow steadily over the coming years.
"High Nutrient Density of Macadamia Boosting Market Growth"
Macadamia is a nutritionally dense food with a large amount of unsaturated fatty acids and bioactive compounds. These bioactive compounds are high-quality vegetable proteins, phytosterols, fiber, tocopherols, phenolic compounds, and minerals. This unique composition of Macadamia makes it extremely beneficial for health. Consumption of Macadamia also leads to weight loss and reduces blood sugar levels. As a result, there is a trend among consumers to take up such food products as a part of their nutrition profile.
Among the various types of Macadamia, whole nuts are the most well-known since they are used in confectionery, bakery products, and other delicacies. Macadamia is also a multi-nutritional ingredient consumed widely as snacks by those going to the gym and focused on bodybuilding. These factors are contributing to the rising number of food dishes made with Macadamia as an ingredient in food and other industries.
"Growing Trend of Incorporating Spices into Ready-to-eat Foods"
Rapid changes in the lifestyles of consumers, along with the rise in the working population, have increased the sales of ready-to-eat and ready-to-drink products. Convenient food is becoming indispensable in urban kitchens whilst being great time-savers for consumers with hectic schedules.
Increasing awareness about the harmful chemicals used during agriculture is pushing consumers toward organic spices. The effects of organic products on consumer health are the most influential factor for the expansion of the organic products market, which, in turn, is increasing the demand for organic spices. Spices are being increasingly used in convenient food owing to their vibrant flavor and several health benefits.
Many manufacturers such as Healthee USA are offering organic ready-to-eat turmeric brown rice, which caters to the ongoing trend of exotic flavors in various food products.
"Increasing Adulteration of Horticultural Ingredients to Hinder Sales"
Horticultural ingredients such as fruits, nuts, and spices are at the bleeding edge of food fraud around the world. The price imbalance and low availability may attract several new suppliers with cheaper and unscrupulous alternatives.
Fraudulent methods are used to reduce the cost associated with the processing of ingredients by replacing some of their weight or volume with a less expensive alternative, often with additional measures to conceal the addition. Some of the items used for adulteration are fillers, artificial dyes, and cheap synthetics. Slipping some of the less-expensive versions into the supply is easy, which decreases the quality of these ingredients.
Adulteration is an issue with fruit powders, as the use of lead chromate and starch is common and these substances are not edible and can create health complications. Fruits are ripened artificially using calcium carbide and other sources, which can affect the fruit powders made using such fruits.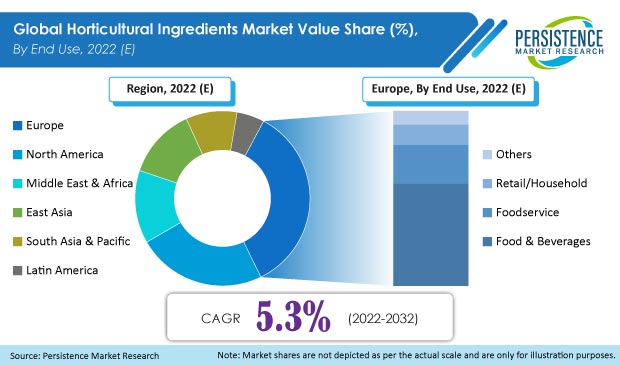 Country-wise Insights
Which Countries Account for a High-Value Share of the European Market?
In the European region, the U.K., Germany, and Spain account for market values of US$ 1.09 Bn, US$ 772.9 Mn, and US$ 625.4 Mn, respectively.
The value share in the region is high owing to the prominent food and beverage industry along with highly popular local cuisines. Increased consumer and tourist footfall results in an upsurge in consumption. Extensive supply chains present in the region is another factor that is complementing market expansion.
How is the Chinese Horticultural Ingredients Market Faring?
In the Chinese market, a value of US$ 1.9 Bn was observed in 2022 and this market occupies 76.5% share of the East Asian market.
Rapid urbanization and rising incomes coupled with increasing food safety concerns have led to rising agricultural imports. With rising income, average diet patterns have changed with more inclusion of dairy, meat, nuts, and processed foods.
Category-wise Insights
Which Type of Horticultural Ingredients Account for High Revenue Generation?
Based on product type, fruits have the highest value market share of 52.7%. Among the fruits, passion fruit is expected to experience the highest growth during the forecasted period.
The use of banana flour as an alternative to conventional flour due to rising allergies from gluten along with the high potassium and dietary fiber content makes it a popular product in the global market.
Which End Use of Horticultural Ingredients is Most Prominent?
Based on end use, the food and beverage segment holds 58.2% of the market share and is expected to expand at a value CAGR of 5.3%.
Global rise in the consumption of packaged and processed foods is the reason for this higher value share. With an increasing population and rising income, access to nutritious food is growing, and therefore, this segment will rise steadily in the future as well.
Competitive Dashboard
Innovation in process production lines and their implementation, along with strategic partnerships with farmers, manufacturers, and government contracts, are a few of the methods being adopted by companies. A shift toward organic farming to attract nutrition-conscious customers is being done to increase market share and brand presence.
ABC Foods has 50 MTs/Hr production capacity backed with 5 Aseptic lines. 30MTs/Hr Concentrates production capacity backed with 3 evaporators and 1 canning line with 5MTs/Hr filling. The processing lines of the company are fully automated to ensure there is no contamination or delay.
AgroAmerica signed an agreement with the Ministry of Agriculture, Livestock, and Food - MAGA, which will contribute to Guatemala's food and nutritional security. The agreement implies that AgroAmerica will contribute around 133 tonnes of bananas to 12 Quetzaltenango schools during the 2020 academic year.
APKA Industries products are completely plant-based and pure and natural to attract health-conscious consumers. The company's products do not contain artificial flavorings or other non-vegetable substances. The company's products come from organically grown fruits and are not genetically manipulated or treated with ionizing rays.
Chanthaburi Global Foods Co., Ltd. participates in various food exhibitions around the world, which allows the company to increase its brand presence among consumers.

For instance, in 2019, Chanthaburi Global Foods Co., Ltd. participated in Sial China, Asia's largest food innovation exhibition, to expand its presence in China and the Asian region.
Horticultural Ingredients Industry Report Scope
Attribute

Details

Forecast period

2022-2032

Historical data available for

2017-2021

Market analysis

USD million for value

Key regions covered

North America
Latin America
Europe
South Asia & Pacific
East Asia
The Middle East & Africa

Key countries covered

U.S.
Canada
Germany
U.K.
France
Italy
Spain
Russia
China
Japan
South Korea
India
Thailand
Malaysia
Indonesia
Australia
New Zealand
GCC countries
Turkey
Northern Africa
South Africa

Key market segments covered

Type
Nature
End Use
Distribution Channel
Region

Key companies profiled

ABC Fruits
AgroAmerica
APKA Industries
Ariza B.V.
Ceres Organics
CG Produce
Chanthaburi Global Foods Co., Ltd.
Edward & Sons Trading Co.
FutureCeuticals, Inc.
Green Enviro Management Systems Inc.
Greenwood Associates
Grünewald Fruchtsaft GmbH
Hamakua Macadamia Nut Company
Kim Minh International
Lemonconcentrate S.L.U.
LiveKuna
Mahashian Di Hatti Pvt. Ltd.
McCormick & Company, Inc.
Messina Verpakkings
Natural Evolution Foods
Olam International
Polproduct Netherlands BV
Saipro Biotech Private Limited
Sleaford Quality Foods Ltd.
Sun Impex International Foods LLC
SVA Organics
Synthite Industries Ltd.
The Green Labs LLC
Tradin Organic

Report coverage

Market Forecast
Company Share Analysis
Competition Intelligence
DROT Analysis
Market Dynamics and Challenges
Strategic Growth Initiatives

Customization & pricing

Available upon request
Horticultural Ingredients Industry Research by Category
By Type:
Fruits

Bananas

Flour/Powder
Puree
Flakes

Passion Fruit
Dragon Fruit
Avocado

Nuts
Herbs & Spices

Turmeric
Black Pepper
Cinnamon
By Nature:
By End Use:
Food & Beverages

Bakery & Confectionery
Infant Food
Fillings & Dressings
Soups & Sauces
Other Processed Foods

Foodservice
Retail/Household
Others
By Distribution Channel:
Business to Business
Business to Consumer

Hypermarkets/Supermarkets
Convenience Stores
Specialty Stores
Online Retail
By Region:
North America
Latin America
Europe
South Asia & Pacific
East Asia
Middle East & Africa