Introduction
The display is commonly associated with the output device that offers an information in the visual form. Next-generation display technologies are gaining popularity among both the manufacturers and the customers. Latest display technologies such as OLED, SED, laser TV, MEMS display, FLD, LPD, etc., are being focused on by manufacturers to offer better visual with high-resolution.
Micro LED is also an emerging technology in the flat panel display. Manufacturers of smartphones and smart watches are constantly focusing on including micro LED technology. Some of the factors contributing towards the growth of micro LED technology is increasing demand for brighter and power-efficient display panels. However, the high cost of micro LED is the biggest challenge.
Key players in the market are already working on producing high-resolution glass-free 3D TVs in the market. The biggest benefit of the glass-free 3D display is that it eliminates the need to wear glasses. Moreover, with the increase in the amount of content being viewed on small screen, smartphone and tablet manufacturers are also moving towards integrating glass-free 3D display.
However, the cost of these technologies is the biggest factor hampering the market growth. Hence, key players are focusing on research and development activities for establishing new display technology that can offer better image quality with high resolution at lower cost.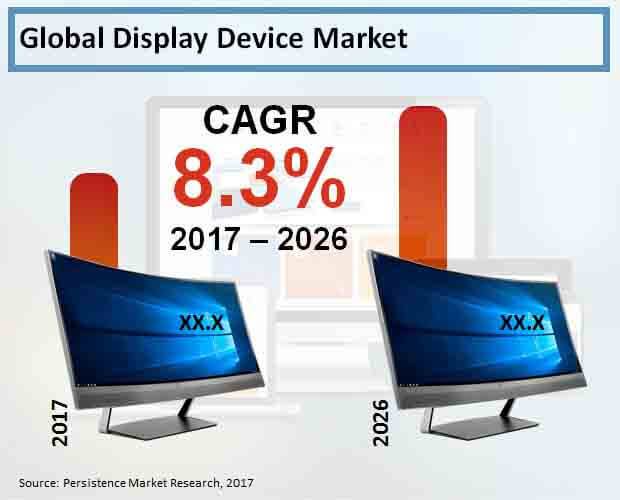 LED Display to Witness Strong Growth in the Global Market for Display Device
LED display is likely to gain more than one-third of the revenue share by 2017 end. LED has a wide range of colors, it can also re-produce palette of colors at an unmatchable refresh rate.
LED displays are also largely used in posters and store signs as it needs no extra protection, moreover, it is dustproof, waterproof and is bright enough to be seen under direct sunlight. It also offers bright image quality by enriching range of colors and enhancing the contrast colors.
TV to Gain Maximum Revenue Share in Terms of Application
TV is likely to witness strong growth, exceeding US$ 157,100 million revenue by 2026 end. Increasing number of companies are introducing high-end TVs made using advanced display technology.
Some of these technologies include LCD, LED, OLED, etc. OLED televisions are being focused on by the manufacturers as it uses the material that glows when electric current is introduced. This new material also helps in reducing the thickness and weight of the TV. Moreover, OLED TVs are also more energy-efficient.
Residential to Emerge as the Largest Users of Display Devices
Residential is likely to gain nearly half of the revenue share by 2017 end. With the technological advancements, there has been an increase in demand for electronic product such as television, smartphones, laptops, tablets, and smart watches.
Hence, companies are also moving towards introducing power efficient and brighter displays. Micro display technology is also gaining traction with production of small size devices, consuming less energy.
APEJ to Remain Dominant in the Global Market for Display Device
APEJ is likely to emerge as one of the biggest markets in the global display devices market. Growth in industrialization and increasing number of tech giants investing in the region due to the availability of manufacturing resources at a low-cost are some of the factors contributing to the growth of display devices in APEJ region.
Moreover, rise in the sales of high-definition televisions and smart television in recent years is also driving the market growth in APEJ. North America is also likely to witness impressive growth during 2017-2026.
Presence of key players and introduction of innovative technologies are some of the factors fueling display device market growth in North America. Meanwhile, demand for display devices in electronics, automotive and healthcare sector is likely to remain strong in the region.
Competition Tracking
Apple, Samsung, Panasonic, LG, Toshiba, Hiesense, Sony, TCL Corporation, Sharp, and Skyworth are some of the key market players in the global market for display device.
Global Display Device Market: Segmentation
Attribute
Details

Region

North America
Latin America
Europe
Japan
APEJ
MEA

Display Type

LCD
LED
OLED
AMOLED
Others (Electronic Paper, Laser TV, etc.)

Applications

TV
Mobile Phones
Monitors
Tablet
Mobile PC
Automotive
Others

End-User

Residential
Large Enterprises
Small Medium Enterprises