Checkweigher Machine Market Outlook (2022-2032)
At present, the global checkweigher machine market is valued at US$ 602.1 Mn and is projected to expand at a CAGR of 2.5% to reach a market valuation of US$ 774.2 Mn by the end of 2032.
Checkweigher machine manufacturers are focusing on developing technologies such as strain gauge technology and EMFR technology to meet industry demands.
The East Asia checkweigher machine market is anticipated to hold a majority market share of 21.8% due to technological advancements in the product with improved operational efficiency, prevention of expensive downtime, and lesser service costs & repairs.
| | |
| --- | --- |
| Checkweigher Machine Market Size (2021A) | US$ 588.1 Mn |
| Estimated Market Size (2022E) | US$ 602.1 Mn |
| Projected Market Value (2032F) | US$ 774.2 Mn |
| Value CAGR (2022-2032) | 2.5 % |
| Collective Share: Top 3 Countries (2022E) | 28 % |
Demand Analysis of Checkweigher Machines (2017-2021) Vs. Market Forecasts (2022-2032)
From 2017 to 2021, the global checkweigher machine market evolved at a CAGR of around 1.4%.
Most key players in the market are following the strategy of acquiring and collaborating with local and regional players. High investments are being made by bigger players in the market for technological advancements and also for intangible assets.
Emerging markets and developing countries as well as domestic demand and investment rebound in industrialized economies have fuelled market growth from 2017 to 2021. Growth of the emerging East Asia checkweigher machine market has remained solid, with a noticeable uptick in the European region as well.
In the increasingly competitive scenario, checkweighings are becoming a necessity for packaging manufacturers to match the quality standards and guarantee consumer satisfaction.
Persistence Market Research predicts the global market for checkweigher machines to expand at 2.5% CAGR through 2032.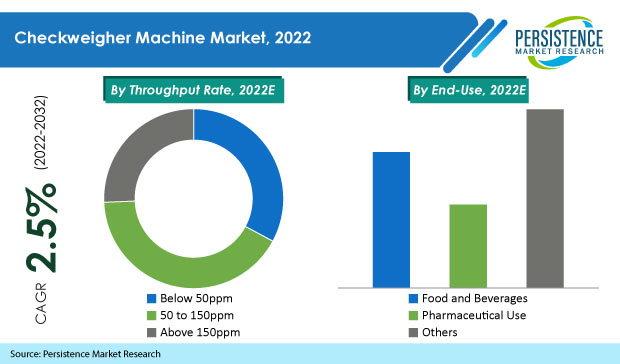 Why is the Global Checkweigher Machine Market Exhibiting Steady Growth?
"Increasing Adoption of Checkweighers in Food & Beverage Industry"
In an increasingly competitive environment, checkweighing is becoming a need for package manufacturers to achieve quality and maintain consumer satisfaction, which might be a significant driver for the growth of the checkweighing machines market going forward.
To comply with weight and measurement rules, most organizations prefer to conduct quality checks using checkweighing equipment.
Automatic checkweighers are becoming more popular in the food & beverage business. Key participants in this industry are working to find solutions to comply with RFID criteria set by retailers such as Walmart, Costco, and Tesco.
There has been huge demand by retailers requiring rigorous adherence to various standards as consumer demand for freshness and quality assurance has grown. As a result, automatic checkweighing machines are being used more in the food & beverage sector to ensure compliance with RFID standards and other quality criteria.
"Rising Adoption of Strain Gauge and EMGR Technology-based Checkweigher Machines"
In checkweighers, the most common load cell technology is a strain gauge. Adoption of strain gauge load cell technology is greater in the checkweigher market because strain gauge installation is better suited to specific applications due to its compact size and streamlined design.
Use of EMFR technology as a weighing technique to improve performance and ensure long-term accuracy is becoming increasingly popular. EMFR technology also provides fewer product gaps, ultra-fast settling periods, and the best weighing accuracy while maintaining maximum throughput speeds.
As a result, companies are increasingly turning to EMFR technology-based automatic checkweighers to ensure high accuracy and speed. Rising adoption of strain gauge and EMGR technology-based checkweigher machines is set to complement industry growth over the coming years.
Country-wise Insights
How is the U.S. Checkweigher Machine Market Faring?
"U.S. Market to Be Driven by Innovation"
In 2022, the U.S. checkweigher machine market is expected to register 1.2% year-on-year growth by volume.
The U.S. market is projected to witness steady growth over the forecast period with the development of new and innovative products. This study projects that the U.S. market will reach a revenue of US$ 71.2 Mn by the end of 2032.
Which Industry Verticals are Driving the Indian Checkweigher Machine Market?
"Increasing Checkweigher Machine Usage in Pharmaceutical and F&B Sectors in India"
From 2022 to 2032, the India checkweighers market is estimated to expand at a CAGR of 3.2%.
Demand for checkweigher machines is expected to be high during the forecast period due to the expansion of several manufacturing units by end users, such as pharmaceuticals, food, and logistics.
India is one of the fastest-growing economies, where urbanization is taking place at a fast pace. As such, the Indian market is set to surpass a valuation of US$ 51 Mn by the end of 2032.
What is the Outlook for Checkweigher Machine Suppliers in China?
"Expanding Packaging Industry to Drive High Sales of Checkweigher Machine Manufacturers"
China is expected to emerge as the leading market for checkweigher machines in East Asia by the end of 2032.
Market growth is mainly due to the expansion of the packaging sector, rising demand for packaged food, and the growing need for automation in the food processing industry across the country.
The China checkweigher machine market is predicted to be valued at US$ 65.4 Mn by the end of 2032.
Category-wise Insights
Which Throughput Rate Checkweigher Machine Will Be Most Widely Used across the World?
"High Demand Predicted for Above 150 ppm Checkweigher Machines"
Manufacturers are growing their production capacities in response to rising customer demand, which necessitates greater automation and faster processing devices for handling and packing items.
Higher throughput machines are being utilized for quick production since they can handle more than 150 goods per minute, thereby increasing production pace and allowing manufacturers to fulfil the rising demand.
Above 150 ppm throughput checkweigher machines are projected to create an absolute dollar opportunity of US$ 73.4 Mn between 2022 and 2032.
Which End-use Sector Holds a Predominant Share in the Global Market?
"Food & Beverage Industry Accounts for Highest Checkweigher Machine Consumption"
The food & beverage sector is projected to create an absolute dollar opportunity of US$ 38.9 Mn between 2022 and 2032.
The food & beverage sector holds dominance over the global checkweigher machine market in the end-use industry segment. This is due to the increasing demand for ready-to-eat, bakery & confectionery, and dairy products across the world.
Also, in the food & beverage industry, automatic checkweighers are being increasingly utilized to guarantee compliance with RFID requirements and other quality assurance needs.
COVID-19 Impact Analysis
The COVID-19 pandemic caused the checkweighing machine market to witness plummeting production due to global lockdowns. Due to lower demand from end-use sectors and poorer productivity, the pandemic had a substantial impact on manufacturing companies.
Manufacturers experienced difficulties as a result of uncertain demand as well as workforce reductions. As such, manufacturing and sales of checkweigher machines were significantly hit, but the market will undoubtedly rebound over time.
Also, the major need for untouchability during the pandemic will allow these machines to serve the purpose across end-use industries.
Competitive Landscape
Over the past few years, increasing acquisition and expansion activities have been witnessed to improve the supply chain of checkweigher machines.
Major manufacturers provide a wide range of customized checkweigher machines, depending on customer requirements and also provide services that are customized for each unique customer.
The emergence of several new checkweigher machine manufacturers has also been witnessed in this space over the past few years.
For Instance,
In April 2021, WIPOTEC-OCS, a manufacturer and supplier of precision in-motion weighing and X-ray scanning equipment, launched a quality control solution combining its checkweighing technology with visual inspection. The HC-A-V checkweigher is suitable for a wide variety of consumer packaged goods, including food & beverage items.
Checkweigher Machine Industry Report Scope
Attribute

Details

Forecast Period

2022-2032

Historical Data Available for

2017-2021

Market Analysis

USD Million for Value
Units for Volume

Key Regions Covered

North America
Latin America
Europe
East Asia
South Asia Pacific
The Middle East and Africa

Key Countries Covered

U.S.
Canada
Mexico
Brazil
Germany
Italy
France
U.K.
Spain
BENELUX
Nordics
Russia
Turkey
South Africa
GCC Countries
Northern Africa
Japan
China
South Korea
India
ASEAN
Australia
New Zealand

Key Market Segments Covered

Throughput Rate
Capacity
End Use
Region

Key Companies Profiled

Thermo Fisher Scientific Inc.
Mettler Toledo
R.S. Bilance S.r.l.
SF Engineering
VBS, Inc.
VARPE CONTROL DE PESO S.A.
Soc. Coop. Bilanciai Campogalliano
Teraoka Seiko Co., Ltd.
ACG
Anritsu
Bizerba
Cassel Inspection
Dibal
Espera-Werke
Idecon
iXAPACK GLOBAL
LOMA SYSTEM
Marel
Minebea Intec
NEMESIS
OCS-WIPOTEC
Packital S.R.L.
Prisma Industriale
Mettler Toledo

Report Coverage

Market Forecast
Company Share Analysis
Competition Intelligence
DROT Analysis
Market Dynamics and Challenges
Strategic Growth Initiatives

Customization & Pricing

Available upon Request
Segmentation of Checkweigher Machine Industry Survey
Checkweigher Machine Market by Throughput Rate:
Up to 50 ppm Checkweigher Machines
50 to 150 ppm Checkweigher Machines
Above 150 ppm Checkweigher Machines
Checkweigher Machine Market by Capacity:
Up to 12 kg Checkweigher Machines
12 to 60 kg Checkweigher Machines
Above 60kg Checkweigher Machines
Checkweigher Machine Market by End Use:
Food & Beverages

Dairy Products
Flesh Foods
Agricultural Produce
Ready-to-Eat
Bakery and Confectionary

Pharmaceutical Use
Personal Care Products
Logistics and Packaging
Others (Chemicals, Laboratories, etc.)
Checkweigher Machine Market by Region:
North America Checkweigher Machine Market
Latin America Checkweigher Machine Market
Europe Checkweigher Machine Market
East Asia Checkweigher Machine Market
South Asia Pacific Checkweigher Machine Market
Middle East and Africa Checkweigher Machine Market