Botulinum Immunodiagnostics Market Outlook (2022-2032)
Worldwide revenue from the botulinum immunodiagnostics market was US$ 385.2 Mn in 2021, with the global market estimated to evolve at a CAGR of 2.2% to end up at US$ 485.3 Mn by 2032.
According to Persistence Market Research, botulinum immunodiagnostic immunoassay kits and reagents accounted for a market value of US$ 246.7 Mn in 2021. Overall, the botulinum immunodiagnostics market accounted for approximately 1.4% revenue share of the global immunoassay system market at the end of 2021.
| Report Attribute | Details |
| --- | --- |
| Botulinum Immunodiagnostics Market Size (2022) | US$ 391.5 Mn |
| Projected Market Value (2032) | US$ 485.3 Mn |
| Global Market Growth Rate (2022-2032) | 2.2% CAGR |
| Market Share of Top 5 Countries | 56.7% |
Sales Analysis of Botulinum Immunodiagnostics (2012 to 2021) Vs. Market Estimates (2022 to 2032)
The global market for botulinum immunodiagnostics records a historic CAGR of 0.9% in the last 9 years (2012 to 2021).
Anaerobic, endospore-forming, gram-positive clostridium botulinum is a bacterium that causes botulism. The most potent bacterial toxins known as botulinum toxins can be found in food that has been improperly preserved, including canned food or cured meat.
A botulinum toxin test helps in the study of blood, stool, or vomit for the detection of toxins, which helps in confirming infant botulism or foodborne botulism diagnosis. This botulinum toxin test helps doctors examine the main cause of botulism. Thus, the growing need for the testing of these toxins is increasing the demand for immunodiagnostics products and instruments.
Various immunoassays are available in the market for the detection of bioterrorism agents of interest, which include botulinum toxin. These tests require a small sample volume and the results are produced within a short period. Due to this advantage, the market for immunodiagnostics is growing steadily.
Pathologists typically work independently, while certain hospitals and clinics have partnerships and cooperation among themselves. Demand for immunodiagnostics testing has improved these facilities' earnings. Adding to that, developed and technologically advanced in cell ELISA kits that measure serum antibodies to type C and D botulinum toxins in cattle are used to diagnose type C botulism in lactating dairy cattle to avoid any botulism infection.
Additionally, lateral flow assays (LFAs), which are well known for point-of-care testing, are less costly as compared to other assays. Additionally, being user-friendly, they allow for the testing and detection of botulinum toxins.
Conventional lateral flow assays provide qualitative or semi-quantitative results and require dedicated instruments for detection, as well as require a short period. Due to this advantage, lateral flow assays show high demand in the market.
As a result of these factors, the botulinum immunodiagnostics market is likely to expand at a CAGR of 2.2% and reach US$ 485.3 Mn by 2032.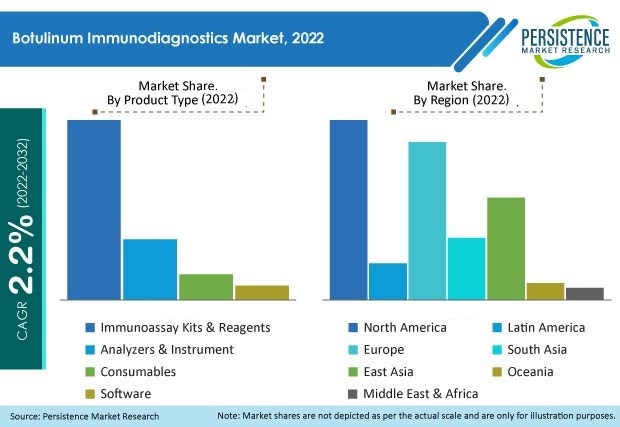 Why is the Need for Botulinum Immunodiagnostics Increasing Steadily?
"Rising Prevalence of Botulism across Regions"
Botulinum neurotoxins (BoNTs) in food can cause widespread outbreaks of botulism, which could have significant rates of morbidity and mortality. A public health emergency can therefore be sparked by just one suspected incidence of food-borne botulism.
Home-canned, cured, or fermented foods are frequently involved in sporadic botulinum outbreaks. Reliable detection immunoassays and methods are a prerequisite to preventing and responding in support of biodefense and public health in time. This will drive the demand for botulinum immunodiagnostics during the forecast period.
"Technological Advancements for Precise Results"
The introduction of new technologies is expected to result in high adoption rates, which will propel market growth over the coming years. Manufacturers are expected to bring innovation to diagnostic products such as reagents, kits, and instruments to introduce more cost-effective and advanced technology for precise detection.
What is the Main Stumbling Block for the Botulinum Immunodiagnostics Market?
"Lack of Skilled Workforce in This Domain"
As immunodiagnostics is an intensive method, it requires skilled and dedicated personnel. This helps the industry meet compliance, safety, and quality of the product, which aids manufacturers to grow.
The lack of skilled human resources leads to errors in the tests, which gives rise to false results. Due to this, there might be a delay in the treatment and the occurrence of serious health conditions may take place. As a result, this factor can negatively impact market growth to some extent.
Country-wise Insights
Why is the U.S. a Prominent Market for Botulinum Immunodiagnostics?
"Government Support for Treatment of Botulism"
The U.S. accounted for 30.3% share of the global botulinum immunodiagnostics market in 2021, and a similar positive trend is expected over the coming years.
According to CDC, in the U.S., an average of 110 cases of botulism cases is reported annually.
This is due to the ingestion of toxins produced in food by clostridium botulinum, which could have significant rates of morbidity and mortality. Many occasional botulism epidemics are confined to a family or small socially connected group of people. Furthermore, infant botulism is most commonly reported in suburban areas in the eastern U.S. and some small towns in rural areas in the west.
Public health emergencies are responded to by local, state, and federal public health laboratories in times of outbreak. High clinical suspicion and a comprehensive neurologic examination are required for the diagnosis of botulism.
Prompt diagnosis is essential to effective treatment. When treating suspected botulism, the federal government in the U.S. provides free, emergency access to botulinum antitoxin. Other than for newborn botulism, health departments and the CDC offer emergency clinical consultations seven days a week and assist in quick antitoxin delivery.
Thus, the U.S. market for botulinum immunodiagnostics is rising due to the increase in the demand for tests such as ELISA and LFA to avoid the risk of botulism.
Why is China an Emerging Market for Botulinum Immunodiagnostics?
"Growing Number of Diagnostic Kit Manufacturers"
China held the highest market share of 44.9% of the East Asia botulinum immunodiagnostics market in 2021, with a market value of US$ 31.2 Mn.
The Chinese government is working to achieve self-sufficiency. Several small, international, as well as local manufacturers of diagnostic kits and instruments, are active in China. Several international manufacturers have made an entry into the Chinese market, securing a share of value to the manufacturers in their own countries, as China resembles a system the same as the American FDA system.
Therefore, an increasing number of international manufacturers in China is boosting botulinum immunodiagnostics market growth in the country.
Category-wise Insights
Which Product Type is Driving High Market Growth?
"Noteworthy Demand for Immunoassay Kits & Reagents"
The immunoassay kits and reagents segment held around 64% share of the global botulinum immunodiagnostics market.
Increasing demand for immunodiagnostics with a high prevalence of infectious diseases and continuous growth in the use of kits and reagents for diagnostic purposes has led to the noteworthy growth of immunoassays and reagents.
Why is the LPA Segment Exhibiting Steady Demand Growth?
"Convenience of Usage Offered by LPA"
LFA held the largest market share of around 39% in 2021. Lateral flow assays are simple paper-based devices that are used to detect the presence of the target analyte in the matrix sample without the need for any costly or specialized equipment.
Thus, due to its easy use, LFA is mostly used in laboratories, which results in high demand in the market across regions.
Competitive Landscape
Leading manufacturers of diagnostic kits and reagents have been constantly working to develop new product lines to strengthen their existing portfolio, meanwhile expanding their consumer base around the world.
Similarly, several major competitors in the botulinum immunodiagnostics industry have engaged in mergers and acquisitions. Moreover, manufacturing companies are receiving certifications for new products to be launched.
In August 2022, Bio-Rad Laboratories acquired the shares of Curiosity Diagnostics. Curiosity Diagnostics is a Warsaw, Poland-based developer of innovative technology solutions catering to several markets of healthcare and medical diagnostics.
BioCheck (BIOTECON Diagnostics), in February 2021, received AOAC certification for its food-proof STEC screening and identification lyokits in combination with an extraction kit.
Botulinum Immunodiagnostics Industry Report Scope
Attribute

Details

Forecast Period

2022-2032

Historical Data Available for

2012-2021

Market Analysis

USD Million for Value

Key Countries Covered

U.S.
Canada
Brazil
Argentina
Mexico
Germany
France
U.K.
Italy
Spain
Russia
BENELUX
India
Thailand
Malaysia
Indonesia
China
Japan
South Korea
Australia
New Zealand
Turkey
GCC
Northern Africa
South Africa

Key Market Segments Covered

Product
Assay
Purpose
Application
End User
Region

Key Companies Profiled

BioCheck (BIOTECON Diagnostics)
AdVnt Biotechnologies
Fisher Scientific (Thermo)
Bio-Techne
Response Biomedical
New Horizons Diagnostic Corporation
Bio-Rad Laboratories

Report Coverage

Market Forecast
Competition Intelligence
DROT Analysis
Market Dynamics and Challenges
Strategic Growth Initiatives

Customization & Pricing

Available upon Request
Segmentation of Botulinum Immunodiagnostics Industry Research
Botulinum Immunodiagnostics Market by Product Type:
Immunoassay Kits & Reagents

Kits
Primary Antibodies
Secondary Antibodies
Immunoassay Substrates
Immunoassay Buffers

Analyzers & Instruments
Consumables
Software
Botulinum Immunodiagnostics Market by Assay:
ELISA
FIA
CLIA
LFA
Others
Botulinum Immunodiagnostics Market by Purpose:
Research Use Only
Clinical Use
Botulinum Immunodiagnostics Market by Application:
Clinical Diagnostics
Drug Discovery
Screening of Diseases & Disorders
Botulinum Immunodiagnostics Market by End User:
Healthcare Industry
Agriculture & Food Industry
Botulinum Immunodiagnostics Market by Region:
North America Botulinum Immunodiagnostics Market
Latin America Botulinum Immunodiagnostics Market
Europe Botulinum Immunodiagnostics Market
South Asia Botulinum Immunodiagnostics Market
East Asia Botulinum Immunodiagnostics Market
Oceania Botulinum Immunodiagnostics Market
Middle East & Africa Botulinum Immunodiagnostics Market