Lateral Flow Assay Market Outlook (2022-2032)
Revenue from the global lateral flow assay market was US$ 7.9 Bn at the end of 2021, with the market estimated to progress at a CAGR of 5% to reach a valuation of US$ 13.7 Bn by 2032.
As assessed by Persistence Market Research, lateral flow assay (LFA) products are expected to account for a market value of US$ 13.7 Bn by 2032. Overall, lateral flow assay sales accounted for 71.3% revenue share of the global point-of-care (POC) market in 2021.
| | |
| --- | --- |
| Lateral Flow Assay Market Size (2022) | US$ 8.3 Bn |
| Projected Market Value (2032) | US$ 13.4 Bn |
| Global Market Growth Rate (2022-2032) | 5% CAGR |
| Market Share of Top 5 Countries | 60.9% |
Sales Analysis of Lateral Flow Assays (2012 to 2021) Vs. Market Outlook (2022 to 2032)
The global market for lateral flow assays recorded a historic CAGR of 3.6% over the last 9 years (2012 to 2021).
Since there has been a massive increase in the number of sexually transmitted diseases (STDs), demand for standard care and rapid diagnosis has also increased.
According to recent data released by the Centers for Disease Control and Prevention, there has been around 30% increase in the reported cases of sexually transmitted diseases. As per WHO findings, there were around 374 million new cases of sexually transmitted infections in 2020.
These infections include chlamydia, gonorrhoea, syphilis, and trichomoniasis. Amongst these 374 million cases, chlamydia accounted for 129 million, gonorrhoea accounted for 82 million, syphilis accounted for 7.1 million, and trichomoniasis was 156 million cases. Increasing prevalence of these diseases is driving the growth of the lateral flow assay market for the diagnosis of diseases
Moreover, efforts such as raising awareness among the general public and policies regarding self-testing are being carried out by both, government and private agencies.
For instance, WHO estimates that self-testing can help Americans meet the target of diagnosing 90% of people with HIV.
To assist with the same, around 41 countries have adopted HIV self-testing. There is also increasing funding to drive the reach and effectiveness of HIV testing kits, services, and programs.
Manufacturers such as Abbott are supporting developing regions such as Africa by joining hands with organizations such as the African First Ladies Against HIV/AIDS (OAFLA) to reduce the spread of HIV. This is driving huge demand for lateral flow assay tests across regions.
The global lateral flow assay market is likely to expand at a value CAGR of 5% and reach a market size of US$ 13.4 Bn by the end of 2032.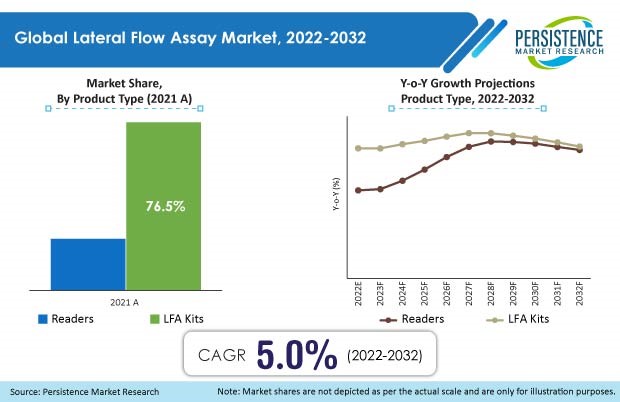 Why are Lateral Flow Assay Products Gaining Immense Popularity?
"Ease of Use, Cost-Effectiveness, & High Sensitivity of LFA Tests"
Lateral flow assay tests have penetrated several sectors such as healthcare, animal health, food & feed testing, environmental testing, and plant disease testing. Apart from infectious disease testing and pregnancy testing, the cross applications of lateral flow assays include food testing and drug abuse testing. Most notably, LFA tests are widely used due to their ease of application, which helps in avoiding numerous visits to the hospital. This has resulted in strong market penetration of LFA technologies for the testing of seasonal and outbreak indications such as malaria, dengue, etc. There has also been fast acceptance of lateral flow assay tests in the veterinary sector, which is providing a push to the overall growth of the market.
Lower-middle-income countries are anticipated to witness significant growth in terms of adoption due to economical pricing, easy availability, and higher sensitivity of LFA tests in infectious disease testing.
Similarly, increasing research & development efforts to boost market growth and rising emphasis on the R&D of drugs and therapies for rare diseases, such as malaria, salmonella, and others, will create huge opportunities for lateral flow assay product manufacturers.
Significant collaborative efforts among leading pharmaceutical manufacturers, funding programs, and the presence of reimbursement policies will further supplement market expansion.
For instance, in 2021, Avacta Group and Calibre Scientific signed a non-exclusive distribution agreement to accelerate the distribution and sale of its AffiDX COVID-19 antigen lateral flow test in the United Kingdom and the European Economic Area (EEA).
Why is Demand for Lateral Flow Assays Being Adversely Affected?
"High Competition in Market Leading to Sub-Standard Products"
LFAs suffer from poor reproducibility of results. LFA tests at different times with the same person may give quite different results. Another problem with LFA is that the simultaneous analysis of multiple markers (multiplexing) is difficult. Inaccurate sample volume can reduce the precision of the results.
The falling cost of manufacturing coupled with the high volume and low-value nature of LFA kits has resulted in pricing pressure. Vendors are competing based on volume and pricing, which results in the availability of sub-standard products in the market.
LFAs are mostly qualitative tests that detect the presence of diseases. At the most, they can provide semi-quantitative results depending on color change. Therefore, lateral flow assays are only appropriate for primary screening and do not provide quantifiable detection; they cannot be used to detect the severity of the condition that is under diagnosis.
Country-wise Insights
Why is the U.S. Lateral Flow Assay Market Surging Ahead?
"Rising Prevalence & Incidence of Infectious Diseases"
The U.S. accounted for around 91.8% market share in the North America lateral flow assay market in 2021.
In 2021, the U.S. Department of Health and Human Services announced an investment of around US$ 650 million in the field of rapid diagnostic testing to improve the access to rapid point-of-care tests for the diagnosis of COVID-19 infections amongst Americans.
Rise in the manufacturing of these tests is having a positive effect on the growth of the lateral flow assay market in the country.
Increased procurement of LFA kits by international bodies such as UNICEF due to the rising prevalence of infectious diseases such as the coronavirus, Ebola, Zika virus, and other pandemic diseases has boosted sales of lateral flow assay kits in the U.S.
What Makes the U.K. a Lucrative Market for Lateral Flow Assay Manufacturers?
"Encouragement by Government and Affordable Prices of Lateral Flow Tests"
The U.K. held around 16.8% share of the Europe lateral flow assay market in 2021.
The government keenly supports the use of rapid lateral flow assays for the detection of COVID-19 infection, which has had a positive impact on the U.K. lateral flow assay market.
For instance, in April 2021, the U.K. government encouraged the increased use of lateral flow tests for the detection of COVID-19 infection through a campaign. The government promoted rapid COVID-19 tests by advising the public to get themselves tested twice a week through the free rapid COVID-19 tests.
Increasing government initiatives will augment the sale of lateral flow tests at affordable prices across the U.K.
How is China Emerging as a Prominent Market for Lateral Flow Assay Tests?
"Huge Government Investments in Monitoring Infectious Disease Outbreaks"
China held the largest market share of around 46.3% of the East Asia lateral flow assay market in 2021.
Increased government efforts on monitoring infectious disease outbreaks and growing awareness programs to improve infection diagnosis and prevention, as well as the launch of rapid diagnostic test kits in-home care settings, are expected to stimulate the growth of the China market during the forecast period.
Moreover, smartphone-based devices are offering a lot of opportunities to key players in the China lateral flow test market. Mobile phones help individuals by providing rapid results in real time. This helps in saving a lot of time and reduces the possibility of delay. This technology enables physicians and even the general public to remotely access their test results. The adoption rate of this new technology is quite high in East Asia.
Category-wise Insights
Which Lateral Flow Assay Product Type is Driving Market Growth?
"High Demand for Lateral Flow Assay Test Kits in Point-of-Care Diagnostics"
The lateral flow assay kits segment held around 76.5% share of the overall market in 2021.
A shift toward self-testing has created huge demand for lateral flow assay kits. Since self-diagnosis is gaining popularity amongst the general public, the use of home-based lateral flow assay tests has dramatically increased.
Various advantages offered by these tests such as easy-to-use, faster results, and many others are also driving segment growth.
Which Application Drives High Demand for Lateral Flow Assays?
"Lateral Flow Assays Most Commonly Used for Infectious Disease Diagnosis"
Application for diagnosis of infectious diseases held the largest market share of 37.6% in 2021.
Due to the COVID-19 pandemic, there has been an increased need for diagnostic testing with lateral flow assays, as it is a keystone for the management of the crisis. Cases of COVID-19 increased significantly in almost every county in 2020-2021, driving investments by leading players for the R&D of rapid tests, which resulted in various product launches of different antibody and antigen tests.
Similarly, in October 2021, Siemens introduced the Clinitest rapid COVID-19 antigen test in Europe, which can identify individuals infected with COVID-19 in 15 minutes.
Competitive Landscape
To strengthen their product lines across the world, key players are developing one-step assays, requiring no wash steps and sample preparation, and are robust with high sensitivity and specificity.
Several major competitors in the lateral flow assay industry are engaged in consolidation activities such as mergers and acquisitions. Another significant approach noticed in the industry is aggressive marketing & promotion of the product to increase the customer base.
For instance:
For instance, in February 2021, PerkinElmer launched the PerkinElmer COVID-19 antigen test for the diagnosis of COVID-19 infections. It gives a positive or a negative result in 15 minutes.
In 2021, Bio-Rad launched a Coronavirus Ag rapid test with a quality control swab kit.
In October 2020, Siemens Healthineers launched the CLINITEST Rapid COVID-19 antigen self-test.
Lateral Flow Assay Industry Report Scope
Attribute

Details

Forecast Period

2022-2032

Historical Data Available for

2012-2021

Market Analysis

USD Million for Value

Key Countries Covered

U.S.
Canada
Brazil
Argentina
Mexico
Germany
France
U.K.
Italy
Spain
Russia
BENELUX
Nordic countries
India
Indonesia
Malaysia
Philippines
Thailand
Vietnam
China
Japan
South Korea
Australia
New Zealand
Turkey
GCC
Northern Africa
South Africa

Key Market Segments Covered

Product Type
Application
Distribution Channel
Region

Key Companies Profiled

ThermoFisher Scientific Inc.
F. Hoffmann-La Roche
Abbott Laboratories
Becton, Dickinson & Company
PerkinElmer Inc.
Siemens Healthineers
QIAGEN N.V.
bioMérieux SA
Bio-Rad Laboratories, Inc.
Maternova Inc.
Quidel Corporation
Healgen Scientific, LLC.
Meridian Bioscience Inc.
Abcam plc.
Access Bio, Inc.
Humasis Co. Ltd.
DIALUNOX GmbH
Detekt Biomedical LLC
Guangzhou Wondfo Biotech Co., Ltd.
Creative Diagnostics

Report Coverage

Market Forecast
Competition Intelligence
DROT Analysis
Market Dynamics and Challenges
Strategic Growth Initiatives

Customization & Pricing

Available upon Request
Key Segments Covered in Lateral Flow Assay Industry Research
Lateral Flow Assay Market by Product Type:
LFA Readers

Benchtop Readers
Handheld Readers

LFA Kits

Test Strips
Dipsticks
Cassettes
Lancets
Lateral Flow Assay Market by Application:
Sexually Transmitted Diseases

Human Deficiency Virus (HIV) Infection
Gonorrhoea
Syphilis
Others

Infectious Diseases

Mosquito-Borne Diseases
Streptococcus Infections
Hepatitis Infection
Gastrointestinal Infections
Respiratory Tract Infections
Others

Diabetes
Pregnancy and Fertility Testing
Drug of Abuse Testing
Lateral Flow Assay Market by Distribution Channel:
Hospital Pharmacies
Retail Pharmacies
Supermarkets/Hypermarkets
e-Commerce
Lateral Flow Assay Market by Region:
North America Lateral Flow Assay Market
Latin America Lateral Flow Assay Market
Europe Lateral Flow Assay Market
South Asia Lateral Flow Assay Market
East Asia Lateral Flow Assay Market
Oceania Lateral Flow Assay Market
The Middle East & Africa (MEA) Lateral Flow Assay Market