Acetylated Monoglycerides Market Outlook (2022-2032)
The global acetylated monoglycerides market was valued at around US$ 269.9 Mn at the end of 2021 and is anticipated to expand at a CAGR of 4% to reach US$ 415.8 Mn by the end of 2032.
Europe accounts for the largest share in the global acetylated monoglycerides market and is projected to be valued at US$ 127.2 Mn by the end of 2032. Revenue from the sales of acetylated monoglycerides across the world account for 4% to 6% value share of the global food emulsifiers market.
| | |
| --- | --- |
| Acetylated Monoglycerides Market Size (2022E) | US$ 280.6 Mn |
| Projected Sales of Acetylated Monoglycerides (2032F) | US$ 415.8 Mn |
| Global Market Growth Rate (2022-2032) | 4% CAGR |
| Value Share of Top 5 Countries (2021A) | 44.6% |
Consumption Analysis of Acetylated Monoglycerides (2017-2021) Vs. Market Estimations (2022-2032)
During the historical period (2017-2021), the global acetylated monoglycerides market witnessed moderate growth and registered a value CAGR of 2.9%.
Food emulsifiers such as Acetylated Monoglycerides (AGM) are mainly used in baked goods such as cakes and other food formulations. AGM is typically added during the initial phase, i.e., liquid phase or batter. They are also used in fillings, frostings, and whipped cream to help stabilize and extend their life. In vegetable fat-based creams, acetylated monoglycerides improve foaming and whipping properties.
Acetylated monoglyceride usage as plasticizers & lubricants and additives for plastics & rubber is also prominent. Utilization of AGM in finished products enhances the performance and appearance of the products. It has humectant properties that make it an ideal ingredient for cosmetics and personal care products.
The global market for acetylated monoglycerides is projected to provide an absolute opportunity of US$ 10.7 Mn in 2022 and expand at 4% CAGR through 2032.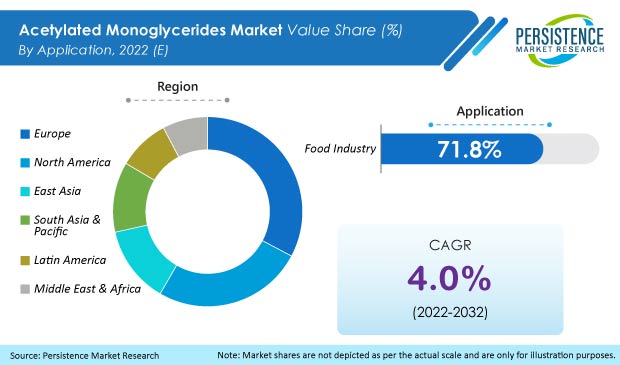 Why is Demand for Acetylated Monoglycerides Expected to Rise Steadily?
"Market Riding on Increased Pharmaceutical Application of Emulsifiers"
In the pharmaceutical industry, emulsifiers are recommended for unsaturated lipid components as they are derived from vegetable oils. Emulsifiers are used as dispersants and wetting agents for calamine, zinc oxide, and penicillin, and act as softeners, bodying agents, humectants, and stabilizers in pharmaceutical creams. Some emulsifiers are used as inactive substances that provide a medium for drug or tablet production.
Wholly acetylated monoglycerides can be used to lower cholesterol levels as well as neutral fats in the human blood. Hence, they are used in the production of pharmaceutical compositions. They are also used in diet food products targeted to reduce cholesterol levels.
"Rising Need for Plasticizers Driving Demand for Acetylated Monoglycerides"
Plastic additives are ingredients that are added to polymer resins to improve their durability and heat sensitivity, as well as impart various functionalities. These additives also enhance the processability, performance, and appearance of end products.
Plastic additives have found widespread applications in packaging, automotive, consumer goods, and other applications such as furniture, construction, and agriculture.
Plasticizers are one of the most commonly used plastic additives. Demand for plastic additives is increasing due to the replacement of conventional products in the construction, infrastructure, and automobile sectors with plastic products. Demand is further propelled by high consumer preference for plastic products owing to their lower prices, better functionality, and increased durability.
For instance, International Flavor and Fragrance (IFF) offers ACETEM that has applications in PVC and cling film manufacturing. The key functional attributes of the product are aeration and foam stabilizing and film-forming capabilities. It is also an efficient plasticizer.
"R&D Investments & Acquisitions to Drive ACETEM Market Growth"
Research & development play a vital role in the acetylated monoglycerides market. Producers are investing in intensive research & development to extend the application of products. In recent years, the utilization of food emulsifiers such as acetylated monoglycerides has grown due to their various functional properties.
Major companies are also opting for mergers and acquisitions to expand their emulsifier portfolios and technology collaborations. Innovations in the application of acetylated monoglycerides will provide lucrative growth opportunities to players in the global market.
In 2019, International Flavors & Fragrances Inc. announced the acquisition of Speximo AB, a Swedish technology company focused on developing stabilization and encapsulation products. It is equipped with highly advanced technologies, providing a competitive advantage in the marketplace with its sustainable multifunctional emulsifiers and texturing ingredients.
"Personal Care Industry to Offering Lucrative Opportunities for Acetylated Monoglyceride Suppliers"
Over the past two decades, the cosmetics industry has evolved in terms of product offerings as well as the ingredients used in various cosmetic products. Owing to the several side effects associated with the use of conventional emulsifiers, manufacturers are now coming up with several other types of safe emulsifiers for the production of cosmetic products.
Due to growing environmental safety concerns regarding the usage of harmful emulsifiers, consumers are looking for products that are safe and made from natural ingredients. This is offering promising opportunities to manufacturers of acetylated monoglycerides.
GRINDSTED Soft-N-SAFE and GRINDSTED ACETEM offered under DuPont's Nutrition & Biosciences by International Flavors & Fragrances Inc. are ideal for skin contact applications.
What's Denting Market Growth of Acetylated Monoglycerides?
"Volatile Oil Market Increasing Headaches for Acetylated Monoglyceride Manufacturers"
Food emulsifiers are produced through alcoholysis or the direct esterification of edible fatty acids that are derived from animal or vegetable sources with polyols. Esters of mono & diglycerides are derived from palm oil, castor, soybean, and other plant-based oils. The slightest fluctuation in oil prices will stifle the production of the esters of mono & diglycerides.
An increase in the prices of oils is attributable to many factors, including the shifting of demand from the food industry to the fuel industry, labor issues due to lockdowns in many plant-based oil-producing countries such as Indonesia and Malaysia, climatic impact on soybean producing areas, and imposing of import duties on palm oil in India. All these factors have a direct impact on the production of acetylated monoglycerides.
"Stringent Regulatory Norms Governing the Industry"
Additives, although used in minor quantities, are very critical in terms of performance in end-use materials, be it food, plastic, or any other product. This makes it imperative for customers who are using these additives to validate their quality and performance thoroughly.
In addition to performance, since many of these additives are used in food, feeds, and food packaging materials, they also need to comply with stringent health and environment-related regulations globally. Any failure in quality standards may lead to the loss of reputation and goodwill of a company, order cancellations, and customer loss.
Food products and their ingredients, food contact packaging materials, pharma packaging, feed nutrition additives, and cosmetic substances are subject to high regulatory standards.
Similar regulations also apply to plastic additives used in manufacturing packaging materials used for food packaging and medical products. Expensive and lengthy validation tests create a high entry barrier for any company while targeting new customers, geographies, and applications.
Country-wise Insights
Which European Countries are Showing Promising Growth Potential in the Market?
In the European region, Italy, Spain, and Poland are major countries that are showing the highest growth potential and are expected to register value CAGRs of 4.6%, 4%, and 3.9%, respectively, during the forecast period.
Emulsifiers are associated with various low-fat food benefits to meet the growth opportunities that arise from health-conscious consumers and also to cater to the rising demand for functional, packaged, and convenience foods.
Why Does India Hold a Majority Share in South Asia & Pacific Acetylated Monoglycerides Market?
India holds the largest share and shows dominance in this regional market owing to product innovation and increasing penetration of bakery chains in the food processing industry. Changing consumers' eating habits and lifestyles are also shaping the bakery industry in India.
Acetic acid esters of mono-and diglycerides or acetylated monoglycerides are utilized in baked food items to enhance the taste and texture of the products. Utilization of acetylated monoglycerides in India is expected to increase at a volume CAGR of 6.1% through 2032.
Category-wise Insights
Why is the Liquid Form of Acetylated Monoglycerides Most Preferred?
Liquid acetylated monoglycerides hold a majority share in the global market. These are used as release agents or oiling & polishing agents to help in forming stable films on the surface of confectionery products.
Demand for the liquid form of acetylated monoglycerides is expected to increase at a significant growth rate and reach a market valuation of US$ 255.3 Mn by the end of 2032.
Which Application of Acetylated Monoglycerides Brings in the Most Revenue for Market Players?
The food industry has progressed in terms of its product offerings, which drives the demand for various food specialty ingredients. Emulsifiers are used as a specialty ingredient to maintain product quality and enhance the texture of products, which indirectly drives the market for acetylated monoglycerides.
Food industry application of acetylated monoglycerides is expected to be valued at US$ 204.5 Mn by the end of 2022.
Competitive Landscape
Key players engaged in the production of acetylated monoglycerides are favoring innovation and new product development for the expansion of their portfolios. Furthermore, manufacturers are establishing new production facilities across countries to increase their global footprint.
In January 2022, Kerry Group opened a new state-of-the-art production facility in Saudi Arabia. The company invested approximately US$ 84.17 Mn in Northern Africa, the Middle East, and Turkey.
In 2021, BASF SE expanded its product portfolio of palm-based surfactants with RSPO (Roundtable on Sustainable Palm Oil) certifications in the European market.
Musim Mas Group sources its raw materials from Malaysia and Indonesia, with the latter being its main operational base.
Henan Zhengtong Food Technology Co., Ltd. participates in the formulation of national food emulsifier standards and also contributes to strengthening the food industry.
Acetylated Monoglycerides Industry Report Scope
Attribute

Details

Forecast period

2022-2032

Historical data available for

2017-2021

Market analysis

USD Million for Value

Key regions covered

North America
Latin America
Europe
East Asia
South Asia and Pacific
The Middle East & Africa

Key countries covered

U.S.
Canada
Germany
U.K.
France
Italy
Spain
Russia
China
Japan
South Korea
India
Thailand
Malaysia
Indonesia
Australia
New Zealand
GCC Countries
Turkey
Northern Africa
South Africa

Key market segments covered

Key companies profiled

Aspek Kimya
BASF SE
Fine Organics
Henan Zhengtong Food Technology Co., Ltd
International Flavors & Fragrances Inc.
Kerry Group
Lifelong Chemical Co., Ltd
Musim Mas Group
RIKEN VITAMIN Co., Ltd.
Spell Organics Ltd.
Zhengzhou Dahe Food S&T Co., Ltd
Zhengzhou Yizeli Industrial Co., Ltd

Report coverage

Market Forecasts
Company Share Analysis
Competition Intelligence
DROT Analysis
Market Dynamics and Challenges
Strategic Growth Initiatives

Customization & pricing

Available upon request
Acetylated Monoglycerides Industry Research by Category
Acetylated Monoglycerides Market by Form:
Acetylated Monoglycerides Market by Application:
Food Industry

Dairy Products
Bakery
Confectionery
Other Processed Foods

Pharmaceutical Industry
Others
Acetylated Monoglycerides Market by Region:
North America Acetylated Monoglycerides Market
Latin America Acetylated Monoglycerides Market
Europe Acetylated Monoglycerides Market
South Asia and Pacific Acetylated Monoglycerides Market
East Asia Acetylated Monoglycerides Market
Middle East and Africa Acetylated Monoglycerides Market