Introduction
White spirits are petroleum-based compounds, consisting of aliphatic, alicyclic, and aromatic-hydrocarbons, with carbon numbers mainly in the range of C7 to C12. These are clear and flammable liquids, with a flash point of approximately 21 - 68?C. White spirits have a density of approximately 0.8 g/ml, slight water solubility, and vapor pressure in the range of 0.3 - 3.0 kPa. They have a distinct odor, with an odor threshold of 0.5 - 5.0 mg/m3 in air, due to their high content of aromatic hydrocarbons.
Generally, white spirits are of four types - Type 1, Type 2, Type 3, and Type 0, which are categorized on their aromatic content basis. White spirits are consumed in a wide range of applications such as paint thinners, cleaning solvents, degreasing solvents, fuels, and disinfectants, among others.
The global white spirits market was valued at nearly US$ 6 Bn at the end of 2018, and is anticipated to exceed the US$ 9 Bn mark by the end of the forecast period, i.e. 2029, representing a growth rate of over 4%.
The global white spirits market is anticipated to represent an incremental opportunity of around US$ 3 Bn between the forecast period of 2019 - 2029. In volumetric terms, the consumption of white spirits is estimated to cross 6,000 KT by 2019 end, exhibiting a CAGR of nearly 4%. Consumption is anticipated to reach nearly 14,000 KT by 2029 end.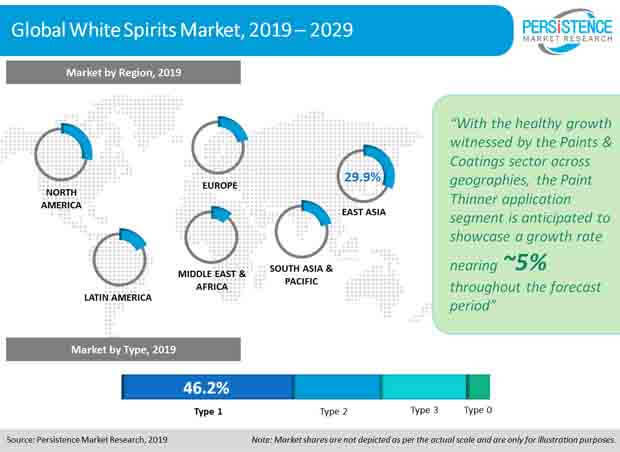 Sales of Paint Thinners to Surge in Line with the Growth of the Paints & Coatings Industry
White spirits are highly consumed as paint thinners, owing to the enhanced finishing they provide to architectural and decorative paints & coatings. The growth observed in the paints & coatings industry is expected to reflect in the white spirits market as well, as the paint thinners segment accounts for a large proportion of the white spirits market. Increasing demand from infrastructure development activities in countries such as China, India, and other ASEAN countries is driving the white spirits market.
Healthy growth in the automotive industry also intensifies the demand for paints & coatings, which further boosts the consumption of white spirits. The use of white spirits in cleaning and degreasing applications as a solvent is anticipated to further propel the market towards creating opportunities across various demographics. However, stringent regulatory frameworks in the countries of North America and Europe pose an obstacle to the overall growth of the white spirits market. The increasing inclination of consumers towards environment-friendly and bio-based solvents hampers the growth of the white spirits market.
Type 3 White Spirits Gain Traction in Special Applications Owing to Low Aromatic Content and Low Smell of Kerosene
On the basis of product type, type 1 white spirits are expected to account for a prominent volume proportion throughout the forecast period, while type 3 white spirits are estimated to account for over 20%. The rising demand for type 3 white spirits in paints & coatings helps drive the market. As the aromatic content in type 3 is noted to be less than 1%, this segment is expected to expand at a high pace in the white spirits market over the forecast period.
East Asia Prominent in Terms of Consumption, South Asia Pacific Market to Expand at a Fast Pace
With increasing industrial activities in countries such as China, Japan, and South Korea, the East Asia white spirits market is anticipated to remain at the forefront in terms of consumption. China is expected to remain a prominent market in the East Asia region, while also creating high revenue opportunities over the forecast period.
North America is also noted to consume large volumes of white spirits, but is expected to expand at a steady rate. As far as value-volume growth is concerned, the white spirits market in South Asia is expected to experience substantial growth, with India leading in consumption terms.
Market Participants of the Global White Spirits Market
Some of the market participants reported in this study on the global white spirits market include Royal Dutch Shell Plc., ExxonMobil Corporation, Idemitsu Kosan Co., Ltd., Total S.A., Neste Oyj, DHC Solvent Chemie GmbH, GSB Chemical Co. Pty. Ltd., Haltermann Carless Deutschland GmbH, and Al Sanea Chemical Products, among others.
Several manufacturers are observed to remain focused on research and development activities in order to provide low aromatic content white spirits (LAWS), in order to attain a sustainable advantage over the competition. Additionally, key players are also focusing on expanding their product portfolios through acquisitions of various small and big white spirit manufacturers, with the objective to consolidate their market share and enhance their customer base.