Voltage Sag Protector Market Outlook (2022-2032)
According to Persistence Market Research, revenue from the global voltage sag protector market totaled US$ 740.6 Mn at the end of 2021. Worldwide demand for voltage sag protectors is set to accelerate with the top 4 manufacturers capturing more than 56% market share at the end of 2021.
Voltage sag protectors are becoming increasingly important for businesses of all sizes. By protecting current flow from sags, companies can avoid costly damages and keep their operations running smoothly.
With the global economy recovering, industries are looking to invest in their electrical infrastructure. Voltage sag protector sales are expected to rise rapidly as a result of this industrialization. These devices protect equipment from voltage fluctuations and sags, which can cause serious damage and downtime.
Overall, global consumption of voltage sag protectors is expected to reach US$ 1.41 Bn by 2032, increasing at a CAGR of 6.1% from 2022 to 2032. Voltage sag protector sales account for 3%-6% share of the global power quality equipment market
| Attribute | Key Insights |
| --- | --- |
| Voltage Sag Protector Market Size (2021A) | US$ 740.6 Mn |
| Estimated Market Size (2022E) | US$ 779 Mn |
| Projected Market Value (2032F) | US$ 1.41 Bn |
| Value CAGR (2022-2032) | 6.1% |
| Collective Value Share: Top 3 Countries (2021) | 38% |
Sales of voltage sag protectors are expected to increase as data centers and other businesses seek to mitigate the high cost of electricity and cooling. These devices are designed specifically for frequent high-inrush current and low-power factor applications, making them ideal for data centers and other critical loads.
By protecting against voltage sags, businesses can save money on their energy bills while also ensuring that their equipment is always running at peak performance levels.
Sales Analysis of Voltage Sag Protectors (2017 to 2021) Vs. Market Projections (2022 to 2032)
From 2017 to 2021, the market for voltage sag protectors expanded at 2.6% CAGR. Market growth is anticipated to be much higher at 6.1% CAGR during the forecast period (2022-2032).
The significant increase in the forecasted CAGR is the result of rising power quality issues, particularly in the industrial sector. In the past few years, voltage sags have resulted in a significant loss of asset value. Therefore, addressing voltage sags has become more important than ever.
In industrial and commercial settings, voltage sags can be disastrous. A voltage sag is a decrease in the voltage level of an AC electrical circuit. When this happens, sensitive equipment can be damaged, causing costly repairs and delays.
Thankfully, there are devices available that can protect against voltage sags. These devices are known as voltage sag protectors, and their sales are expected to rise significantly over the next few years. Voltage sag protectors work by regulating the current flowing through electrical systems. When a sag occurs, the protector will automatically increase the current to ensure that sensitive equipment is not damaged.
Many industries have been plagued by voltage sag issues, including data centers, hospitals, and manufacturing plants. To protect their valuable equipment, these businesses are investing in voltage sag protection systems.
These systems are becoming more sophisticated every day, with new technologies that can quickly detect and correct voltage sags. As the global economy continues to recover, voltage sag protector sales will continue to grow.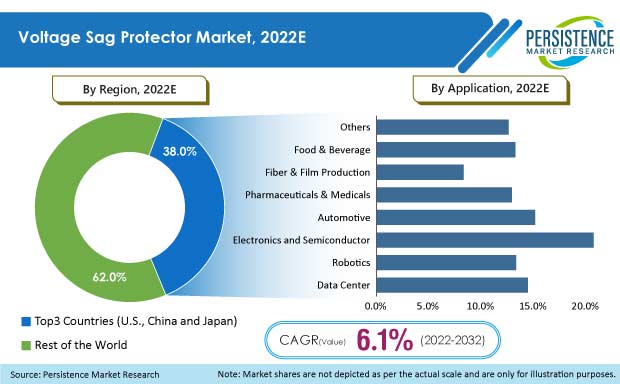 The image above presents the share of applications and regions. The electronics and semiconductors segment has a large share, while the usage of voltage sag protectors is the most in the U.S., China, and Japan.
What Key Opportunities Lie Ahead for Voltage Sag Protector Manufacturers?
"Market to Grow on Back of Rising Solar Power Projects"
Solar power installations are on the rise as homeowners and businesses alike look for new and innovative ways to reduce energy costs. However, one potential downside of installing a solar array is that it can create voltage sags at the point of network connectivity. These voltage sags can cause problems for sensitive electronic equipment, such as computers and HVAC systems.
Voltage sag protectors can withstand voltage sags at the point of network connectivity, ensuring that sensitive electronic equipment remains operational. As a result, more and more businesses are turning to voltage sag protectors as a way to safeguard their critical electronics against unexpected power outages.
"Defined Standards in Place by Regulatory Agencies"
Increased focus of regulatory entities on the establishment of standards for electrical and electronic equipment is expected to boost the sales of voltage sag protectors. Standards such as SEMI F47 voltage sag immunity are in place to safeguard equipment that is sensitive to voltage sags.
"Microprocessor-based Voltage Sag Protectors to Gain Immense Popularity"
Microprocessor-based voltage sag protectors are becoming more popular in the industrial sector because of their low maintenance and robust design. These protectors can check power quality and send out notifications to operators if a problem arises. This enables a quick and easy diagnosis of the problem, resulting in quicker resolution timeframes.
Furthermore, traditional safety devices have a shorter lifespan than microprocessor-based voltage sag protectors.
Voltage sag protectors based on microprocessors can survive voltage sags at the point of network connectivity, keeping sensitive electronic equipment operational. As a result, an increasing number of organizations are using these voltage sag protectors to protect their important equipment from power outages.
Country-wise Insights
Why are Voltage Sag Protector Manufacturers Queuing Up in China?
China is anticipated to hold more than 59% of the East Asia voltage sag protector market share by the end of 2032.
Voltage sags are an unavoidable part of transmission system operations that can cause sensitive equipment such as inverters in end-user facilities to fail, resulting in significant economic losses in continuous production operations.
The market for voltage sag protectors in China has developed rapidly in recent years as these devices have been implemented in a variety of industries across the country. According to this research, China has more than 130 MW of voltage sag protectors installed. Customers have saved more than US$ 500 million per year as a result of these installations.
All major customers with continuous production processes are been benefited from the installation of these devices and will be able to recoup their expenditures through reduced production downtime.
For instance, loss in value due to voltage sag for the chemical fiber industry ranges from US$ 28,000 to US$ 175,000, while for the semiconductor industry the value lies between US$ 570,000 and US$ 3,600,000 per annum.
Where Does the U.S. Stand in the Global Voltage Sag Protector Market?
The United States voltage sag protector market is estimated to expand at 6.2% CAGR during the forecast period of 2022-2032.
Voltage sags are the most common types of power quality disturbances in the country. Millions of dollars are lost in productivity each year in the United States due to these disturbances.
In the U.S., one-third of the demand for voltage sag protectors has been generated from data centers and the semiconductor industry themselves, making them prominent end-use industries for the market in the country.
The U.S has more than 2,700 data centers, which represents around 38% of the world's data centers. The country accounts for more than 20% of global semiconductor sales.
In addition, increasing voltage sag protector application in the commercial, retail, and healthcare sectors is anticipated to create new opportunities for market players in the country going forward.
Will India Be a Lucrative Market for Voltage Sag Protector Suppliers?
Over the forecast period, the India voltage sag protector market is projected to create an incremental opportunity of nearly US$ 630.1 Mn.
The issue of power quality has never been a priority for Indian power companies, which have historically focused on bridging the demand-supply gap and guaranteeing 24-hour power to all customer categories.
With the growing use of renewable energy, the spread of electric vehicles and charging stations, and the emergence of decentralized generation, the strain on the transmission and distribution system has multiplied. This has had an impact on power supply quality, resulting in performance degradation, early equipment failure, and greater systemic and financial losses.
For different stakeholders, such as utilities, consumers, and equipment makers, the relevance of power quality varies accordingly. Even within the same group, stakeholders have differing views on power quality. A one-minute voltage outage in a city like Delhi or Mumbai, for example, may be unbearable. Yet, even hours of outage in a village may go unnoticed.
Industrial and commercial customers are more affected by power quality interruptions than residential or agricultural customers.
According to a study presented by the Central Electricity Authority at International R&D Conclave in February 2018, India's direct costs of downtime are at US$ 3,128 million per year, with 57 percent owing to voltage sags and short interruptions and 35 percent due to transients and surges.
Increasing downtime costs and power quality concerns will be prominent drivers for the voltage sag protector market in India over the forecast period.
Category-wise Insights
Why Does the Industrial Sector Rely So Heavily on Voltage Sag Protectors?
The industrial segment is projected to account for more than 56% of the market share on a volume basis by the end of the forecast period.
Many industries, particularly those with a process, face the most serious power quality issue - voltage sags. As the complexity of modern industrial plants grows, equipment such as process controls, programmable logic controllers, adjustable speed drives, and robots becomes more sensitive to voltage sags.
Even motor starter relays and contactors are susceptible to voltage sags, resulting in the shutdown of a process when they fail. Therefore, the industrial sector is highly dependent on voltage sag protection devices and accounts for a major market share.
Which Application of Voltage Sag Protectors is Most Widespread?
The robotics segment is anticipated to create an absolute dollar opportunity of US$ 135 Mn and surge ahead at a CAGR of 11.5% through the forecast period.
Robotics systems are connected to utility systems through a transformer, owing to which, they are exposed to general electrical disturbances such as voltage sags.
The global robotics market is set to expand rapidly at an estimated CAGR of around 13%-16% through 2030, and the robotics and voltage sag protector markets are set to grow synchronously.
Which Line Voltage Type Drives Most Demand for Voltage Sag Protectors?
As per this analysis, the 221VAC-415VAC segment is estimated to hold more than 45% of the market share by the end of the forecast period. However, the segment is anticipated to lose 40 BPS over the forecast period due to increasing application for other line voltages in the industry.
The 221VAC-415VAC segment has wide applications, from commercial and industrial to healthcare facilities, which has resulted in high segment share.
Impact of COVID-19 Crisis
The COVID-19 pandemic had a substantial impact on the world economy, and as a result, voltage sag protector manufacturers' businesses and operations were negatively impacted. Voltage sag protectors saw considerable demand reduction and volatility.
Additionally, the recent increase in COVID-19 cases in China has resulted in lockdowns and the implementation of stricter protocols, which has significantly impacted the global supply chain of critical raw materials for manufacturing voltage sag protectors.
Manufacturers of voltage sag protectors were obliged to reallocate resources to stay afloat, resulting in lower R&D funding for advanced technological initiatives and other discretionary projects. When production capacity was rationalized, strategic decisions to exit unprofitable worldwide markets were made more quickly, resulting in significant output reductions.
Competitive Landscape
Leading players in the market are focusing on mega projects to supply voltage sag protectors and maintain long-term contracts with end users.
Small- to medium-level manufacturers are focusing on providing voltage sag protectors for commercial and small industrial applications that are more cost-effective and take up less space.
Voltage Sag Protector Industry Report Scope
Attribute
Details

Forecast Period

2022-2032

Historical Data Available for

2017-2021

Market Analysis

Units for Volume
USD Million for Value

Key Regions Covered

North America
Latin America
Europe
East Asia
South Asia & Pacific
The Middle East & Africa

Key Countries Covered

U.S.
Canada
Mexico
Brazil
Germany
France
Italy
Spain
U.K.
NORDICS
Russia
China
Japan
South Korea
India
ASEAN
Australia & New Zealand
GCC
Turkey
South Africa
Northern Africa

Key Market Segments Covered

End-use Industry
Application
Line Voltage
Type
Region

Key Companies Profiled

Rockwell Automation Inc
ABB
Schneider Electric
Shizuki
Eaton Corporation plc
General Electric Company
LS Electric Co Ltd
Sinexcel

Report Coverage

Market Forecast
Brand Share Analysis
Competition Intelligence
DROT Analysis
Market Dynamics and Challenges
Strategic Growth Initiatives

Customization & Pricing

Available upon Request
Key Segments Covered in Voltage Sag Protector Industry Analysis
Voltage Sag Protector Market by End-use Industry:
Retail
Healthcare
Commercial
Industrial
IT
Others
Voltage Sag Protector Market by Application:
Data Centers
Robotics
Electronics and Semiconductors
Automotive
Pharmaceuticals & Medical
Fiber & Film Production
Food & Beverages
Others
Voltage Sag Protector Market by Line Voltage:
Less than 220VAC
221VAC-415VAC
More than 416VAC
Voltage Sag Protector Market by Type:
Single-phase Voltage Sag Protectors
Three-phase Voltage Sag Protectors
Voltage Sag Protector Market by Region:
North America Voltage Sag Protector Market
Latin America Voltage Sag Protector Market
Europe Voltage Sag Protector Market
East Asia Voltage Sag Protector Market
South Asia & Pacific Voltage Sag Protector Market
Middle East & Africa Voltage Sag Protector Market