Significant Adoption by Automotive Industry Pushing Soft Magnetic Materials Market Growth
The automotive industry has been generating remarkable demand for electronic components that aid in delivering enhanced efficiency and high reliability. Components such as inductors that take up a large space inside an automobile have been recently undergoing dimensional reduction, which is brought about by soft magnetic materials.
These materials help in reducing dimensions of electronics components and thereby, promote work efficiency. Exceptional magnetic properties of soft magnetic materials continue to push their application in the automotive industry, as it remains at the forefront in terms of raising demand for technically advanced materials.
This study indicates that the notable increase in sales of hybrid vehicles that combine petrol or diesel engines with an electric motor, would remain a significant booster to soft magnetic materials market growth. These soft magnetic materials catalyze reduction of CO2 emissions and thus, promote low fuel consumption.
Attributing to their abilities to reduce vehicle weight as compared to conventional electric steel, soft magnetic materials are extensively used in motor driven systems. Key advantages such as compact design, energy savings, and low noise will continue to push demand for soft magnetic motors in electric and hybrid vehicles, which in turn would bolster the growth of global soft magnetic materials market in the near future.
Superior Magnetic Attributes over Electric Steel to Impel Soft Magnetic Materials Demand  
Nano crystalline soft magnetic materials and amorphous alloys exhibit high permeability and enhanced saturation flux density. Other unique properties include low core loss, high temperature resistance, low ageing effects, and high frequency characteristics. Demand for high frequency transformers and reactors is increasing in power generation.
Core losses of electrical steel under high frequency range are very high as compared to the soft magnetic materials. This core loss converts into a heat form, which raises the temperature of the immediate area, increasing the demand for soft magnetic materials for use in high temperature environments.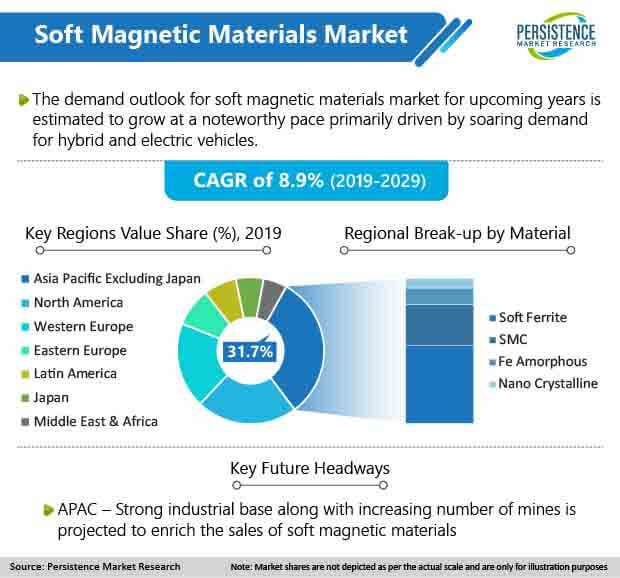 China Remains Storehouse of Opportunities
China is among the major consumers and producers of steel. The geographical strength of Bayo Obo mines, which is enriched with rare earth elements and iron ore, offers a strong advantage. Manufacturers from Japan and Germany aim to establish a free trade agreement with Mongolia, to leverage its proximity to Bayo Obo, in order to access its elements. Furthermore, growing adoption of bicycles, electric vehicles, power industries and aerospace creates lucrative growth opportunities for soft magnetic material manufacturers.
Market Structure Analysis
The soft magnetic materials industry has witnessed major expansion, attributable to key global players, with diverse product portfolio. The global soft magnetic materials market is highly consolidated and competitive, with leading manufacturing players emphasizing on advanced material properties. Players in the soft magnetic materials market focus on strategic acquisitions, enhancing marketing and distribution channels with an objective to gain high market shares and increase their geographical presence.
Market consolidation at the manufacturer level Prominent market players are concentrating on using various types of alloys for electric steel production and soft magnetic composite (SMC) with an aim to improve energy efficiency. Some of the prominent participants in global soft magnetic materials market that the report covers include GKN plc, Sumitomo Metal Mining Co., Ltd., Hitachi Metals Ltd, Toshiba Materials Co., Ltd., and Rio Tinto PLC.
Analyst's Viewpoint
The global soft magnetic materials market is expected to reach US$ 142 Bn by the end of 2029, progressing at a significant CAGR of 8% during 2019 - 2029. APEJ and North America are anticipated to account for prominent value shares in the global market. The soft ferrite segment is expected to dominate the global soft magnetic materials market throughout the forecast period.
Key Segments of Soft Magnetic Materials Market
PMR's study on the soft magnetic materials market is divided into three significant segments – material type, application, and region. This report offers comprehensive data and information about the important market dynamics and growth parameters related to these categories.
Material Type

Soft Magnetic Composites (SMC)

Pure Iron/Iron Powder
Silicon Ferrite
Supermalloy
Permalloy

Soft Ferrite
Fe Amorphous
Nano Crystalline

Application

Transformers

Portable
Transmission
Distribution

Motors

1hp-100hp
101hp-200hp
201hp-1000hp
Above 1000hp

Inductors
Generators

Region

North America
Latin America
Western Europe
eastern Europe
Japan
APEJ
MEA
Key Questions Answered in PMR's Soft Magnetic Materials Market Report
Which regions will continue to remain the most profitable markets for soft magnetic materials market players?
Which factors are anticipated to induce changes in demand for soft magnetic materials during the assessment period?
How will changing trends impact the soft magnetic materials market?
How can soft magnetic materials market players leverage opportunities in developed regions?
Which companies are leading the soft magnetic materials market?
What are winning strategies used by key players to improve their position in the soft magnetic materials market?
- Companies Covered in This Report -
Rio Tinto PLC
GKN Powder Metallurgy
Höganäs AB
Voestalpine Stahl GmbH
Hitachi Metals Ltd
Toshiba Materials Co., Ltd.
Sumitomo Metal Mining Co., Ltd.
VACUUMSCHMELZE GmbH & Co. KG
PMG Holding GmbH
Hengdian Group DMEGC Magnetics Co., Ltd.