Reusable Incontinence Products Market Outlook (2022-2032)
The global reusable incontinence products market recorded a historic CAGR of 4.8% in the last 9 years from 2012 to 2021. As assessed by Persistence Market Research, adult diapers held a market share of 36.4% in 2021. Overall, reusable incontinence product sales accounted for 34.2% revenue share of the global incontinence products market in 2021.
Worldwide revenue from the reusable incontinence products market was US$ 4.8 Bn in 2021, with the global market estimated to move ahead at a CAGR of 5.2% to reach US$ 8.5 Bn by the end of 2032.
Adult incontinence is a well-known medical concern; in reality, various health concerns such as obesity, posttraumatic stress disorder (PTSD), and childbirth all play a role in incontinence.
People aged 60 years or above are considered older adults by the United Nations and the World Health Organization (WHO), respectively. The number of individuals over 65 in the world is expected to increase to 1.5 billion by 2050, from the current 703 million.
Ten to twenty percent of all women and seven in ten of those residing in nursing homes suffer from urine incontinence, which lowers the quality of life and affects elderly persons in particular.
Any involuntary urine leakage is referred to as urinary incontinence, as per the International Association of Urinary Incontinence (ICS).
The market for reusable incontinence products is primarily being driven by companies that are demonstrating that a more sustainable approach to the provision of continence products currently depends on a decrease in the use of single-use products, the use of longer-lasting items, and their replacement with reusable alternatives.
For millennials, the relationship between a company and its customers as well as the ecological impact that any brand has are of utmost importance. Due to the strong value placed on ethical and environmental standards by this generation, the market appears to be promising. Reusable incontinence solutions are in great demand, with a steady increase anticipated over the coming years, given the high that is being put on sustainability and enhancing patient care.
| | |
| --- | --- |
| Reusable Incontinence Products Market Size (2022) | US$ 5.2 Bn |
| Projected Market Value (2032) | US$ 8.5 Bn |
| Global Market Growth Rate (2022-2032) | 5.2% CAGR |
| Market Share of Top 5 Countries | 54.6% |
Which Factors Influence the Demand Growth of Reusable Incontinence Products?
"Rapid Shift toward Reusable Products over Disposables"
Reusable personal hygiene solutions have revolutionized the market for personal care products by placing high emphasis on hygiene, healthy intimate health, convenience, and comfort. A substantial amount of effort has gone into assessing the potential risks associated with the use of hygiene pads. Furthermore, regulatory classifications of absorbent items, such as feminine hygiene products, adult diapers, and infant diapers, differ by nation and are governed by several disciplines.
Companies that demonstrate a more sustainable approach to delivering incontinence products focus on reducing the usage of single-use products and replacing them with reusable alternatives. The launch and promotion of cutting-edge, high-value products such as gender-specific incontinence underwear that imitates regular underwear are expected to boost market growth in this sector.
For example,
The new women's washable, reusable incontinence underwear from Zorbies was unveiled in May 2021. It has greater coverage and absorbency, together with a sophisticated, covert design. Zorbies is a high-end brand that makes quality washable protective underwear for both men and women. The clothing line is owned and operated by a U.S. company named Ready-to-Buy.
Because incontinence affects many people, uncontrollable urine leakage can be unpleasant. Women who have recently given birth, those who are menopausal, and elderly persons are more likely to experience urinary incontinence or a lack of bladder control. An enlarged prostate, problems with the pelvic floor, and urinary tract infections are additional risk factors for urinary incontinence. Urinary incontinence, often known as uncontrollable urination, is a common condition among the elderly, which is a prominent factor driving market expansion.
Can Demand for Reusable Incontinence Products Be Affected in Any Way?
"Social Stigma Leading to Reluctance towards Product Adoption"
Significant consumer reluctance to buy incontinence products continues to be a key challenge for market competitors. Such psychological barriers and stigma have considerably hindered the market expansion for reusable incontinence products.
Moreover, reusable or washable incontinence products do not generally support a high flow of incontinence fluids and possess lower absorbency than their disposable alternatives. Additionally, alternative products that can mimic the comfort and feel of cotton underwear would shift consumer preference, and thus hamper the expansion of the global reusable incontinence products market to some extent.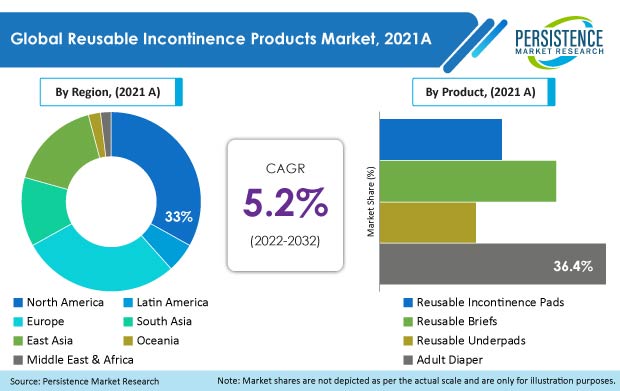 Country-wise Insights
Why is the U.S. Reusable Incontinence Products Market Booming?
"High Prevalence of Urinary Incontinence & Frequent Product Launches"
The U.S. accounted for around 90.2% share of the North American reusable incontinence products market in 2021, and a similar trend is expected over the forecast period. This dominance is witnessed due to the growing adoption of incontinence products in the country.
Stress urinary incontinence is most common in pregnant women, new moms, and women going through menopause, according to the Office on Women's Health (U.S. Department of Health and Human Services), whereas, urine incontinence is twice as common in women as it is in men.
As public awareness of personal cleanliness increases, adult incontinence products are being utilized more frequently. The U.S. market has also grown and developed as a result of the expanding population and increased purchasing power.
Which is a Leading Reusable Incontinence Products Market in Europe?
"Thriving Online Retailing of Reusable Incontinence Products"
Germany held 23.8% share of the European reusable incontinence products market in 2021.
Online activity has been increasing year over year in many regions of the world. This aspect has prompted several manufacturers to advertise and market their goods on various social media and e-Commerce platforms.
The Federal Association of German E-Commerce and Mail Order Business performed an e-Commerce consumer study, and the results show that e-Commerce turnover increased by a whopping 11% in 2019 as compared to 2019.
This is a major factor propelling the demand growth for reusable incontinence products in the country.
Why are Reusable Incontinence Products Manufacturers Thriving in China?
"Vast Elderly Population Driving High Demand for Reusable Incontinence Products"
China accounted for a market share of 46.2% in East Asia in 2021.
The world's largest elder population, which currently resides in China, is expected to continue expanding in the years to come. The market for adult diapers is growing along with China's aging population.
China Daily reported that by 2050, there will be approximately 487 million senior people living in the country.
This is projected to drive the demand for incontinence products over the forecast period. It is expected that the expanding older population will have a significant positive impact on the market for adult incontinence products. These products are likely to remain popular and more residents will seek high-quality incontinence products. As a result of their growing popularity, more families and nursing homes anticipate increased demand over the coming years.
Furthermore, significant improvements in other incontinence products are likely to generate a profusion of attractive chances for market participants to advance in the Chinese market while attracting new consumers. The market has been quickly developing as a result of increased consumer awareness, better understanding of various incontinence problems, normalization of the problem, and easier access to these products. Chinese underpad manufacturers will thrive as a result over the years to come.
Category-wise Insights
Which Incontinence Product is Expected to Bring in High Revenue Streams?
"Adult Diapers to create Huge Market Opportunity for Companies"
Adult diapers accounted for 36.4% share of the overall reusable incontinence products market in 2021.
Adults are more susceptible to urinary incontinence, which increases their dependence on diapers. In consideration of this, it is anticipated that the demand for adult diapers would increase over the coming years due to a large geriatric population and an increase in the prevalence of bladder control issues. Since many seniors over 60 struggle with incontinence, adult diapers are becoming more and more popular.
Additionally, the number of adults who are obese is rising as a result of growing health concerns and fast-changing lifestyles. The prevalence of adult urine incontinence is one of the most prominent reasons for using adult diapers.
How are Companies Tapping the Rising Demand for Women's Reusable Incontinence Products?
"Key Players Focusing on Gender-specific Products"
Women's reusable incontinence products held the largest market share of 52.4% in 2021.
As urinary incontinence symptoms are extremely common in women, this has a significant impact on health-related quality of life and is associated with high personal and social costs.
Hesitation in the adoption of these products sets the potential for key players to invest in gender-specific products to make them available at affordable costs, which would escalate adoption and generate substantial growth in the market.
For instance, Essity AB introduced new washable absorbent underwear lines in its feminine care and incontinence product categories in January 2021. According to claims, the underwear offers customers a more environment-friendly alternative to throwaway protection for up to eight hours while being completely undetectable.
Competitive Landscape
To strengthen their product lines around the globe, leading manufacturers are focusing on introducing effective and safe products that would meet consumers' needs. Similarly, several major reusable incontinence product suppliers have engaged in consolidation activities such as mergers and acquisitions.
Another significant approach witnessed in this space is the increase in corporate collaborations to boost market share.
For instance:
Essity AB, a hygiene and health company, acquired Knix Wear Inc. in July 2022, a well-known Canadian manufacturer of leak-proof clothing for periods and incontinence. Following this acquisition, Essity will take over market leadership in the intimate hygiene product category with the fastest rate of growth.
The Ontex Group debuted 'A Lovely Day', its first incontinence-related digital subscription brand, in April 2021. A Lovely Day was established in France as a challenger brand to protect consumers from both, the stigma associated with incontinence and the condition itself.
Reusable Incontinence Products Industry Report Scope
Attribute

Details

Forecast Period

2022-2032

Historical Data Available for

2012-2021

Market Analysis

USD Million for Value
Absolute Units for Volume

Key Countries Covered

U.S.
Canada
Brazil
Argentina
Mexico
Germany
France
U.K.
Italy
Spain
Russia
BENELUX
India
Thailand
Malaysia
Indonesia
China
Japan
South Korea
Australia
New Zealand
Turkey
GCC Countries
Northern Africa
South Africa

Key Market Segments Covered

Product
End Use
Distribution Channel
Region

Key Companies Profiled

B. Braun Melsungen AG
The Proctor & Gamble Company
Cardinal Health, Inc.
Suominen Corporation
Kimberly-Clark
Paul Hartmann AG
Nexwear
Royal Medical Solutions, Inc.
Ontex International N.V.
Essity AB
Medline Industries, Inc.
Activ Medical Disposable
Abena Group
Dryloch Technologies NV
Unicharm Corporation
Domtar Corporation

Report Coverage

Market Forecast
Competition Intelligence
DROT Analysis
Key Inclusions
Market Dynamics and Challenges
Strategic Growth Initiatives

Customization & Pricing

Available upon Request
Reusable Incontinence Products Industry Research Segments
By Product:
Adult Diapers
Reusable Underpads
Reusable Briefs
Reusable Incontinence Pads
By End Use:
Men's Reusable Incontinence Products
Women's Reusable Incontinence Products
Kids' Reusable Incontinence Products
By Distribution Channel:
Hypermarkets/ Supermarkets
Retail Pharmacies
Hospital Pharmacies
Online Pharmacies
Specialty Stores
By Region:
North America
Latin America
Europe
South Asia
East Asia
Oceania
Middle East & Africa