PET Lucrative Resin Type in the Recycled Plastic Market
Polyethylene Terephthalate has maximum share in the recycled plastic market by resin type and is expected to grow at a robust rate over the course of the forecast period. This segment should gain 180 BPS from 2017 to 2025, making it an extremely attractive opportunity in the recycled plastic market.
The Y-o-Y growth for all product segment could be in the range of 2-5% with the most growth witnessed in PET. PET is sought after for two main reasons – it is easily available in recycled waste scrap and it costs less when compared to other recycled plastics. In addition to this, the recycling rate of PET is high. The PET segment is anticipated to be worth approx. US$ 10.5 billion by end 2025.
High Density Polyethylene Close Second in Recycled Plastic Market
The high density polyethylene segment accounts for a third of the recycled plastic market by resin type and is on track to grow its share going forward. The HDPE segment is projected to record a moderate value CAGR of 4.5% from 2017 to 2025 and create a total incremental opportunity of more than US$ 2.5 billion between 2017 and 2025. High density polyethylene is attractive because a large portion of the plastic scrap such as grocery bags, margarine tubes, and detergent bottles, often consists of HDPE resins.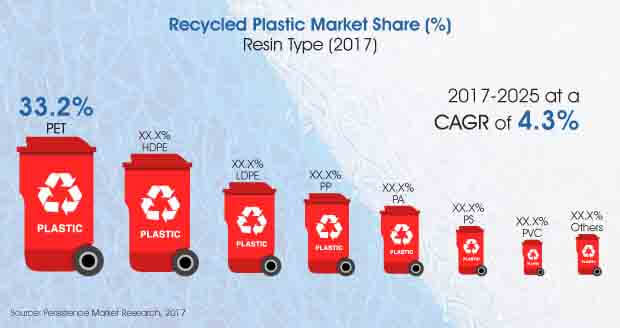 PA, PS, PVC Resin Types Predicted to Stifle Growth of Recycled Plastic Market
The low generation of tape cassettes, microwave, electrical appliances, thermal insulation, and battery cases i.e. waste containing resins including polyamides, polystyrene, and poly vinyl chloride are likely to decelerate the growth in the recycled plastic market. A lower amount of generated waste will cause a supply crunch of raw material that is the primary input feed material to manufacture recycled plastic and all of its ancillary products.
Within the three resin types, minimal growth is projected in the PVC segment and it is the only one unlikely to cross a value of US$ 1 billion by the end of the forecast period. Furthermore, the recycling of plastic is at a nascent stage in some emerging economies where the majority of the plastic scrap is sent to other nations. PVC bottles in particular contain high doses of chlorine and other contaminates that act as an obstacle to recycling of these products.
Companies Driving the Shift Towards Use of Recycled Plastic Products
Prominent companies are playing a major role in promoting use of recycled plastic bottles in lieu of virgin plastic bottles. The Coca Cola Company has announced its intention to invest millions of pounds in its Lincolnshire manufacturing unit to ensure the use of 50% recycled plastic in all of its bottles. Smaller companies have also been inspired by this and a few have pledged to use 100% recycled plastic bottles by 2020.
This may well fuel the global recycled plastic market in the medium term. Nestle Waters North America has begun to manufacture PET bottles from recycled plastic and these bottles are 100% recycled plastic with the company aiming to increase the recycling rate of plastic bottles to 60% by end 2018. The Dow Chemical Company has been able to successfully harness energy from recycled plastic. This process reduces the consumption of natural gas and is a renewable and environmentally-friendly method of energy harvesting.
Recycled Plastic Market Taxonomy
Resin Type

High Density Polyethylene (HDPE)
Low Density Polyethylene (LDPE)
Polypropylene
Polyethylene Terephthalate (PET)
Polyamides
Polystyrene
PVC
Others

Source Type

Plastic Bottles
Plastic Films
Rigid plastic & foam
Synthetic Fiber
Others

Application

Packaging
Construction
Automotive
Others

Region

North America
Europe
Latin America
Asia Pacific
Middle East & Africa (MEA)
- Companies Covered in This Report -
B.SCHOENBERG & CO., INC.
REPLAS
Advanced Environmental Recycling Technologies, Inc.
Clear Path Recycling
Wellman Advanced Materials
Reprocessed Plastic , Inc.
PLASgran Ltd
Custom Polymers
CarbonLITE Industries
Luxus Ltd
Butler-MacDonald
KW Plastic , Inc.
wTe Corporation
Envision Plastic Industries LLC
Kuusakoski
Shanghai PRET
Others.