Increasing investments in infrastructure projects across the world boosting the global piling machines market
Global construction industry is registering a steady growth due to high rate of urbanization and increasing demand for roads, rails, buildings and associated infrastructure as result of growth in population. In addition, governments of various countries across the globe are focusing on development of transportation infrastructure.
For instance, in 2015, the U.S. Congress passed a bill for spending of US$ 305 Bn to improve quality of highway network and transit systems. The U.S. government spends around 2.2% share of GDP on developing infrastructure. In 2015, the Chinese government is also spending heavily on infrastructure, and has announced projects worth US$ 1.1 Trillion to revive the economic growth and GDP of the country.
In July 2016, India launched several projects, which include the development of 24 smart cities, 23 industrial hubs, two ports, and a 1,500 Km, six-lane express highway. Such initiatives of governments will boost the construction projects across the globe resulting in growth of pile foundation work, which in turn is likely to fuel the demand for piling machines.
High prices and a low replacement rate hindering revenue growth of the global piling machines market
Construction of buildings, bridges, railways and various other types of infrastructure requires costly piling machines capable of driving piles into the ground to the required depth.
Due to the high capital investment the small and medium size construction contractors prefer rental of machinery or purchase of old machinery rather than acquiring new piling machines, thereby restraining the growth of piling machine markets. Furthermore, the low replacement rate of piling machines, due to long life of piling machines is another factor restraining the market of piling machines.
Expansion in emerging markets is a huge opportunity for major players
Global piling machines market is dominated by leading players such as Bauer Group, Casagrade S.p.A, and Junttan Oy etc. who provide high value piling machines in the global piling machine market. Small manufacturers of piling machines in emerging economies such as China and India, where the cost of production is relatively low have an opportunity to expand themselves in the global market.
Similarly, existing players are looking forward to expand their production facilities in the emerging economies which help them to cater the demand of piling machines in the emerging economies as well as reduce their cost of production. This helps them to attain a competitive advantage in terms of price and the delivery time.
Deploying environment friendly piling machine equipment likely to have a positive effect on the global piling machine market
Piling machines manufacturers are adopting various differentiation strategies by constantly upgrading their products using technological innovations to improve their efficiency and comply towards mitigating adverse environmental impacts. For instance, diesel hammers are being slowly replaced by hydraulic hammers due to environmental concerns.
In densely populated areas, hydrostatic pile drivers are used to drive the pile into the ground or to excavate the piles which works on vibrations to avoid complains related to noise pollution and dust.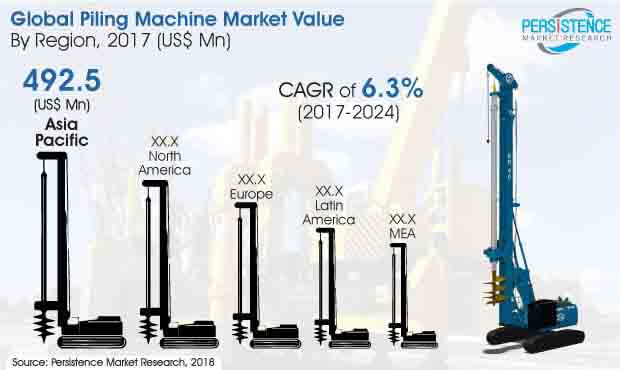 Global Piling Machine Market Analysis, By Region
Sales revenue in Latin America is estimated to increase at a moderate CAGR over the forecast period to be valued at US$ 79.7 Mn by 2024. This is mainly attributed to a rapid growth of the mining industry in Peru and Chile, owing to discovery of abundant copper and gold reserves.
Sales of piling machines in North America was valued at US$ 235.5 Mn in 2017 and is anticipated to increase at a moderate CAGR over the forecast period, to reach US$ 328.7 Mn by the end of 2024. Piling machines sales volume in North America stood at 409 units in 2017 and is projected to reach a number of 522 units in 2024.
Market Taxonomy
Attribute
Details

Product Type

Diesel Hammer
Vertical Travel Lead Systems
Hydraulic Hammer
Hydraulic Press-in
Vibratory Pile Driver
Piling Rig

Region

North America
Latin America
Europe
Asia Pacific
Middle East and Africa
- Companies Covered in This Report -
BSP International Foundations
Soilmec S.p.A.
Casagrande Group
Bauer Group
International Construction Equipment
Liebherr
Junttan Oy
DELMAG GmbH & Co. KG
changsha Tianwei Engineering Machinery Manufacturing Co., Ltd.
MAIT S.p.A.
Others