Pastry Mixes Market Outlook (2022-2032)
The global pastry mixes market is currently valued at around US$ 7.88 Bn, and is anticipated to progress at a CAGR of 2.1% through 2032. As such, worldwide consumption of pastry mixes is slated to reach US$ 9.7 Bn by the end of 2032.
Europe is projected to hold more than 28% of the global market value share for pastry mixes by 2032. Currently, global sales of pastry mixes account for around 26% share of the global baking ingredients market.
| Attribute | Key Insights |
| --- | --- |
| Pastry Mixes Market Size (2022E) | US$ 7.88 Bn |
| Projected Sales of Pastry Mixes (2032F) | US$ 9.7 Bn |
| Value CAGR (2022-2032) | 2.1% |
| Value Share of Top 5 Countries (2022E) | 46% |
Demand Analysis of Pastry Mixes (2017-2021) Vs Market Estimations (2022-2032)
The global market for pastry mixes and fillings expanded at a value CAGR of 1.5% from 2017 to 2021.
Pastry mixes are made from flour, salt, raising agents, vegetable shortenings, and emulsifiers, all of which are necessary for making pastries. This is an all-in-one dry powder mix that just requires the user to add water to form the resulting dough or batter before baking.
Complete mixes are largely used by consumers, along with food processing and foodservice sectors, because buying bulk flour and other ingredients is usually more cost-effective for an industrial bakery than buying them as part of a premix or mix.
There are many different varieties of pastries, such as shortcrust and choux pastries, doughnuts, danishes, croissants, pie, etc., which are majorly consumed across the world, which bodes well for the global pastry mixes market.
Worldwide sales of pastry mixes and fillings are predicted to increase at 2.1% CAGR and be valued at US$ 9.7 Bn by the end of 2032.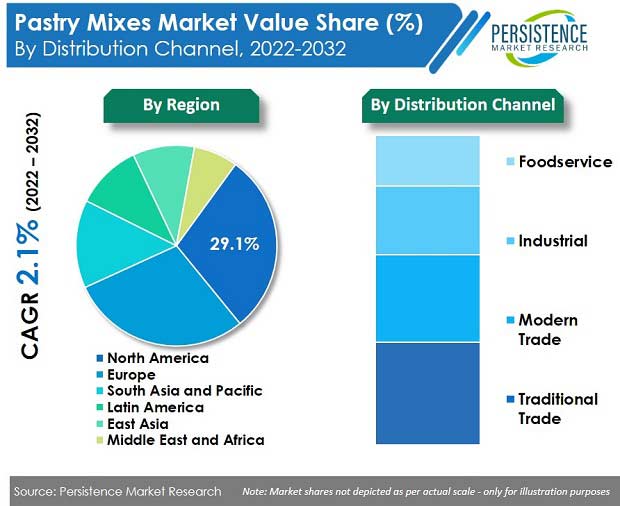 How is Pastry Mixes Market Growth Being Aided?
"Increasing Demand for Bakery & Confectionery Products to Drive Sales of Pastry Mixes & Dough"
The small bakery operators market is extremely fragmented, with low-volume facilities where a range of baked goods, including pastries, are prepared and sold to customers from the same location. When it comes to pastry mixes, using specialized pastry mixes and bases would offer a wide range of products without the need to keep a huge inventory of ingredients at hand.
A nutrition premix or a separate pack for addition ingredients at the time of manufacturing can be included in mixes and bases. This aids in the preservation of fragile vitamins and the avoidance of any harmful minerals.
Increased demand for bakery and confectionery products, changing lifestyles, altering consumer buying habits, and rising desire for nutritious food products made with high-quality ingredients are all contributing to the world's expanding number of bakeries and patisseries, thereby driving pastry mix consumption.
"Consumer Preference for 'Free From' & 'Organic' Driving Market Expansion"
The organic and free-from sector is accelerating with strong growth, especially in Western Europe and North America. Once seen as a niche product bought mostly by those with food intolerances or allergies, it has changed significantly with many consumers are now switching to free-from products that they perceive to be healthier.
Consumers' precarious nature has always been a driving force behind market dynamics, especially when it comes to health-promoting plant-based products, where they are exceedingly cautious. Consumers are selecting pure and naturally-extracted products for ingredients due to their health consciousness and caution. They are drawn toward pastry mixes as they are free from genetically modified organisms, gluten, soy, and dairy.
Consumers are also purchasing pastry mixes to make pastries at home, which is less expensive than buying the whole product. Adding a few components to the mix aids in the preparation of the perfect dough or batter. Consumers, foodservice operators, and even large-scale bakeries benefit from packaged pastry mixes and fillings. This also saves time in the kitchen and eliminates the hassle of selecting ingredients.
Manufacturers are expanding their product ranges to increase the reasons for purchase beyond being free from, and driving growth via online shopping, specialty stores, and other channels, as many customers choose free from as a lifestyle option.
Growing popularity of 'natural nutrition', 'healthy living'," and 'organic products' has increased customer demand for whole wheat, light, natural, and additive-free products dramatically. Rise in the sales of packaged, whole wheat, whole grain, gluten-free, and natural products in recent years is a strong indicator of this new and healthy way of life.
Suppliers of pastry mixes and bases can benefit from all these positive market trends over the coming years.
"Fortification, Flavors, and Innovation Provide Opportunity for Manufacturers of Pastry Mixes"
To increase pastry sales, producers are combining taste and health by including fiber or a combination of protein and fiber in pastry mixes. Indulgence and flavor innovation are driving demand for pastry and cake baking mixes.
Fascinating new flavors and options - variety triggered by buying something they wouldn't have bought otherwise – is resulting in a huge possibility for creativity through global inspiration, seasonality, and nostalgia to produce pastry mixes for vegans.
Plant-based products are making significant progress in the bakery industry, but there is a definite consumer need for greater innovation in sweet baking, which poses its own set of hurdles for manufacturers. These plant-based products can also be used to make fillings for pastries, resulting in an opportunity for a variety of new pastries.
Why is Market Growth of Pastry Mixes Being Dented?
"Highly Competitive & Fragmented Baking Sector"
The baking sector is very competitive because most bakeries are small- to medium-sized serving a highly fragmented market, which is one of the factors limiting the market for baking and pastry mixes. The market is fragmented since a majority of companies are tiny retail bakeries spread across the world.
"Addition of Unhealthy Oils in Cake & Pastry Mix Products"
Oils that have been hydrogenated or partially hydrogenated are added to mixes to help them last longer and taste better. However, these oils aren't necessary to increase flavor, and instead, may leave hazardous trans-fats in the mixes. Trans-fats enhance dangerous cholesterol levels while lowering healthy cholesterol levels, bad for strokes, and increase the risk of heart disease and diabetes.
Commercial baked goods are likely to contain refined flour and sugar, even if they don't contain trans fats. Pastry mixes also lack freshness in the ingredients because the nutritional content of the products is mostly lost during preparation.
"Freshness of End Product Not as Good as Pastries Made from Fresh Ingredients"
Consumers also have no control over the quality of components used to make pastry mixes, as well as the number of carbohydrates and fats in them. The taste of a pastry made from a pastry mix will not be the same as that of a pastry made from raw ingredients, and might also have the taste and odor of plastic or the box if the mix is not utilized for a long period of time.
Country-wise Insights
Which Country Leads the European Market for Pastry Mixes?
In the Europe pastry mixes market, France holds a major share of the market with an expected value CAGR of 3.1%.
The market is expected to reach US$ 729 Mn by 2032 as there is increasing demand for convenient food, and on-the-go and snacking trends have become more prevalent in the country.
How is the Canada Pastry Mixes Market Faring?
In the North America pastry mixes market, Canada is expected to progress at a CAGR of 2.2% over the forecast period of 2022-2032.
Innovation in pastry mixes and fillings along with rising awareness regarding allergens will help boost market growth in Canada.
Category-wise Insights
Why are Choux Pastry Mixes Highly Popular?
Based on type, choux pastry mixes hold the largest volume market share of 40.2%, which is projected to increase at a volume CAGR of 2% over the forecast years (2022-2032) in the global market.
The volume share of choux pastries is huge because of choux mix availability in the market; the mix can be used to make several products such as eclairs, churros, etc.
Why Should Pastry Mix Suppliers Look at Modern Trade Channels?
On the basis of distribution channel, modern trade is expected to show promising growth and register a value CAGR of 2.7% during the forecast period, and is anticipated to reach US$ 2.9 Bn in valuation.
As modern trade includes specialty stores, online retail, and mass merchandisers, demand for pastry and bakery products is expected to grow, which will help end users order and receive the mixes in less time.
Competitive Landscape
Prominent manufacturers of pastry mixes are concentrating their efforts on obtaining certifications from international organisations for their manufacturing facilities, which assures consumers that the food products are produced in accordance with the law, are clean, hygienic, environmentally-friendly, and respect animal welfare.
AB Mauri has several certifications for manufacturing as well as quality of products, including HACCP, GMP, Halal, FSSC 2000, and Food Safety System Certification 22000.
SACA Italia has acquired many certifications for continual improvement and strengthening product quality, including IFS, RSPO, UNI EN ISO 9001:2015, CEE Stamp, kosher, and halal.
Bakels has received RSPO certification as well as kosher, halal, and AA standards from BRCGS, and is a member of the Sustainable Palm Oil Association.
General Mills India's state-of-the-art production facilities are well-versed with customer requirements and product quality control, and have gained quality standards with eminent food safety systems and certifications such as FSSAI License, FSSC 22000 Certification, and HACCP.
Pastry Mixes Industry Report Scope
Attribute
Details

Forecast period

2022-2032

Historical data available for

2017-2021

Market analysis

USD Million for Value

Key regions covered

North America
Latin America
Europe
South Asia and Pacific
East Asia
The Middle East Africa

Key countries covered

U.S.
Canada
Brazil
Mexico
Chile
Germany
U.K.
France
Italy
Spain
Poland
Russia
India
Oceania
ASEAN
China
Japan
South Korea
GCC Countries
Turkey
South Africa

Key market segments covered

Type
Distribution Channel
Region

Key companies profiled

Bakels
Swiss Bake Ingredients Pvt. Ltd.
New Horizon Foods, Inc.
General Mills
Betty Crocker
Dawn Food Products, Inc.
AB Mauri Malaysia
DANÆG Group
BIRDS EYE LIMITED
Middleton Foods.
Butchers-Sundries
TEXTURE MAKER ENTERPRISE CO., LTD
JM Posner Ltd
HARIMSA
A1 EQUIPMENT LTD
PANELUX S.A.
ARCTIS Frozen Bakery Goods
Tres Estrellas

Report coverage

Market Forecast
Company Share Analysis
Competition Intelligence
DROT Analysis
Market Dynamics and Challenges
Strategic Growth Initiatives

Customization & pricing

Available upon request
Pastry Mixes Industry Research by Category
Pastry Mixes Market by Type:
Shortcrust Pastry Mixes
Choux Pastry Mixes
Others
Pastry Mixes Market by Distribution Channel:
Traditional Trade
Modern Trade
Industrial
Foodservice
Pastry Mixes Market by Region:
North America Pastry Mixes Market
Latin America Pastry Mixes Market
Europe Pastry Mixes Market
South Asia and Pacific Pastry Mixes Market
East Asia Pastry Mixes Market
The Middle East and Africa Pastry Mixes Market