Mannosylerythritol Lipids (MEL) Market Outlook (2022-2032)
Worldwide consumption of mannosylerythritol lipids is estimated to increase at a CAGR of 5% and reach US$ 6,236.8 Th by the end of 2032. The global mannosylerythritol lipids (MEL) market was valued at US$ 3,646.3 Th at the end of 2021 and is anticipated to reach US$ 3,823.0 Th in 2022, witnessing Y-o-Y growth of 4.8%.
| Attribute | Key Insights |
| --- | --- |
| Mannosylerythritol Lipids Market Size (2021A) | US$ 3,646.3 Th |
| Market Estimation (2022E) | US$ 3,823 Th |
| Market Forecast (2032F) | US$ 6,236.8 Th |
| Value CAGR (2022-2032) | 5% |
| Collective Value Share: Top 3 Countries (2022E) | 40.4% |
As per detailed industry research, the mannosylerythritol lipids market is estimated to create an absolute incremental opportunity of US$ 2,413.8 Th from 2022 to 2032. Worldwide consumption of mannosylerythritol lipids accounts for a share of 20% of the global microbial bio-surfactants market (2022).
Consumption Analysis of Mannosylerythritol Lipids from 2017 to 2021 Vs Market Outlook for 2022 to 2032
The mannosylerythritol lipids market expanded at a CAGR of 2.6% during the historical period. However, the industry witnessed a slight decline in demand due to the COVID-19 outbreak, but the market is getting back to its original growth pace.
The MEL market is expected to expand at a CAGR of 5% during the forecast period. Increasing consumption of MEL in the pharmaceutical industry is expected to boost demand over the coming years. The personal care and cosmetics segment witnessed a slight increment in its market share owing to surging demand for personal care & hygiene products across the world.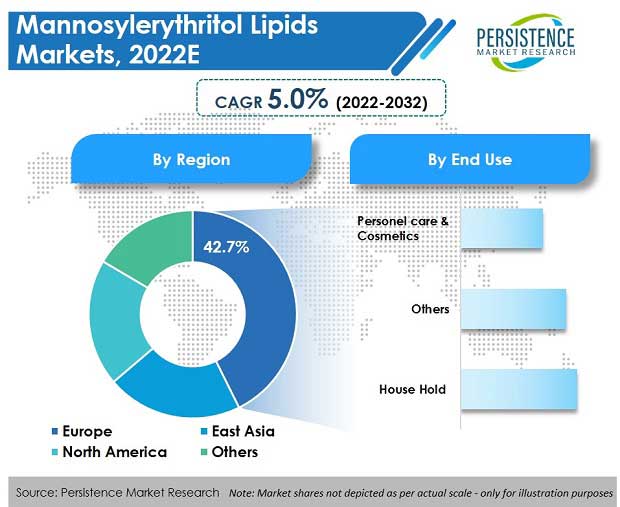 What is Expected to Drive Demand Growth of Mannosylerythritol Lipids?
"Demand for Environmentally-friendly Products Bolstering Sales of Mannosylerythritol Lipids"
Mannosylerythritol lipids are promising biosurfactants containing various fatty acids and two glycosyl derivatives. These lipids are commonly derived from fungal strains such as Ustilago and Pseudozyma.
Owing to their versatile biochemical actions as well as interfacial properties, MEL usage is popular in many fields. They pose higher biodegradability, lower toxicity, higher selectivity at extreme conditions, higher foaming ability & structural diversity and mild production conditions as compared to other chemical surfactants.
Biosurfactants and their applications are promising for environmental concerns. Various synthetic surfactants pose significant environmental risks owing to their harmful chemical compounds and incomplete degradation in water and soil. Synthetic surfactants are reported to cause long-term adverse effects.
On the contrary, bio-based products such as MEL degrade easily and do not pollute the environment. They are eco-friendly, and thus, products such as glycolipids and amphiphile are being utilized in different applications.
"Rising Worldwide Preference for Bio-based Products"
Shifting consumer preferences toward bio-based products across the globe is a major driving factor for the adoption of mannosylerythritol lipids worldwide. MEL is classified as multifunctional molecules due to its exceptional high yield, surface activity, biocompatibility, antimicrobial activities, self-assembling properties, and biochemical functions.
MELs have intriguing self-assembling properties that boost their effectiveness in gene transfection. Mannosylerythritol lipids have the potential to be used as a vehicle for drug and gene delivery, and have the highest sufficiency among various bio-surfactants.
MELs are also very useful in inhibiting ice agglomeration, especially in air conditioners. In these units, there are possibilities for the ice particles to agglomerate and block the pipeline, causing power loads that lead to the loss of efficiency.
Owing to their biochemical properties, mannosylerythritol lipids are extensively utilized in different pharmaceutical drugs, which are further get consumed in for treatment of certain lethal diseases.
What is The Regional Outlook for the Mannosylerythritol Lipids Industry?
By volume, Europe holds the highest share (31.3%) in the mannosylerythritol lipids market in 2022, followed by North America and East Asia.
Europe and North America are major contributors to the global market; however, these two regions are expected to witness relatively slow growth as the markets are mature in these regions.
East Asia and South Asia Pacific are expected to witness significant growth in demand for mannosylerythritol lipids as compared to other regions during the forecast period.
Growing personal care & cosmetics and pharmaceutical industries, particularly in China, India, Malaysia, Indonesia, and Mexico, is expected to result in increased use of bio-surfactants, and in particular, mannosylerythritol lipids, which is further anticipated to propel demand for MEL over the forecast period.
South Asia Pacific and East Asia are estimated to remain high-potential markets owing to growing end-use industries and intense focus on detergent manufacturers.
Country-wise Insights
What is the Growth Outlook of the U.S. Mannosylerythritol Lipids Market?
The U.S. MEL market has a market size of US$ 658.8 Th in 2022, which is expected to expand at a CAGR of 4.9% over the forecast period.
Rising ageing population, increasing prevalence of skin diseases, shifting consumer interest toward organic and chemical-free products, and rising personal care spending are key factors driving the growth of the beauty and personal care products industry in the United States.
Due to increased consumer awareness about the adverse effects of certain compounds, the cosmetics and personal care products market has seen an upsurge in natural and organic product demand. This has increased demand for natural, safe, and organic products in recent years.
MEL, being a natural component, is utilized in cosmetics & personal care products in the U.S., where it increases the sustainability and life of the end product.
What is the Consumption Outlook of Mannosylerythritol Lipids in Germany?
Germany is anticipated to remain one of the prominent markets for mannosylerythritol lipids, both, in terms of consumption and production. The Germany mannosylerythritol lipids market is expected to reach US$ 593 Th by end of 2032. In Germany, the pharmaceuticals sector is expected to witness significant growth over the forecast period.
Germany is the ideal location for the manufacturing and development of high-quality, research-intensive products. The pharmaceutical market is expected to benefit from an increase in patent applications focused on the development of new drugs and formulations. As a result, the pharmaceutical industry is expected to see an increase in patent applications, which will speed up innovation.
Furthermore, increasing export of pharmaceuticals from Germany to various countries is expected to boost market growth. MEL is one of the components used in the manufacturing of different pharmaceutical drugs.
Mannosylerythritol lipids usage is gaining popularity due to their application in medicine and diverse biochemical functions, which include antitumor and differentiation-inducing activities in human leukaemia cells and mouse melanoma cells. They can be used to treat schizophrenia as well as diseases resulting from dopamine metabolic abnormalities and microbial related diseases.
Category-wise Insights
Why is Mannosylerythritol Lipids Consumption High in Cosmetic Product Formulations?
The personal care and cosmetics segment is expected to expand at a CAGR of 5.6% over the forecast period. The segment holds approximately 27% share in the mannosylerythritol lipids market owing to high demand from end users.
The cosmetic industry's growing demand for mannosylerythritol lipids as a natural ceramide substitute is expected to drive market growth. Mannosylerythritol lipids are a low-cost skincare ingredient that can be used to replace more expensive ingredients such as natural ceramides. They have a great moisturising effect on skin cells and can also be used to treat damaged skin.
Skincare, hair care, and other personal care & cosmetics are sub-segments of the personal care & cosmetics market. Of these sub-segments, the skincare sub-segment led the personal care & cosmetics sector in 2021 and is anticipated to continue its dominance through 2032.
Impact of COVID-19
Growth of the market for mannosylerythritol lipids was slightly hampered by the COVID-19 pandemic crisis due to disruptions in supply chains and affected trade activities all over the globe. Reduced demand from end-use industries resulted in less consumption of mannosylerythritol lipids during the crisis. The Middle East & Africa market witnessed substantial decrement of 4.7% as compared to other regional markets.
However, after the pandemic, sales of mannosylerythritol lipids are expected to witness a sharp recovery, which will be fuelled by growing demand for cosmetics and personal care products. Surging demand for personal care & hygiene products, along with household products, is anticipated to bolster MEL market expansion.
Competitive Landscape
Key MEL manufacturers are aiming at strengthening their share in the global market through mergers and expansion activities. Moreover, to cater to the demands of end users, market players are giving importance to innovations and product development.
The mannosylerythritol lipids market is highly consolidated, where only a few market players are present and have captured the whole market. Entry of new market participants is difficult as the market is highly consolidated and material and processing costs are relatively high.
In March 2022 Kao Corporation championed a more inclusive approach to beauty with the launch of the Wakati-brand, designed especially for women having type three-four hair, and mainly for kinks, coils, as well as curls.
Mannosylerythritol Lipids Industry Report Scope
Attribute
Details

Forecast Period

2022-2032

Historical Data Available for

2017-2021

Market Analysis

US$ Th for Value
Tons for Volume

Key Regions Covered

North America
Latin America
Europe
East Asia
South Asia & Pacific
Middle East and Africa and Global

Key Countries Covered

U.S.
Canada
Brazil
Mexico
Germany
U.K.
France
Italy
Spain
Russia
Benelux
China
Japan
South Korea
India
Indonesia
Vietnam
Singapore
Malaysia
Thailand
Australia & New Zealand
GCC Countries
Turkey
Northern Africa
South Africa

Key Market Segments Covered

Key Companies Profiled

Toyobo Co. Ltd.
Kanebo Comestics Inc.
Damy Chemicals Co. Ltd.

Pricing

Available upon Request
Key Segments Covered in Mannosylerythritol Lipids Industry Research
Mannosylerythritol Lipids Market by End-use Industry:
Household Detergents
Personal Care & Cosmetics

Skin Care
Hair Care
Others

Pharmaceuticals
Food Industry
Others
Mannosylerythritol Lipids Market by Region:
North America Mannosylerythritol Lipids Market
Latin America Mannosylerythritol Lipids Market
Europe Mannosylerythritol Lipids Market
East Asia Mannosylerythritol Lipids Market
South Asia & Pacific Mannosylerythritol Lipids Market
Middle East & Africa Mannosylerythritol Lipids Market