Macular Degeneration Treatment Market Outlook (2022-2032)
The global macular degeneration treatment market recorded a CAGR of 6.2% in the last 9 years from 2012 to 2021 and reached a market value of around US$ 8.6 Bn in 2021. The market is estimated to surge ahead at a CAGR of 7.4% to reach US$ 18.8 Bn by the end of 2032.
As assessed by Persistence Market Research, anti-vascular endothelial growth factors accounted for a market share of 60.8% in 2021. Overall, macular degeneration treatment accounts for approximately 18.7% revenue share of the global neurodegenerative disorders treatment market, which was valued at around US$ 45.9 Bn at the end of 2021.
One of the main causes of vision loss and blindness across the world is age-related macular degeneration (AMD). According to estimates, the total number of AMD sufferers could rise from 9.1 million in 2010 to 17.8 million by the end of 2050.
Even though anti-vascular endothelial growth factor (anti-VEGF) injection treatments have brought about a new era in the clinical treatment of ocular diseases, including AMD, their promotion is constrained by their significant financial burden, particularly in nations with a low socioeconomic status. Therefore, from the perspective of public health, it is crucial to reduce the incidence of visual impairment and blindness brought on by AMD.
Other significant drivers of market expansion are rising R&D expenditures and approvals of drug treatments.
For instance, the FDA granted GT005, an investigational, once-only AAV-based gene therapy for the treatment of geographic atrophy, the fast-track designation in September 2020. (GA).
Gyroscope Therapeutics Limited, a company specializing in clinical-stage retinal gene therapy, developed GT005.
Recent changes in the macular degeneration treatment industry confirm that major players are relying on the development of longer-acting anti-VEGF to secure significant revenue shares. The significant revenue potential is supported by the high prevalence of age-related macular degeneration (AMD), which is based on the rapidly aging population in developed countries.
| | |
| --- | --- |
| Macular Degeneration Treatment Market Size (2022) | US$ 9.2 Bn |
| Projected Market Value (2032) | US$ 18.8 Bn |
| Global Market Growth Rate (2022-2032) | 7.4% CAGR |
| Market Share of Top 5 Countries | 63.1% |
How Can Macular Degeneration Drug Manufacturers Grow?
"Rising Prevalence of Retinal Disorders and Development of Long-acting Anti-VEGF Drugs"
The prevalence of retinal disorders, the rise in the elderly population, and increased spending on research & development are the main drivers for the macular degeneration treatment market. The burden of retinal diseases is rising, which is fuelling market expansion.
For instance, age-related macular degeneration is the primary cause of visual impairment and blindness in Europe, according to a systemic review and meta-analysis on the prevalence and incidence of age-related macular degeneration in Europe that was published in the British Journal of Ophthalmology in August 2020.
AMD affects over 67 million people in Europe, and because of population aging, this figure is anticipated to rise by 15% by 2050. According to statistics, market expansion is strongly correlated with the rising number of people suffering from retinal diseases. As a result, the prevalence of these conditions is rising, fuelling the demand for macular degeneration therapies and boosting market expansion.
Additionally, the development of long-acting anti-VEGF drugs will create lucrative opportunities for manufacturers. Only a small number of drugs, mostly anti-VEGFs, are now approved for the treatment of age-related macular degeneration.
Anti-VEGF drugs require frequent and unpleasant intraocular injections, which adds to the strain and causes non-adherence to therapy. Companies are working on longer-acting anti-VEGFs and vitreous implants that enable sustained drug delivery to overcome this obstacle. Over the next years, it is projected that the release of long-acting anti-VEGF drugs such as Beovu and Vabysmo will fuel market expansion.
What is Adversely Impacting Market Growth to Some Extent?
"High Cost of Patented Drugs"
The expansion plans of market participants may be threatened by patent expiration. Exorbitant pricing, on the other hand, might not be a wise course of action for players who have drug patents.
For instance, the European patent for Lucentis ended in July 2022 and the U.S. patent for the drug lapsed in 2020.
Several businesses are competing to release a biosimilar version of Lucentis for the once-a-month treatment of neovascular age-related macular degeneration (nAMD). Demand in the near future is anticipated to be hampered by the lack of prescription medications for macular degeneration treatment.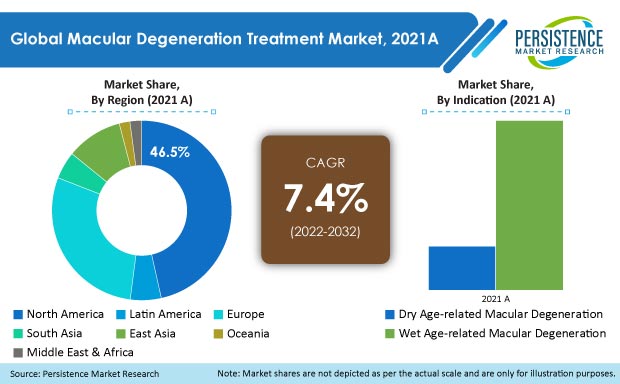 Country-wise Insights
Why is the U.S. Macular Degeneration Treatment Market Booming?
"Favourable Government Initiatives & Presence Established Players"
The U.S. accounted for 91.8% share of the North American macular degeneration treatment market in 2021, and a similar trend is expected over the forecast period.
The market in the U.S. is expected to grow at a faster rate thanks to favorable government efforts, an increase in R&D partnership agreements, the presence of key industry competitors, and recent product launches.
Through social media campaigns, in February 2020, Bausch Health Companies worked with the non-profit organization "Preventing Blindness" to raise public awareness of macular degeneration.
As a result, during the course of the forecast period, the U.S. is anticipated to experience significant market growth.
Will the U.K. Be a Lucrative Market for Macular Degeneration Treatment Providers?
"High Prevalence of Age-related Macular Degeneration (AMD)"
The U.K. held 23.2% share of the European macular degeneration treatment market in 2021.
The U.K. has over 1.5 million individuals suffering from macular disease. People of various ages are affected by this illness. The most prevalent disease is age-related macular degeneration, which typically affects people over the age of 55. More than 600,000 people in the U.K. are affected by AMD, which is the leading cause of blindness in the country.
How is China Emerging as a Prominent Market in East Asia?
"Large Population Base & Increase in Treatment Adoption Rates"
China held the largest market share of 42.7% of the East Asian macular degeneration treatment market in 2021.
In the last 30 years, the prevalence of AMD-related blindness, visual loss, and DALY rate has nearly doubled in the country. Additionally, compared to 1990, the age-standardized prevalence rate of AMD-related blindness and vision loss in 2019 increased by about three times. This can be largely attributed to China's aging and expanding population.
Furthermore, because of the country's vast population base and increasing treatment adoption rate, the rise in disposable income and health consciousness has increased diagnosis and treatment rates. As a result, those going in for macular degeneration treatment in the country have increased in number.
Although China's present eye healthcare regulations might slightly reduce the burden of AMD disease, significantly more effective interventions and regulations are required.
Category-wise Insights
Which Macular Degeneration Treatment Drug is Making Headlines?
"High Demand for Anti-Vascular Endothelial Growth Factors (Anti-VEGF)"
The anti-vascular endothelial growth factor (anti-VEGF) segment held 60.8% share of the macular degeneration treatment market in 2021.
Every year, almost 1 million patients, including those with AMD and other angiogenic retinal disorders, take VEGF inhibitors. Consistent, frequent follow-ups and treatments are required to maintain the advantages of anti-VEGF therapy. Ranibizumab, bevacizumab, aflibercept, and brolucizumab are some of the VEGF inhibitors that are currently on the market and administered intravitreally.
Anti-VEGF therapy, which involves routine intravitreal (into the eye) injections of "anti-VEGF," is currently the most widely used and effective clinical treatment for wet age-related macular degeneration. VEGF is a beneficial molecule that supports the development of new blood vessels in the human body during normal physiological functions.
Which Indication Accounts for Substantial Market Share?
"High Prevalence of Wet Age-related Macular Degeneration Disease"
Wet age-related macular degeneration held the largest market share of 79.3% in 2021.
Wet macular degeneration is the formation of new blood vessels beneath the retina. These enlarging blood vessels leak blood, impairing central visual quality and contributing to macular degeneration. The segment's significant market share was due to the high prevalence of wet age-related macular degeneration disease, branded drugs, increased awareness, and an increase in the number of treatments for wet AMD.
Competitive Landscape
Major macular degeneration drug manufacturers are adopting strategies such as research collaborations for the development of novel products. Moreover, several market players have a strong pipeline for therapeutics, intended to be launched through patient protection and licensing.
Instances include:
Mosaic Biosciences and Ocular Therapeutix announced a research agreement in June 2021 to develop a medication to treat individuals with dry age-related macular degeneration. This collaboration strengthens the company's R&D portfolio and offers the business a substantial growth opportunity.
Novartis AG received European Commission authorization to market Beovu in February 2020. It is an anti-VEGF medication used to treat patients with wet AMD.
Macular Degeneration Treatment Industry Report Scope
Attribute

Details

Forecast Period

2022-2032

Historical Data Available for

2012-2021

Market Analysis

USD Billion for Value

Key Countries Covered

U.S.
Canada
Brazil
Argentina
Mexico
Germany
France
U.K.
Italy
Spain
Russia
BENELUX
India
Thailand
Malaysia
Indonesia
China
Japan
South Korea
Australia
New Zealand
Turkey
GCC Countries
Northern Africa
South Africa

Key Market Segments Covered

Drug
Indication
Route of Administration
Distribution Channel
Region

Key Companies Profiled

F. Hoffmann-La Roche Ltd.
Novartis AG
Bayer AG
Pfizer Inc.
Bausch Health Companies Inc.
Regeneron Pharmaceuticals Inc.
Amgen Inc.
Biogen
Samsung Bioepis
Santen Pharmaceutical Co., Ltd.

Report Coverage

Market Forecast
Competition Intelligence
DROT Analysis
Market Dynamics and Challenges
Strategic Growth Initiatives

Customization & Pricing

Available upon Request
Macular Degeneration Treatment Industry Research Segmentation
By Drug:
Anti-vascular Endothelial Growth Factors
Others
By Indication:
Dry Age-related Macular Degeneration
Wet Age-related Macular Degeneration
By Route of Administration:
Intravenous Route
Intravitreal Route
Others
By Distribution Channel:
Hospitals
Ophthalmology Clinics
Others
By Region:
North America
Latin America
Europe Macular
South Asia
East Asia
Oceania
Middle East & Africa