Unswerving Power Needs Sustaining Strong Demand: Introduction
Portability of power supply has always been invaluable for the humanity. And, lead-acid batteries have been serving the purpose for over a century, evolving considerably since its invention in 1859. Currently, lead acid batteries are used for diverse applications in various end-use industries such as automotive, uninterruptible power supply (UPS), and telecommunication. And in the near future,
according to this business intelligence report, the demand will remain potent, expanding at a CAGR of 4.4% during the forecast period of 2017 to 2027. In terms of revenue, the analyst of the report has evaluated that the global lead acid battery market will be worth US$94,821.6 mn by the end of 2022. Volume-wise, the demand for lead acid battery is forecasted to be 881,280 units by 2022. These two figures are substantially more than the corresponding numbers for 2017 – US$ 61,482.2 mn and 613,777 units respectively.
Some of the key factors identified as drivers of the global lead acid battery market are: increasing demand for e-bikes and electric vehicles, lower maintenance and replacement costs, and reducing reliance on conventional fuel technologies. On the other hand, stringent lead emission standards and shift towards lithium-ion batteries are two glaring restraints hindering the prosperity of the lead acid battery market. Nevertheless, increasing demand from the telecommunication sector is foreseen as a fresh new opportunity in this market.
Flooded Battery Profitable Product Segment
Product-wise, the market for lead acid battery has been segmented into AGM battery, flooded battery, and gel battery. Among these, the flooded battery segment provided for 66.1% of the total demand as of 2017. Although the demand share of flooded batteries is anticipated to lose a little ground over the course of the forecast period, it will continue to remain the most profitable segment until 2027 by a fair margin. Economical pricing of flooded batteries make them high in demand. The demand share of AGM battery is poised to increase considerably in the near future, expanding at an impressive CAGR of 6.9% during 2017 to 2027.
Transportation Sector Providing for Maximum Demand
Application-wise, the analysts have bifurcated the lead acid battery market into grid storage, commercial, stationary industrial, residential grid storage, motive industrial, and transportation. Until 2017, the transportation sector was providing for 47.3% of the overall demand, although the demand for stationary industrial segment is expected to expand at an above-average CAGR of 6.3% during the forecast period.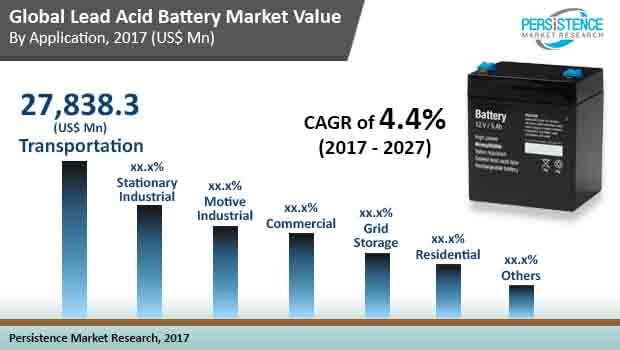 China Maintaining APEJ as Region of High Interest
Geographically, the region of Asia Pacific excluding Japan (APEJ) is currently most lucrative and the demand is projected to expand at an above-average CAGR of 4.8% during the forecast period of 2017 to 2027. By the end of 2027, the APEJ lead-acid battery market is estimated to be worth US$19,631.1 mn, with the flooded battery segment providing for the maximum demand. Flooded batteries, also known as wet batteries, uses lead plates, sulphuric acid electrolyte, and plate battery. Although flooded batteries require maintenance, they are cheaper and come in various shapes and sizes, making them ideal for various applications.
China currently dominates the APEJ lead-acid battery market in terms of demand. The country accounted for nearly 50% share in the overall lead-acid battery consumption in APEJ in 2016. While North America and Western Europe are other two regional markets with substantial potential, demand from both is anticipated to increment at a sluggish growth rate on the back of growing adoption of alternatives.
- Companies Covered in This Report -
Exide Technologies
EnerSys
GS Yuasa Corporation
Johnson Controls Inc.
Yokohama Industries
Others.