Intermittent Catheters Market Outlook (2022-2032)
The global intermittent catheters market was valued at US$ 1.6 Bn in 2021, with an estimated CAGR of 4.8% for the next ten years. A comprehensive industry study by Persistence Market Research reveals that the market will increase to a valuation of around US$ 2.6 Bn at the end of 2032.
According to Persistence Market Research, coated intermittent catheters held a market value of around US$ 1 Bn in 2021, accounting for nearly 64.5% of the overall market share. Sales of intermittent catheters increased at a CAGR of 4.5% over the last nine years (2012-2021) and currently account for 52.9% share of the global urinary catheters market.
An intermittent catheter is a medical device used to urinate. It provides a workable replacement for a catheter, which continuously drains. Intermittent catheterization is the most effective method for individuals with spinal cord injuries and neurogenic bladder problems to empty their bladders.
Increasing prevalence of urinary incontinence is expected to drive the demand for intermittent catheters. Intermittent catheterization is a process in which a catheter is inserted into the bladder of the patient for urine drainage or collection. Urinary incontinence is a medical condition that leads to the loss of bladder control and sometimes results in leaking urine while coughing or sneezing and having the urge to urinate urgently.
The elderly for problems such as urine retention, incontinence, pressure ulcers, and cancer commonly use intermittent catheters. Because this demographic requires continuous care monitoring, many healthcare professionals use them to reduce their workload when caring for older patients. Even in post-surgical situations, intermittent catheters are required because patients are not allowed to move.
For instance, the United Nations estimates that there were 703 million people in the world in 2019 who were 65 or older. In 2050, this figure is predicted to double to 1.5 billion.
The need for intermittent catheters is thus anticipated to rise due to the growing geriatric population and the increasing disease burden globally. The requirement for hospitalization is growing along with the incidence of chronic diseases such as endocrine, cardiovascular, renal, and urological illnesses. Patients with such persistent illnesses need to be catheterized to some extent to empty their bladders, which is boosting the market's expansion.
Furthermore, increasing incidence of bladder control problems and urinary-related issues, particularly in countries such as the U.S., Australia, the U.K., etc., is driving market growth.
As per the Continence Foundation of Australia, urinary incontinence (poor bladder control) is a common condition affecting 1 in 3 women, 1 in 10 men, and 1 in 5 children in Australia.
Moreover, growing awareness among physicians and patients regarding the benefits of catheterization is expected to boost the demand for intermittent catheters over the coming years.
| | |
| --- | --- |
| Intermittent Catheters Market Size (2022) | US$ 1.7 Bn |
| Projected Market Value (2032) | US$ 2.6 Bn |
| Global Market Growth Rate (2022-2032) | 4.8% |
| Share of Top 5 Countries | 57.8% |
What Opportunities are on Offer for Intermittent Catheter Manufacturers?
"Unmet Needs of Large Patient Pool in Developing Regions"
Urine problems such as urinary retention and incontinence affect a sizable segment of the global geriatric population 65 years of age or older. Urinary catheter use among the elderly is rising in industrialized regions such as North America, Western Europe, and Japan.
In contrast, the penetration of urinary catheter use is very low in developing regions such as Asia Pacific and Latin America, which indicates room for additional market growth in these regions. Additionally, leading market participants anticipate that rising healthcare spending and increased patient & physician awareness in developing nations such as China, Russia, and India would create significant growth prospects for them.
Companies are investing in R&D initiatives to produce biocompatible urinary catheters. Silicone is utilized more frequently to produce urinary catheters because of its resistance to chemicals and insensitivity to temperature changes.
Urinary catheters made of silicone help lower the risk of trigonitis, meatitis, and urethritis. Silicone and latex are the two materials that are most widely utilized. Less latex is being used to create urinary catheters, nevertheless, as it has been demonstrated that latex can lead to allergies and infections.
Furthermore, silicone catheters do not require frequent replacement as latex catheters do. To keep a hold of their positions in the global market for intermittent catheters, major players are introducing new devices.
What is Restraining the Demand Growth for Intermittent Catheters?
"Growing Incidence Urinary Tract Infections Associated With Use of Catheters"
Incidence of urinary tract infections associated with the use of catheters is increasing among patients, which is becoming a major challenge for healthcare professionals and institutions. Most catheter-associated urinary tract infections (CAUTIs) are attributed to the use of intermittent catheters during urinary catheterization
According to the Centers for Disease Control and Prevention (CDC) of the U.S., over 80% of catheter CAUTIs are caused due to catheterizations using Foley or indwelling urinary catheters
The global market for intermittent catheters is predicted to develop slowly due to the availability of disposable incontinence products such as adult diapers and pull-on absorbent trousers, which serve as substitutes for external catheters that need to be changed every day. Additionally, governments of major countries such as the U.S., U.K., and Australia have been offering various reimbursement programs for the purchase of disposable incontinence products, which is anticipated to hamper market growth during the forecast period.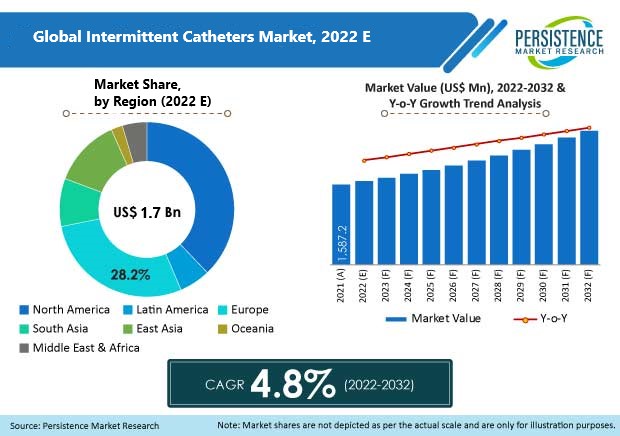 Country-wise Insights
Why are Intermittent Catheter Manufacturers Targeting the U.S.?
"Increasing Demand for Medical Devices and Growing Focus on Technology Advancement"
In 2021, the U.S. accounted for a market share of 86.1% of the North American intermittent catheters market.
Demand for intermittent catheters is increasing in the U.S due to the rising number of medical device and surgical instrument companies in the country and improvements in quality control systems in the industrial market. In addition, increasing prevalence of urinary incontinence in the U.S. is driving product demand.
According to Johns Hopkins Medicine, 25 million adult Americans suffer from some form of urinary incontinence, out of which, 75%-80% are women.
How is Demand for Intermittent Catheters Shaping Up in Germany?
"Opportunities for New Technologies"
Germany accounted for 27.8% of the market share in Europe in 2021. Rise in the demand for intermittent catheters in Germany is primarily due to the increasing geriatric population in the country.
For instance, according to World Bank Data, 22% population in Germany belonged to 65 years and above in 2020, thus driving the demand for intermittent catheters in the country.
Furthermore, there are many ongoing research studies being done to provide safe alternatives for catheterization. All these factors make Germany a lucrative market for intermittent catheters.
Why is Japan Considered a Lucrative Market for Intermittent Catheter Suppliers?
"Increasing Number of Clinics in the Country"
Japan accounted for 36.7% of the market share in East Asia in 2021. This is primarily due to a large number of hospitals and the high availability of hospital beds per 1,000 people in the country.
For instance, according to World Bank Data, there were 13 hospital beds present per 1,000 people in Japan in 2018, thus supporting the market for intermittent catheters in Japan.
Category-wise Insights
Which Type of Intermittent Catheter is Most Widely Used?
"High Demand for Coated Intermittent Catheters"
Coated intermittent catheters accounted for the highest market share of 64.5% by revenue in 2021.
Comfortable insertion, decreased risk of urethral injury, low risk of catheter-associated urinary tract infection, and higher patient satisfaction are factors that have contributed to this high revenue share. Coated catheters reduce bacterial adherence because they have a low degree of friction and are durable, biocompatible, and biocompatible.
Additionally, coated catheters have low coefficients of friction, are solvent-resistant, allow for aqueous interactions, and inhibit thrombosis.
For What are Intermittent Catheters Used the Most?
"Prostate Gland Surgeries Continue to Account for Highest Market Share"
When treating benign prostatic hyperplasia BPH-afflicted men's prostate glands, intermittent catheters are most widely used.
According to estimates from the American Academy of Family Physicians (AAFP) from 2015, there are 250,000 BPH procedures performed in the United States each year, along with about 2 million office visits.
This disorder is also linked to pregnancy and may result from harm or injury to the urethra, penis, or bladder. Intermittent catheter use in prostate gland surgery continues to be the most lucrative segment of the industry and accounted for 38% market revenue share in 2021.
Competitive Landscape
Companies manufacturing intermittent catheters are actively looking to improve their position through partnerships, acquisitions, collaborations, and approvals with both existing and upcoming market participants.
Several recent examples include:
ConvaTec Group Plc stated in September 2019 that it acquired Southlake Medical Supplies, Inc., a supplier of catheters in the United States.
Smith Medical and Medline Industries established a partnership in August 2019 to improve the delivery of therapeutic equipment.
Similarly, recent developments related to companies manufacturing intermittent catheters have been tracked by the team at Persistence Market Research, which are available in the full report.
Intermittent Catheters Industry Report Scope
Attribute

Details

Forecast Period

2022-2032

Historical Data Available for

2012-2021

Market Analysis

US$ Million for Value
Units for Volume

Key Countries Covered

U.S.
Canada
Brazil
Mexico
Argentina
Germany
France
Spain
Italy
U.K.
BENELUX
Nordics
Russia
India
Thailand
Malaysia
Vietnam
Indonesia
Philippines
China
Japan
South Korea
Australia
New Zealand
Turkey
GCC Countries
Israel
Turkey Northern Africa
South Africa

Key Market Segments Covered

Product
Application
End User
Region

Key Companies Profiled

Boston Scientific Corporation
Medtronic plc.
Hollister Incorporate
B. Braun Melsungen AG
Coloplast A/S
Becton, Dickinson, and Company
Teleflex Incorporation
Cook Medical
ASID BONZ GmbH
Hunter Urology Ltd.
McKesson Corp.
Medline Industries LP
Pennine Healthcare
Romsons
Convatec
FlexicareScienta Omicron (Scienta Scientific)
PREVAC SP. Z O.O.
Nova Ltd.
SPECS GmbH

Report Coverage

Market Forecast
Competition Intelligence
DROT Analysis
Market Dynamics and Challenges
Strategic Growth Initiatives

Customization & Pricing

Available upon Request
Segments Covered in Intermittent Catheters Industry Survey
By Product:
Coated Intermittent Catheters
Uncoated Intermittent Catheters
By Application:
Urinary Incontinence
Urinary Retention
Prostate Gland Surgery
Spinal Cord Injury
Other
By End User:
Hospitals
Surgical Centers
Specialty Clinics
Academic & Research Institutions
By Region:
North America
Latin America
Europe
South Asia
East Asia
Oceania
Middle East & Africa