Immune Repertoire Sequencing Market
Global Market Study on Immune Repertoire Sequencing: Research Center End Use Segment to Hold Significant Revenue Share Through 2026 Owing to Increased Focus on Cancer Immunotherapy Research
Immune Repertoire Sequencing Market Segmented By TCR Kits, BCR Kits as Assay Kits and Analytical Software, Sequencing Services, Data Analysis Services as Software and Services for Biomarker Discovery, Vaccine Development and efficacy, Infectious Diseases, Cancer Immunotherapy, Autoimmune Disease, Transplant Rejection and Tolerance
Immune Repertoire Sequencing Market
Introduction
The human adaptive immune system protection is mediated by receptors on the surface of B and T cells known as B-cell receptor (BCR) and T-cell receptor (TCR), respectively. Developments in next generation sequencing (NGS) have enabled the development of a powerful new technology known as immune repertoire sequencing for probing the complimentary determining region of these receptors. Immune repertoire sequencing has helped in profiling the antigen-specific information within lymphocytes and has become increasingly significant to understand the body's auto-defence mechanism against foreign agents.
Find Out More about the Report Coverage
Companies
Company Profile
Illumina, Inc.
Pacific Biosciences of California, Inc
Agilent Technologies, Inc
Oxford Nanopore Technologies, Ltd
QIAGEN N.V.
Thermo Fisher Scientific
F. Hoffmann-La Roche Ltd
BGI
Takara Bio, Inc
Others.
Immune repertoire sequencing
Immune repertoire sequencing profile is an accurate and sensitive platform technology with less fitfall. It is less invasive and requires very little sample, to provide a dynamic picture of the region of interest. In the coming years, method development in the immune repertoire sequencing will gain prominence, only if they succeed in generating in-depth sample information compared to the current techniques. Single-cell approaches are likely to dominate in the future in immune repertoire sequencing for their ability to provide high-dimensional and in-depth information on smaller populations of interest including antigen-binding cells.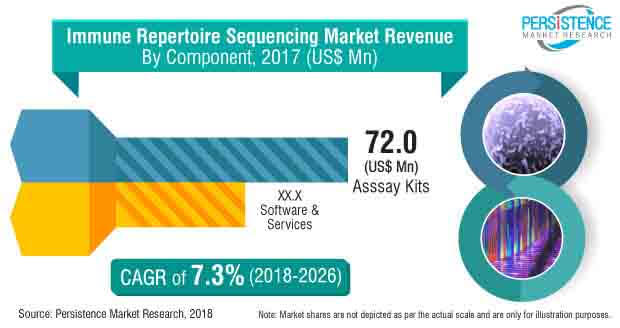 Customize this Report
Explore Intelligence Tailored to Your Business Goals.
global immune repertoire sequencing market:Segementation
In terms of revenue, the global immune repertoire sequencing market is projected to grow at a CAGR of 7.3% during the forecast period and is expected to be valued at US$ 173.0 Mn by the end of 2026. In terms of value, North America is expected to be the dominant regional market for immune repertoire sequencing by 2018 end and is expected to expand at a CAGR of 6.3% over the forecast period. Asia Pacific is expected to be the fast-growing regional market for immune repertoire sequencing in terms of revenue registering a CAGR of 9.9% over the forecast period.
In North America, the U.S. is expected to be the dominant market for immune repertoire sequencing due to increasing demand for immunotherapy for cancer and other infectious diseases. According to the U.S National Cancer Institute, in 2018, an estimated 1,735,350 new cases of cancer are expected to be diagnosed in the U.S. The best indicator of progress against cancer is development of immune therapy and vaccine development to target specific cancer cells, where immune repertoire sequencing methods will play a pivotal role.
The second dominant regional market for immune repertoire sequencing is Europe due to an increase in healthcare expenditure and funding by the government. It has led to increase research in genomic, autoimmune disease and oncology, where Immune Repertoire Sequencing products applications are high. In addition, there are several manufactures present in the region, which address to an increasingly competitive immune repertoire sequencing market. The highly competitive scenario in Europe coupled with high capital funding in biomedical research has led to price drop in genome sequencing, thus driving the growth of the market for immune repertoire sequencing.
The Asia-Pacific, majorly China & Japan markets for immune repertoire sequencing are expected to witness significant growth in the global immune repertoire sequencing market over the forecast period. The adoption of immune repertoire sequencing technique has also increased in Asia Pacific, which is expected to drive the growth of the market for immune repertoire sequencing in the region. Increase in international collaborations for immune repertoire sequencing and developments by China and Japan for integration of new technologies are expected to drive the growth of the market for immune repertoire sequencing over the forecast period. In Latin America, new and advanced product introductions by market players including those in immune repertoire sequencing and increase in incidence of infectious diseases will fuel the market growth in the region.
However, the Middle East & Africa is expected to be the least attractive market for immune repertoire sequencing due to lack of skilled personnel and internet access limitations for data analysis. However, substantial decline in pricing of immune repertoire sequencing and fostering international collaboration for genomic research might help the region's immune repertoire sequencing market to grow in the future.
To conclude, high throughput sequencing of both immunoglobulin and TCR sequences creates numerous opportunities for the immune repertoire sequencing market to expand the domain knowledge of human biology and medicine. A realistic approach such as immune repertoire sequencing for analysis of TCR CDR3 or complement diversity is crucial to understand the molecular mechanisms of adaptive immunity for both health and medicine. Apparently, the immune repertoire sequencing knowledge could also be shared in biomarker discovery, vaccine development, and transplant selectivity. Though, as much as this immune repertoire sequencing technology presents an opportunity, it brings with it major challenges. For data storage and data analysis, new sequenced databases, computational algorithms and advanced software for whole immune repertoires analysis are the need for the hour. Most importantly, potential errors generated during the immune repertoire sequencing process may skew the data interpretation.
Apparently, the enormous sequencing reads generated by NGS technologies markets offer cautious interpretation. With continuous developments in immune repertoire sequencing, the market is expected to grow in forecast period thanks to numerous scientific discoveries in TCR and BCR repertoire. Such immune repertoire sequencing developments will form the basis for new clinical implications in development of personalized medicine and will provide deeper understanding of behaviour and response of adaptive immunity.
Market Research Methodology - Perfected through Years of Diligence
A key factor for our unrivaled market research accuracy is our expert- and data-driven research methodologies. We combine an eclectic mix of experience, analytics, machine learning, and data science to develop research methodologies that result in a multi-dimensional, yet realistic analysis of a market.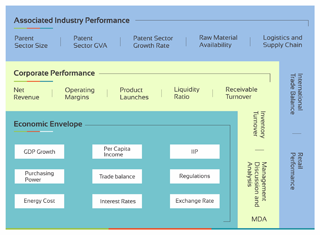 Our Clients