Introduction
Increasing construction activities in developing regions such as Asia Pacific are expected to fuel the growth of the furniture films and foils market over the forecast period. Countries such as China and India, among others, are expected to focus on increasing their infrastructure and construction spending over the forecast period.
Growth in the construction industry and the consequent rise in spending on furniture and related accessories are expected to be a key drivers that will expand the furniture films and foils market size in the foreseeable future.
Digital and Custom Printed Decorative Films Gaining Traction
Manufacturers are providing the option of custom printing user-selected images onto furniture films that can then be applied to windows, doors, or other glass or non-glass surfaces. Digital and custom printed furniture films can make almost any design come to life.
Ultra-violet cured inkjet printing has opened up a much wider spectrum for today's digital print provider. From furniture privacy to custom glass design creation, optically-clear printed films have the power to transform any space.
There are several benefits of digital and custom printed furniture films, such as creating impact and drawing people into a space, enhancing privacy as a stylist interior design piece or room divider, creating an optical illusion, and showcasing meaningful or personal photography or imagery.
Furniture Films and Foils Market - New Manufacturing Trends
Furniture foils have traditionally been manufactured by the impregnation of paper or fibrous material with a thermally-active resin under high temperature and pressure conditions. New production technologies such as UV/EB curing are being developed to produce high quality furniture foils possessing the same performance features with lower environmental impact and reduced production time.
Manufacturers prefer this new growing production technology, attributable to the fact that it provides several benefits such as cost-effectiveness and reduction in production time as compared to conventional technologies.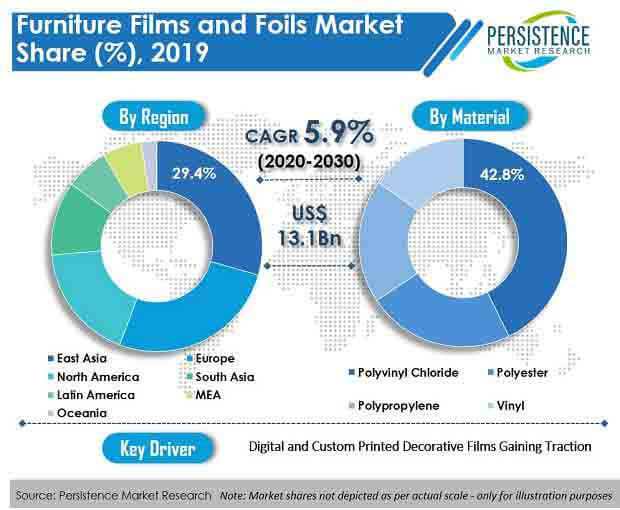 Regional Analysis of Furniture Films and Foils Market
The growing pace of urbanization is leading to new construction activities, which is further expected to boost the demand for furniture films and foils for use in building and construction activities.
Furniture films and foils find a wide range of application in the construction industry, and are used for commercial, industrial, residential, and infrastructure construction purposes.
More than 60% of the increase in the world's urban population over the next three decades is expected to occur in Asia, particularly in China and India, and also in Pakistan, Bangladesh, the Philippines, and Vietnam. Furniture films and foils are expected to witness growing demand as the construction industry expands to accommodate this increasing urban population.
COVID-19 Impact on Market
The coronavirus pandemic has affected almost every aspect of human lives. Prior to the onset of the pandemic, the furniture industry was poised to experience a bullish trend, with sales taking place across private and public sectors.
This promised lucrative opportunities for the furniture films and foils market. Besides manufacturing the supply chain issues due to the pandemic, as companies are encouraging staff to work from home in the wake of nationwide lockdowns and mandatory social distancing, the demand for new furniture has declined.
This has generated a dip in the usage of furniture films and foils, ushering in a sluggishness, which will be difficult to overcome for some time.
Going by a pessimistic approach, the demand for furniture films and foils will remain low, as offices will prefer their non-technical staff to continue working from home. On an optimistic note, demand for furniture films and foils will pick pace with the easing of curbs related to lockdowns.
Many offices have partially or fully resumed their on-site activities, generating the need to purchase new furniture. This will eventually lead to the purchase of new films and foils to protect furniture.
Furniture Films and Foils Market: Competition Overview
Key manufacturers are emphasizing on the growth of their businesses through the launching of more advanced and effective products, as well as expansion in emerging regions and collaborations with regional players in order to increase their presence and generate more revenue.
In line with this, in 2018, Avery Dennison Corporation launched new products: SPF-XI Supreme Protection™ Film and a new lineup of reflective films for furniture and cars, which can protect body paint from unsightly damage.
Major players in the furniture films and foils market include LG Hausys, Ltd, Avery Dennison Corporation, Jindal Poly Films Ltd, OMNOVA Solutions, Inc, Klöckner Pentaplast, RENOLIT, Hanwha L&C, Ergis Group, and Foleinwerk Wolfen GmbH, among others.
Analysts' Viewpoint
Key players in the furniture films and foils market are making significant investments in R&D to introduce new, innovative products and enhance their presence across the globe. Emphasis on product innovation and focus on boosting sales through direct distribution are the two major differentiating factors that are enabling market players to capture a larger share in global and regional markets. The global furniture films and foils market is projected to reach a valuation of US$ 22.8 Bn by 2030.
Key Segments of Furniture Films and Foils Market
PMR's study on the furniture films and foils market is divided into four significant segments – material, application, end use, and region. This report offers comprehensive data and information about the important market dynamics and growth parameters related to these categories.
Material

Polyvinyl Chloride
Polyester
Polypropylene
Vinyl

Application

Furniture
Doors & Windows

End Use

Residential
Commercial
Institutional

Region

North America
Latin America
Europe
South Asia
East Asia
MEA
Oceania
Key Questions Answered in PMR's Furniture Films and Foils Market Report
Which region is anticipated to hold a prominent market share over the forecast period?
What will be the key driving factors propelling the demand for furniture films and foils during the forecast period?
How will current trends will impact the furniture films and foils market?
Who are the significant market participants in the furniture films and foils market?
What are the crucial strategies of prominent players in the furniture films and foils market to upscale their positions in this landscape?