Freeze and Thaw Systems Market Outlook (2022-2032)
The global freeze and thaw systems market is expected to project significant growth at 6.8% CAGR from 2022 to 2032, with market value increasing from around US$ 345 Mn in 2022 to US$ 665.3 Mn by 2032.
| Attribute | Key Insights |
| --- | --- |
| Freeze and Thaw Systems Market Size (2021) | US$ 318.9 Mn |
| Market Value 2022 | US$ 345 Mn |
| Market Value 2032 | US$ 665.3 Mn |
| CAGR 2022-2032 | 6.8% |
| Top 5 Countries by Share | 59.2% |
As per Persistence Market Research's industry analysis, the commercial application freeze and thaw systems held a substantial share of 61.5% in 2021 in the global market. Sales of freeze and thaw systems will account for nearly 7.1% share of the global cryopreservation market in 2022.
Sales Analysis of Freeze and Thaw Systems from 2017 to 2021 Vs Market Outlook for 2022 to 2032
As an emergent technique, freeze and thaw systems offer high potential for growth over the forecast period owing to the constantly evolving marketspace, witnessed as per historical trends. Sales of freeze and thaw devices are evolving gradually advancements in cryopreservation techniques have unfolded over the years.
Pharmaceutical and biotechnology companies rely on freeze and thaw system usage within their capacities for functional approaches, which include the adoption of freeze and thaw systems for the storage of products such as medicinal drugs. This factor is set to drive demand growth of freeze and thaw systems over the coming years.
Freezing and thawing systems are essential for performing most primary manufacturing processes. These systems are containers that are utilized in the process development of biopharma companies.
Freeze and thaw devices are inclusive of three components - a cooling and heating unit, a thawing unit, and a transporting unit. Major adoption of freeze and thaw systems is in research and development in the industry cycle, wherein, the operations of processes take place with insignificant product amount.
A freeze and thaw system is a container that is used for quick thawing, freezing, and transporting of biopharmaceutical products. High application of such systems drive market growth owing to the utilization of thawing systems for batch processes, and promote time efficiency in industrial biotechnology systems.
Major players face growing concerns regarding storage of bulk drug solutions with effective and safe management over large periods of time. Key players are thus increasingly leveraging freeze and thaw system products to prevent the degradation of medicinal drug components.
Additionally, rising demand for novel therapeutics, drugs, and medicinal offerings is likely to trigger demand for infrastructural developments within the clinical studies domain.
Rising global burden of disease together with the pressing need to ascertain means to face and overcome numerous chronic conditions has been generating augmented demand for innovative drugs and therapies. This has further led to a budding call for safe and proper storage and transportation of several cell-based substances or hormonal/medicinal drugs, among others. These factors are expected to drive monetary gains for freeze and thaw system suppliers in the near future.
The global freeze and thaw systems market expanded at 5.5% CAGR over the past 5 years. The market is expected to expand at a considerable growth rate over the next ten years at a CAGR of 6.8%.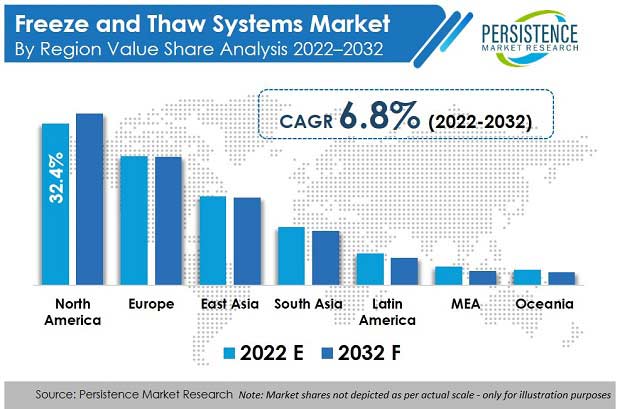 How Should Freeze and Thaw System Manufacturers Strategize?
"Establishment of Low-cost Production Bases"
Freeze and thaw systems are set to project an opportunistic growth throughout the forecast period. Factors supporting market growth include introduction of novel-engineered designs with high-end products within monitoring cells, influencing opportunities from potential untapped markets, and high return on investment for manufacturing facilities by establishing units in low-cost production bases in the regions of Asia Pacific, the Middle East and Africa, and South America.
"Development of Advanced Freeze and Thaw Systems"
Freeze and thaw systems are easy to use, easily transportable, and contain large storage volume capacity. Advanced freeze and thaw systems promote time-efficient solutions for product storage and transportation, thus promoting their use as a viable method for storing and transporting sensitive biological products.
Additionally, growing utilization of disposable or single-use systems in production capacities within the pharmaceutical industry setup and the imbibition of alternate replacements for large-scale stainless steel tanks for operations are gaining traction. These are expected to promote the growth of the worldwide freeze and thaw systems market over the coming years.
What Might Restrain Demand for Freeze and Thaw Systems?
"High Cost Factor and Durability Concerns Hurting Market Expansion"
Growth of the freeze and thaw systems market is associated with the high cost of these systems. Use of multiple systems for freeze and thaw processes is not optimally expressional for a large batch size. High incurring cost of large-scale freeze and thaw modular platforms restricts small- and medium-scale players from investing into the production process.
Moreover, considering the single-use modality for such systems, there are also several concerns regarding their durability. Freezing and thawing systems present slight defects while carrying out operational processes and are at risk of incurring mechanical damages during production or transportation.
Moreover, single-use bags are at the risk of contamination inside the contents stored within. This presses a concern owing to the loss of drug substance, rendering the high-quality liquid useless. This not only presents a risk to end users but also results in financial loss for manufacturers.
Country-wise Insights
Why Does the U.S. Dominate the Market for Freeze and Thaw Systems?
The U.S. freeze and thaw systems market dominated the North American region with a total market share of 90.5% in 2021. It is further projected to continue experiencing high growth throughout the forecast period.
The U.S. displays a large market share for freeze and thaw systems owing to the presence of established manufacturers in the biotechnology industry that provide proper protein drugs and sample storage systems. This, along with rapidly developing healthcare infrastructure and the need for novel therapeutics is driving freeze and thaw system consumption in the country.
Why is Germany Considered a Lucrative Market for Freeze and Thaw Systems in Europe?
Germany dominated the Europe freeze and thaw systems market with a share of 36.8% in 2021.
Germany sees high institutional funding for research & development, due to which, the quality of research has soared, thus adding to global manufacturing value of freeze and thaw systems. Additionally, large pharmaceutical players such as Novartis utilize processes for timely production and transport of their medical products.
Will Japan Be an Emerging Market for Freeze and Thaw Systems?
Japan holds 50.9% share in the East Asia freeze and thaw systems market, and is projected to grow at a CAGR of 6.1% over the forecast period.
Japan has witnessed a larger value share in East Asia owing to the utilization of single-use bags for food and consumables, apart from their use within manufacturing units.
Category-wise Insights
Which Freeze and Thaw System Product is Driving Market Growth?
By product, single-use bags project lucrative growth at a CAGR of 7.8% through the forecast period, while also dominating the market in the product segment with a market share of nearly 35%.
Single-use bags provide leak-free and sealed protection to the biological content within. The adaptability of single-use bags in terms of lesser time required for freeze and thaw procedures and the maintenance of sample integrity have set them apart as viable products for use.
Which Application of Freeze and Thaw Systems is Most Widely Adopted?
Commercial application of freeze and thaw systems held a revenue share of 61.5% in 2021.
The logistical burden on capital is mostly provoked if product reliability is not maintained. Commercial freeze and thaw system application ensures cost-effective approaches to transportation, while providing endurance to the contents within.
Competitive Landscape
Key suppliers of freeze and thaw systems are focusing on the development of new and technologically-innovative products to enhance their product portfolios and gain augmented revenue figures.
Innovations by manufacturers of freeze and thaw systems also comply with customized requirements by the markets they serve. Partnerships and acquisitive efforts enable the expansion of product portfolios.
April 2021: BioLife Solutions launched High Capacity Controlled Rate Freezers (HCRF), a new line of freezers that enable the production of allogeneic cell therapies in high volume, thereby filling the need for critical cold chains.
December 2021: Sartorius and HOF Sonderanlagenbau entered into a partnership agreement. The partnership led to the inclusion of two HOF freeze-thaw units (horizontal plate) into Sartorius' product range, thereby offering a wide range of freeze-thaw consumables and equipment to its customers.
Freeze and Thaw Systems Industry Report Scope
Attribute
Details

Forecast Period

2022-2032

Historical Data Available for

2017-2021

Market Analysis

US$ Mn for Value

Key Regions Covered

North America
Latin America
Europe
South Asia
East Asia
Oceania
The Middle East & Africa

Key Countries Covered

U.S.
Canada
Brazil
Mexico
Germany
Italy
France
U.K.
Spain
Russia
BENELUX
China
Japan
South Korea
India
Thailand
Indonesia
Malaysia
Australia and New Zealand
GCC Countries
Turkey
Northern Africa
South Africa

Key Market Segments Covered

Product
Application
End User
Region

Key Companies Profiled

BioLifeSolutions, Inc.
CARON Products & Services, Inc.
Farrar Scientific
GE Healthcare Life Sciences
HOF Sonderanlagenbau GmbH
Meissner Filtration Products, Inc.
Precision Cryosystems
Sartorius AG
Single Use Support GmbH
Thermo Fisher Scientific, Inc.
W. L. Gore & Associates, Inc.
ZETA Holding GmbH

Pricing

Available upon Request
Key Segments in Freeze and Thaw Systems Industry Research
Freeze and Thaw Systems Market by Product:
Freeze-thaw Modular Platforms

Lab Scale
Small/Pilot Scale
Large Scale

Controlled Rate Chambers
Single-use Bags
Shippers
Freeze and Thaw Systems Market by Application:
R&D
Pre-Clinical & Clinical
Commercial
Freeze and Thaw Systems Market by End User:
Academic & Research Institutes
Pharmaceutical & Biotechnology Companies
Contract Research Organizations
Contract Manufacturing Organizations
Freeze and Thaw Systems Market by Region:
North America Freeze and Thaw Systems Market
Latin America Freeze and Thaw Systems Market
Europe Freeze and Thaw Systems Market
East Asia Freeze and Thaw Systems Market
South Asia Freeze and Thaw Systems Market
Oceania Freeze and Thaw Systems Market
Middle East and Africa (MEA) Freeze and Thaw Systems Market