About the Report
Demand for flaxseed for use in the food industry is increasing owing to its high nutritional value. Flaxseed has also been traditionally used in the industrial sector for producing paints, varnish, and others industrial products. Flaxseed is majorly processed for producing flaxseed oil, which is also used to make flaxseed meal that is widely used in the animal feed industry.
Persistence Market Research's report on the flaxseed market also analyzes the use of flaxseed in the nutraceutical industry, owing to its content of omega-3 fatty acids. The scope of the report covers the consumption assessment of flaxseed in different types, including whole, powder, oil, and others for end use in different industries such as food, nutraceuticals, animal feed, retail/ household, and industrial.
Manufacturers are offering high-quality organic flaxseed for specific end-use industries, which is a major driver that is expected to propel demand over the forecast period of 2020 to 2030. The report talks about the factors responsible for rapid growth across Latin America, South Asia, and East Asia, and also analyzes the impact COVID-19 has had on the food ingredients market in general, and on the demand for flaxseeds in particular.
Are Future Projections for Flaxseeds Brighter than Historical Trends?
From 2015-2019, the flaxseed market experienced a value growth of 4.2%. Sales of flaxseeds were high in the industrial sector, accounting for almost 20% market share. Flaxseed is widely used in the processed form in the food industry. Animal feed covers major market share owing to the high content of omega-3 fatty acid that offers energy. Flaxseed is offered as an ingredient in animal feed for increasing its nutritional value.
However, with increasing awareness regarding the health benefits of flaxseed and its application in food industry, there is growing use of flaxseed in the nutraceutical segment owing to its high nutritional value. The trend for organic consumption is also expected to propel demand for flaxseeds in the food industry.
The value of the global flaxseed market is anticipated to reach around US$ 15.7 Bn by the end of 2030, with the market expanding at a healthy value CAGR of close to 6% over the next ten years.
How will Growing Consumer Preference for Plant-based Protein Benefit Flaxseed Manufacturers?
There is growing demand for plant-based protein due to various reasons. With weight gain being a major concern for many consumers today, they are gulping down a variety of protein alternatives in the hope of losing weight; protein is associated with weight loss properties. Plant-based proteins are lower in calories and fat than animal proteins, along with being rich in essential nutrients and fiber, thus drawing health-conscious customers toward them.
Consumers are minimizing meat consumption as the risk of catching allergies or diseases from animal products is relatively high. Factors such as hygiene, cleanliness, and moral reasons are contributing toward increased demand for plant-based proteins over animal proteins, and as flaxseeds are a rich source of plant-based proteins, demand for flaxseeds is expected to increase as time goes by.
What Will be the Impact of Increased Customer Demand for Transparency & Traceability on Flaxseeds?
Consumers are keen on knowing how their food is produced, where it comes from, and the quality of the ingredients used. Increase in awareness regarding the harmful effects of added chemicals and pesticides has led to consumers demanding transparency in labeling.
With the help of technology, consumers are tracing the journey of the food from source till consumption, for ensuring safety. The spotlight on food safety issues in the past has created heightened awareness about the potential safety risks behind what people are consuming, and is driving demand for transparency and traceability.
Zeghers Canada made significant investments for buying labeling and traceability software thanks to increased customer demand for transparent labeling.
How is Flaxseed Offered as a Cheap Alternative to Guar Gum?
Flaxseeds have a mucilaginous quality, which makes them a good thickener. It works like glue to bind ingredients together, as it easily absorbs water for quickly expanding into a mucilage. Ground flaxseeds are generally used as a thickening agent for the purpose of baking pie crust, breads, cookies, and crackers.
In gluten-free baking, flaxseeds do the job of binding ingredients together, along with being rich in nutrition and providing health benefits such as lowering cholesterol and blood triglycerides, apart from the benefit of being suitable for diabetic patients. Other thickening agents such as guar gum, agar, and xanthan gum lie on the higher side of the price scale, making flaxseed a cheaper alternative for thickening in bakery and other food applications.
Bioriginal Food & Science Corp provides XanFlax, which is derived from flaxseed meal, and has the advantages of being a clean-label product as well as having a favorable nutritional profile for baking applications.
What are the Challenges Faced by Flaxseed Manufacturers?
There are lot of substitutes available for flaxseeds in the market, and one such is chia seeds. These are a close alternative to flaxseeds as both of them possess the same nutrient content and health benefits. Both flax and chia seeds are incredibly rich in nutrients and are linked to health benefits such as a lower blood sugar levels, healthier heart, and protection against certain types of cancers.
Chia seeds help in reducing food cravings along with being high in fibers as compared to flaxseeds. Also, they have a competitive advantage over flaxseeds, as they don't go rancid and don't need to be ground, because they are considerably smaller in size.
Aspirants looking for losing weight while counting calories prefer chia seeds in their diet as they have low calories and fats as compared to flaxseeds. Chia seeds are also higher in fiber, calcium, and phosphorus, giving them a nutritional edge over flaxseeds. Thus, chia seeds offering high competition is creating a challenging situation for flaxseed manufacturers.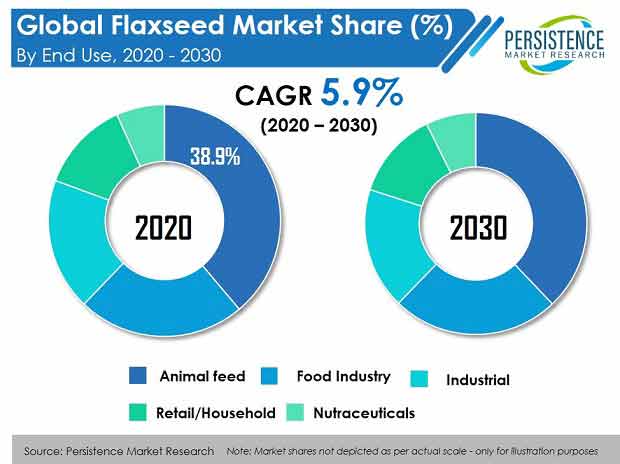 Country-wise Analysis
Why Does Europe Account for the Largest Share of Flaxseed Consumption in the World?
Europe largely imports its flaxseed from major producing countries. Russia, Germany, and BENELUX countries are among the largest flaxseed consuming countries across Europe that account for almost 80% of the market share. Flaxseed is utilized for producing nutritional and functional food products in the nutraceutical segment.
The presence of omega-3 fatty acids in flaxseeds and demand for highly nutritional food products are benefiting flaxseed manufacturers in Europe and across other regions. Thus, Europe has the largest value market share of around 35% in the global market.
Why is Usage of Flaxseed Expected to Grow Significantly in China?
China ranks among the top 5 flaxseed producing countries, but also imports flaxseeds from Europe and Canada for fulfilling its increasing domestic demand. Flaxseeds in China are processed for producing oil that is used for various industrial applications.
With growing awareness among consumers and influence of Western culture, the use of powdered flaxseed is increasing. Flaxseed meal produced from flaxseed oil is used for animal feed that offers high nutritional benefits to animals. The use flaxseed in retail/household is also increasing at a value CAGR of 7.5%.
Category-wise Insights
How is Increasing Demand from Nutraceutical and Functional Food Producers Anticipated to Increase Sales Opportunity for Flaxseed Producers?
The approved health claim of cholesterol reduction through consumption of ground and whole flaxseeds has led to increased demand for use in nutraceuticals and functional food. Flaxseeds are also known to improve women's health and protect against cancer, as they are not only a good source of ALA, but also lignans. Lignans help protect against cancer and are involved in hormone metabolism by blocking enzymes, and thus, interfering with the growth and spread of tumor cells.
With many health benefits of flaxseeds, increased demand from functional food and nutraceutical producers manufacturing supplements and energy bars from flaxseeds is creating opportunities for the manufacturers of flaxseeds, allowing them to increase their offerings to different manufacturers.
How is Manufacturers Offering Convenience Food with Flaxseeds Bolstering Sales?
Convenience food has become indispensable in urban kitchens, as it is a great time-saver for consumers with hectic schedules. Rise in the working population has resulted in growing inclination toward convenience foods, while the frequency of fresh cooking has gone down. A shift in the composition of food spending has been observed, as consumers are ready to spend more on convenience foods that offer ample nutrition to keep up with the increasing complexity of professional and personal commitments.
There is increased push from manufacturers who are offering flaxseeds in different flavors. There has been an increase in demand for including this nutritious ingredient in processed food products.
Linseed Farm offers flaxseed muesli ingredients for convenience food manufacturers.
Competition Landscape
Persistence Market Research has profiled the following prominent flaxseed manufacturers in its report:
Archer Daniels Midland Company
AgMotion Inc.
Linwoods Health Foods
Bioriginal Food & Science Corp
CanMar Foods Ltd.
Waltanna Farms
TA Foods Ltd.
Shape Foods Inc.
Prairie Flax Products Inc.
NOW Foods
Bio Oils
Zeghers Canada
Vandaele Seeds Ltd.
Premium Gold Flax
Johnson Seeds Ltd.
The Linseed Farm
Adora Farm
Oy Linseed Protein Finland Ltd.
Viva Naturals
Flax Farm Ltd.
Manufacturers operating in this flaxseed industry are expected to witness demand for flaxseed derivatives, majorly from Latin America, South Asia, and East Asia. Numerous manufacturers are focusing on research & development activities involving flaxseed for the development of new blends and products to unveil the various nutritional benefits of flaxseed.
Companies such as Linwoods Health Foods, Bioriginal Food & Science Corp, CanMar Foods Ltd, and others are focusing on offering high quality flaxseed products for various end-use industries.
AgMotion Inc. focuses on promotional activities such as participating in industry-leading exhibitions, events, and trade shows. The company advertises its service offerings in order to tap new customers and spread awareness pertaining to the potential health benefits of its products such as flaxseed and other grains.
In 2019, AgMotion Inc rebranded its subsidiary Terra Ingredients and partnered with Stone Mill to increase its offerings in organic ingredients. Stone Mill operates in purifying raw agricultural commodities for the finest food-grade products, providing organic and non-GMO products, including flax, garbanzo beans, lentils, quinoa, and radish seeds.
In 2019, Linwoods Health Foods introduced a new product named Multiboost organic milled hemp seed with flax & chia seeds to increase its product offerings.
Report Scope
Attribute
Details

Forecast Period

2020-2030

Historical Data Available for

2015-2019

Market Analysis

US$ Mn for Value
Tons Units for Volume

Key Regions Covered

North America
Latin America
Europe
East Asia
South Asia
Oceania
The Middle East & Africa

Key Countries Covered

US
Canada
Germany
U.K.
France
Italy
Spain
Poland
Russia
China
Japan
South Korea
India
Thailand
Malaysia
Vietnam
Indonesia
Australia
New Zealand
GCC Countries
South Africa

Key Segments Covered

Nature
Type
End Use
Distribution Channel
Region

Key Companies Profiled

Archer Daniels Midland Company
AgMotion Inc.
Linwoods Health Foods
Bioriginal Food & Science Corp
CanMar Foods Ltd.
Waltanna Farms
TA Foods Ltd.
Shape Foods Inc.
Prairie Flax Products Inc.
NOW Foods
Bio Oils
Zeghers Canada
Vandaele Seeds Ltd.
Premium Gold Flax
Johnson Seeds Ltd.
The Linseed Farm
Adora Farm
Oy Linseed Protein Finland Ltd.
Viva Naturals
Flax Farm Ltd.

Customization & Pricing

Available upon Request
Key Questions Answered in Report        
Why are organic flaxseed products gaining traction across the globe?

The effects of organic products on consumer health is the most influential factor for the expansion of the organic products market, in turn, increasing demand for organic flaxseeds.

Which is the most preferred type of flaxseed in the market?

Flaxseed oil is widely used for various applications and accounts for almost 50% value market share. Flaxseed oil offers high feasibility and has various industrial applications, and thus, is most widely used.

Which are the leading companies manufacturing flaxseeds?

Companies such as Archer Daniels Midland Company, AgMotion Inc, Bioriginal Food & Science Corp., CanMar Foods Ltd., Vandaele Seeds., Waltanna Farms, TA Foods Ltd., and Linwoods Health Foods are some of the key players manufacturing flaxseeds.
Key Market Segments
Nature
Organic Flaxseed
Conventional Flaxseed
Type
Whole Flaxseed
Flaxseed Powder
Flaxseed Oil
Others
End Use
Food Industry

Flaxseed Used in Dairy Products
Flaxseed Used in Snacks & Cereals
Flaxseed Used in Bakery & Confectionery
Flaxseed Used in Beverages
Others

Flaxseed Used in Nutraceuticals
Flaxseed Used in Animal Feed
Flaxseed Used in Retail/Household
Industrial Use of Flaxseed Used in
Distribution Channel
Business to Business
Business to Consumer

Hypermarkets/ Supermarkets
Convenience Stores
Specialty Stores
Online Retail
Region
North America
Latin America
Europe
East Asia
South Asia
Oceania
Middle East & Africa (MEA)