Cognitive Decline Market Outlook (2021-2031)
Expanding at a CAGR of 5.8%, the global cognitive decline market is projected to increase from a valuation of US$ 2.1 Bn in 2020 to US$ 3.8 Bn by 2031. As per Persistence Market Research's projections, Mild Cognitive Impairment (MCI) indication held a substantial share of over 78% in 2020 in the global market.
| | |
| --- | --- |
| Cognitive Decline Market Size (2020) | US$ 2.1 Bn |
| Estimated Market Value (2021) | US$ 2.2 Bn |
| Forecasted Market Value (2031) | US$ 3.8 Bn |
| Global Market Growth Rate 2021-2031 | 5.8% CAGR |
| Top 5 Countries by Share | 73.1% |
According to Persistence Market Research, cognitive decline market revenue accounted for 5.2% share of the global neurodegenerative disease market, valued at nearly US$ 40 Bn in 2021.
Revenue Analysis of Cognitive Decline from 2016 to 2020 Vs Market Outlook for 2021 to 2031
The global market for cognitive decline expanded at a CAGR of 3% over the last five years (2016-2020).
People suffering from major mental illnesses are becoming more engaged in their treatment and rehabilitation. Education on mental illness and treatment alternatives has emerged as a fundamental need in order to overcome obstacles to treatment in a way that supports recovery.
Patients who understand their treatment choices and participate cooperatively in the treatment process are more likely to engage in behaviors that help them manage their physical chronic diseases efficiently.
Growing awareness about cognitive decline symptoms among physicians echoes a healthy market outlook for cognitive decline treatment. Attaining accurate information is unswerving with recovery from severe mental illness in a number of ways.
Caregivers of cognitive decline patients are prominently responsible for influencing the market as they provide patients with utmost care and support. Growing trend of comprehensive care and mental support for patients displaying cognitive decline are set to progressively advance cognitive decline treatment market growth.
Furthermore, digital health technologies, including application-based platforms as well as web-based therapies, are gradually being regarded as cost-effective as well as resource-effective solutions to offer health interventions to the general public. Digital health technology, when combined with face-to-face consultations and treatments, has the potential to thoroughly restructure the healthcare system.
Gamification is becoming a more popular trend in the field of digital health. Gamification is an emerging concept that focuses on using game elements in non-game environments to engage audiences to take respite from the monotony of work, all the while providing them with motivational and cognitive advantages. While many industries such as business, marketing, and e-learning have taken use of gamification's potential, the digital healthcare sphere is still at the precipice of nascent stages of adoption.
The cognitive decline market is expected to expand at a healthy growth rate over the next ten years at a CAGR of 5.8%.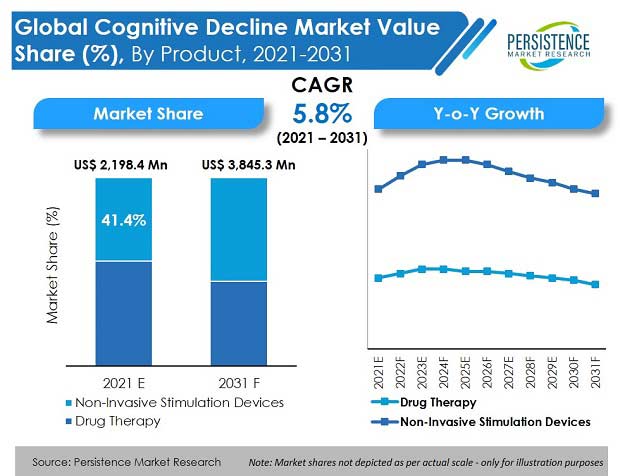 What Opportunities Lie Ahead for Cognitive Decline Drug Manufacturers?
"Technological Advancements in Cognitive Decline Diagnosis & Ongoing Clinical Trials for Better Medications"
Smartphones and tablets have made personal computing accessible to a diverse range of audiences, and there is growing interest in how these devices may be utilized in all aspects of our lives.
There has been an upsurge in the use of various machine learning algorithms to diagnose cognitive decline, most typically using imaging data for diagnosis and disease progression. This comprises PET imaging for amyloid, MR imaging, and PET/MR imaging.
Continuous monitoring using technology offers the ability to detect the progression of cognitive decline over time as well as provide alerts and assistance to patients in order to keep them productive.
Cognitive assistive technologies, for example, incorporate sensors with AI and machine learning in living spaces to build smart homes that can detect and analyse health and other occurrences. This technical progress has grown to meet the demands of dementia patients, informal (family) carers, formal (clinical) caregivers, and social (nonmedical) caregivers, resulting in tremendous opportunity for cognitive decline treatment providers.
Furthermore, increasing number of clinical trials being performed is a bright side for this market, driving its current efficiency over present treatment choices. A large number of research centers are conducting large-scale studies on cognitive decline. Several international research centers have presented their work in order to get better results. The main sources of R&D funding include both, government and private bodies.
What are the Factors Restraining Demand for Cognitive Decline Treatment?
"Adverse Side Effects of Drugs & Safety Issues in Brain Stimulation Treatments"
Many drugs are available in the market for the treatment of cognitive decline; however, these drugs are associated with numerous side effects.
One of the major drugs used in the symptomatic treatment of cognitive decline worldwide is cholinesterase inhibitors. During treatment, these inhibitors prevent acetylcholine (a neurotransmitter) breakdown, which leads to blockage of acetylcholinesterase activity in the body.
Patients taking these medications for a long period of time face numerous side effects such as bradycardia, nausea, vomiting, anorexia, weight loss, dizziness, diarrhoea, and insomnia. These side effects are associated with cognitive decline treatment drugs, ranging from mild to moderate in terms of severity, which is one of the major factors that hampers market growth.
There are no brain stimulation treatments that are completely free from side effects. The effects of surgical procedures such as Deep Brain Stimulation (DBS) are well-monitored and well-understood in terms of impacts, and are evaluated in terms of short-term and long-term effects.
While the safe limits for brain stimulation are well known, if necessary measures are not taken, there are still considerable risks of seizures from TMS and tCS, as well as scalp burns from tCS.
The "known unknowns" of brain stimulation, on the other hand, offer a greater risk: unexpected consequences resulting from the accumulation of stimulating effects in non-target areas or throughout several sessions.
Many businesses that provide brain stimulation insist on a minimum wait between sessions to minimise the effects, and this is one of the primary limitations of the cognitive decline therapy business.
Country-wise Insights
Why is the U.S. the Largest Market for Cognitive Decline?
"Rising Burden of Cognitive Impairment & Advancements in Cognitive Decline Assessment"
The U.S. cognitive decline market dominated the North American region with a market share of over 93.0% in 2020, and is projected to continue seeing high expansion through the forecast period.
Rising burden of cognitive impairment, increasing demand for non-invasive brain stimulation, and advancements in cognitive decline diagnosis are factors that present the U.S. as one of the major countries in the market.
According to data published in Science Direct in 2020, at the age of 70, about two out of every three Americans suffer from some form of cognitive impairment.
Additionally, increased R&D activities and the presence of local and international players, which leads to better availability of products, are expected to fuel market growth.
How is the U.K. Cognitive Decline Market Faring?
"Significant Institutional Funding for R&D for Novel Therapeutics"
The U.K. dominated the European market for cognitive decline with a share of over 25.7% in 2020.
The U.K. maintains significant funding for R&D, due to which, the quality of research has intensified, thus adding to the global manufacturing value of cognitive decline therapeutic drugs.
What is the Outlook for Japan Regarding Cognitive Decline Medications?
"Rising Geriatric Population & Growing Awareness Regarding Mental Health"
In 2020, Japan held a 28.9% share in the East Asia cognitive decline market and is projected to expand at a CAGR of 6% from 2021 to 2031.
Japan is set to experience substantial growth in the market owing to the rising geriatric population, growing awareness of mental health, and increased technological advancements and digitization.
Category-wise Insights
Which Cognitive Disorder Treatment Type is Driving Market Growth?
"Cognitive Drug Therapy to Remain Hugely Popular"
By treatment type, cognitive decline drug therapy projects lucrative growth at a CAGR of 3.4% through 2032.
Cognitive drug therapy treatment stimulates cognitive functional improvement and is a widely adopted method for the treatment of patients suffering from cognitive decline. In addition, ongoing clinical trials and prospective treatments in the pipeline are other reasons supporting segment growth.
Which Cognitive Decline Indication is More Widespread?
"High Prevalence of MCI in Geriatric Population"
Mild cognitive impairment held a revenue share of 78% in 2020. Prevalence of MCI has witnessed a significant rise over the last decade, and is majorly associated with the ageing process. Growing geriatric population around the globe is a major driver for the growth of the MCI segment.
Furthermore, segment growth is likely to be fuelled by continuous research to identify optimal and effective cognitive disorder treatment solutions.
Competitive Landscape
The global cognitive decline market is marked by the presence of established as well emerging market players. These players are actively investing in significant research & development to develop novel therapies.
Companies manufacturing cognitive decline drugs market are strengthening their positions through collaborations and agreements with established as well as emerging market players.
August 2021: AbbVie entered into a collaboration to access Mission's expertise in deubiquitinating enzymes (DUBs).
December 2020: Novartis entered into an agreement to acquire Cadent Therapeutics. Novartis' neuroscience portfolio includes two additional clinical-stage initiatives, one for schizophrenia and the other for movement disorders.
Cognitive Decline Industry Report Scope
Attribute

Details

Forecast Period

2021-2031

Historical Data Available for

2016-2020

Market Analysis

US$ Mn for Value

Key Regions Covered

North America
Latin America
Europe
South Asia
East Asia
Oceania
Middle East & Africa

Key Countries Covered

U.S.
Canada
Brazil
Mexico
Germany
Italy
France
U.K.
Spain
Russia
BENELUX
China
Japan
South Korea
India
Thailand
Indonesia
Malaysia
Australia and New Zealand
GCC Countries
Turkey
Northern
Africa
South Africa

Key Market Segments Covered

Product Type
Indication
End User
Region

Key Companies Profiled

Stryker Corp.
Smith & Nephew Plc.
Hill-Rom Services Inc.
Paramount Bed Holdings Co., Ltd.
ArjoHuntleigh
Talley Group Limited
Drive DeVilbiss Healthcare Ltd (Sidhil Limited)
Apex Medical Corp.
Medtronic
PROMA REHA, s. r. o.
Linet spol. S R.O.
DARCO International
DeRoyal Industries
BSN Medical (Essity)
Mölnlycke Health Care
TrueKAST (Wound Kair Concepts)
Thuasne SAS
DJO Global
ORTHOSERVICE AG
Breg, Inc.
Advanced Orthopaedics
ALGEOS
Hollister Incorporated
ConvaTec Group plc
Coloplast A/S
Medline Industries Inc.
Invacare Corporation

Pricing

Available upon Request
Key Market Segments Covered in Cognitive Decline Industry Research
Cognitive Decline Market by Product Type:
Drug Therapy

Cholinesterase Inhibitors
NMDA receptor antagonists

Non-Invasive Stimulation Devices

Vagus Nerve Stimulators
Deep Brain Stimulators
Transcranial Magnetic Stimulators (TMSs)
Cognitive Decline Market by Indication:
Mild Cognitive Impairment (MCI)

Amnestic MCI
Non-amnestic MCI

Dementia
Cognitive Decline Market by End User:
Hospitals
Neurology Clinics/Centres
Retail Pharmacies
Home Care Settings
Cognitive Decline Market by Region:
North America Cognitive Decline Market
Latin America Cognitive Decline Market
Europe Cognitive Decline Market
South Asia Cognitive Decline Market
East Asia Cognitive Decline Market
Oceania Cognitive Decline Market
Middle East and Africa (MEA) Cognitive Decline Market