Biosimilar Insulin Market Outlook (2022-2032)
Revenue from the global biosimilar insulin market reached US$ 1.3 Bn at the end of 2021, with the global market estimated to surge ahead at a value CAGR of 14.9% to reach US$ 5.9 Bn by the end of 2032.
As assessed by Persistence Market Research biosimilar insulin sales accounted for approximately 6.7% revenue share in the global insulin market in 2021.
| Attribute | Key Insights |
| --- | --- |
| Biosimilar Insulin Market Size (2022) | US$ 1.3 Bn |
| Projected Market Value (2032) | US$ 5.9 Bn |
| Global Market Growth Rate (2022-2032) | 14.9% CAGR |
| Market Share of Top 3 Countries | 72.2% |
Sales Analysis of Biosimilar Insulin (2017 to 2021) Vs. Market Outlook (2022 to 2032)
The sudden rise in the number of diabetic patients has made it difficult for healthcare professionals to provide biological therapy for insulin. The present focus lies in driving the cost down for the manufacturing of biosimilar insulin, which will accelerate the growth of large molecule biological products.
These special products have a favorable impact on the worldwide market, although the regulatory scenario in the case of biosimilar insulin is critical.
Biosimilar insulin went through lots of trials and failures and was not approved for a long time. Some of the weaknesses identified in the study reports included statistical errors, unclear calculations (a statistical analysis plan was not provided), and inconsistent or missing information.
Regulatory bodies such as the FDA and European regulatory agencies established relatively clear guidelines for the market approval of biosimilar insulin.
Manufacturers, with their research and development teams, started working on innovative products, and as the price of insulin drugs increased with time, the chance of entry of reference products and biosimilar insulin increased.
Sanofi, in July 2021, introduced its first interchangeable biosimilar - insulin glargine - marketed as Semglee, which substituted for the reference product - Lantus.
Regulatory agencies tried to deal with three linked issues in 2021 - decreasing anti-competitive behavior, lowering drug prices, and providing additional assistance in clarification of the regulatory pathway for a biosimilar.
A new race has been initiated between biosimilar and branded drug manufacturers. Demand has increased due to several factors such as the ongoing need for cost-effective drugs, recent approvals, and also the increased prevalence of diabetes.
Diabetes has been declared an epidemic, accounting for 1.5 million deaths in 2019, with 48 percent of all diabetes deaths occurring before the age of 70, according to WHO.
The global biosimilar insulin market is thus likely to exhibit high growth over the coming years a value CAGR of 14.9% and reach a global market size of US$ 5.9 Bn by 2032.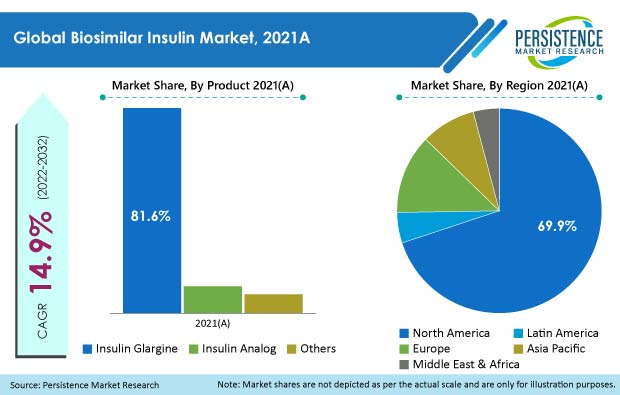 How Can Biosimilar Insulin Product Manufacturers Grow?
"Cost-Effective Biosimilar Insulin – Need of the Hour"
Access to affordable insulin has become much more challenging for diabetics, particularly those in the low-income group. In several jurisdictions and through some commercial insurance companies, there have been recent improvements in lowering or capping the price of insulin.
In February 2021, New York Senator and Senate Majority Leader Chuck Schumer introduced legislation to limit the cost of insulin for most diabetic patients to US$ 35. Insulin pricing also received attention during the State of the Union address on March 2021, when U.S. President Biden backed the insulin cap and pushed for Medicare to negotiate lower prescription drug prices.
Biosimilar insulin is being developed by companies such as Biocon, Eli Lilly and Company, Sanofi, BGP Pharma, Aspen, and Mylan (Viatris)
In March 2022, JDRF and Civica collaborated to manufacture low-cost biosimilar insulin. This collaboration is the latest in a series of public steps being taken to drive down the cost of insulin. Civica anticipates a price of no more than US$ 30 per vial and US$ 55 per box of five pen cartridges – a significant discount on the prices charged to individuals.
Such collaborations are expected to result in high adoption rates, which will drive market growth over the forecast period.
To bring more cost-effective and affordable technologies, manufacturers are also allocating funds to research and development. New technologies will soon be introduced as a result of increased research and development efforts by important organizations. These elements are anticipated to increase the acceptance and use of biosimilar insulin, culminating in market expansion over the coming years.
What Threat Does the Biosimilar Insulin Market Face?
"Decreasing Prices of Standard Drugs"
By introducing novel products, the pharmaceutical business is experiencing exponential growth. Good manufacturing practices are being used more frequently to ensure the integrity of finished products. For continued supply, these items must adhere to very stringent regulatory requirements.
Biosimilar products already in use typically have initial list prices that are 15% to 35% lower than the list prices of reference products. If pharmaceutical industries decide to decrease the prices of standard drugs owing to the upcoming competitive pressure, it can decrease the demand for biosimilar insulin as the availability crisis will be fulfilled, and manufacturers can easily launch products with new prices respective to that of reference products.
The presence of standard drugs can attract more buyers, and hence, biosimilar products need to be as efficient and reliable as standard drugs.
Country-wise Insights
Why is the U.S. Biosimilar Insulin Market So Prominent?
"Increasing U.S. FDA Approvals of Cold Storage Drugs"
The U.S. accounted for around 62.6% market share in the global biosimilar insulin market in 2021, and a similar trend is expected over the coming years.
Insulin glargine is a long-acting human insulin analog used to improve glycaemic control in adults, children, and adolescents with type 1 diabetes.
In July 2021, the FDA approved the country's first interchangeable biosimilar- insulin glargine.
Similar to generic medications, Semglee can be automatically substituted by pharmacists for the reference product Lantus, without a clinician's approval. As a result of these approvals, demand for biosimilar insulin has increased in the U.S., which has raised the market's overall value for the drug.
Will the U.K Be a Lucrative Market for Biosimilar Insulin Products?
"U.K. Biopharma Industry Driving Demand for Biosimilar Insulin"
The U.K. held around 21.4% market share of the Europe biosimilar insulin market in 2021.
The United Kingdom is still the second-largest producer of active biotherapeutic medicines in the European Union. In the U.K. market, several biosimilar insulin products are becoming accessible. The first is the insulin glargine biosimilar Lantus®, which is the original brand and Abasaglar® is the biosimilar brand.
These products must always be prescribed by brand name because they are not interchangeable. Since they are less expensive than original medicines, biosimilar insulin offers the National Health Service (NHS) opportunities in terms of availability and healthcare costs.
Multinational corporations (MNCs), small- and medium-sized pharmaceutical companies, and small- and medium-sized biotechnology companies (SMEs) are all contributing to new advances in the nation, either together or independently. To ensure product quality as the industry expands, pharmaceutical companies such as Sanofi continue to go outside of conventional markets for industrial, identifiable, secured, and compatible supply chains that include biosimilar insulin.
How is India Emerging as a Prominent Market for Biosimilar Insulin?
"Biotech R&D Sector in India Focusing on Investments & Expansion for Product Launches"
India held the largest market share of 80.1% of the APAC biosimilar insulin market in 2021.
Expansion of the biopharmaceutical industry is one of the nation's key priorities as the Indian government strives for self-sufficiency. For instance, the Indian government is spending billions on biotechnology research and development. The government intends to spend even more this year, at 2.5 percent of GDP, according to official estimates, which show that scientific R&D spending hit US$ 291 billion in 2018, or slightly more than 2 percent of the GDP.
There are currently over 100 Indian biopharmaceutical companies engaged in the production and marketing of biosimilars. India has great potential and big aspirations and Indian biopharmaceutical businesses are modernizing their technology to enhance the capabilities of their workforce.
Category-wise Insights
Which Product is Driving High Biosimilar Insulin Market Growth?
"High Demand for Development & Manufacturing of Biosimilars across Regions"
The insulin glargine products segment held around 81.6% share of the total biosimilar insulin market in 2021.
Factors such as the growing number of biotechnology and life science companies in developed regions, growing demand for the development and manufacturing of biological products, and increasing prevalence of type I diabetes are a few reasons that are expected to drive demand growth for insulin biosimilars, thus accelerating market growth.
In comparison to comparable therapies, insulin glargine was linked with stronger glycemic control in both, young and middle-aged T2DM patients.
Which Distribution Channel Accounts for Higher Sales of Biosimilar Insulin?
"Biosimilar Insulin Product Sales High through Retail Pharmacies"
Retail pharmacies held a high share of 46.7% with a market value of around US$ 597 Mn in 2021.
Retail pharmacies are well-positioned to respond to customer demand and provide biosimilar insulin. The result seen is improved scalability and uniformity after a drug is authorized for use in the international market.
Competitive Landscape
Leading manufacturers are lowering the price of biosimilar insulin products to increase their market share globally. In the same way, several significant market competitors are seeking licensing and approvals. The growth of corporate partnerships to advance biosimilar insulin products is another key market trend being observed.
For instance:
In July 2021, Biocon got FDA approval of its biosimilar insulin - Glargine-yfgn injection (Semglee®) - as the first interchangeable biosimilar product under the 351(k) regulatory pathway.
In December 2021, Eli Lily's got (FDA) approval for the biosimilar version of insulin glargine-, Rezvoglar KwikPen.
Biosimilar Insulin Industry Report Scope
Attribute
Details

Forecast Period

2022-2032

Historical Data Available for

2017-2021

Market Analysis

USD Million for Value

Key Countries Covered

U.S.
Canada
Brazil
Argentina
Mexico
Germany
Italy
France
U.K.
Spain
BENELUX
Nordic Countries
Russia
China
India
Japan
Australia
New Zealand
Turkey
Israel
GCC
Egypt
Northern Africa
South Africa

Key Market Segments Covered

Product
Distribution Channel
Region

Key Companies Profiled

Biocon
Eli Lilly and Company
Sanofi
BGP Pharma
Aspen
Mylan (Viatris)

Report Coverage

Market Forecast
Competition Intelligence
DROT Analysis
Market Dynamics and Challenges
Strategic Growth Initiatives

Customization & Pricing

Available upon Request
Key Segments Covered in Biosimilar Insulin Industry Research
Biosimilar Insulin Market by Product:
Insulin Glargine
Insulin Analog
Others
Biosimilar Insulin Market by Distribution Channel:
Hospital Pharmacies
Retail Pharmacies
Online Pharmacies
Biosimilar Insulin Market by Region:
North America Biosimilar Insulin Market
Latin America Biosimilar Insulin Market
Europe Biosimilar Insulin Market
APAC Biosimilar Insulin Market
Middle East & Africa Biosimilar Insulin Market