Architectural LED Products Industry Outlook (2022-2032)
The global architectural LED products market is projected to expand rapidly at 13.1% CAGR and reach a market value of US$ 43.23 Bn by the end of 2032, up from its current size of US$ 12.57 Bn in 2022.
Worldwide sales of architectural LED products account for 5%-10% share of the global lighting industry products.
| Attribute | Key Insights |
| --- | --- |
| Architectural LED Products Market Size (2022) | US$ 12.57 Bn |
| Projected Sales of Global Architectural LED Products (2032) | US$ 43.23 Bn |
| Market CAGR (2022 to 2032) | 13.1% |
| Market Share of Top 5 Manufacturers | 5% to 10% |
Demand Analysis of Architectural LED Products (2017 to 2021) Vs. Market Projections (2022 to 2032)
Between 2017 and 2021, the use of architectural led products increased at a high CAGR of 8.6%, with the U.S., U.K., France, Germany, and Italy holding a major share in the global market.
Rising awareness regarding energy-efficient lighting products is expected to drive the sales of architectural LED products over the coming years. Demand for architectural LED lighting systems in both, the commercial as well as residential sectors, is expected to accelerate over the decade.
Further, rapid infrastructure developments and construction activities across different parts of the world are expected to play a key role in positively impacting the sales growth of architectural LED devices.
Over the next ten years, worldwide sales of architectural LED products are expected to rise faster than in previous years at 13.1% CAGR.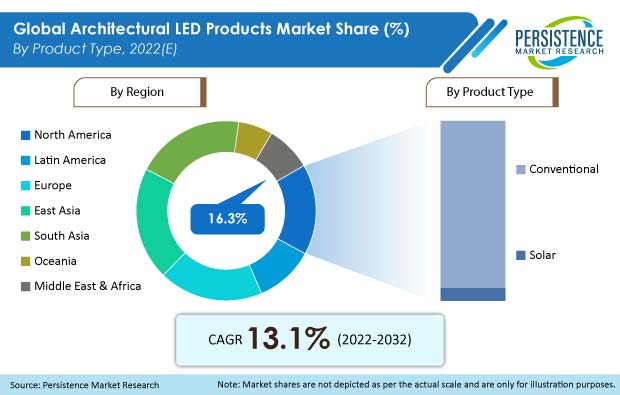 What are the Influencing Factors for the Architectural LED Products Industry?
"Government Initiatives to Promote Energy-Efficient Products"
As increasing consumption of electricity is turning into a vital issue, regional governments and concerned authorities are undertaking numerous efforts to control energy consumption in households and commercial sectors.
The U.S. Department of Energy, which actively addresses environmental, energy, and nuclear challenges, is one such authority that is aggressively promoting the ideology of efficient energy consumption. It has published numerous resources related to strategic energy management and continuous improvement, energy-efficient resource standards, industry coalitions and outreach, etc.
Such initiatives will only drive demand for LED systems, including architectural LED products, over the coming years.
"Ongoing R&D Expected to Boost Sales of Architectural LED Products"
Research and development are looked at as key methods in creating a point of difference between a company and a competitor's offerings. Some of the key participants in the industry are investing heavily in research and development activities to gain a competitive edge over other players.
For instance, Philips is one such brand that is investing heavily in the development of breakthrough innovations in smart lighting solutions to serve consumers better and build up brand reputation in the industry. As companies operating across different regions continue to invest and encourage research and development, growth in product sales is bound to take place.
"Opportunities Abound in Non-OECD Countries"
Many of the low- and middle-income countries classified under non-OECD guidelines and think tanks are focusing on their economic advancement and expansion goals. Countries such as India, Malaysia, South Africa, Indonesia, Brazil, Chile, Vietnam, Thailand, etc., are a few of the most popular countries that are presently seeing huge investments in private and public sector developments.
For instance, according to statistics of the India Brand Equity Foundation conducted by the Departments of Commerce, Ministry of Commerce and Industry, Government of India, the country plans to invest US$ 1.4 trillion during 2019-2025 in infrastructure developments for the energy sector, urban development, and urban and railways, and roads, among others.
This is one of the signs that demonstrate the demand potential for LED architectural products in leading non-OECD economies over the following few years.
Country-wise Insights
Why is the U.S. a Significant Market for Architectural LED Products?
"High Adoption of LED Products across U.S."
The U.S. Architectural LED products market is expected to dominate the North American region in 2022. The market in the U.S. is majorly dominated by the commercial sector.
Currently, the U.S. accounts for approximately 63.3% share of the North America architectural LED products market.
One of the most prominent factors that are supporting regional growth is the rising demand for smart architectural lighting solutions with additional energy-efficient benefits. The adoption of a luxury lifestyle has further encouraged people to adopt smart solutions in their daily lives.
Furthermore, the U.S. is also one of the prominent markets for overall lighting solutions. High penetration of m-Commerce and e-Commerce has further played a significant role in facilitating market reach and adoption of architectural LED products in the country.
Aggressive initiatives undertaken by the U.S. Department of Energy for promoting efficient-energy lighting products in the commercial and household sectors are further projected to encourage the adoption of conventional and solar LED products such as strips and lamps for architectural uses.
Will Brazil Be a Lucrative Market for Architectural LED Lighting?
"Infrastructural Developments in Brazil Projected to Create New Market Opportunities"
The Brazil architectural LED products market held 39.4% of the Latin American market share at the end of 2021 and is expected to expand at a prominent CAGR over the forecast period.
Escalating infrastructure development activities in Brazil are expected to open up new future sales opportunities for companies. The government has developed favorable national policies to attract foreign and domestic investments in infrastructure development activities. The country is focused on attracting both, private as well as public investments to achieve its development goal.
Thus, the efforts on the part of the government and other concerned authorities and organizations to promote infrastructure development are projected to open up new opportunities for architectural LED product suppliers in the market.
What's Driving the Architectural LED Products Market in Germany?
"Rising Innovations Expected to Increase Market Stance of Germany"
The Germany architectural LED products market is one of the most prominent in the European region; however, the country harbors a great deal of potentially untapped opportunities. This market is anticipated to exhibit a high CAGR of 9.7% during the forecast period.
The ability of market players in Germany to come up with fresh and new offerings and innovations is always perceived as an important factor for the success of any business. The influx of new offerings or fresh innovations in architectural LED products often helps gain an advantage in such a competitive environment. Innovation also helps create a point of difference among the offerings in the national market, thus gaining a competitive edge over others.
Category-wise Insights
Which Product Category is Expected to Reflect High Growth?
"Demand for Conventional LED Products Rising Rapidly"
Based on product type, conventional LED products are anticipated to remain the most significant in the global architectural LED products market as opposed to solar LED products and the segment is anticipated to surge ahead at a CAGR of over 13.3% during the forecast period.
Overall, growing consciousness of using energy-efficient products and government initiatives to promote energy conservation are expected to positively drive the growth and adoption of architectural LED products over the coming years.
Which End User Accounts for Higher Demand for Architectural LED Products?
"Demand in Commercial Sector Much More Than Residential Sector"
Commercial locations are anticipated to experience a large amount of new, efficient architectural LED displays over the coming years. Architectural LED consumption in commercial places is anticipated to experience a high CAGR of 14% over the forecast period.
Expanding use of architectural LED products in different sectors such as retail, IT and telecommunications, banking, financial services & insurance, healthcare, media & entertainment, and others is a prominent factor why the demand for LED products is more in the commercial sector than the residential sector.
Competition Landscape
With the growth of LED products, suppliers of LED lighting solutions are focused on innovation and producing a higher return on investments across all product segments. Companies are also undertaking constant efforts to improve brand awareness in both, commercial and consumer niches.
In addition to these strategies, market players have also typically taken up acquisition procedures for the purpose of desirably adhering to changing industry environments with an aim to secure long-term profitability. One such brand is Philips.
Architectural LED Products Industry Report Scope
Attribute
Details

Forecast Period

2022-2032

Historical Data Available for

2017-2021

Market Analysis

US$ Mn for Value

Key Regions Covered

North America
Latin America
Europe
East Asia
South Asia
Oceania
MEA

Key Countries Covered

United States
Canada
Brazil
Mexico
Germany
U.K.
France
Spain
Italy
Russia
Benelux
South Africa
Northern Africa
GCC Countries
China
Japan
South Korea
India
Thailand
Malaysia
Indonesia
Australia & New Zealand

Key Market Segments Covered

Product Type
End User
Application
Region

Key Companies Profiled

Verbatim Limited
Toshiba Lighting And Technology Corporation
Epistar Corporation
GE Lighting LLC
Eaton Corporation (Cooper Industries LLC)
Cree, Inc.
OSRAM AG
Samsung Electronics
Galaxia Electronics Company
Others( as per request)

Pricing

Available upon Request
Key Segments in Architectural LED Products Industry Research
Architectural LED Products Market by Product Type:
Solar Architectural LED Products
Conventional Architectural LED Products
Architectural LED Products Market by End User:
Residential Architectural LED Products
Commercial Architectural LED Products

Retail
IT & Telecommunications
Banking, Financial Services & Insurance (BFSI)
Media & Entertainment
Healthcare
Others
Architectural LED Products Market by Application:
Cove Lighting
Wall Washers
In-Ground
Backlight
Others
Architectural LED Products Market by Region:
North America Architectural LED Products Market
Latin America Architectural LED Products Market
Europe Architectural LED Products Market
East Asia Architectural LED Products Market
South Asia Architectural LED Products Market
Oceania Architectural LED Products Market
MEA Architectural LED Products Market