Volumetric Pumps Market: About the Report
Emergence of new technologies and significant shift toward technological advancements are driving demand for volumetric pumps. Leading players are focused on manufacturing user-friendly volumetric pumps to configure customized specifications, such as individual pumps, small therapy units, and complex infusion systems that offer accuracy and lower dose-errors. The report by PMR also details how and why Europe and North America are leading regions in the volumetric pumps market. Asia Pacific is an emerging region as far as demand for volumetric pumps is concerned, on the back of increasing geriatric population and rising prevalence of chronic diseases in the region
Increasing Prevalence of Cancer & Other Chronic Diseases Driving Growth
Chemotherapy/ oncology is gaining traction and holds the highest volumetric pumps market share. Chemotherapy is most often used to treat cancer patients, and is the primary treatment delivered in a repeating cycle with continuous oscillating dosing volumes to destroy cancer cells. Hence, the chemotherapy segment under application is set to witness dominance in the global volumetric pumps market.
According to the World Health Organization (WHO), global cancer cases were estimated to be around 18.1 million in 2018. Globally, 1 in 5 men and 1 in 6 women develop cancer, and the 5-year prevalence was estimated to be around 43.8 million.
Rising Dose-errors & Impact of COVID-19 Crisis Catalyzing Market Expansion
The outbreak of COVID-19 has led to a setback in revenue as well as overall growth in emerging markets. The virus has affected more than 100 countries, leading to lockdowns and trade restrictions. However, the COVID-19 pandemic is expected to have a significant impact on the volumetric pumps market. To overcome some hospital challenges raised using drug delivery devices during COVID-19 treatment, procedures can be taken under controlled conditions to avoid high dosing-errors that may result in adverse incidents, morbidity, and mortality. This factor is surging demand for volumetric pumps and will drive market growth.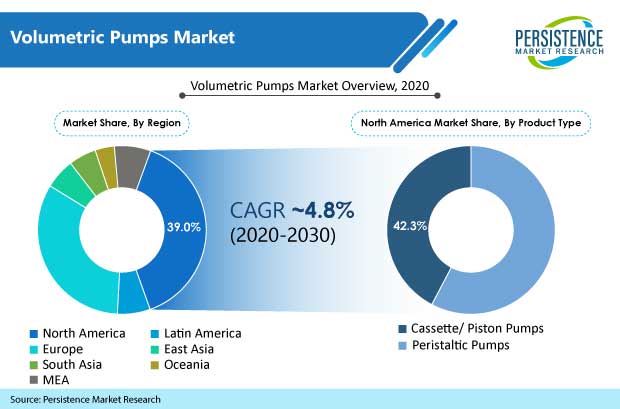 Regional Outlook of Volumetric Pumps Market
North America is the most lucrative region and hold a share of more than 35% in the global volumetric pumps market, owing to rising prevalence of cancer and other chronic diseases in the region. Growing focus on technologically-advanced devices is one of the factors expected to drive growth of the North America volumetric pumps market. According to the American Society of Cancer, in 2019, around 1,762,450 cancer cases were estimated in the United States.
Europe accounts for more than 30% of the volumetric pumps market revenue share, and will witness remarkable growth opportunities over the coming years, due to the presence of prominent market players in the region. Furthermore, Asia Pacific is an emerging region in this market space, owing to the increasing geriatric population and growing prevalence of chronic diseases in the region.
Volumetric Pumps Market: Competitive Landscape
The volumetric pumps market is categorised as a consolidated market space, with major players such as Fresenius Kabi AG, Terumo Corporation, and ICU Medical, Inc. contributing a major revenue share and operating across all regions. Manufacturers in the volumetric pumps market are involved in acquisitions and collaborations to expand their product portfolios and accelerate their growth opportunities in the market landscape.
Analysts' Viewpoint
An extensive analysis of the volumetric pumps market has brought our analysts to a conclusion that, the market is growing at a significant pace. Rising prevalence of cancer and other chronic diseases is expected to boost the growth of the volumetric pumps market during the forecast period. Peristaltic pumps is the leading segment and will gain more traction in the volumetric pumps market growth, over the coming time frame. North America and Europe together hold more than 30% of revenue share in the volumetric pumps market, due to rise in R&D activities, leading to technological advancements in these regions.
Key Segments of Volumetric pumps market
PMR's study on the volumetric pumps market offers information divided into four important segments—product type, application, end user, and region. This report offers comprehensive data and information about the important market dynamics, and growth parameters associated with these categories.
Product Type

Peristaltic
Cassette/ Piston

Application

Chemo Therapy/Oncology
Pediatrics/Neonatology
Analgesia
Hematology

End User

Hospitals
Ambulatory Surgical Centers
Clinics
Others

Region

North America
Latin America
Europe
East Asia
South Asia
Oceania
Middle East and Africa
- Companies Covered in This Report -
B. Braun Melsungen AG
Fresenius Kabi AG
Terumo Corporation
ICU Medical, Inc.
Becton, Dickinson and Company
Smiths Medical
Woodley Equipment Company Ltd.
Mindray Medical International Ltd.
ADOX S.A
Sino-Hero (Shenzhen) Bio-Medical Electronics Co. Ltd.
Guangzhou Huaxi Medical Science Technology Co. Ltd.
ASCOR
Shenzhen Shenke Medical Instrument Technical Development Co. Ltd.
Daiwaha corp. ltd.
CONTEC MEDICAL SYSTEMS Co. Ltd.