Introduction
Trichomoniasis is the most common curable and non-viral sexually transmitted infection (STI). It is caused by a protozoan parasite called Trichomonas vaginalis. The World Health Organization report evaluates the annual global incidences of trichomonas infection at over 170 million cases.
Men typically do not show any symptoms. Women on the other hand, if infected, may show symptoms such as vaginal discharge, genital itching, burning or redness. Traditionally, trichomonas is detected using microscopic detection methods such as wet mount and cell culture media, which have low sensitivity and take ample time compared to advanced trichomonas rapid testing methods such as antigen detection and molecular-based techniques, which have high sensitivity and specificity.
Based on product type, trichomonas rapid testing is further classified into four categories, which are cassette rapid test kits, rapid test strips, rapid test swabs, and molecule-based trichomonas rapid testing kits.
Once thought to be a minor sexually transmitted infection, Trichomonas vaginalis is now being given more attention due to its evident role in both the acquisition and transmission of HIV infection, and association with adverse and noxious health outcomes, such as preterm birth, low-birth-weight baby, and risk of transmission of infection to the new-born. Doctors recommend use of trichomonas rapid testing kits in pregnant women.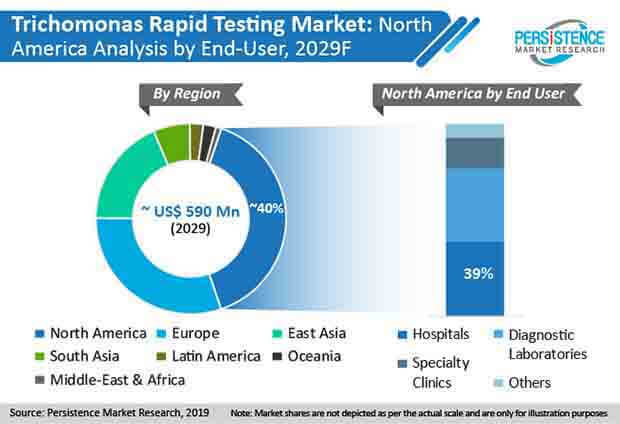 Acquisitions and Collaborations to Expand Trichomonas Rapid Testing Businesses in Developing Countries
In countries such as India, China, and South Africa, there is lack of awareness and advancement in the area of STI detection. These countries do not have accessibility to modern trichomonas rapid testing techniques and still utilize old unreliable methods, such as wet mount for testing trichomoniasis.
This situation leaves a vast opportunity for trichomonas rapid testing kit manufacturing companies for strategic alliances such as acquisitions and mergers, which could pave the way to expand their businesses in untapped countries.
These collaborations help companies to expand their portfolio of trichomonas rapid testing methods and also allow distribution channels of native companies, thus providing growth in the trichomonas rapid testing market. Moreover, changing demographics in emerging nations and favorable government policies to support the expansion by leading manufacturers in these countries are opening opportunities for trichomonas rapid testing kit manufacturers to upsurge their revenue.
Growing Demand for User-Friendly and Cost-Effective Trichomonas Rapid Testing Kits
The demand for trichomonas rapid testing kits, which are easy-to-use, low-cost, and have less turn-around-time has increased in the past few years. To meet such needs of healthcare personnel and patients, manufacturers are developing point-of-care devices, which are available for home as well as professional use.
Traditional trichomonas testing method includes usage of wet mount test, however, the sensitivity of such microscopic methods ranges from 36 - 70% only, and the test needs to be performed within 10 minutes of sample collection due to declination in motility of the organism.
Development of modern trichomonas rapid testing techniques by leading companies have changed the scenario with trichomonas rapid testing diagnostic methods having sensitivity and specificity rates greater than 90% and turn-around-time reduced to few seconds to three hours maximum. Also, Centers for Disease Control and Prevention recommends use of modern trichomonas rapid testing kits for diagnosis of the infection.
Such developments to meet the demand for modern techniques is expected to fuel the market growth of trichomonas rapid testing.
Growth Opportunities for Trichomonas Rapid Testing Market in North America and Europe
North America continues to be a prominent market for trichomonas rapid testing. The region's burgeoning research & development includes presence of massive biotechnology companies, contract manufacturing bodies, and contract research organizations including research institutes and universities.
Moreover, some studies evaluate that trichomonas infection affects more African-American women than white and Hispanic women. The threat of catching trichomoniasis elevates with age and the number of sexual partners over the course of time in African-American women. These factors create a lucrative circumstance for the trichomonas rapid testing market. Europe is expected to be at second position among the leading regional markets of trichomonas rapid testing owing to the growing number of contract research in the region.
Besides, increasing sales force is likely to expand the trichomonas rapid testing products reach across these two regions through distribution & collaboration agreements. These opportunities will lead to the market growth of trichomonas rapid testing in these regions.
Minimal to No Symptoms Shown by Trichomonas Infected Person
According to CDC, around 70% - 85% of the people affected with the infection show minimal or no symptoms at all. Moreover, infected men are less likely to show any symptoms as compared to infected women, indicated by some studies.
Besides the high prevalence rate of the infection, the disease remains undiagnosed due to the high percentage of asymptomatic patients. These factors are expected to affect the trichomonas rapid testing market in a negative way and could possibly slow down the market growth rate.
Trichomonas Rapid Testing Market: Segmentation
The subsequent sections analyze the global trichomonas rapid testing market on the basis of product type, sample type, end user, and region to present a forecast for the period 2019–2029. The market is segmented as follows:
product type

Cassette Rapid Test Kits
Rapid Test Strips
Rapid Test Swabs
Molecule Based Rapid Test Kits

sample type

Urine
Vaginal/Urethra Swab

end user

Hospitals
Diagnostic Laboratories
Specialty Clinics
Others

region

North America
Latin America
Europe
East Asia
South Asia
Oceania
Middle East & Africa