Seamless Masks Market Outlook (2022-2032)
The global seamless masks market is projected to expand at 8.4% CAGR and top a market valuation of US$ 28.1 Bn by the end of 2032, up from US$ 12.5 Bn in 2022.
Worldwide sales of seamless masks account for 35%-40% share of the global face mask market at present.
| Report Attribute | Details |
| --- | --- |
| Seamless Masks Market Size (2022) | US$ 12.5 Bn |
| Projected Sales of Seamless Masks (2032) | US$ 28.1 Bn |
| Market CAGR (2022 to 2032) | 8.4% |
| Market Share of Top 5 Seamless Mask Manufacturers | 5% to 10% |
Demand Analysis of Seamless Masks (2017 to 2021) Vs. Market Projections (2022 to 2032)
From 2017 and 2021, global demand for seamless masks increased at a high CAGR of 34.4%, with the United States, Japan, China, India, and a majority of countries across the globe experiencing a substantial increase in demand for seamless masks.
Rising health concerns during the COVID outbreak paved the way for the market growth of seamless masks. Greater awareness regarding hygienic and healthy surroundings and the spread of the virus through low-grade masks positively impacted the seamless masks market, globally.
Numerous international and local brands, besides a high number of DIY setups, were established over this period. Augmented demand for face masks across the world boosted the market to higher levels. However, the closure of border trade and restrictions on cross-regional travel at the time affected the growth of international brands. On the other hand, it also opened up opportunities for local brands that catered to increased demand in local markets, thus helping new brands toward greater expansion.
Further, the efforts of major seamless mask manufacturers for the mass production of innovative and effective masks made headway for long-term market growth. Apart from medical uses, demand for masks during long travels, in crowded places, while riding a bike, etc., saw significant growth, thus bolstering the global seamless masks market substantially.
Evolving consumer trends are expected to drive demand growth for seamless masks across the world during the forecast period. Over the next ten years, global sales of seamless masks are anticipated to surge at 8.4% CAGR.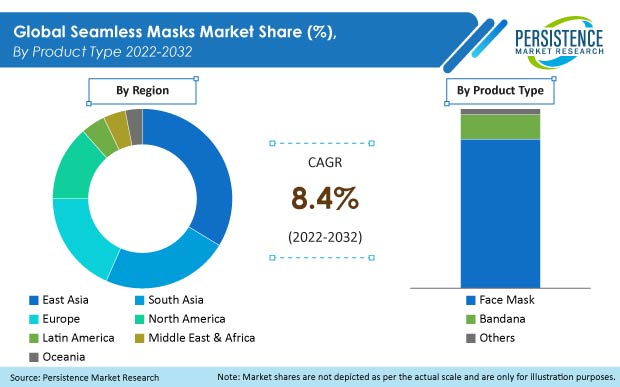 Which Trends Currently Reshaping the Seamless Masks Market?
"Manufacturers Offering Anti-Microbial & Hypoallergenic Seamless Masks"
The global seamless masks market is set to exhibit healthy growth on the back of the growing preference of consumers for medically viable products that help avoid dust, bacteria, and viruses from entering the body. Manufacturers in the market are focused on catering to the needs of consumers for avoiding such situations and highly investing in research and development activities.
For instance, Leigh Shoecase Company developed its anti-microbial seamless mask - the SilverWear 2-ply mask, which has multiple features such as anti-microbial properties that prevent bacteria and keep the mask odorless for the day. Further, it is a hypoallergenic mask that prevents acne caused due to long usage of masks.
Such product developments are driving a high number of consumers toward product adoption, in turn, augmenting market growth.
"Mergers & Collaborations with Industry Partners to Offer Opportunities for Industry Players"
The seamless masks industry is currently experiencing rapid growth of local and regional players providing silk and cotton blend seamless masks. The penetration of such masks is comparatively low in developing countries, and therefore, increasing their presence in such markets will offer lucrative growth opportunities for market players. Rapid industrialization in low- and middle-income countries is anticipated to have a positive effect on the growth of the seamless masks market.
Besides, enhancing their marketing and promotional strategies to gain brand recognition in a competitive environment will help industry players gain a competitive edge over others. Additional factors taken into consideration such as acquisitions, mergers, and joint ventures, as well as strategic alliances with industry partners, are expected to promote high dispersion in the field of seamless masks.
Country-wise Insights
How is Consumer Targeting Boosting Seamless Mask Sales in the U.S.?
"Diversified Product Offerings to Cater to Consumer Needs Boosting Volume Sales"
The U.S. seamless masks market is expected to expand at a CAGR of 5.7% during the forecast period.
Consumer targeting has been a key strategy used by several players operating in the U.S. market. The preference of different consumers' for unique and diversified products has compelled market players to focus on demographics differentially to cater to their needs and subsequently gain a higher market share.
Manufacturers are creating items targeted at a particular audience segment. For instance, for the younger generation, masks with animated and fictional characters or unique designs have attracted a great deal of interest in the U.S. market.
How is the Seamless Masks Industry Faring in Japan?
"Product & Technological Developments to Drive Product Adoption"
Japan is one of the significant markets in the East Asia seamless masks market and accounts for over 21% of the regional market share.
Japan is a country that strongly supports progress in terms of product and technological development. This technology penetration is one of the main factors that aid in the adoption of seamless masks in Japan.
Besides, various environmental initiatives supported by companies will contribute to growing and promoting the healthcare and hygiene market, which will alternatively have a positive impact on the target market. Further, a rapid increase in the manufacturing of seamless masks and the participation of private providers are projected to drive local market growth to a great extent.
What Will Facilitate Seamless Mask Adoption in India?
"Increasing Pollution Concerns to Drive Product Adoption in India"
India is one of the progressing markets in South Asia and is anticipated to register a growth rate of 13.6% in terms of value over the forecast period.
Rapid industrialization and growing environmental concerns in the country are expected to drive the enforcement of mask-wearing. Due to the surge in industrialization, India is facing numerous environmental issues that are affecting human health.
For instance, according to data released by IQAir in 2022, several Indian cities are highly polluted to a great extent. India was listed on top by contributing 12 out of the 15 most polluted cities in the world.
Such statistics are resulting in the high adoption of masks by the regional population.
Category-wise Insights
Which Material Type is Highly Preferred by Consumers?
"Cotton Seamless Masks to Hold Major Market Share"
According to the analysis by material type, cotton seamless masks are expected to hold a major share of around 52% in the global market.
Nano-particles in cotton fibers transform the fabric into anti-microbial cloth. A coating of nano-metals such as nano-copper, nano-zinc, nanosilver, etc., to cotton cloth, can be applied with nanoparticle technologies, which can be found in many modern clothing products.
Such properties are resulting in cotton transforming into smart fabric with anti-microbial properties, which is leading to the high adoption of cotton seamless masks in the global market.
Which is the Leading Product Type in the Global Seamless Masks Market?
"Face Masks to Register High Demand Over the Coming Years"
According to the analysis, the face masks segment is estimated to account for 81% value share in the global seamless masks market. The face masks category is expected to exhibit a high growth rate over the forecast period.
The outbreak of various viral diseases such as COVID-19 and monkeypox has compelled consumers to opt for better hygienic solutions that will help them prevent any virus from affecting them. Owing to this, there is high demand for seamless face masks across the world.
Which Sales Channel is Vital in Driving Market Expansion?
"Online Retailing to Be Most Prominent Category"
Modern trade is estimated to account for over 23% market share by the end of 2022. Global sales of seamless masks from online retailing are expected to rise at a CAGR of 14.6% during the forecast period.
The advent of digitalization has offered brands to provide their products all over the world through online retailing channels. Increased adoption of mobile phones and digital platforms has enabled consumers to purchase any product of their choice, which has resulted in high volume sales of seamless masks.
Competition Landscape
Market players implement a variety of unique and focused strategies to increase their sales in lucrative markets. These strategies include collaborations with key players, product launches, partnerships, acquisitions, and consolidation of global and regional distribution networks.
Key market players are closely involved in executing their decisions directly with or through joint ventures with local area players. Increasing attention to high-quality products and services is leading to more opportunities for seamless mask manufacturers.
Seamless Masks Industry Report Scope
Attribute

Details

Forecast Period

2022-2032

Historical Data Available for

2017-2021

Market Analysis

US$ Bn for Value

Key Regions Covered

North America
Latin America
Europe
East Asia
South Asia
Oceania
MEA

Key Countries Covered

United States
Canada
Brazil
Mexico
Germany
U.K.
France
Spain
Italy
South Africa
Northern Africa
GCC Countries
China
Japan
South Korea
India
Thailand
Malaysia
Indonesia
Australia & New Zealand

Key Market Segments Covered

Product Type
Material Type
Life Stage
Price Range
Sales Channel
Region

Key Companies Profiled

LEIGH SHOECASE COMPANY
Hanes
No Nonsense
‎MoKo
KG GROUP OF NJ LLC
WALLBIG
Yangzhou Chuntao Accessory Co., Ltd.
Hoo-Rag Bandanas
Others (on request)

Pricing

Available upon Request
Key Segments in Seamless Masks Industry Research
Seamless Masks Market by Product Type:
Face Masks
Bandanas
Others
Seamless Masks Market by Material Type:
Silicone Masks
Cotton Blend Masks
Fabric Masks
Others
Seamless Masks Market by Price Range:
Less than 10 US$
US$ 10 - US$ 20
US$ 20 - US$ 30
More than US$ 30
Seamless Masks Market by Life Stage:
Seamless Masks Market by Sales Channel:
Hypermarkets/Supermarkets
Modern Trade
Convenience Stores
Medical Stores
Online Retailing
Others
Seamless Masks Market by Region:
North America Seamless Masks Market
Latin America Seamless Masks Market
Europe Seamless Masks Market
East Asia Seamless Masks Market
South Asia Seamless Masks Market
Oceania Seamless Masks Market
MEA Seamless Masks Market