Rolling Lubricants Market
Market Study on Rolling Lubricants: Steel Sector to Remain Key End User Over Coming Years
Rolling lubricants Market Segmented By Synthetic Rolling Lubricants, Semi-synthetic Rolling Lubricants, Mineral-based Rolling Lubricants Product for Cold Rolling and Hot Rolling Process
Rolling Lubricants Market
Market Snapshot
Newly-released data on the rolling lubricants market shows that global demand for semi-synthetic lubricants is expected to witness year-on-year (YoY) growth of 5.3% in 2021 to total 1,869.9 KT. Mineral-based rolling lubricants are expected to rise 5.1% to 1,804.3 KT, while synthetic lubricants are estimated to increase 5% to reach 2,325.8 KT.
As per the research, Persistence Market Research has projected that rolling lubricant sales volume across the world would witness a compounded annual growth rate of 5.1% during the forecast period of 2021 and 2031. East Asia is anticipated to remain a key region in the global rolling lubricants market, estimated to progress at a CAGR of 5.2% during the same period.
| | |
| --- | --- |
| Base Year Value (2020A) | US$ 8.84 Bn |
| Projected Year Value (2031F) | US$ 15.63 Bn |
| Value CAGR (2021-2031) | 5.4% |
| Collective Value Share: Top 3 Countries (2020A) | 60% |
Find Out More about the Report Coverage
Companies
Exxon Mobil Corporation
Croda International PLC
Total S.A.
BP plc.
Indian Oil Corporation Ltd
Hindustan Petroleum Corporation Limited
Quaker Houghton
Jiangsu Gaoke Petrochemical Co., Ltd.
ETNA Products, Inc.
Petroyag Lubricants
Buhmwoo Group
Ricci S.p.A.
T&L Chemical
Idemitsu Kosan Co., Ltd.
Eastern Petroleum Pvt. Ltd.
Consumption Analysis of Rolling Lubricants from 2016 to 2020 Vs Market Outlook for 2021 to 2031
In the rolling lubricants market, hot rolling lubricant revenue is estimated to cross US$ 6.8 Bn in 2021, according to the annual market analysis conducted by Persistence Market Research.
The market has witnessed considerable growth over the past few years. However, the COVID-19 pandemic-driven crisis impacted the market to a substantial extent. Overall growth during the period of 2016 and 2020 has been estimated to be around -0.4% due to significant fall of Y-o-Y growth in 2020.
Increased demand and consumption of rolling lubricants is attributed to the growing need for synthetic and end-product specific rolling lubricants. Increased need for more special synthetic and water-based rolling lubricants is another important factor expected to boost demand over the coming years.
The automotive end-use industry is a major contributor to the sales of rolling lubricants. With the automotive sector growing rapidly, demand for rolling lubricants is also gaining pace due to wide application of rolled steel and aluminum in this industry.
Demand for a sturdy and strong automobile structure is resulting in high demand for cold rolled steel, which, is in turn, is positively influencing demand for cold steel rolling oils.
Customize this Report
Explore Intelligence Tailored to Your Business Goals.
What Opportunities Will Rolling Lubricant Manufacturers Come Across Over the Coming Years?
Manufacturers are constantly tracking customer needs in terms of product quality, performance, quality, safety, and environmental protection in order to fulfil demand on time. Key market players have developed innovative synthetic and semi-synthetic rolling lubricants for both, hot and cold rolling of metals. Furthermore, they provide thorough customer service through dedicated pre-sales product selection assistance as well as aftersales support.
Companies are increasing their investments in research & development. This is being done to explore new opportunity avenues. For example, as key focus areas, they have been exploring the prospects and applications of water-based nano-rolling lubricants and whether they can replace mineral-based lubricants.
Rolling lubricants, especially for the rolling of steel and aluminum, are profitable businesses with continuous demand from the metals sector. Many key companies are engaging in the acquisition of the rolling lubricant businesses of other competing companies due to the large profitable revenue generated by this segment and golden future prospects as a result of growing automotive and construction sectors.
Copper products are gaining immense popularity for their strength and formability. Cold rolled copper possesses immense strength and holds the prospect of holding greater market share. All these factors are creating significant opportunities for rolling lubricant manufacturers.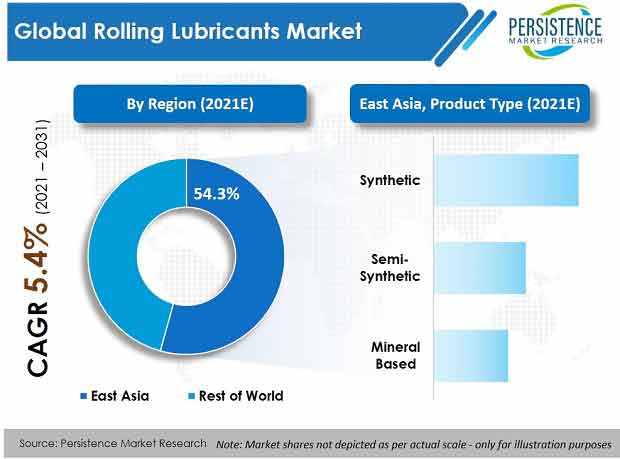 Market Research Methodology - Perfected through Years of Diligence
A key factor for our unrivaled market research accuracy is our expert- and data-driven research methodologies. We combine an eclectic mix of experience, analytics, machine learning, and data science to develop research methodologies that result in a multi-dimensional, yet realistic analysis of a market.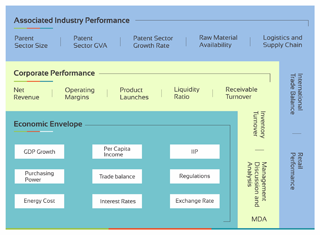 What are the Restraints That Rolling Lubricant Suppliers Face?
In many countries, prices for hot rolled and cold rolled steel coils have witnessed fluctuation in order to reduce the gap between domestic and import prices. Over the analyzed period of time, there have been many fluctuations in the prices of rolled steel, which often poses inconvenience for buyers and end consumers.
Price hikes of rolled steel in pandemic times have also put buyers in doubt. Rolled steel prices in the United States also surged by over 200% in the year 2020. Such uncertainties and fluctuations act as a restraint for the market of rolled steel, and thus, consequently also impact demand for rolling lubricants.
Crude oil or petroleum is a finite source, and hence, the need of switching to renewable energy is being increasingly recognized. Many types of rolling lubricants are straight crude oil refined mineral lubricants or semi-synthetic lubricants, which are mineral lubricants with additives. The rolling lubricants industry hence depends a lot on crude oil.
This dependence of mineral-based and semi-synthetic rolling lubricants has made them vulnerable to sourcing issues related to petroleum or crude oil. With limited reserves of the same, lubricant manufacturing companies will need to switch to synthetic rolling lubricants and reduce this dependence.
Explore Persistence Market Research's expertise in promulgation of the business !
Will Sales of Rolling Lubricants Gain Traction Due to Rising Popularity of Water-based and Eco-friendly Nano Lubricants?
With greater awareness regarding the depletion of natural sources, climate change, and realization of the finite nature of crude oil and petroleum sources, the need to make a switch to water-based rolling lubricants instead of oil-based is high. This switch has already begun with the manufacture of high-quality water-based synthetic rolling lubricants.
Research & development is gaining pace regarding eco-friendly nano-lubricants. It has been found that, water-based nano-lubricants reduce the rolling forces during micro flexible rolling, and these rolling lubricants can effectively decrease rolling traces due to the beneficial nano-lubrication mechanism. These rolling lubricants provide a lucrative opportunity for growth and profit in the rolling lubricants business.
Will Rise in Demand for Copper & Copper Products Create Opportunities for Rolling Lubricant Producers?
Copper wires, tubes, sheets, etc., find high application in the electrical industry, in plumbing and piping, consumer durables, solar collectors, etc. Rolled copper is preferred for products that require strength and corrosion resistance.
Copper products are gaining immense popularity for their strength and formability. Cold rolled copper possesses immense strength and has prospects of holding greater market share.
Copper utensils are being viewed as more pure, and consuming food and water from them is being viewed as beneficial for health. Increasing number of consumers are utilizing copper utensils and similar products for household usage. This provides an opportunity for copper rolling lubricants.
Country-wise Analysis
Why is China a Highly Lucrative Market for Rolling Lubricants?
In 2021, rolling lubricant demand in China is anticipated to grow 5.6% year-on-year, bucking initial scepticism about how the market would perform during a global pandemic. Across the whole of China, total sales of rolling lubricants are expected to cross US$ 7.2 Bn by 2031.
China has become a profitable market for rolling lubricants due to increased demand for steel and aluminium from industries such as automotive & transportation, as well as the country's fast-developing industrial economy. Increased purchasing power in China has led to rising orders for flat steel and aluminium used in appliances and vehicles.
Mill capacity utilization is also increasing due to rising demand from the domestic market. Availability of low-cost raw materials and lower operating hurdles are also allowing firms to invest, and the market has thus benefitted with the existence of large-scale rolling lubricant producers.
What Makes the U.S. a Demand Hub for Rolling Lubricants?
The U.S. market is anticipated to witness a growth rate of around 5.6% during the forecast period. The country is also anticipated to be a prominent market in the business of rolling lubricants due to the presence of several manufacturers. Increasing adoption of advanced technology in North America is contributing to the growth of the market in the region.
Sales of cold rolling oils in the U.S. are expected to increase over the coming years owing to growth in the metal processing industry. Aluminium consumption in the U.S. is forecasted to grow significantly owing to strong auto demand and stable property market development.
Presence of large automotive, aerospace, and construction industries is expected to boost demand for rolling metals. All these factors are expected to contribute significantly to market growth.
Category-wise Insights
Why are Synthetic Rolling Lubricants Highly Sought-after?
Recently, there has been improvement in the macro economic environment, which is resulting in positive growth of the manufacturing sector in the global market. Emerging economies such as India, China, Brazil, and Turkey have emerged as some of the largest manufacturing economies in the world.
Current necessities for the production of cold rolled strips in the steel industry are high, with requirement for high surface quality and strip cleanliness, mill hardware cleanliness, and low processing costs. These factors have led to increasing demand for synthetic lubricants in rolling mills across the globe.
Why is Demand of Cold Rolling Lubricants Growing Significantly?
In developed economies, cold rolling oil/lubricant buyers are looking for oils that have high load bearing capacity, adequate viscosity, and low coefficient of friction. Through focused R&D and product innovation in advanced manufacturing and refining of lubricants, manufacturers have significantly improved their response time for such custom requirements from clients. This trend is expected to gain traction across the world and create tremendous opportunity in the near future and, in turn, fuel market growth.
To reduce the porosity in steel and aluminium sheets, new technologies are being created. For instance, with the use of lasers and other technologies, it is now possible to reduce sprays. New spray technologies require less water or can even be used without water. Research & development is also going on in the global market to considerably increase the life of sheet metal. These factors are expected to prominently benefit cold rolling lubricants.
Why is Demand for Rolling Lubricants for Application in Aluminium So High?
Growing sales of automotive and increasing vehicle production have resulted in increased carbon emission, making the automotive sector a major contributor to the greenhouse effect. As a result, various agencies have laid down regulations for the development of green technologies and vehicles that are much more fuel efficient than previous generations.
These factors have boosted demand for lightweight vehicles. Use of lightweight materials such as aluminium and magnesium has reduced vehicle weight by 30%-40% and improved fuel efficiency by 10%-20%.
Mass reduction initiatives are influenced by CAFE regulations, consumer preferences, fuel prices, and OEM objectives. It is estimated that, on an average, a North American vehicle uses 340 lbs, of aluminium and 8.3% of the gross weight is contributed by aluminium parts.
Aluminium is being widely used for body, power train, and other structural components in the automotive industry. Use of aluminium is not restricted to high-end cars; it is also being used in mass-produced vehicles. Use of aluminium in light vehicles is projected to grow 70% by the end of 2030, owing to its increasing usage in steering knuckles, suspension arms, and cross-member applications, which, in turn, will propel demand for rolling lubricants for aluminium over the coming years.
Has COVID-19 Dented the Sales Prospects of Rolling Lubricants?
Emergence of COVID-19 in 2020 significantly impacted market growth owing to reduction in demand from many end-use industries. COVID-19 hasn't had a significant impact on raw material supply for rolling lubricants, besides transportation delays caused by travel restrictions and related human resource shortage concerns.
Due to the pandemic and huge drop in automotive sales and production, rolling lubricants witnessed negative demand growth in 2020. The pandemic had the greatest impact on construction as well as automotive and transportation industries, which directly impacted the metals sector, and consequently, the market for rolling lubricants.
Competitive Landscape
Manufacturers are constantly working toward innovation and new product development to cater to changing market needs. Companies have developed innovative synthetic and semi-synthetic rolling lubricants for both, hot and cold rolling of metals. Furthermore, they provide thorough customer assistance.
Certain key manufacturers of rolling lubricants are focused on mergers and acquisitions with local players in emerging markets to enhance their global footprints.
Some of the key developments are:
In August 2019, Total SE acquired Houghton International's aluminum hot rolling oil, steel cold rolling oil, and tinplate rolling oil activities in the North American and European Economic Area markets.
In August 2020, Idemitsu Kosan Co., Ltd. initiated operations and production at the Huizhou Plant of Huizhou Idemitsu Lube Co., Ltd., with a capacity of 120,000 KL, for the purpose of increasing its supply capacity to accommodate growing demand for high-performance lubricants in China.
In September 2020, Total SE announced the acquisition of Lubrilog SAS, a company that specializes in the formulation and production of high-performance synthetic lubricants.
Similarly, recent developments related to companies manufacturing rolling lubricants have been tracked by the team at Persistence Market Research, which are available in the full report.
Rolling Lubricants Industry Report Scope
Attribute

Details

Forecast Period

2021-2031

Historical Data Available for

2016-2020

Market Analysis

US$ Mn for Value
Kilo Tons for volume

Key Regions Covered

North America
Latin America
Europe
East Asia
South Asia & Pacific
Middle East and Africa

Key Countries Covered

U.S.
Canada
Brazil
Mexico
Germany
U.K.
France
Italy
BENELUX
Spain
Russia
China
Japan
South Korea
India
ASEAN
Australia and New Zealand
GCC Countries
Turkey
Northern Africa
South Africa

Key Market Segments Covered

By Product Type
Rolling Process
Application
Region

Key Companies Profiled

Exxon Mobil Corporation
Croda International PLC
Total S.A.
BP plc. (Castrol)
Indian Oil Corporation Ltd
Hindustan Petroleum Corporation Limited
Quaker Houghton
Jiangsu Gaoke Petrochemical Co., Ltd.
ETNA Products, Inc.
Petroyag Lubricants
Buhmwoo Group
Ricci S.p.A.
T&L Chemical
Idemitsu Kosan Co., Ltd.
Eastern Petroleum Pvt. Ltd.

Pricing

Available upon Request
Key Segments Covered in Rolling Lubricants Industry Research
By Product Type
Synthetic Rolling Lubricants
Semi-synthetic Rolling Lubricants
Mineral-based Rolling Lubricants
By Rolling Process
By Application
Rolling Lubricants for Steel
Rolling Lubricants for Copper
Rolling Lubricants for Aluminium
Others