Introduction
Obesity, a pandemic ailment, has been largely associated by medical scientists with several endocrine diseases, which include common (polycystic ovarian syndrome, and hypothyroidism) and rare (hypothalamic disorders, and Cushing's syndrome) counterparts.
Mechanisms for developing obesity vary in accordance with the endocrine condition. In case of rare endocrine diseases, interaction with growth hormones and thyroid plays a pivotal role, in tandem with increased adipogenesis and adipocyte differentiation.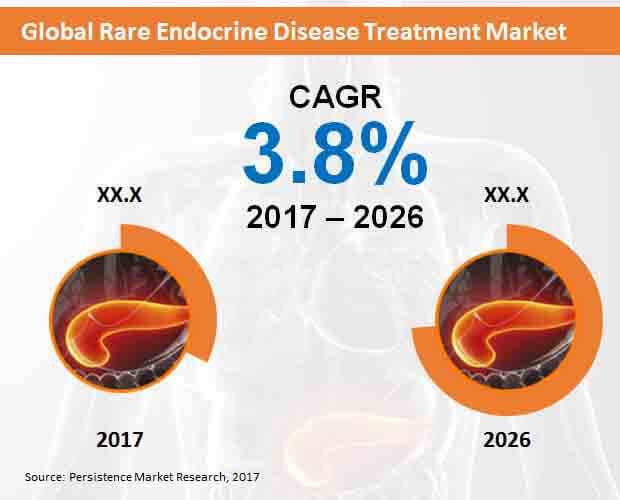 Appropriate evaluation of treatment plan related to obesity-related rare endocrine diseases are being carried out by researchers, with overweight patients being the top priority. For example, researchers from the University of Newcastle are working on evaluation of natural history related to the development of obesity, considering the aetiological factors.
Although, complete evaluation has not yet been attained, these researcher perceive laboratory testing and physical examination to extend the evaluation for excluding common endocrine causes. Results then obtained would enable selection of an appropriate treatment plan.
A recently composed research study of Persistence Market Research (PMR) foresees a moderate growth for the global rare endocrine disease treatment market over the period of forecast, 2017 to 2026. Revenues from treatment of rare endocrine diseases are envisaged to reach approximately US$ 12,000 Mn by 2026-end.
Research Collaboration for Rare Endocrine Disease Treatment
Rarity of endocrine diseases entails challenges for researchers and clinicians in gathering sufficient qualitative & quantitative patient data, in order to support statistically powerful clinical trials.
With the provision of secure online access to analytical tools and extensive data sets, endocrine genomics virtual laboratory (endoVL) enables researchers to work together for breaking ground on diagnosis and treatment of rare endocrine diseases.
More than 8,500 adrenal tumor cases are registered on endoVL currently, which in turn allows researchers to bank on large cohorts for conduction analyses with real statistical power. Over 25 large-scale clinical trials are being run currently under endoVL, which involve research groups from across the globe.
This research collaboration, dedicated toward development of effective treatment options regarding rare endocrine diseases, will pave new growth opportunities for the global rare endocrine disease treatment market.
Ophthalmic Manifestations of Rare Endocrine Diseases – A Key Area for Development & Innovation
Disorders of endocrine system generally manifest in multi-organ fashion, initially becoming apparent in the eye via various distinct pathophysiologic disturbances. Some of the common manifestations of rare endocrine disorders in the eye include septo-optic dysplasia, multiple endocrine neoplasia, and Wolfram syndrome.
Recognition of ophthalmic manifestations of rare endocrine diseases is critical for rapid diagnosis and treatment, as well as preventing significant mortality and morbidity. For biotechnological and pharmaceutical companies, as well as medical researchers, ophthalmic manifestations of rare endocrine diseases are expected to be an attractive space for bringing treatment developments and innovations.
PMR's report has identified and tracked key companies contributing to developments in rare endocrine disease treatment, which include Novartis, Ipsen, Pfizer, Inc., Teva, EMD Serono, Novo Nordisk, Eli Lilly, Shire, Amgen, Inc., Corcept Therapeutics, and Novelion Therapeutics.
Spruce Biosciences, a clinical-stage biotechnology industry, has been developing novel therapies apropos rare endocrine diseases. The company recently received an orphan drug designation by the FDA for its SPR001, which is being considered effective for treatment of a rare endocrine disease, congenital adrenal hyperplasia (CAH).
Market Taxonomy
Region

North Americ
Latin America
Europe
Japan
APEJ
MEA

Indication

Acromegaly
Central Diabetes Insipidus
Ahumada-Del Castillo Syndrome
Hypoparathyroidism
Other Indications

Drug Type

Biologics
Organic Compounds

Mode of Administration
Distribution Channel

Hospital Pharmacies
Retail Pharmacies
Online Pharmacies