Introduction
Polyester polyols manufacturers have been focusing on product development, such as structural property development, alongside developing a diverse range of products for CASE (coatings, adhesives, sealants, and elastomers) applications.
Manufacturers have been developing products that meet a diverse and demanding set of requirements. Polyester polyol products display advantages in polyurethane applications as well. Polyester polyols offer benefits in terms of hydrolytic stability based on their aromatic substitution pattern.
That apart, various polyester polyols with high molecular weight have been developed, which are appropriate for polyurethane pre-polymer synthesis as well. Such advantageous characteristics are leading to the preferred use of polyester polyol products, thereby driving the growth of the global polyester polyols market size.
Bio-based Polyols Driving Momentum for Capacity Expansion
In recent times, manufacturers have been focusing on using eco-friendly raw materials, such as bio-succinic acid, for the manufacturing of polyester polyols, thereby reducing the environmental footprint considerably.
This, in turn, has been translating into reduced performance penalty at a competitive cost, which has been encouraging manufacturers in the polyester polyols market to increase their production capacity to cater to the rising demand. Besides, this has also been causing reduced dependence on petroleum-based raw materials, which are highly susceptible to crude oil price fluctuations.
Polyester Polyols Market Trends
In recent times, there has been positive developments in the production of aromatic polyester polyols from PET industrial wastes. This has been a key trend driven by the fact that, in 2013, China declared that it would no longer be accepting poor quality recyclable waste from foreign exporters.
This has led to a focused process development of recycling polyethylene terephthalate (PET) bottles to manufacture aromatic polyester polyols. In the manufacturing process, some renewable resources such as oils or modified oils could also be introduced into the process before PET is added to adjust the properties of the APP; for example, for the improvement of the solubility of pentane or chlorinated hydrocarbons.
Also, for any PET manufacturer, the performance of such a process would be beneficial, both, with respect to waste deployment as well as increase in profits from a side stream. PET recycling provides much higher profit margins as well. APP produced from this process leads to high performance polyurethanes with outstanding properties. Furthermore, these APPs are produced very economically, especially while using in-house waste from PET production.
Covid-19 Impact on Polyester Polyols Market
The covid-19 pandemic has impacted most industries across the world, including the polyester polyols market space. Due to lockdowns and restrictions on movement and trade, the supply chain has been disrupted, which has led to a shortage of raw materials. This, in turn, is affecting the potential growth of the polyester polyols market across the world.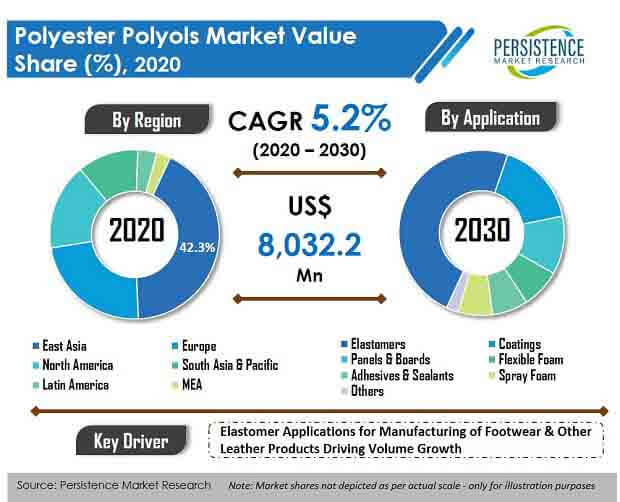 Regional Outlook of Polyester Polyols Market
Rising demand for polyurethane and polyisocyanurate insulation foams for insulation applications has been contributing to the demand growth of the polyester polyols market. This has been proving to be an important driver, especially in developed regions such as North America and Europe.
Besides, the demand for aromatic polyester polyols has also been on the rise in China, owing to the rising application in energy-efficient buildings products - an initiative aggressively promoted by the Chinese government.
Polyester Polyols Market Structure Analysis
Key manufacturers in the polyester polyols market are emphasizing on the growth of their businesses by launching more advanced and effective products, as well as expansion in emerging regions and collaborations with regional players in order to increase their presence and generate more revenue.
In line with this, in 2017, The Dow Chemical Company collaborated with a Germany-based plant manufacturer H&S Anlagentechnik, to develop the market for recycled polyols manufactured from end-of-life mattresses, through its polyurethanes business unit - DowDuPont materials science division.
Major players in the polyester polyols market include BASF SE, The Dow Chemical Company, Stepan Company, Purinova LLC, Saudi Arabian Oil Company, Grupo Synthesia, Emery Oleochemicals, Huntsman Corporation, Myriant Corporation, Helios Group (Kansai Paint), Olean, Lanxess AG, Covestro AG, DIC corporation, INVISTA, and Aekyung Petrochemical Co., Ltd, among others.
Analysts' Viewpoint
Key focus of players in the global polyester polyols market is on reduction of greenhouse gas emissions throughout the supply chain by reducing energy consumption and simultaneously increasing recycling. Most of these key players are reducing greenhouse gas emissions by up to 15% as compared to the previous year. Increasing focus can be put on the East Asia market, due to the rapid growth of end-use industries in the region.
Key Segments of Polyester Polyols Market
PMR's study on the polyester polyols market is divided into four significant segments - product type, source, application, and region, so as to make the findings of the research report easier to understand for the readers, thereby allowing them to implement appropriate business strategies for the future. This report offers comprehensive data and information about the important market dynamics and growth parameters related to these categories.
Product Type

Source

Virgin Raw Material
Recycled Polyester

Application

Panels & Boards
Flexible Foam
Spray Foam
Coatings
Adhesives & Sealants
Elastomers
Others

Region

North America
Latin America
Europe
South Asia
East Asia
MEA
Key Questions Answered in PMR's Polyester Polyols Market Report
Which region is anticipated to hold a prominent market share in the global polyester polyols market over the forecast period?
What will be the key driving factors propelling the demand for polyester polyols during the forecast period?
How will current trends impact the polyester polyols market?
Who are the significant market participants in the polyester polyols market?
What are the crucial strategies of prominent players in the polyester polyols market to upscale their positions in this landscape?