Introduction
Photocatalysts are used across a wide range of applications such as water treatment, sewage treatment, antifouling treatment, textile antibacterial, and antibacterial treatment in different medical facilities. Its huge consumption in water purification across the paper and textile industries is expected to contribute a significant revenue in the market.
The rapid growth in the demand for air purifiers with growing air pollution is expected to have a positive influence on the market. Burgeoning demand for photocatalytic oxidation smart air purifiers for its low noise is projected to impart growth to the global market. The rise in the popularity of building materials such as blocks and tiles based on the photocatalysts is estimated to push ahead of the boundaries of the growth of the market.
With increasing industrial activities, the market in the scaling economies such as China and Japan are expected to generate new growth avenues for the manufacturers in the market. Japan is expected to hold a major chunk of the market, followed by East Asia. The markets of North America and Europe are projected to generate opportunities worth US1Bn in the coming years.
Established players are involved in research & development activities to boost their production capacities. Prominent payers profiled in the global market include Nippon Soda Co., Ltd, Tayca Corporation, Ishihara Sangyo Kaisha, Ltd., and Toshiba Materials Co.
A photocatalyst is a material that undergoes photosensitization, wherein, a photochemical modification occurs as a result of the absorption of radiation from solar (UV) as well as other visible light sources. Photocatalysts are mainly used for comprehensive air treatment, water purification, sewage treatment, textile antibacterial and antifouling treatment, and antibacterial treatment of medical facilities.
Commonly, the photocatalyst market can be classified into: Titanium Dioxide, Zinc Oxide, Tin Oxide, Cerium Oxide, and Others (collectively including CdS, ZnS, WO3, and Ag3PO4, among others). Photocatalysts are commercially used in numerous applications such as paints & coatings, water treatment, air purification, and building materials, among others.
The global photocatalyst market was valued at almost US$ 2.5 Bn by the end of 2018. Expanding at an annual growth rate of nearly 10%, the value of the photocatalyst market is estimated to cross the US$ 6 Bn mark by the end of the forecast period, i.e. 2029.
A vast potential is foreseen in the global photocatalyst market, as the overall revenue opportunity created is estimated to be in the scale of billions. In terms of volume, the consumption of photocatalysts is expected to be well over 130 KT by the end of 2019, and this is anticipated to go well over 350 KT by the end of 2029, showcasing a CAGR of over 9%.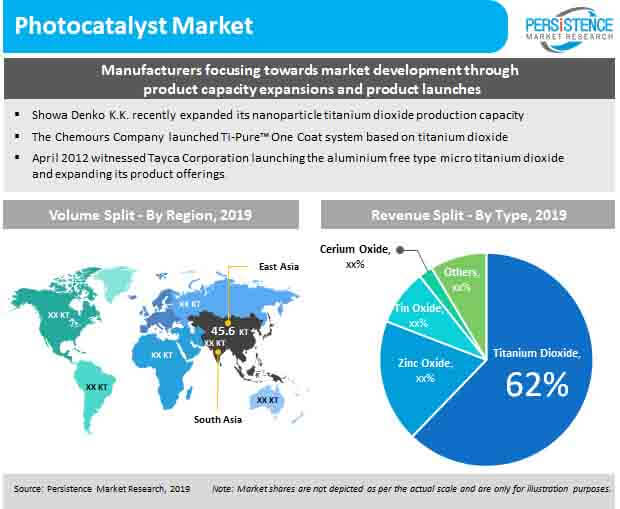 The Water Treatment Segment Accounts for a Prominent Proportion, While Building the Materials and Air Purification Segments are Expected to Witness High Growth
Photocatalysts are largely consumed in water treatment applications, prominently to degrade residual dyes in the textile and paper industries, among others. Considered to be one of the most potential technologies in water treatment in the years to come, it is expected to register a near-average growth over the forecast period.
With the rising awareness surrounding the hazardous effects of air pollution, the market for air purifiers is witnessing rapid growth. With photo-Catalytic Oxidation (PCO) air purifiers noted to produce lower levels of noise, these are highly demanded, and hence, are anticipated to contribute to the growth of the overall photocatalyst market.
The deodorization property of photocatalysts, such as titanium dioxide, also lead to air purification when applied as a coating. The rising popularity of building materials such as tiles and blocks, among others, based upon photocatalysts, are noted to witness rapid growth over the forecast period, surging the demand for photocatalysts, globally.
The Powder Form of Photocatalysts Finds Increased Demand across Applications
On the basis of form, photocatalysts are marketed in powder, solution, granules, and other (dispersions, etc.) forms. The powder form of photocatalysta is widely demanded, and is anticipated to account for around half of the volumetric consumption, expanding at a notably high CAGR.
Downstream formulators are noted to largely demand the powder form, due to its ease of handling and higher assurance of a purer product. In terms of value, accounting for lower double digit market proportion, the solution form of photocatalysts is noted to be marketed by fewer manufacturers, owing to limited demand.
East Asia is Considered to be a Frontrunner in Terms of Production as Well as Consumption of Photocatalysts
Increasing industrial activities in the countries of China and Japan are creating newer avenues for photocatalyst manufacturers in exploring market opportunities. Japan is estimated to account for a significant proportion of the market. Following East Asia, the North America and Europe photocatalyst markets are projected to expand at a noteworthy pace, creating revenue opportunities well over US$ 1 Bn over the course of the forecast period.
Market Participants in the Global Photocatalyst Market
Some of the market participants reported in this study on the global photocatalyst market include Daicel Corporation, Toshiba Materials Co., Ltd., Ishihara Sangyo Kaisha, Ltd., KRONOS Worldwide, Inc.,
The Chemours Company, OSAKA Titanium Technologies Co., Ltd., Tayca Corporation, Showa Denko K.K., TOTO Ltd., and Nippon Soda Co., Ltd, among others. Manufacturers are noted to invest highly in R&D activities and expansion of production capacities in order to gain a stronghold in global as well as regional photocatalyst markets.