Introduction
Studies suggest that ~2 billion people engage in agriculture, globally, and a majority of them use pesticides to protect the food and commercial products that are produced. Pesticides are also used occupationally for public health programs, in commercial applications, in lawn and garden applications, and in and around the home. Such vast utilization of pesticides reflects their enormous agricultural and economic importance.
Initially, in the United States, pesticide products were regulated apropos of their active ingredients, which are the main drivers of their directed toxicity. As the development and registration of novel active ingredients is expensive and requires nearly two years of review, manufacturers are compelled to implement other ingredients or pesticide inert ingredients, rather than creating new active ingredients.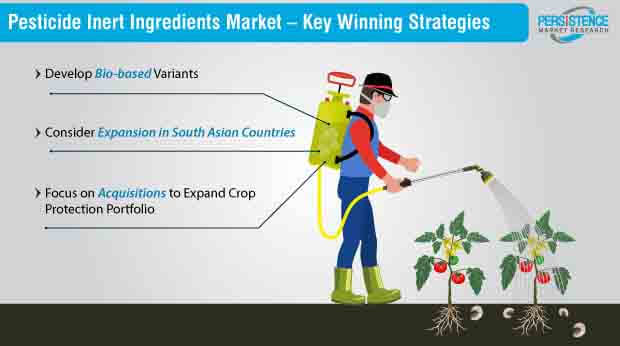 In a new report of Persistence Market Research (PMR) on the pesticide inert ingredients market, analysts have encompassed a global market perspective on the growing applicability of pesticide inert ingredients. Factors fostering the market growth including the demand for improved crop protection solutions and the growing use of pesticides on account of the implication of modern agricultural practices.
Pesticide Inert Ingredients - Industry Timeline
More than 4000 years ago the Sumerians were using sulfur compounds to manage insects and mites, while about 3000 years ago the Chinese were using insecticides derived from plants. Greeks and Romans recognized the use of fumigants, granaries on stilts, sticky bands on trees mosquito nets, and pesticide sprays.
Chinese continued to develop pest-control technology and AD 300 witnessed the use of biological controls, establishment of ant nests in citrus orchards for controlling caterpillars and large bored beetles. In the interim, the Europe, in the 17th century saw an arising interest in biological control and the rediscovery and introduction of a variety of natural pesticides.
As pesticides industry progressed onto the growth timeline, research and findings pertaining to its components and production gains impetus. Ever since the USDA declared that all pesticide components are pesticide chemicals that required tolerance or exemption from tolerance around 1960s, and the establishment of data requirements and review procedures for inert in 1969, pesticide inert ingredients industry has come a long way.
Pesticide inert ingredients market is expected to reach a valuation of ~US$ 5.7 Bn in 2019, growing at a CAGR of ~6% over the course of the forecast period. Developments across the agricultural industry, incorporation of precision technology and growing consumption of pesticides for increased crop protection requirements are likely to stimulate the profitability of pesticide inert ingredients market players.
Impact of Undercurrents on Pesticide Inert Ingredients Market
Sustainable Variants Gain Prominence
As organic agriculture supports higher biodiversity compared to conventional management, it has pushed the use of sustainable pesticides and agrochemicals that promote the use of products, which are not only environmentally safe but harmless for users. Bio-based pesticides are gaining immense significance in light of the growing demand for sustainable products, thereby directing the attention of pesticide inert ingredients market players towards this variant.
Growing Use of Pesticides across Application Sectors
Disruptions in the normal climatic conditions allow pests and diseases to grow and destroy entire crops and plantations. Pesticides help nurture the crop and boost its quality, while also being effective in getting rid of insects that hamper the crop nutrition. This has bolstered the application of pesticides across a number of sectors, driving the need for producing more volumes, ultimately driving the sales of the pesticide inert ingredients.
Emphasis on Crop Protection in Modern Agricultural Practices
Agricultural sector has witnessed major innovations with developments in science and technology. Influence of food trends, vitality in crop protection solutions, and the surging crop production are dramatically bolstering the adoption of advanced agriculture practices. Emphasis on crop protection in modern agricultural practices is expected to have a positive impact on the pesticide inert ingredients market.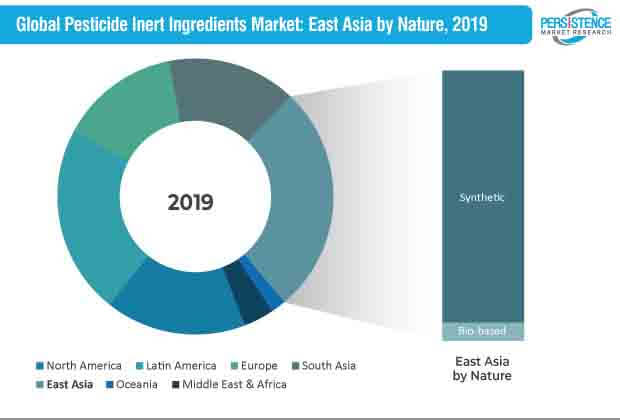 Pesticide Inert Ingredients Market: Strategies Stimulating Profitability
Reaping Benefits from Transformations in Agricultural Sector
In addition to 'servicization' gaining the status of a win-win strategy, competition trends, such as integration of value chain, adoption of advanced technologies, and globalization of trade, have changed the face of the agricultural industry.
While these trends have pushed the agricultural ecosystem to transform into a high-tech industry, the subsequent transformation is creating the need for improved pesticides and agrochemicals, further creating opportunistic avenues for companies operating in the pesticide inert ingredients market.
Investments Focusing on Expansion across South Asian Economies
South Asia's agricultural sector continues to grow, wherein agriculture contributes a largest share in the economy of countries, such as India. Declining arable land mass on account of rapid urbanization has created the need for effective chemicals that aid in boosting the arability of land and the fertilization of soil, particularly in the South Asian countries.
Such scenarios have presented notable opportunities for the pesticide providers in the South Asian countries, consequently opening growth avenues for stakeholders in the pesticide inert ingredients market.
Pre-registration Trials - The Prerequisite
Despite a promising growth outlook for the pesticide inert ingredients market at a global level, it remains a fact that they have a negative impact on the non-target organisms. For instance, the herbicides known as weed killers, could also damage the crops. Also, their negative effect on livestock is expected to lead to various diseases.
These reasons are resulting in pesticide inert ingredients to undergo various trials before registration, involving major time consumption. Companies operating in the pesticide inert ingredients market could consider the reduction of toxicity of these ingredients in order to boost their applicability.
Competition Analysis: Pesticide Inert Ingredients Market
In 2018, BASF and VanderSat, the Dutch Earth Observation Company collaborated to support farmers globally with more precise, satellite data-based recommendations on application of crop inputs. Satellite data uses high-precision microwave technology provided by VanderSat, for measuring soil moisture and surface temperatures in individual field zones would be an additional data source for BASF's field manager.
In November 2018, Interface & Performance held a BREAK-THRU workshop in Poland where the business line educated local pesticide producers about how the additives by Evonik make crop protection product formulations increasingly effective.
With 50-60% of the global pesticide inert ingredients market shares held by leading players, the market remains moderately consolidated. Key players in the pesticide inert ingredients market continue to expand their portfolio of crop protection products, via strategic acquisitions. The increasing demand for bio-based form is expected to offer growth opportunities, in a bid to expand their consumer base.
For several players, expansion of the specialized chemicals portfolio will remain a go-to approach, in an attempt to meet consumer expectations. Top players are also manufacturing pesticides that allow additional mixture of other ingredients with respect to the application.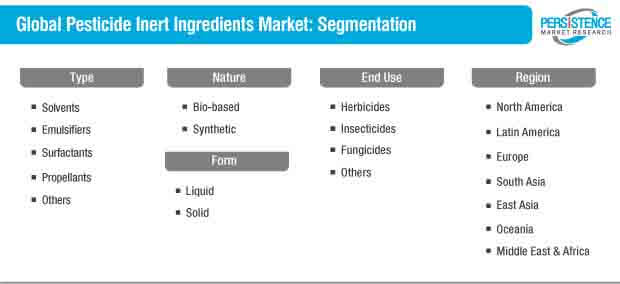 The Analyst's Speak
The increasing emphasis given to crop nutrition in wake of the transforming agricultural ecosystem has resulted in PMR analysts to have a positive outlook of the market. As crop cultivators are seen mixing additional inert ingredients to boost concentration and effectiveness of pesticide products, this factor is creating potential opportunities for pesticide inert ingredients market players.
Market entrants can channelize their future investments to create similar offerings. Although pesticide inert ingredients are expected to gain popularity in liquid form, in 2019, inert ingredients in solid or dry form are expected to pick pace over the course of the forecast period. This is attributed to their immense applicability in the formulation of rodenticides and herbicides.
As solid pesticides help attract rodents in agricultural fields, the preference remains high. Hence, investments directed towards the production of solid form of pesticide inert ingredients could be profitable for competitors.
About Report
Pesticide products contain additional ingredients along with the active ingredients used in their formulation. These ingredients are called pesticide inert ingredients or other ingredients. A pesticide inert ingredient is any substance (or set of related elements) other than an active ingredient that is purposely included in a pesticide product. Examples of pesticide inert ingredients include emulsifiers, surfactants, solvents, propellants, and other ingredients.
Pesticide inert ingredients include bio-based and synthetic substances that stabilize the pesticide product and extend its shelf life. Pesticide inert ingredients add many benefits to pesticide formulations. These help pesticides to easily spread over surfaces, dissolve in water, prevent caking or foaming, ensure ease of application, drift control, make ingredients compatible, and provide ease of application. The pesticide inert ingredients market is expected to witness parallel growth with the pesticides market.
Global Pesticide Inert Ingredients Market: Key Drivers
Declining Arable Land Due to Urbanization and Commercialization
Due to increasing urbanization and commercialization, the arable land area is decreasing every day. The increasing global population is driving the demand for more food and beverage products, and to feed this population, the agriculture industry is opting for modern agricultural practices and looking for new pesticide solutions.
Owing to this, the demand for pesticides and pesticide inert ingredients is expected to increase at a higher growth rate in the near future. These factors are fueling the growth of the global pesticides inert ingredients market.
Growing Population Requires Higher Agri Output
The increasing global population and requirement of food products ensure huge opportunities for the global agriculture industry. According to the World Health Organization, by 2050, the global population will reach 12.5 Bn. To fulfill the hunger of 12.5 Bn people, the agriculture industry needs to improve its potential. These factors are creating huge opportunities for the global pesticides market and driving the demand for pesticide inert ingredients.
Demand for New and Improved Pesticide Inert Ingredients
Pesticides are the key components in crop protection and management, and the pesticide inert ingredients market growth is totally dependent on the pesticides market growth. By form, the solid pesticide inert ingredients segment is expected to register a high CAGR due to its wide range of use in herbicide manufacturing. By end-use, the herbicide segment will hold a prominent share in the global pesticides market, as herbicides are used on all croplands to protect crops from unwanted weeds.
Herbicides are mostly manufactured in the form of solids due to the ease of tank mixing, applications, and transport feasibility. Followed by herbicides and other segments, the solid form of pesticide inert ingredients is expected to grow with a high CAGR in the global pesticides inert ingredients in the near future.
Tank-Mix Usage of Pesticide Inert Ingredients
Apart from industrial pesticide manufacturers, pesticide inert ingredients are widely used by the end-users and consumers. Top players are manufacturing pesticides, which allow additional mixture of other ingredients according to the need or application. Sometimes, growers mix additional inert ingredients to increase the concentration and effectiveness of pesticide products. These factors are increasing the demand for pesticide inert ingredients in the market.
Growth in the Organic Food Market Boosting the Demand for Bio-based Pesticide Inert Ingredients
The word "organic" has become a trend in the global food and beverages industry. Increasing health awareness and consciousness is enhancing the demand for organic food and beverage products. Bio-based pesticides and bio-fertilizers are the best organics and natural solutions for crop protection.
Manufacturers in the food and beverages industry are demanding more organic agricultural food commodities. Furthermore, manufacturers are also focused on the use of bio-based inert ingredients in pesticide products, which is fueling the growth of the bio-based pesticide inert ingredients market.
Industrial Uses of Agricultural Commodities
Over the past decade, agricultural markets have experienced a strong increase in demand across a wide range of commodities. Much of that growth was attributed to non-food uses of agricultural commodities, mostly feedstock for animal feed and biofuel. As the food demand burgeoned in the developed world, biofuel mandates led to increased demand for sugarcane, vegetable, maize, pulses, grains, and others as feedstock. To fulfill this increasing demand, the use of pesticides increased in agricultural practices, which is creating huge opportunities for pesticide inert ingredients.
Inclination towards Environment Protection
Global warming and climate change are the trending topics of this decade. The global population is now moving towards sustainability to protect the environment. Developed and emerging countries are coming forward to offer different solutions to ensure sustainable development. Bio-based pesticides are sustainable crop protection solutions, which help crops grow without harmful effects. Moreover, these are not harmful to humans or livestock. Hence, bio-based pesticide inert ingredients are widely getting accepted by pesticide manufacturers.
Pesticide Inert Ingredients Market Taxonomy
Type

Solvents
Emulsifiers
Surfactants
Propellants
Others

Nature
Form
End Use

Herbicides
Insecticides
Fungicides
Others

Region

North America
Latin America
Europe
South Asia
East Asia
Oceania
Middle East and Africa
Key Questions Answered in the Report
How much value will the pesticide inert ingredients market hold in the 2029?
What are key industry trends that are expected to shape the pesticide inert ingredients market in the coming years?
Which type is anticipated to remain the sought-after pesticide inert ingredients type over the coming decade?
What are the key growth determinants driving the pesticide inert ingredients market onto the growth trajectory?
Which regions are expected to remain profitable avenues for the pesticide inert ingredients business?