Biopesticides Market
Global Market Study on Biopesticides: The Growing Focus on Sustainable and Organic Agriculture
Biopesticides Market Segmented By Bioinsecticides, BioherbSeed Treatment, Biofungicides Product Type with Microbial, Biochemical Origin in Foliar Spray, Seed Treatment
Introduction
A wave of organic, chemical-free, and transparency – new consumer preferences bringing significant changes across various industries – has inundated the agriculture sector with a range of bio-based products. In the recent years, the emergence of these products has been weighing on a same scale with the trend of sustainable farming in agriculture sector.
The focus has also shifted towards using biological crop protection techniques and naturally-derived pest-control materials, creating a robust demand for different types of biopesticides.
Sensing the difficulties involved in registration of crop protection chemicals and growing demand of food companies and consumers for lower or no residues, Persistence Market Research, in its new research study, turns the spotlight on 'Biopesticides Market'. The study analyses how agrochemical companies have diversified into biopesticides, and lays bare the undercurrents impacting the development of the market.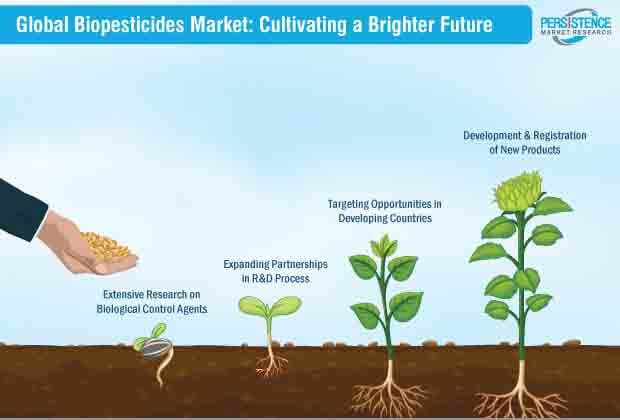 Find Out More about the Report Coverage
Companies
Bayer AG
DowDuPont
BASF SE
Syngenta AG
Nufarm
Novozymes
Rolfes Agri
Marrone Bio Innovations
Isagro SpA
Excel Crop Care Ltd.
Sikko Industries Ltd.
Certis USA L.L.C.
Parry America, Inc.
Andermatt Biocontrol AG
Futureco Bioscience S.A.
ORO AGRI
Eagle Plant Protect Private Limited.
Navagro, Valent BioSciences LLC
Valent BioSciences LLC
Albaugh LLC
Biopesticides Market: Historical and Evolutionary Landscape
Biopesticides have come a long way since they were used to control agricultural pests as early as 17th century, before the advent and widespread adoption of cheaper yet more toxic synthetic chemical pesticides.
Although the science of biopesticides is still considered to be young and evolving, they have captured significant attention for advantages associated with the environmental safety and suitability in the integrated pest management (IPM) programs. In 2018, the global sales of biopesticides were valued at ~ US$ 5 billion, and increasing restrictions on synthetic chemical pesticides continue to favor the market growth.
However, it is imperative to note that, lack of awareness and education regarding the unique modes of action of biopesticides and lingering perceptions of high cost and low efficacy remain major obstacles for the manufacturers and suppliers. In addition, most farmers, especially in the developing countries, are familiar with the use of synthetic pesticides for greater profits in short span of time, and are hesitant to experiment new products due to financial barriers, which continues to challenge the market growth.
Customize this Report
Explore Intelligence Tailored to Your Business Goals.
Bioinsecticides – A Credible Product for Organic Pest Management
Bioinsecticides continue to experiment relatively high demand as compared to other products such as bioherbicides, biofungicides, and bionematicides. As bioinsecticides account for ~70% share of the market, manufacturers are particularly focused on this category, offering enhanced pest control and ensuring food security.
Further, to tackle difficulties associated with finding bioactivity against insects, key manufacturers are targeting to increase the number of microbes tested against insects and develop effective products.
In biopesticides market, product innovations and development remained influenced by the increased calls for the adoption of sustainable and cost-effective measures. While the biopesticides are used as pest-control materials in the cultivation of various agricultural products, it is the demographic shift in the preference for organic fruits & vegetables which has sprung the demand in the recent times.
With increased stringency of chemical-residue-related regulations, high incorporation of IPM programs in developing countries, and easier registration of biopesticides than chemical pesticides, manufacturers are likely to capitalize on the new-found opportunities. Innovations have also been forthcoming for liquid formulation of biopesticides for foliar application, as the category continues to witness higher demand.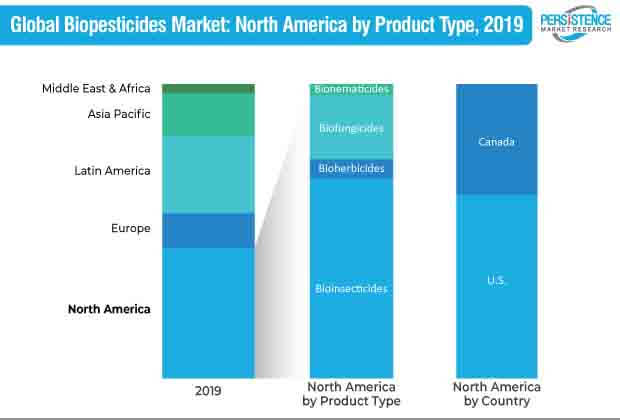 Market Research Methodology - Perfected through Years of Diligence
A key factor for our unrivaled market research accuracy is our expert- and data-driven research methodologies. We combine an eclectic mix of experience, analytics, machine learning, and data science to develop research methodologies that result in a multi-dimensional, yet realistic analysis of a market.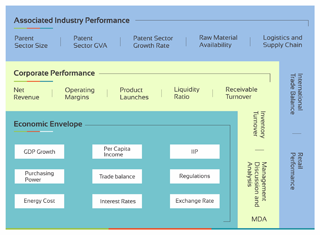 Key Strategies to Win in the Lucrative Market
Milestones in the development of the biopesticides market have included the rapid promotion of IPM programs, visible role of biopesticides in substituting synthetic chemicals and reducing over-reliance on them, government policies to support sustainable methods for crop protection, and the organic movement.
Sensing the less detrimental nature of the products which are more specific to target pests, manufacturers are focusing on strengthening their collaboration with research institutes to conduct extensive research on biological control agents and develop high-potential products. Discovery of new substances and research on formulation and delivery also remain a key focus areas for the manufacturers to boost commercialization and use of biopesticides.
While developed countries in North America lead the way in biopesticides, key market players are currently targeted towards raising awareness about sustainable benefits of biopesticides and their use in integrated programs among farmers in developing regions. Robust government initiatives to replace chemical products with organic manures to promote soil health management has also led to realignment of these strategies.
Further, expansion of product portfolio that meet all registration standards and focus on enhancing unique performance feature in agriculture division such as crop science and seed technology are likely to work to the advantage of biopesticides market players.
Explore Persistence Market Research's expertise in promulgation of the business !
The Competitive Landscape
The biopesticides market shows a mid-level of fragmentation, with Bayer AG, Marrone Bio Innovations, Syngenta, DowDupont Agroscience, BASF SE, and Isagro SpA operating as leading players.
Considering the notable spike in the demand for biopesticides in the recent years, market players have remained active in development and registration of new biopesticides.
These factors have been further intensified when Marrone Bio Innovations, a key player in the biopesticides market, announced the launch and availability of high-performance biological fungicide – Amplitude™ – for the 2018 growing season. Using the same ingredient (Bacillus amyloliquefaciens F727) in its EPA-approved Stargus®, Amplitude™ has a strong performance against white molds and soil diseases. Such strategic move is likely to set the ball rolling, and influence other stakeholders to follow suit and launch new products.
Key business strategies of the biopesticides market players also include mergers, collaborations, and acquisitions of other players and distributors to enhance their offers to growers and established a strong position in the market. For instance, in 2018, Bayer AG announced that it has successfully completed the acquisition of US-based agricultural biotechnology corporation – Monsanto – to develop new bio-based solvent crop protection solutions.
Prior to the acquisition, Monsanto had collaborated with Pairwise Plants to advance agriculture R&D by leveraging gene-editing tools.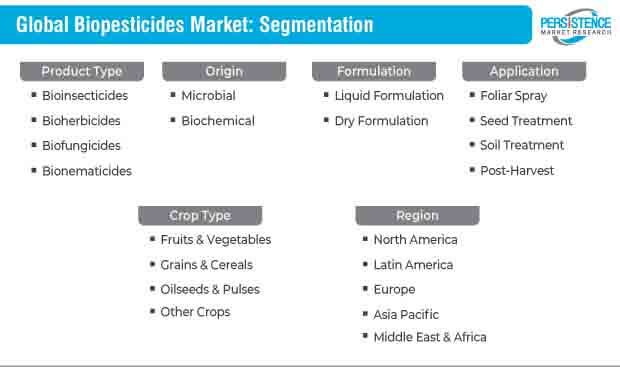 The Analyst Viewpoint
Analysts maintain an optimistic outlook of the biopesticides market, which is projected to record a CAGR of ~10% during the period, 2019-2029. To leverage opportunities in developing countries, manufacturers will need to take new initiatives to popularize their products among farmers and influence greater adoption.
According to the analysts, it is important to maintain low cost to farmers for a given product quality and availability, especially in areas where the use of competitive chemical products haven't been phased out.
The biopesticides market
The biopesticides market is anticipated to reach nearly US$ ~ 5.0 Bn by the end of 2019 in terms of value, and is forecasted to reach US$ ~ 13.0 Bn by the end of 2029.
Biopesticides are pesticides extracted from natural resources such as plants, animals, bacteria, and certain minerals. Biopesticides include natural substances that control pests (biochemical pesticides), microorganisms that control pests (microbial pesticides), and biochemical plant growth regulators.
Biopesticides are used in agricultural practices for the purpose of insect control, disease control, weed control, nematode control, plant physiology and productivity. Biopesticides are non-toxic to non-target organisms, including beneficial insects and wildlife. Many biopesticides also are biodegradable. They decompose fast and do not harmfully impact surface water and groundwater.
Biopesticides typically are effective in small quantities, which eliminates pollution concerns. Biopesticides are usually spread on plants and crops. Biopesticides are replacing synthetic pesticides in many crops and playing a significant role in agriculture and sustainable practices.
Global Biopesticides Market: Drivers
Ease of Registration for Manufacturing Biopesticides: Opening New Doors for Manufacturers
As health consciousness and awareness is increasing among people, the attentiveness towards the use of harmful pesticides and chemicals in agricultural commodities is also growing. Hence, manufacturers are focusing on biopesticides and natural ingredients for growers.
Governments and regulatory bodies are also taking initiatives for the availability of natural and organic food commodities, and allowing the use of biopesticides in agricultural practices. Owing to these, manufacturers of biopesticides are getting easy registration for their products in almost every country. The process of biopesticides registration is easier and more flexible than that of synthetic pesticides.
Demand for Organic Products and Increasing Population Fueling the Growth of the Biopesticides Market
According to the United States Environmental Protection Agency, by 2050 the world population will reach 9.7 Billion, and 60% of the population will live in urban areas. To feed this increasing population, the production of agricultural commodities needs to be increased in a sustainable way without harming the environment or land.
Regions such as the Asia Pacific and Latin America have the highest population with basic demand for agricultural commodities such as cereals, grains, fruits, vegetables, and others in their daily routine. The agricultural industry plays an important role in the food industry. Food demand influences the demand for agricultural products, which is boosting the growth of the biopesticides market.
Soil Treatment Practices Creating Huge Opportunities for the Biopesticides Market
To increase production and earn more profits, growers are using excessive synthetic pesticides and chemicals on soil, which results in soil damage and loss. Due to these practices, soil is losing its productivity, and growers are facing a number of issues.
It takes nature a long period of time to replace 25mm of lost soil. Biopesticides treat and protect plants and crops without harming the soil. In developed countries, soil treatment biopesticides are easily approved by regulatory bodies owing to their positive characteristics and better functionality as compared to synthetic pesticides. Developing countries have huge potential, and they can create huge opportunities in the near future in the biopesticides market. Owing to this, the soil treatment and management segment can boost the growth of the biopesticides market.
Growing Organic Farming Systems and Focus on Environmental Sustainability
The organic movement is trending all over the world and organic farming is a part of this movement. Growing crops and vegetables with organic techniques provides a more nutritional and healthier lifestyle to consumers. Organic farming is done without the use of any synthetic pesticides and fertilizers on crops, and helps them grow naturally. In organic farming, instead of chemical pesticides, biopesticides are used to protect crops and vegetables.
Biopesticides provide an eco-friendly alternative to traditional synthetic pesticides. These pesticides are based on pathogenic microorganisms specific to a target pest, thereby providing an environmentally-sound and effective solution to pests. These factors are expected to fuel the growth of the biopesticides market.
Inclination towards Environment Protection
Global warming and climate change are the trending topics of this decade. Nowadays, people are becoming more conscious towards sustainable practices and environment protection. The U.S. and Western European countries are coming forward to offer different solutions to provide sustainable development to the world without harming the environment.
Biopesticides are the best sustainable crop protection solutions, which help crops to grow without chemicals or synthetic treatment, and are not harmful to humans as well as livestock. Biopesticides are widely getting accepted in the agriculture sector, owing to which their demand is expected to increase rapidly.
Global Biopesticides Market: Segmentation
By product type segment, the biopesticides market is segmented as:
Bioinsecticides
Bioherbicides
Biofungicides
Bionematicides
By origin, the biopesticides market is segmented as:
By formulation, the biopesticides market is segmented as:
Liquid Formulation
Dry Formulation
By application, the biopesticides market is segmented as:
Foliar Spray
Seed Treatment
Soil Treatment
Post-Harvest
By crop type, the biopesticides market is segmented as:
Fruits & Vegetables
Grains & Cereals
Oilseeds & Pulses
Other Crops
Biopesticides Market – Segmentation
PMR's study offers a segment-wise analysis of the biopesticides market on the basis of product type, origin, formulation, application, crop type, and region. The study also assesses how different dynamics and trends associated with each segment will impact the growth of biopesticides market.
Key information featured in this section of the report include y-o-y growth analysis, pricing analysis, market value share analysis, and market attractiveness analysis of individual segment across different geographies.
Product Type

Bioinsecticides
Bioherbicides
Biofungicides
Bionematicides

Origin
Formulation

Liquid Formulation
Dry Formulation

Application

Foliar Spray
Seed Treatment
Soil Treatment
Post-Harvest

Crop Type

Fruits & Vegetables
Grains & Cereals
Oilseeds & Pulses
Other Crops

Region

North America
Latin America
Europe
Asia Pacific
Middle East & Africa
What are the Key Questions Answered in the Biopesticides Market Report?
The report provides qualitative and quantitative breakdown of the biopesticides market, with the help of exclusive research on macro- and micro-economic factors impacting the market growth. Comprehensive information covered in the report addresses several questions for the biopesticides market players that will help improve their decision-making. Some of these questions are:
What are the current status of the biopesticides market in terms of capacity, production value, cost, and profit?
How is the biopesticides market expected to develop in the forthcoming years?
How new entrants in the biopesticides market are influenced by the presence of existing players?
How is the regulatory framework in developed regions impacting the biopesticides market?
What are the opportunities and potential risks associated with the biopesticides market?
Which new technologies are adopted by key manufacturers for product innovations and developments?
Our Clients