Peptone Market Outlook (2022-2032)
The global peptone market is valued at US$ 142 Mn at present and is projected to expand at a value CAGR of 4.1% to reach a market valuation of US$ 211.3 Mn by 2032.
According to Persistence Market Research, peptones derived from animal sources enjoyed a global market value of US$ 77.5 Mn in 2021, accounting for over 50% of the global peptone market share.
Worldwide sales of peptones accounted for around 2.6% share of the global cell culture media market in 2021.
| Attribute | Key Insights |
| --- | --- |
| Peptone Market Size (2022) | US$ 142 Mn |
| Projected Market Value (2032) | US$ 211.3 Mn |
| Global Market Growth Rate (2022-2032) | 4.1% |
| Share of Top 5 Countries | 51.7% |
Sales Analysis of Peptones (2017 to 2021) Vs. Market Outlook (2022 to 2032)
The global market for peptones expanded at a CAGR of 3.5% over the last five years (2017-2021).
Peptones are protein derivatives synthesized by partial hydrolysis, also known as protein hydrolysates. They are mostly preferred for bacterial growth in cell culture media optimization in mammalian as well as microbial cell culture processes. Peptones remain to be successfully used for improvement in the production of monoclonal antibodies, biosimilars, and vaccines.
Increasing global burden of chronic diseases associated with changes in lifestyles has been creating a huge demand for new biologics in the microbiology space. Demand for biologics has upheld the focus for microbiology study associated with cell culture media, attracting animal-free peptones that have been fast-tracking the production process of biologics to meet the global demand. Thus, growing focus on novel biologics production is foreseen to transform the biopharmaceutical industry over the coming years.
The global peptone market is predicted to rise at a CAGR rate of 4.1% and record a sales value of US$ 211.3 Mn by the end of 2032.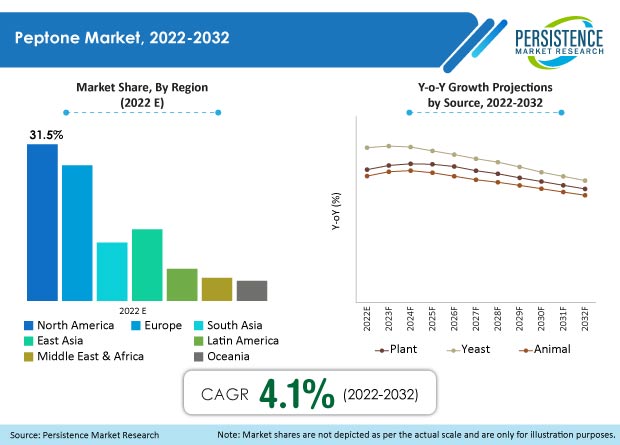 What Opportunities are on Offer for Peptone Manufacturers?
"Contract Manufacturing Surging in Asia Pacific Region"
Some of the leading biopharmaceutical players in the global market have adopted outsourcing models to expand their market footprint and generate a high rate of interest. Strategic long-term agreements and partnerships with local suppliers help manufacturers lower their operational costs.
Furthermore, peptone manufacturing companies can benefit from better pricing by outsourcing. Moreover, overall run-time, transportation, and logistical costs are reduced to a great extent.
Companies need to capitalize on their resources in Asia Pacific and enter into partnerships with local contract-based manufacturers for long-term sustainable market growth.
"Favorable Government Support for Accelerating Biopharmaceutical Industry Production"
Over the last few years, Asian and Middle Eastern & African government authorities have been encouraging multinational companies as well as start-ups to boost the industrial growth of the healthcare and biopharmaceutical industry. Major players in the biopharmaceutical space are focusing on capitalizing on their economies of scale to strengthen their position in the market.
For instance, developing countries in the Asia Pacific region, such as India, have announced new investment policies for attracting major companies as well as start-up companies across several domains, including the development of biopharmaceuticals using peptones.
Thus, favorable government policies in developing countries are expected to create huge opportunities for companies to invest in the peptone market.
How is Demand for Peptones being Adversely Affected?
"Risk of Virus Contamination During Cell Culture"
Several commercially-available peptones are used for different cell culture processes as growth supplements. Depending upon the type of cell culture, such as plant, animal, and microbial, different types of peptone supplements are used.
Peptones derived from animal sources or plant sources are used in cell culture optimization as a growth supplement. Some factors such as low quality of the product, lack of ultrafiltration, or mishandling of products in the sterilized area can cause contamination that can affect the quality of media.
In addition, animal-derived peptones possess a high risk of viral contamination during cell culture optimization, which is expected to restrain the growth of the global peptone market to some extent.
"Complexity in Regulatory Approvals for Distributing Services"
Complexity in the regulatory approval process is expected to hinder peptone production to some extent.
Every country has its regulatory authority and approval procedures, while several follow major countries' authorized regulations such as the United States Food Drug and Administration (US FDA) and European Union (EU). In such circumstances, one supplier cannot present a new updated or improved product until all approvals of their peptones are acknowledged.
Companies need to wait until all regulatory approvals have been received before they begin the distribution of their products. The cost of distributing products in a fragmented manner is large enough that manufacturers need to wait for years to receive all regulatory approvals. Such a scenario is expected to hinder the growth of the peptone market.
Country-wise Insights
How are Peptone Suppliers Strategizing in the U.S. Market?
"Expansion & Increasing Production Capacity by U.S. Companies"
The U.S. accounts for a market share of 81.7% in the North American peptone market.
Increasing prevalence of life-threatening chronic diseases has led the country to account for the highest market share in the North American region. Additionally, the presence of leading players expanding their production capacity and enhancing their manufacturing chain are expected to offer opportunities in the market.
For instance, in March 2021, Nu-Tek BioSciences, LLC introduced the first animal-free peptone and protein hydrolysate manufacturing facility in Austin, U.S.
Why is the Peptone Industry Huge in Germany?
"Leading Peptone Manufacturers Present in Germany"
In terms of value, Germany accounts for one-fourth of the European peptone market.
Germany is among the top countries that have a high healthcare expenditure. The country is projected to experience steady growth over the coming years at a growth rate of 2.8%. This market share percentage is because several major players in this industry are active in Germany, which increases the availability of products in the country.
Why is China Emerging as a Prominent Market for Peptones?
"Strategic Activities by Industry Players Present in China"
In 2021, the China peptone market was valued at US$ 8.8 Mn and held a market share of 45.2% in East Asia.
Focusing on the development of healthcare infrastructure and strategic planning to collaborate for expansion are key factors anticipated to have a positive impact on the growth of this industry in China.
The existence of a large number of importers as well as exporters, and increased collaborative research activities, will drive the China market and would offer lucrative opportunities for local manufacturers. China exports active pharmaceutical ingredients, which is expected to accelerate the demand for peptones in the country.
What is the Outlook for the India Peptone Market?
"Rapid Growth of Biotechnology Industry and Research Activities in India"
India accounted for 51.9% of the total value of the South Asia peptone market, valued at US$ 8.2 Mn in 2021. India is among the top 12 destinations for biotechnology worldwide.
The Indian biotechnology market was worth US$ 63 billion in 2019 and is projected to grow to US$ 150 billion by 2025.
According to the India Brand Equity Foundation, there are currently 5,000 biotech businesses in the country, of which, 760 are core businesses and 4,240 are start-ups. By 2024, it is anticipated that there will be about 10,000 businesses.
Thus, rapid growth of biotechnology research is expected to drive demand for peptones in India over the coming years.
Category-wise Insights
Which Peptone Source Enjoys Highest Popularity?
"High Demand for Animal-sourced Peptone"
The animal source of peptones accounted for the highest market share of 56.9%, by revenue, in 2021.
Availability of low-cost, diverse products and high adoption of animal-derived peptones for microbial cell culture are leading factors driving the dominance of animal sources.
Peptones derived from plant sources are estimated to hold more than 30% market share and exhibit steady growth during the forecast period.
Which Product Generates High Demand for Peptone Production?
"Protein Hydrolysates Continue to Account for Highest Market Share"
Protein hydrolysates held the highest market share of 76.7% in 2021 and are anticipated to have a dominant stance throughout the forecast period. However, the extracts segment will see significant growth and drive demand in this market at the highest CAGR of 3.9% during the forecast period.
Protein hydrolysates are extensively used as feed and food additives. They consist of a variety of proteins, including soy proteins, whey proteins, caseins, and gelatin.
Where is There High Application of Peptones?
"Microbial Cell Culture Driving Global Demand for Peptone"
Microbial cell culture generated a high market revenue share of more than 60% in the global peptone market, as peptones are extensively used for microbial cell culture growth optimization in the biopharmaceutical industry.
Additionally, increasing research activities, coupled with large-scale microbial fermentation by pharmaceutical and biotechnology industries, have led to the popularity of microbial cell culture applications in the market.
Competitive Landscape
Leading peptone suppliers are engaged in collaborative approaches for the manufacturing and distribution of peptone products through various market consolidation activities. These collaborative approaches between companies are expected to help secure future growth and market position.
In addition, acquisitions and mergers are expected to bolster the research and development of new technologies in bioprocess services. Key manufacturers are focused on approvals, product launches, and acquisitions for gaining high market revenue in the peptone industry.
In November 2021, Biotecnica launched a new line of low endotoxin EndoLow peptones that do not require ultrafiltration. EndoLow Peptones are next-generation peptones developed for the production of medications, vaccines, and diagnostic products.
In February 2020, Neogen Corporation acquired Abtek Biologicals Ltd., intending to increase its current portfolio. The acquisition was projected to accelerate the growth of Neogen's global microbiology business.
Peptone Industry Report Scope
Attribute
Details

Forecast Period

2022-2032

Historical Data Available for

2017-2021

Market Analysis

US$ Million for Value

Key Countries Covered

U.S.
Canada
Brazil
Mexico
Argentina
Germany
Italy
France
U.K.
Spain
BENELUX
Russia
India
Thailand
Indonesia
Malaysia
China
Japan
South Korea
Australia
New Zealand
GCC Countries
Turkey
Northern Africa
South Africa

Key Market Segments Covered

Source
Product
Application
End User
Region

Key Companies Profiled

Hi-Media Laboratories
Thermo Fisher Scientific, Inc.
Merck KGaA
Hardy Diagnostics
Solabia Group
Kerry Inc.
Organotechnie
Biotecnica
Nu-Tek BioScience LLC
Tatua
Krishna Enzytech Pvt. Ltd.
Titan Biotech
Suvidhinath Laboratories
Jeevan Biotech

Report Coverage

Market Forecast
Competition Intelligence
DROT Analysis
Market Dynamics and Challenges
Strategic Growth Initiatives

Customization & Pricing

Available upon Request
Key Segments Covered in Peptone Industry Survey
Peptone Market by Source:
Plants

Soya Peptones
Vegetable Peptones
Others

Yeast
Animal

Beef Extract
Casein Peptones
Gelatin Peptones
Brain Heart Infusion (Bovine)
Brain Heart Infusion (Porcine)
Casein (Acid Hydrolysate)
Heart Infusion (Bovine)
Heart Infusion (Porcine)
Lactalbumin
Meat Peptone (Bovine)
Meat Peptone (Porcine)
Ox-Bile
Peptonized Milk
Polypeptone
Pork Heart Digest
Protease Peptones
Peptone Market by Product:
Protein Hydrolysates
Infusions
Extracts
Peptone Market by Application:
Microbial Cell Culture
Mammalian Cell Culture
Plant Tissue Culture
Yeast Culture
Peptone Market by End User:
Academic & Research Institutes
Biopharmaceutical Companies
Contract Research Laboratories
Peptone Market by Region:
North America Peptone Market
Latin America Peptone Market
Europe Peptone Market
South Asia Peptone Market
East Asia Peptone Market
Oceania Peptone Market
The Middle East & Africa (MEA) Peptone Market