Pancreatin Market
Market Study on Pancreatin: Porcine-sourced Pancreatin Accounts for Major Market Share
Pancreatin Market Segmented by Form (Powder, Pellets), Source (Porcine, Bovine), Application (Pharmaceuticals, Nutraceuticals) in North America, Europe, APAC, Middle East & Africa
Pancreatin Market Outlook (2022-2032)
The global pancreatin market is forecasted to expand at a CAGR of 5.5% and exhibit an increase in value from US$ 107.2 Mn at present to US$ 183.9 Mn by 2032. Europe and North America are regions that account for the highest consumption of pancreatin.
The pancreatin market exhibited steady growth and registered a value CAGR of 4.3% during the historical period (2017-2021). There is a characteristic benefit offered by enzymes to both human and animal health. This can be established by its various applications, and with the research and development on enzymes, these applications are only increasing.
Pancreatin is an enzyme that is produced in the human body and is a mixture of protease, lipase, and amylase. This enzyme facilitates the breakdown of nutrients such as protein, fats, and carbohydrates. These are then transformed into energy for various processes in the body. It also facilitates the absorption of essential vitamins and minerals. The health benefits possessed by this enzyme make it useful in numerous sectors such as functional foods, pharmaceuticals, animal feed, and diet supplements.
Increase in unsystematic lifestyle habits by consumers such as poor diets, sedentary work, and increasing levels of stress on a daily basis are having a detrimental impact on the digestive system and health. Increasing focus on preventative health management as a result of easily available disposable income by working individuals has made supplementation a necessary purchase. This is promoting the demand for digestive enzymes such as pancreatin.
Unsustainable lifestyles and the consumption of different foods that require enzymes and sufficient time to digest, coupled with long working hours, have resulted in people acquiring food sensitivities. In such cases, their bodies are unable to digest certain foods. This has resulted in the increasing need for supplementation amongst the work-centric population, thereby benefiting the target market.
| | |
| --- | --- |
| Pancreatin Market Size (2022E) | US$ 107.2 Mn |
| Projected Sales of Pancreatin (2032F) | US$ 183.9 Mn |
| Value CAGR (2022-2032) | 5.5% |
| Value Share of Top 5 Countries (2022E) | 41% |
Find Out More about the Report Coverage
Companies
Antozyme Biotech Pvt Ltd
Umang Pharmaceuticals
Enzyme Bioscience Pvt. Ltd
Biovencer Healthcare Private Limited
Nordmark
Fengchen Group Co., Ltd.
Biozyme
Sichuan Biosyn Pharmaceutical Co., Ltd.
Bioseutica
Wellona Pharma
Shreeji Pharma International
Hetero Healthcare Limited
Creative Enzymes
Baoding Faithful Industry Co. Ltd.
SG Pharma Pvt. Ltd.
Provita Nutrition and Health Inc.
Hepalink Group
NOW® Foods
Bio Basic Inc.
Sichuan Deebio Pharmaceutical Co., Ltd.
Others (Available on Request)
What are the Key Trends in the Market for Pancreatin?
"Pancreatin as Treatment for Lifestyle Disorders"
Pancreatin is an enzyme-based product derived from trypsin, amylase & lipase, ribonuclease, and protease produced by the exocrine cells of the porcine and bovine pancreas. These enzymes help in the hydrolyzation of proteins starch and fat.
Increased rates of obesity, gallstones, and other lifestyle disorders have highlighted the prevalence of acute pancreatitis worldwide. Chronic pancreatitis is lower in incidence but plays a significant role in reducing the quality of life of an individual. Pancreatic disorders such as pancreatic cancer are estimated to increase in the global population over time due to increasingly hectic lifestyles and stress on the body.
The corporate lifestyle has increased the consumption of alcohol and this has heightened the sensitivity of the pancreas to injury. The risk of pancreatitis is increasing as the intake of alcohol goes up. Across the globe, increasing alcohol consumption among the younger generation has put them at an increased risk for pancreatic disorders. Pancreatin is effective in mitigating the effects of digestive disorders and gallstones. Furthermore, a higher prevalence of intestinal diseases, coupled with pancreatic surgeries, will promote market growth in the near future.
Digestive enzymes break down food into smaller components that are responsible for the functioning of the body. Similar to humans, animals too need digestive enzymes to survive. Therefore, pancreatin can be obtained from animals such as pigs and cows.
"Pancreatin as Supplement for Sick and Health-conscious People"
Sedentary lifestyle coupled with the increased consumption of junk food has resulted in growing consumer interest in dietary supplements. There is positive market growth for health supplements in the performance and nutrition market. Pharmaceutical and nutraceutical industries have seen positive growth due to higher demand for good nutrition.
Pancreatin helps in food digestion and can increase the speed of protein breakdown in the body. Protein is a macronutrient that aids muscle recovery. The daily need for protein for an average individual is the same as his/her body weight, with the requirement for athletes being 2X their body weight. Undigested protein is excreted from the body and is useless for individuals with a high protein requirement. Greater consumption requires supplementation to aid absorption of the same.
Manufacturers are focusing on the production of dietary supplements that are a blend of enzymes such as lipase, amylase, maltase, pancreatin, etc., to improve digestion and aid the absorption of high quantities of protein. Introduction of enzymes to the diet can significantly boost an athlete's overall performance.
Pancreatin is a popular medicine for replacement therapy for individuals suffering from chronic pancreatitis, cystic fibrosis, pancreatic cancer, and after pancreatic surgery.
"Advancements in Technology Creating New Opportunities"
Early enzyme supplements had single-ingredient products, whereas modern supplements have multiple enzymes in one product. Blends of these enzymes are growing popular among people, due to the increasing awareness of the health benefits of enzymes individually. It is an opportunity for manufacturers to embrace innovation and combine enzymes from animal, plant, and microbial sources.
Microbes are targeted as a major source of enzymes for the commercial production of supplements, and many of the microbial enzymes are still unexplored, making it an opportunity for finding wider industrial applications of these enzymes. These sources can be used in the food industry for improving the quality of products and meeting the needs & requirements of customers. Manufacturers are increasingly looking for condition-specific enzymes, which will support the digestion of consumers based on their specific allergies and other sensitivities.
Biocatalysts a pharmaceutical company, launched a non-GMO microbial lipase via a fungal preparation. This was done in response to the ASF (African Swine Fever) contagion, i.e., a deadly disease affecting pigs and boars. Even though there wasn't harm to humans, cross-species transmissions of diseases are always possible and a matter of grave concern.
Therefore, new technologies and progress in research are creating opportunities for pancreatin suppliers.
"Risks Associated with Pancreatin Consumption"
Pancreatin intake can cause nausea, vomiting, diarrhea, gastrointestinal pain, sore throat, mouth & skin irritation, hypersensitivity reactions, inhibition of folate absorption, buccal and perineal soreness (especially for infants), and colon damage. High doses can increase the uric acid content in the body. This can cause other secondary illnesses and problems including colon damage. Pancreatin is generally derived from porcine and bovine sources, and therefore, must not be consumed if the individual is allergic to pork proteins.
There are a lot of things that are unknown about pancreatin, including its effect on unborn babies and whether pancreatin protein passes into breast milk or if it could harm a newborn. Pancreatin is heat-sensitive and therefore should not be mixed with excessively hot food or drinks as the heat can inactivate it.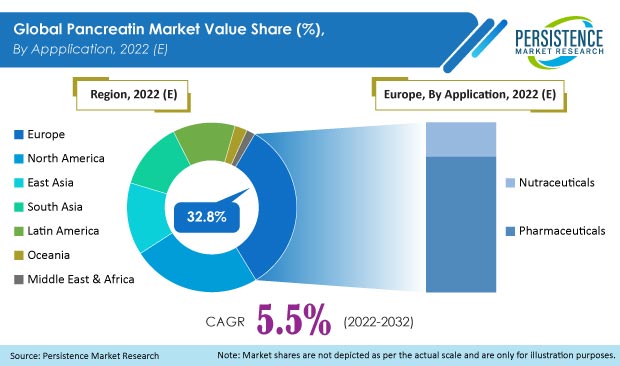 Customize this Report
Explore Intelligence Tailored to Your Business Goals.
Country-wise Insights
Which Countries are Driving European Market Growth?
In Europe, the markets in Germany, the United Kingdom, and France are expected to expand at value CAGRs of 6.2%, 5.8%, and 5.6%, respectively, during the forecast period (2022-2032).
Sales of pancreatin are increasing in the European region due to the high prevalence of carbohydrate diets coupled with the consumption of copious amounts of alcohol. Unsatisfactory dietary habits among individuals who lead a sedentary lifestyle and do desk-based jobs have pushed the focus on the benefits of supplementation.
How is the North American Pancreatin Market Faring?
In the North American market, the U.S. shows significant growth at a CAGR being 3.9%. The market share of the U.S. in the North American market is around 82% and is valued at US$ 21.8 Mn in 2022.
In the U.S., the fast food culture is thriving. Healthy foods are very expensive as compared to the fast food available in the market. The huge socio-economic disparity among citizens across the country makes it tough for them to be able to afford highly nutritious food. Therefore, the consumption of fast food becomes a necessity, and these unsatisfactory high-fat and processed foods wreck the digestive system, making the consumption of pancreatin a necessity.
Market Research Methodology - Perfected through Years of Diligence
A key factor for our unrivaled market research accuracy is our expert- and data-driven research methodologies. We combine an eclectic mix of experience, analytics, machine learning, and data science to develop research methodologies that result in a multi-dimensional, yet realistic analysis of a market.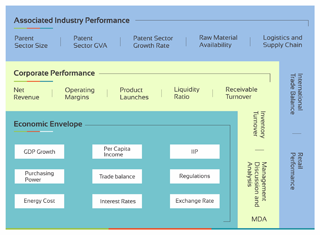 Category-wise Insights
Which Source of Pancreatin Accounts for High Revenue Generation?
Pancreatin is sourced either from pigs or cows and is therefore divided into porcine and bovine sources. Among these two, porcine is expected to value at US$ 93.1 Mn in 2022 and reach a market valuation of US$ 161.3 Mn by 2032.
Sales of porcine-sourced pancreatin account for an approximate value share of 86%. This implies that most companies across the world have a setup where porcine pancreatin is produced in greater quantities as compared to bovine pancreatin.
Which Application of Pancreatin is Seen More across the World?
Based on its application, the pharmaceutical industry registered a value of US$ 92.9 Mn in 2022. The market percentage held by the pharmaceutical industry is 86.6%.
Pancreatin is an enzymatic mixture primarily obtained from porcine sources, which is significantly utilized in the pharmaceutical sector to minimize the risk of digestive disorders and for the treatment of pancreatic diseases.
Explore Persistence Market Research's expertise in promulgation of the business !
Competitive Dashboard
In the market, nutraceutical and pharmaceutical applications of enzymes are widely commercialized. This is due to the increasing demand for high-quality nutritional supplements and medicines. To achieve this, the implementation of the latest technologies as well as investments in research and development is being done. Improving customer relations along with increasing awareness about pancreatin is helping companies distinguish themselves in this highly competitive landscape.
Biozyme launched a Pancreas Process Program to increase the processing capacity of raw pancreas from animals in the U.S. This was done to reduce the overseas costs of pancreatin processing, which resulted in a reduction in the cost of the product itself.
Bio Basic Inc. has created an exclusive package for new labs to assist them with new ingredient procurement at affordable prices. This results in increasing the company's sales to small and medium-sized labs.
Bioseutica is a company whose research and development team has placed focus on three key areas i.e., optimization of the process, invention of new products, and product application. The constant improvement in the adoption and implementation of new and improved processes to obtain ultra-pure protein preparations of high quality from natural resources. There is also work being done on tailor-made products and specifications.
Pancreatin Industry Report Scope
Attribute

Details

Forecast period

2022-2032

Historical data available for

2017-2021

Market analysis

USD million for value

Key regions covered

North America
Latin America
Europe
South Asia
East Asia
Oceania
The Middle East & Africa

Key countries covered

U.S.
Canada
Germany
U.K.
France
Italy
Spain
Russia
China
Japan
South Korea
India
Thailand
Malaysia
Indonesia
Australia
New Zealand
GCC countries
Turkey
Northern Africa
South Africa

Key market segments covered

Form
Source
Application

Pharmaceuticals
Nutraceuticals

Key companies profiled

Biovencer Healthcare Private Limited
Nordmark
Fengchen Group Co., Ltd.
Biozyme
Sichuan Biosyn Pharmaceutical Co., Ltd.
Bioseutica
Wellona Pharma
Shreeji Pharma International
Hetero Healthcare Limited
Creative Enzymes
Baoding Faithful Industry Co. Ltd.
SG Pharma Pvt. Ltd.
Provita Nutrition and Health Inc.
Hepalink Group
NOW® Foods
Bio Basic Inc.
Sichuan Deebio Pharmaceutical Co., Ltd.
Enzyme Bioscience Pvt. Ltd
Umang Pharmaceuticals
Antozyme Biotech Pvt Ltd

Report coverage

Market Forecast
Company Share Analysis
Competition Intelligence
DROT Analysis
Market Dynamics and Challenges
Strategic Growth Initiatives

Customization & pricing

Available upon request
Pancreatin Industry Research by Category
By Form:
By Source:
By Application:
Pharmaceuticals
Nutraceuticals
By Region:
North America
Latin America
Europe
South Asia
East Asia
Oceania
Middle East & Africa