Myoelectric Prosthetics Market Outlook (2022-2032)
Worldwide revenue from the global myoelectric prosthetics market was US$ 149.9 Mn in 2021, with the market estimated to move ahead at a value CAGR of 5.2% to reach a valuation of US$ 258.4 Mn by the end of 2032.
As assessed by Persistence Market Research, transradial disarticulation (below the elbow) is expected to account for a market value of US$ 43.2 Mn by 2032. Overall, sales of myoelectric prosthetics accounted for 16.3% revenue share in the global robotics prosthetics market in 2021.
| Attribute | Key Insights |
| --- | --- |
| Myoelectric Prosthetics Market Size (2022) | US$ 156.2 Mn |
| Projected Market Value (2032) | US$ 258.4 Mn |
| Global Market Growth Rate (2022-2032) | 5.2% CAGR |
| Market Share of Top 5 Countries | 50.9% |
Sales Analysis of Myoelectric Prosthetics (2017 to 2021) Vs. Market Outlook (2022 to 2032)
The global market for myoelectric prosthetics recorded a historic CAGR of 2.8% in the last 4 years (2017 to 2021).
Development of myoelectric prosthetics has become more ubiquitous and cost-effective due to contemporary three-dimensional (3D) printing technology, which is also predicted to drive further industry expansion. The prevalence of illnesses such as Critical Limb Ischemia (CLI), which affect the limb extremities to the point that their functionality is lost, is rising.
As per the National Center for Biotechnology Information (NCBI), 3%-10% of the global population is thought to have the condition or be at high risk for developing it, and this number rises to 15%–20% in adults over the age of 70.
Increasing diabetes, rising rates of high blood pressure, and sedentary lifestyles are all contributing to an increase in CLI, which usually results in limb paralysis.
The future of myoelectric prosthetics is predicted to depend on targeted muscle reinnervation (TMR). This method is becoming more accepted in the field of upper limb prosthetics. TMR was successfully used for the first time on a bilateral shoulder disarticulation amputee at the rehabilitation institute of Chicago (RIC) in 2005, and interest in TMR and myoelectric prosthetics, in general, has grown significantly ever since.
Companies such as Openbionics Inc. create products like robot gloves and prosthetic myoelectric hands. In September 2019, the business collaborated with the University of Auckland's New Dexterity research team to produce a new category of durable, lightweight, and inexpensive prosthetic and assistive devices.
The global myoelectric prosthetics market is predicted to expand at a CAGR of 5.2% and reach US$ 258.4 Mn by 2032.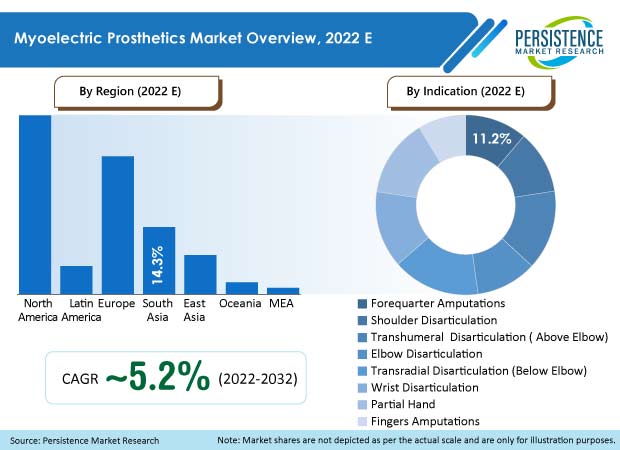 What's Driving Myoelectric Prosthetics Market Growth?
"Increasing Accidental Events & Injuries Leading to Higher Adoption of Myoelectric Prosthetics"
Due to the increase in accidents in regions such as Asia, traumatic injuries such as burns are on the rise. This creates a big opportunity for myoelectric prosthetics providers to generate income.
The market for myoelectric prosthetics is expanding because of several disorders, including peripheral artery disease, which requires amputation to prevent future complications.
Although the adoption of myoelectric prosthetics is still unclear in many aspects, according to the National Limb Loss Information Center, one in 200 Americans are amputees.
According to NLLIC, the rate of amputation due to trauma and cancer has fallen by 50% over the past two decades, but the rate of amputation owing to diabetes and peripheral artery disease is rising.
This creates a large market opportunity for the suppliers of myoelectric prosthetics.
Over the past few decades, there has been increasing demand for better and high-throughput myoelectric prosthetics such as upper extremity prosthetics, lower extremity prosthetics, liners, sockets, and modular components.
End users such as hospitals, prosthetic clinics, and rehabilitation centers are demanding branded and patented myoelectric prosthetics to ensure safety and quality.
Can Demand for Myoelectric Prosthetics Be Affected in Any Way?
"Huge Pressure on Manufacturers to Provide Cost-effective Solutions"
The high cost of myoelectric prosthetics and strict regulatory environment could harm the market expansion to some extent. One major obstacle to the adoption of myoelectric prosthetics among amputees is the high cost of these products. As such, a reduction in the cost of these products by manufacturers is a challenge.
The price of a conventionally manufactured arm prosthesis in 2019 ranged from US$ 4,000 to US$ 75,000, as per the National Center for Bioinformatics Information (NCBI).
In the early stages of the COVID-19 pandemic, limb procedures were postponed, which decreased the demand for prosthetics. The pandemic is an unusual worldwide public health crisis that is expected to have a severe influence on the market for upper limb prosthetics.
Overall, it was claimed that the COVID-19 pandemic harmed the market for upper-limb prostheses. This was linked to variables such as challenges in managing amputation cases that necessitated hospital stays, longer recovery period in COVID-19 cases, and delay in limb procedures.
Country-wise Insights
Why is the U.S. Myoelectric Prosthetics Market Booming?
"High Volume of Accidental Trauma in the Country"
The U.S. accounted for around 84% share of the North American myoelectric prosthetics market in 2021.
The U.S. market is anticipated to develop because of an increase in accidental injuries and trauma cases. Sports injuries have increased because of the rise in physical activity among adults and kids in the United States.
The National Safety Council (NSC) reports that there were 468,000 injuries connected to exercise in 2019, followed by 417,000 injuries related to bicycles, and around 700,000 injuries related to sports such as basketball and football.
Thus, demand for myoelectric prosthetics has increased in the U.S. in consideration of the above factors, thus promoting the value of the overall myoelectric prosthetics market in the country.
Will Germany Be a Lucrative Market for Providers of Myoelectric Prosthetics?
"High Patient Compliance & Availability of Skilled Professionals"
Germany held around 15.8% share of the Europe myoelectric prosthetics market in 2021.
Higher patient compliance and availability of skilled healthcare professionals are responsible for the growth of the myoelectric prosthetics market in this country.
According to the Federal Government of Germany, Germany has a robust healthcare system since qualified people are working in the medical and nursing fields.
Category-wise Insights
Which Indication is Driving Demand Growth for Global Myoelectric Prosthetics?
"High Demand Expected for Transradial Disarticulation"
The transradial disarticulation (below elbow) segment held 15.7% share of the overall myoelectric prosthetics market in 2021.
Severe traumatic injuries are the most common cause of transradial disarticulation. Prosthetic reconstructions and improvements to amputation methods all contribute to a higher quality of life, thus accelerating segment growth.
Which End User Accounts for Higher Adoption of Myoelectric Prosthetics?
"More Effective Treatment During Hospital Stays for Myoelectric Prosthetics"
Hospitals held a larger share of 44.6% with a market value of around US$ 66.8 Mn in 2021.
With increasing awareness well as the management of patients suffering from different injuries, physician assistance during hospital visits provides a positive outlook toward segment growth in the myoelectric prosthetics market.
Competitive Landscape
To strengthen their product lines around the world, leading manufacturers are developing products that are technologically advanced. Similarly, major suppliers of myoelectric prosthetics are engaged in development activities such as agreements and collaborations. Another approach noticed in the industry is the expansion of corporate collaborations to boost market share.
For instance:
A recent agreement between Össur and the Alfred Mann Foundation (AMF) was signed in April 2019 and enables Össur to create and license the implanted myoelectric sensor (IMES) system. The company was able to expand its position in its industry and obtain a competitive advantage due to this strategic collaboration.
Össur and Touch Bionics signed an agreement in May 2018 for Össur to invest USD 7.6 million (GBP 5.6 million) over three years to design breakthrough myoelectric prosthetic systems. This investment helped the company advance its R&D and innovation skills in the market.
In June 2018, to make its system available to upper-limb amputees in Europe, Australia, and New Zealand, The Company COAPT LLC, the main supplier of commercially available, control systems for prosthetic arms, announced two new distribution agreements with Fillauer Europe AB and Orthopaedic Appliances Pty Ltd (OAPL).
Myoelectric Prosthetics Industry Report Scope
Attribute
Details

Forecast Period

2022-2032

Historical Data Available for

2017-2021

Market Analysis

USD Million for Value

Key Countries Covered

U.S.
Canada
Brazil
Mexico
Argentina
Germany
U.K.
France
Italy
Spain
BENELUX
Russia
India
Thailand
Malaysia
Indonesia
China
Japan
South Korea
Australia
New Zealand
Turkey
GCC Countries
Northern Africa
South Africa

Key Market Segments Covered

Indication
End User
Region

Key Companies Profiled

Virginia Prosthetics & Orthotics Inc.
Endolite India
Ottobock
College Park Industries
Leimkuehler, Inc.
Touch Bionics Inc. (Össur hf)
Fillauer LLC
COAPT LLC
Össur
FAULHABER

Report Coverage

Market Forecast
Competition Intelligence
DROT Analysis
Market Dynamics and Challenges
Strategic Growth Initiatives

Customization & Pricing

Available upon Request
Key Segments Covered in Myoelectric Prosthetics Industry Research
Myoelectric Prosthetics Market by Indication:
Forequarter Amputation
Shoulder Disarticulation
Transhumeral Disarticulation (Above Elbow)
Elbow Disarticulation
Transradial Disarticulation (Below Elbow)
Wrist Disarticulation
Partial Hand
Finger Amputation
Myoelectric Prosthetics Market by End User:
Hospitals
Prosthetic Clinics
Ambulatory Surgical Centers
Myoelectric Prosthetics Market by Region:
North America Myoelectric Prosthetics Market
Latin America Myoelectric Prosthetics Market
Europe Myoelectric Prosthetics Market
South Asia Myoelectric Prosthetics Market
East Asia Myoelectric Prosthetics Market
Oceania Myoelectric Prosthetics Market
The Middle East & Africa Myoelectric Prosthetics Market