Introduction
Fragmentation and inconsistency of data collected across multiple business entities creates manifold issues such as supply chain inefficiencies, downgrading spend control initiatives, and weakening market penetration. Managing the Master Data, a business-critical method that aggregates all corporate data, continues to gain grounds across IT landscapes across the world. In the upcoming years, increasing need for consolidated data and analytical solutions will be observed as proponent to adoption of Master Data Management (MDM) solutions.
Synchronization of business information, facilitated through MDM, is also viewed as a promising tool to expand applications of products and help companies navigate through unchartered markets in future. From local players to multinationals, companies will continue to seek MDM tools for lowering the incidence of database problems.
Master Data Management: Market Standpoint
Being a comprehensive process of linking all critical data to one file, master data management enables an enterprise in accessing a common point of reference. With that, an MDM solution will also streamline data sharing operations for different corporate personnel and departments within a company. Master data management can be observed as a combination of technologies and applications for cleaning, augmenting, synchronizing and incorporating of all corporate data recorded through various business entities such as suppliers, manufacturers and customers.
According to Persistence Market Research, the global market for master data management is expected to gain traction and reflect a robust growth during the forecast period, 2017-2022. In terms of value, the global master data management market is pegged to surpass US$ 8,600 Mn by the end of 2022, reflecting an impressive, aggregated expansion at a robust CAGR.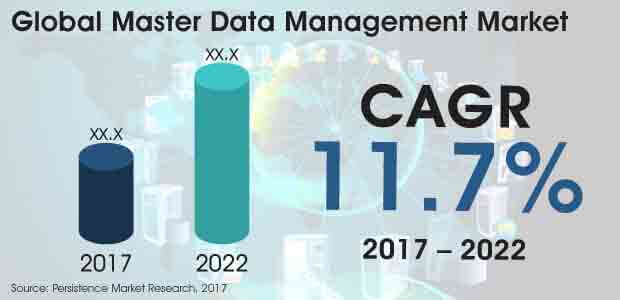 Surge in Public Cloud Deployment of Master Data Management
Creating a unique customer database is critical for managing the new application suites in an IT-oriented business. Other enterprises are also boosting the importance of non-barricaded, open-ended deployment of MDM solutions.
On the basis of deployment, the global market for master data management will continue to witness predominance of public-level data disposal through cloud networking. By the end of 2017, nearly three-fourth of global market for master data management value will be accounted by public cloud deployment. The adoption of MDM solutions through on-premise deployment will dwindle towards the end of 2022.
High Demand for MDM Software in BFSI Sector
The next five years will exhibit an impressive uptake in adoption of MDM solutions in the banking & finance industry. By the end of 2022, the BFSI sector will be observed as largest end-use industry for master data management, accounting for more than US$ 2,000 Mn in global revenues. During this period, the adoption of software on master data management will be considerably higher than that of MDS services. Throughout the forecast period, over 50% of global revenues raked in the master data management market will be arising from sales of MDM software.
MDM Market: Competitive Landscape
In late 2016, TIBOC Software Inc. introduced two new analytical tools in its MDM offerings, which included a business process mapping service. Of late, tech giant IBM Corporation extended its tie-up with Hortonworks towards exploring new management solutions through data science and machine learning. The report also observes companies such as Magnitude Software, Inc, Liaison Technologies, Inc., Teradata Corporation, Orchestra Networks, Reltio Inc., SAS Institute Inc., SAP SE, and Informatica Corporation as key players in the global market for master data management.
Market Taxonomy
Key chapters in the report offer a segment-wise analysis & forecast on global master data management market. In the report, the global market for master data management in segmented on the basis of deployment, end-use, component, and region. The market taxonomy enlisted below offers an abridged view on the segmentation of global master data management market.
Attribute
Details

Region

North Americ
Latin America
Europe
Japan
APEJ
MEA

Deployment

End-use Industry

Government
BFSI
IT & Telecommunication
Healthcare
Energy & Utilities
Transportation & Logistics
Manufacturing
Retail

Component
- Companies Covered in This Report -
Informatica
IBM
SAP
TIBCO Software
SAS
Reltio
Orchestra Networks
Teradata
Liason technologies
Magnitude Software
Others.